Jim Armstrong
Who predicted that the AFC North, with an aggregate 21 wins through week 9, would be the strongest division in the NFL. Heck the 2012 Super Bowl champion Baltimore Ravens (who still have 8 starters from that Super Bowl team) are in the cellar of the division, at 5-4, after dropping each of their last two games.  The upstart Browns sit at 5-3, the Steelers are at 6-3 and the Bengals continue to hang on to 1st place in the division with a 6-2-1 record. That week 6 tie to Carolina could be the difference between a #1 seed and a first round bye or a wild card game as the road team.
Keep in mind that Andy Dalton has been absolutely abysmal in his three career playoff appearances, passing for one TD against 6 interceptions. Not once has Dalton eclipsed a QBR of 25 in each of his three career playoff games. Let's just say that the Bengals could really use a bye, based on Dalton's playoff track record. Also, I hate how pundits tell their viewers how Dalton is still young and developing. Guys – he is in his 4th NFL season and turned 27 years old last month. Dalton has had plenty of time to develop. For Dalton, the second half of this season and more importantly, his performance in the playoffs will tell us if Dalton has finally broken through or if Cincinnati should be in the market for another quarterback.
I like Cincinnati at home tonight against the Browns for a few reasons. For one, Cincy hasn't lost at home all year. In fact, this team hasn't lost at home since Week 14 against Dallas…in 2012. All five of Cincy's losses in 2103 came on the road. I also like the fact that AJ Green is back (1 TD last week) and even with his return, Mohammad Sanu still generated 95 yards receiving and caught a TD. While Gio Bernard is out with a hip injury, Jeremy Hill will fill in capably in the backfield (he ran for 154 yards and 2 TD's last week).
The Bengals and Browns are no juggernauts on offense, representing the #12 and #14 offenses in total yards, respectively through week 9. The Bengals and Browns have the #3 and #4 ranked defenses (total yards) in the NFL. Despite the chatter about Hoyer vs. Dalton, this game will be decided on the defensive side of the ball and will require an efficient game from the QB.
Cincy wins their 6th game of the season, 27-21, and takes control of the AFC North due to superior QB play and a stouter defense.1
Rory Goulding
Because you guys are always so nice to me, I'm going to make a confession related to tonight's game. I will say this – this is a confession that I'm proud of. Here goes:
I own a Browns #2 jersey.
Wait, don't click away.
I own a Browns #2 jersey – willingly.
Hold on, it makes sense.
I own a Browns #2 jersey that doesn't say "Manziel" on the back.
No, it doesn't say Johnny Football, either. What kind of human being would buy something like that?2 We're getting off track.
I own a Browns #2 jersey of a player not named Johnny Manziel.
Why do you still look confused? Fine, I'll just say it.
I own a Tim Couch jersey.
Stop laughing! I'm serious! Let me explain…
For a period of my life Santa Claus3 would bring both my brother and I a cool, random jersey each Christmas. We never knew what player it would be, or what team it would be, we just knew that it wouldn't be someone on the Jets or the Giants.4 One of these times my life was forever changed when, after walking downstairs on Christmas morning, I was graced with a Tim Couch jersey. To this day it remains as my 3rd coolest football jersey, behind only La'Roi Glover on the Saints and Alge Crumpler on the Falcons. What do you mean having a Tim Couch jersey isn't cool? He's the only quarterback in NFL history to throw two-game winning touchdown passes of 50+ yards with 0:00 left on the clock! That's a real statistic!
It seems like we may differ on the way we value random football jerseys so I'll just move on. Just know that I'm right and you're wrong.
Spoiler alert: the Bengals are going to win tonight. In addition to everything Jim outlined above about the Bengals at home, here are a few other reasons why Cincinnati's a lock for a their 6th victory this evening:
The Browns were blown out by the Jacksonville Jaguars earlier this season.
The Browns have lost 5 straight in Cincy and are 1-9 in the last 10 road games against their Ohio rival.
Again, the Browns were blown out by the Jacksonville Jaguars in Week 7.
The combined record of the five teams the Browns have beaten this season is 13-28.
Since 2010, the Browns are 6-21 against the teams in their own division.
For a third time, the Browns were BLOWN OUT by the JACKSONVILLE JAGUARS earlier this season.
The Bengals are undefeated at home on Thursday nights.5
One team is the Browns.
But go ahead, take Cleveland tonight. I double dog dare you.
Bengals 27, Browns 13.
P.S. I couldn't find anywhere to fit this amazing photo in my post, so I'll just leave it here: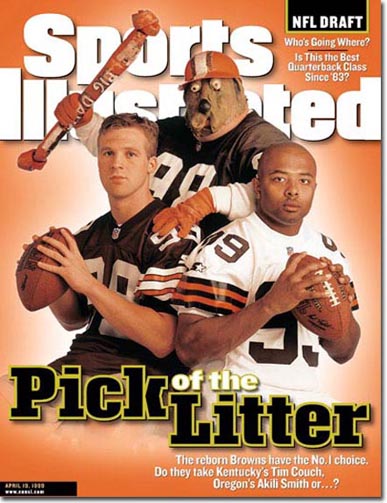 Just do me a favor and re-read that teaser at the top asking, "Is this the best quarterback class since '83?" and try not to feel sick to your stomach.