Christmas Giving: James Dolan
By: Tyler Michels
This holiday season, let's give New York Knicks owner James Dolan a brain.
For Christmas, this Knicks fan is in the giving spirit. I'm giving James Dolan a brain this year. We all know, he really he needs it.
At this point in the 2013-2014 NBA season, we might as well be giving Mr. Dolan some luck. In his defense, this particular season has been hampered by injuries from two starters (Tyson Chandler and Raymond Felton) to key reserve players (Kenyon Martin and Pablo Prigioni), James Dolan's track record is too terrible to say he's simply been unlucky during his 14-year tenure as owner of the Knicks.
We are talking about an owner, who, has given too much power to failing GM's such as Isiah Thomas, and has given too little power to well-established basketball minds like Donnie Walsh. He also fired this year's GM Glen Grunwald a few weeks before the regular season tipped off. Grunwald, you know, was the guy who helped architect the 54-win Knicks team of last season, who won the Atlantic Division for the first time in almost 20 years. But, as fans, we cannot fault Dolan, as we know he is trying to win. At least that's what they always tell us.   And, although it seems that many of Dolan's moves just don't seem to pan out, at this point it is no longer a matter of luck or fortune. It is a matter of running the organization based on brains or brawn, and Dolan seems to lead with the latter.
Dolan isn't just known as the owner of the Knicks, or Cablevision, or Madison Square Garden or the New York Rangers. In case you were wondering, he also plays in a band. JD and the straight shots. They have the most plays of any band or artist on my iPod. With this year's Knicks team, JD's band seems to have the current vibe of the organization which is in tune with this top hit:
Seattle Seahawks – Clean Urine
By: Rory Goulding
As the NFL season draws to a close, the annals of talking-head sports television is rife with conversations about the Seattle Seahawks' performance enhancing drug problem. The league has done a great job of shedding light on the fact that the leading contender in the NFC has had eight players (and their top three cornerbacks) suspended for violating the NFL's policy on performance-enhancing substances since Pete Carroll was hired as head coach.
Wait – they haven't? Oh that's right! The NFL's too busy attempting to keep its image intact instead of actually shedding light on unsightly elements of their brand. Concussions? Brain damage? PEDs? Nope, nothing to see here! Move along.Maybe the billowing clouds of marijuana smoke emanating from CenturyLink Field is just enough to make NFL commissioner Roger Goodell forget where he is.
Seattle's bevy of PED suspensions for "Adderall"[1] have flown so far under the radar that even the NSA hasn't caught wind of them. But that's just dandy for the NFL, as Goodell's propaganda machine continues churning full-steam ahead.[2]
1
2
So instead of, you know, making anyone in the Seahawks organization accountable, the NFL and I have teamed up to send their entire roster clean urine. Maybe just a few barrels for community use, delivered straight to the Seattle locker room. Need to pee in a cup? No worries, we've got you covered. And as a sign of good faith, we've included this as an added bonus for stocking-stuffing!
Merry Christmas, Seattle! Hopefully these gifts will only  ease your path to the Super Bowl, no hiccups at all! Smooth sailing! Book it now! Congrats on your first Championship.[3]
3
Kobe Bryant – A heart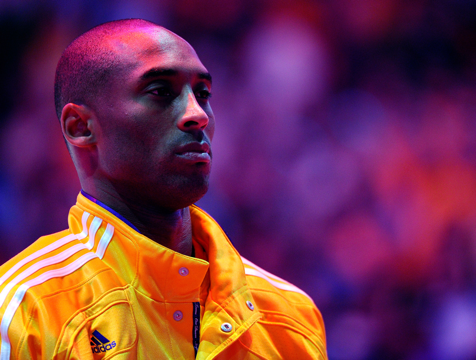 What do you get for the guy who has everything? Oh, I know. More money!
Kobe's steadfast denial that he pushed for his contract extension, that he merely "was offered" the ridiculous amount of money he signed for, is nothing if not comical. I'd like to think that Kobe went to owner Jim Buss and GM Mitch Kupchak asking for an extension, and when they initially declined his request, Kobe responded with something like this.
Seriously, the guy already has so much money. Kobe's made over $200 million in NBA salary alone, not even counting endorsements. What could you possibly need more of it for? I agree NBA superstars are underpaid for what they bring to the table in the sense of team revenues and exposure, but Kobe already has so much. Wouldn't you want to leave as much cap room as possible to bring in other players for one more championship run?[4]
4
He just might have seen the light at the end of the Kobe-Bryant-Laker-Dynasty tunnel and tried getting as much money as possible before this thing is driven off a cliff by owner Jim Buss, or, as he's known by the Laker faithful, James Dolan (West).
Ideally, for Christmas, I'd reverse the space-time continuum, hire Phil Jackson and deport Jim Buss to Azerbaijan, thereby altering last season so Kobe doesn't injure his Achilles[5], Dwight is convinced to stay in LA, and Mike D'Antoni and Lakers never fall into the same sentence.
5
Or maybe Dolan can just trade for Kobe.
Are you reading this, James? I AM THE ONE WHO KNOCKS!
A Christmas Wish for Chicago Fans…
By: Jim Armstrong
Let's go back to the end of the 2011-12 NBA basketball season. Just a year and a half ago LeBron James was title-less, having been embarrassed by the Dallas Mavericks in six games in the 2011 NBA Finals the previous season. Derrick Rose was the reigning MVP, who at the time was a precocious 22-year old point guard for the Bulls who many thought would take the mantle as the league's next superstar. This was how the story was supposed to go…only the events of the last year and a half couldn't have unfolded any worse for the Bulls.
During this time the LeBron-led Heat have won back-to-back NBA championships and are positioned this year to be the first team to win three straight championships in over a decade ('00-'02 Lakers). The Blazers, Spurs, Pacers and Thunder all may have something to do with this transpiring. Meanwhile, the Bulls have suffered setbacks in each of the past two postseasons. In 2012, Derrick Rose suffered a torn ACL in his left knee in the Bulls' first game of their first round defeat against the 8th seeded 76ers. The Bulls ended up losing in 7 games to the upstart 76ers. And just last year, the undermanned #5 seed Bulls beat the #4 seed Nets in 7 games and then took Game 1 of their 2nd round series against the #1 seed Heat. They proceeded to lose the next four games, after injuries to Rose, Luol Deng and Joakim Noah were too much to overcome against the supremely talented Heat.
After Rose's latest knee injury last month (torn meniscus in his right knee) the Bulls have dropped out of the playoff picture, currently seeded 9th in the weak Eastern Conference. They sit only a half game back of Boston for the 8th seed but with Indiana and Miami anchoring the top of the conference, I don't see the Bulls being able to win a playoff series unless they get a 6 seed or better. This isn't completely out of the picture since the Bulls are only 2 games out of the 6 seed in the watered down Eastern Conference.
Chicago fans have been suffering for way too long across most of their major sports teams. Let's take a step back and assess the current Chicago sports landscape:
Chicago Cubs last won a World Series in 1908, and last appeared in the World Series in 1945
Chicago White Sox won a World Series in 2005, just 8 seasons ago
Chicago Bears last won a Super Bowl in 1985 and haven't appeared in the Super Bowl since the '06 season
Chicago Black Hawks have won two World Series in the last four seasons ('10 & '13) forming the closest facsimile of a dynasty since Jordan's late 90's Bulls
Chicago Bulls haven't won a championship since 1998
For anyone under the age of 25 in the Chicago-land area, the only modicum of success that he/she has experienced have been the multiple Stanley Cups that the Blackhawks have brought home over the last handful of seasons and the Chicago White Sox winning the World Series in '05 (that seems more like 18 years ago, as opposed to 8 years ago).
As every Bulls fan across the country gathers with family and friends during the holiday season, they're sitting around the fire and wishing for two healthy knees for Derrick Rose. Two healthy knees that will help aid his comeback later this season (best case scenario).
As a final note, most genuine sports fans feel robbed when elite athletes get injured and lose out on prime years. For Derrick Rose, we'll never know how he could have impacted both the 2012 and 2013 seasons. Would the Heat have won the title in both of those years? My bet is that with a healthy Rose, the Bulls would have beat the 76ers and taken out the elderly Celtics in a 6 or 7 game series, setting up a re-match with the Heat from the previous season in the Eastern Conference Finals.
And who's to say the Bulls don't build off of their Game 1 win during last year's playoffs? If Noah isn't banged up and Luol Deng doesn't get a mysterious illness that saps him of all strength and knocks him out for the entire series? As true fans, you feel cheated when teams aren't at their best.
I feel the same way about the '08 Patriots, who lost Tom Brady 15 snaps into the season, as I do about the 2012, 2013 and 2014 Bulls. I feel similarly about the 2013 Celtics and Rajon Rondo. Would the proud Celtics have gathered one last playoff run together with a healthy Rondo piloting the Celts? Sadly, we'll never know and for a team with players as old as Pierce and KG, you can't recreate that team the following year. That team is gone…forever relegated to the history books.
Sometimes the moment is now and injuries rob you of ever knowing what could have been. As I sit here on December 23rd, typing out these final sentences, here's my wish for health to the NBA's best players. May they stay upright through the dog days of January and February and provide us with a scintillating stretch run that's devoid of any "what if" questions.
Any true Heat fan would want their team to face a Bulls team with a healthy Derrick Rose or a Pacers team with a healthy Danny Granger. Elite teams want to beat other elite teams at full strength.  As we look back on 2013, let's hope for a healthier 2014…