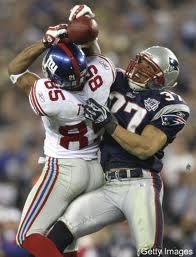 We all have our sports moments that will remain etched in our memories forever. We know exactly where we were sitting, what we were doing, who was in the room with us and how we felt during that precise moment. We'll remember the agony, the jubilation and emotions we didn't even know we had bottled up inside of us.
Every Giants fan remembers the Tyree Catch in Super XLII. We remember Corey Webster's interception of Brett Favre in the NFC Championship game two weeks prior. Every Bulls fan remembers Jordan's 16 foot game-winner over Byron Russell in Game 6 of the '98 Finals. We agonize over the what-could-have-been moments. And we celebrate and speak reverentially about the moments that defined our childhood or galvanized a group of strangers in a bar.
Sports are special. We lose sleep, money and sanity over sports, but we keep coming back for more. With no further ado, I will take you through my most indelible sports memories…memories that I can recall with absolute clarity, as if the game were played last night.
Giants Game-Winning Drive in Super Bowl XLII
You could cut the tension in the air during the entire game. Allow me to explain. At the time I was a sophomore in college, all of 20 years old and soaking up the Super Bowl in my fraternity house. I attended school in central New York, at Syracuse University. As you can imagine, my house was predominantly comprised of students from New York, New England and other parts of the Northeast and Mid-Atlantic states. As the game started, the house subtly became divided, with those die-hard Pats fans moving to one side of our main room, and us Giants fans populating the other side. There was some vitriol tossed back and forth…including a few beer cans throughout the course of the game.
I'll never forget how much this game felt like David vs. Goliath. The Pats had reeled off 18 straight wins and seemed destined for a place in the history books….destined to become the greatest team of all-time. The Giants hardly qualified for the Super Bowl in the first place. The Giants won 10 games during the regular season and beat the Tampa Bay Buccaneers authoritatively in the wild card round, while squeaking by the Dallas Cowboys and Green Bay Packers by a combined 7 points in the next two rounds (taking overtime to beat the Packers). Just getting to the Super Bowl was a huge accomplishment and something none of us ever had expected a month earlier.
Yet, with the Giants starting their final drive at their own 17-yard line, down 14-10, with only 2:38 on the clock, Eli Manning orchestrated one of the most incredible game-winning drives of all-time. Lost with Plaxico's game-winning fade-route in the end zone and David Tyree's ridiculous helmet Velcro catch was Steve Smith's crucial 3rd-down conversion with 0:40 seconds left. On 3rd & 11, Steve Smith made the catch three yards short of the sticks and side-stepped along the sideline, getting the first down by a yard, while also getting out of bounds to stop the clock. If you're the Giants, they likely don't win that Super Bowl without that critical 3rd down conversion.
Another play that stands out to me on that drive was Brandon Jacobs' 1 yard plunge with 1:30 remaining on 4th & 1. He juuuust eeked out the necessary yard to get the Giants a new set of downs and keep the drive moving. Without Jacobs lunging at the last second to gain the first down, there is no Tyree helmet catch and Plaxico fade route in the left corner of the end zone.
As you can imagine, there were a ton of jubilant fans in my fraternity house that night and there were a ton of guys who were fuming. In fact, one of our members (who was a huge Pats fan) punched a radiator dial and sliced open his fist (classic angry frat guy move), which knocked out the heat for the next week in the dead of winter in upstate New York. For the next week I was sleeping in thermals, long underwear and a sweatshirt. I didn't mind though, the events of the previous weekend made the frigid evenings in the fraternity house worth it. The Giants had won the Super Bowl.
Tiger's Chip in at the '05 Masters on the 16th Green
Sublime. Impossible. Those were a few of the words that were flying through my head after Tiger Woods chipped in from off the back of the green on the 16th hole at the 2005 Masters. He wasn't supposed to get that shot close, let alone jar it from where he stood. The ball was an inch from the lip of the 2nd cut of rough and Woods was aiming to land the ball a good 25 feet above the pin. Unreal…I wouldn't even know where to begin with this shot.
At the time I was a 17-year old high school junior. I was enjoying a barbeque at my buddy's house in the town next to where I grew up. We had the tournament on and for the entire back 9 I remained glued to the TV set. My buddy Mike and I sat there, entranced, waiting for Woods to lift this ball onto the green. Woods hit it and we waited…and waited, as the ball trickled down the green, getting closer and closer to its intended target. Then the ball just stopped…and hovered on the edge of the cup for a full three seconds, before finally turning over a quarter of a revolution and dropping into the cup. Verne Lunquist's "Oh my Goodness" call will remain etched in my memory forever. Mike and I started yelling and exchanged high 5's. Outside of Phil Mickelson's 18-foot winding putt to win the Master's in '04, this was by far my most memorable golf moment.
Legendary stuff. That shot would prove to be critical, as Woods was tied at 12-under par after the final round with Chris DiMarco and would go on to beat DiMarco on the first playoff hole. This would be the 9th of his 14 major championships won to date.
Allan Houston's Game-winner in the 1st Round of the '99 NBA Playoffs
This shot was absolutely epic. I was sitting in my basement with my good buddy Ryan. We were all of 11 years old at the time, and we lived and breathed Knicks basketball. The Knicks had been knocking on the door for years now (for as long as our young memories could remember) and here were the Knicks, knocking on the door again.
This was Game 5, back before the league moved the first round format from 5 games to 7 games. I enjoyed the 5-game playoff format better due to the greater propensity for upsets (re: Knicks over Heat in 1999). Down by a point, the Knicks were inbounding from in front of their bench, with a chance to score and take the series from the Heat. Remember, this was the 1998-'99 lockout shortened 50-game season and the Knicks were the #8 seed up against the mighty Miami Heat, who were a #1 seed. If the Knicks won, this would be only the second time in NBA playoff history that a #8 seed would take down a #1 seed.
Houston received the ball at the three-point line with 4.2 seconds left and incredibly, with one dribble, got inside the foul line for his leaner. The ball hit the front iron and caromed off the glass….and through the net. The Knicks would go up 78-77 with 0.8 seconds left….a classic Knicks vs. Heat score of the late 90's. Remember: this was before the league instituted rules against hand-checking, max time limits on big men posting up and 8-second backcourt violations. This was the peak of the grind-it-out era, when teams would score 85 points and won playoff games…consistently!
Ryan and I were whooping and hollering in my basement, running around just as you would envision 11-year olds running around after a big victory. I look back at that moment and smile. Little did we know that this moment would represent the apex of Knicks basketball for the next 14 years…and counting (God it sucks to be a Knicks fan).
Ray Allen's Game 6 tying 3-pointer versus Spurs in the '13 NBA Finals
Although Ray Ray's dagger 3-pointer occurred a mere three months ago, I know I'll be talking about this game with my buddies 20 years from now.
I was at the bar in the East Village called Cooper's with my old roommate Drew, his cousin and a few of his cousin's buddies. I had just met up with them after one of my own basketball games. I was sweaty and tired…I remember that day being particularly stressful.
With the Spurs up 5 with under a minute left, I would have bet 10-to-1 odds that the Spurs walk away with the title. Another thought about that night, Ray Allen saved LeBron James' ass in that 4th quarter. Despite LeBron pouring in 18 points in that 4th quarter, he frankly didn't play well in the last two minutes of that game. He committed a ghastly turnover that led to two made free throws by Ginobili (put Spurs up 4 points) and then took a terrible running jumper (essentially is a turnover in my mind), which resulted in an air ball and led to Ginobili splitting a pair of free throws (Spurs go up 5). With the Spurs up 5 with 28.2 seconds left, LeBron absolutely bricked a three-pointer from the top of the key, before the ball caromed out and he nailed a second look from a few feet to the left of his first attempt. And then we get to the final Heat possession. LeBron bricked another three-pointer, only to have Bosh bail him out and find Ray Allen in the corner for a 3-pointer that will go down as a top-20 playoff shot of all-time. By my count that's 2 LeBron turnovers (if you're counting his terrible running air-ball jump shot) and 2 LeBron bricked threes (one of which was kicked back out to him for a make and the other that Bosh rebounded and kicked out to Allen).
I don't care what anyone says; LeBron didn't play that well in the final two minutes of this game. Have a look for yourself below.
If Ginobili or Kawai Leonard hits one more free throw, the Spurs win the title and LeBron has an unsightly 1-3 career Finals record. Also, I'm putting it out there now….LeBron and company do not win the '13-'14 crown, there's no way. In a brutal Eastern Conference, in which several teams upgraded or returned injured stars (Indiana, Chicago, Brooklyn and maybe the Knicks) I don't see the Heat surviving three hellish rounds to play a formidable Western Conference foe (Thunder, Spurs & Memphis are all legitimate contenders, with the Clippers being another potential tough out).
Jordan's Game 6 Winner over Byron Russell in the '98 NBA Finals
I'll never forget sitting in my porch with my father and our friend, Michael Madigan, watching the final minute of Game 6 on the edge of our seats. We were die-hard Bulls fans and saw the highs (5 titles in the previous 7 years) and the lows (early playoff exits in '94 & '95, sans Jordan in '94 & with a rusty Jordan in '95). This game had an air of finality to it and we knew that this was the Bulls' last run as the team was currently constituted.
Every sports fan talks about the Game 6 winner, with Jordan crossing up Byron Russell and craftily pushing off Russell with his left hand (Russell slipped as well; it wasn't all due to Jordan's push-off). He absolutely buried the game-winner from 16-feet with 5.2 seconds left. The moments I'll remember about that game are the minute leading up to the game-winner. With 41.8 seconds remaining, John Stockton buried an elbow-extended three pointer that put the Jazz up 3 and had the Bulls (and us) reeling. My Dad and I exchanged nervous looks and just hoped that the Bulls would have enough time to make up this 3-point deficit. What happened next was vintage Michael.
Jordan would catch the ball unmolested at the top of the three point arc, take three dribbles and finish with a runner off the glass. Who did he beat off the dribble…none other than Byron Russell (Jordan owned Russell in the '97 & '98 playoffs). Just like that, the Bulls were down only 1 with 37.1 seconds left and only 4.7 seconds had run off the clock with that play. The Jazz would push the ball down the court and get the ball into Karl Malone, their unquestioned leader and playoff choke artist. Jordan feigned trailing Hornacek into the corner and snuck behind Malone in the corner and stripped him. The rest is history…Jordan would dribble down and stick the 16-footer that would cement his legacy forever as the game's all-time greatest closer.
I'll never forget my Dad, Mike and I jumping off the couch in unison, screaming at the top of our lungs. Our yells were unintelligible and our passion unbridled. I remember us three embraced for the next few minutes while Bob Costas (our favorite announcer at the time) delivered a fitting tribute to Jordan…in a way that only Costas could have delivered the coda to Jordan's career.
When I think about sports and how they have defined me during my 26+ years, this moment stands out as my most memorable as a sports fan. I'll be telling my kids 20 years from now how lucky I was to watch Jordan and LeBron play in their primes. Every sports fan has their moment. The moment that they remember with absolute clarity. Mine was Jordan's final minute as a Bull.
What are your most memorable sports moments? Which games or plays remained etched in your mind? We would love to hear from you. Leave your moment in the "Speak Your Mind" section below!