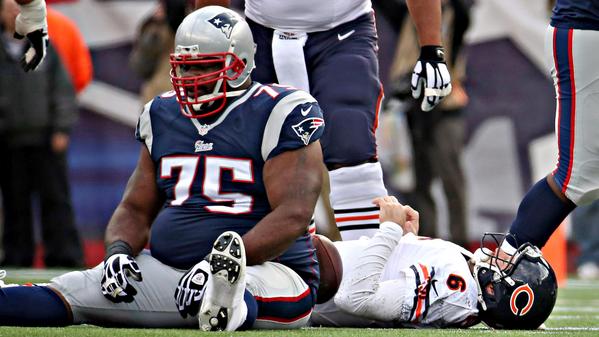 Since the 49ers were on a bye this past week, I debated taking a one-week hiatus myself. Then I remembered that the 49ers basically played like they were on a bye in last week's game against the Broncos, and since I still wrote a post after that debacle I suppose it's only fair that I push on this week, too. Should you care? Probably not. Actually, definitely not.
This week featured celebrations aplenty. So many, actually, that more than half of the GIFs are of celebrations. You're excited? Good. You should be.
 10. Jeremy Maclin's thirsty for some Gatorade.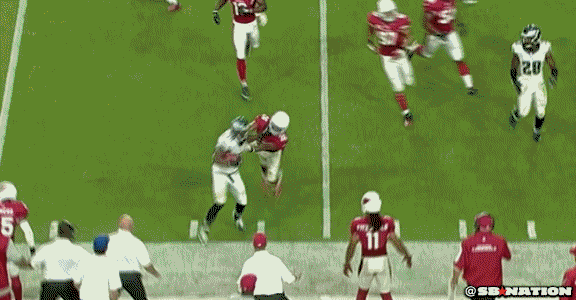 After this happened, Maclin posted the greatest statline of his entire NFL career. I'm forwarding this over to Colin Kaepnerick and the entire 49ers offensive line. Hey guys, maybe think about taking a quick pregame-Gatorade bath for the rest of the season? Please? PLEASE?!?
9. The New York Jets/Buffalo Bills game was a barrel of laughs.
My favorite thing about this game was everything about this game. Let's address the Jets first and then get to the Bills later:
How about the time that Michael Vick tried to hand the ball off and no one was there, so he ran it himself and then fumbled?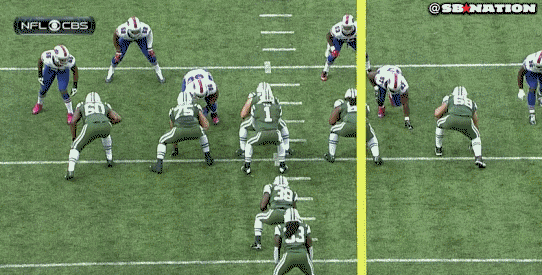 Or how about the time the Jets tried to run a trick play on a kickoff return by having a guy just lay down in the endzone1?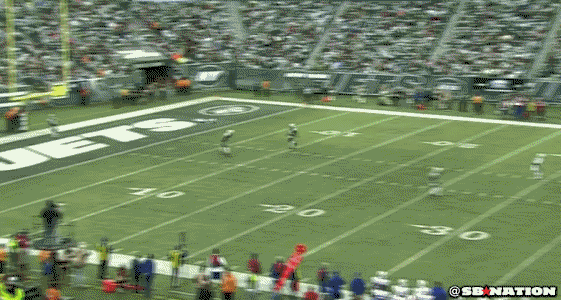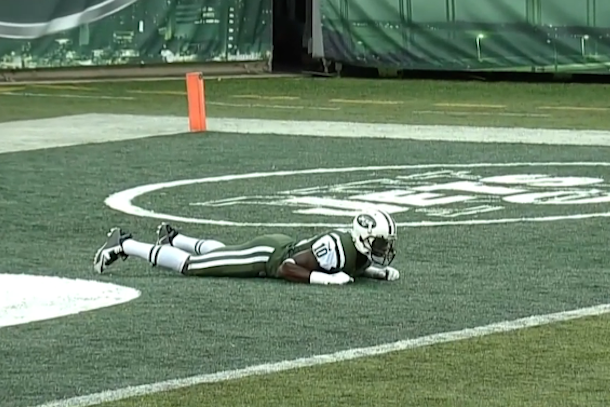 I was debating showing you all of the Jets' mistakes from this game2, but I'm saving that for my other post entitled "New York Jets, LOLz". Actually, I might save myself the time and just post this picture instead: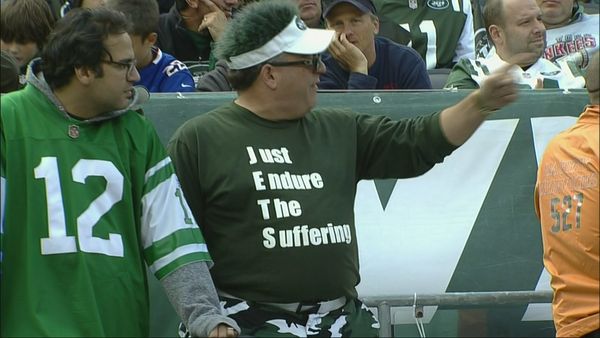 Aside from the t-shirt, this guy is wearing one of those lame visors with the fake spiky hair AND he's wearing camouflage Jets pants. Outfit rating: 10/10.
8. Police, they're people, just like us.
And, just like us, they love watching their favorite teams score touchdowns.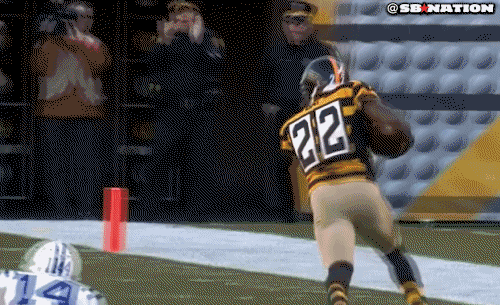 This is my second favorite celebration GIF combining sports and the police, trailing only Steve Horgan's amazing grand slam celebration during the 2013 ALCS. Actually, that might be the only other sports/police celebration GIF that I know of.
7. Cam Newton, giver of good high-fives.
Cam's high-five game is on point. I think it's got a 99 rating in Madden.
4, 5, 6. Let's talk about sacks, baby.
Oh, come on, you don't like that joke?? Who doesn't like Salt N Pepa references?? What do you mean WHAT is Salt N Pepa?? Whatever, let's just check out this week's best sack celebrations:
J.J. Watt, because of course J.J. Watt.
Titans rookie quarterback Zack Mettenberger started his first NFL game on Sunday. To commemorate the achievement, Mettenberger tweeted out a selfie from the locker room before the game.
#sundayselfie @wyman pic.twitter.com/uYJMPKjMry

— Zach Mettenberger (@mettshow) October 26, 2014
For some reason that PISSED J.J. Watt off. Like, a lot. Not that the guy needed any type of motivation in the first place, but I guess if you're facing Watt you should maybe stay off all social media the week before the game. You know, just so he doesn't make you look like an idiot. Or I should say, so he doesn't make you look like MORE of an idiot.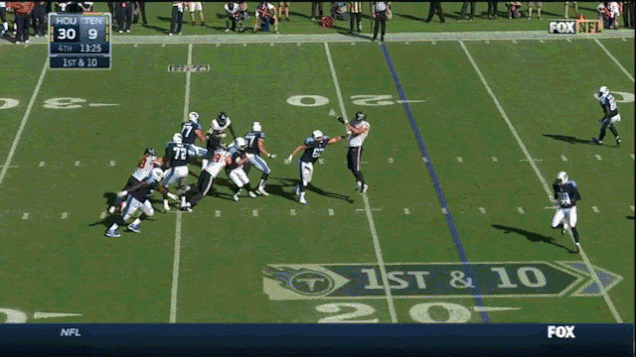 The Jaguars did this celebration, too, but it was the Jaguars, so it doesn't really count. Check it out anyway:
Lamarr Houston, this week's winner of the prestigious "How can you really be that stupid?" award.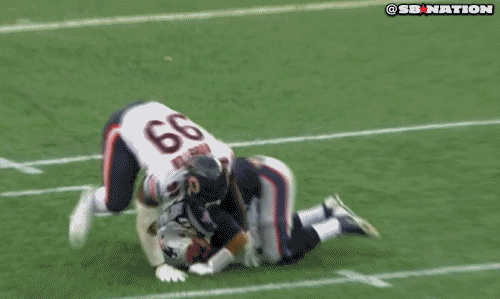 Seriously, dude – do you not pay attention or something? Another player tore his ACL THIS VERY SEASON doing that exact same celebration. And, hey, guess what? Houston tore his ACL too!! Check out this side by side of both players, which should be shown to all NFL players with the warning, "hey maybe let's not do this celebration??".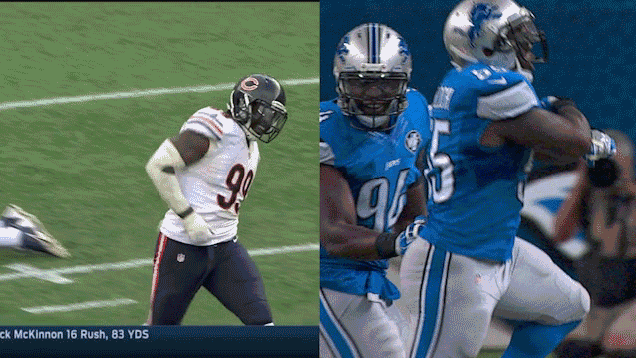 Oh, and your team is down by like 50 points, Lamarr Houston, so maybe celebrating a sack in general isn't the best call.
Brandon Mebane, owner of the best sack celebration of all time. What makes me sad is how unprepared the camera crew at this game was. If you've watched any football lately, you know that Brandon Mebane has one of the best sack celebrations in the league, and it involves that awesome belly. Seriously, how great of a celebration is this?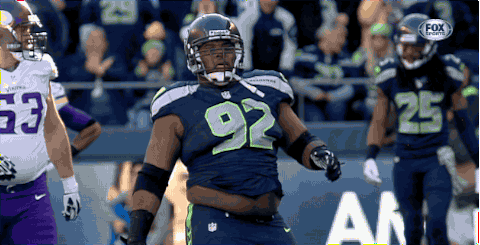 This is now two weeks in a row that I've shown a positive GIF featuring a member of the Seattle Seahawks, and I don't feel good about it. To make up for my traitorous behavior, here's a GIF of Panthers wide receiver Kelvin Benjamin making an awesome catch over Richard Sherman.
Ah, now I feel a little less dirty.
3. The week in celebrations that I don't understand.
Sponsored by the Pittsburgh Steelers.
Antonio Brown scores a touchdown and celebrates with Legarrette Blount like:
But then once he gets back to the sideline and sees Ike Taylor he's like: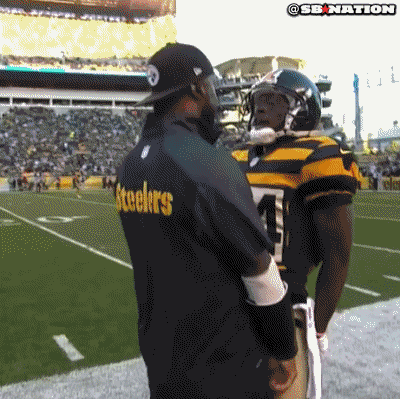 I guess the first two can be categorized as inside jokes or personal celebrations or roid rage, (maybe??) but in regards to cornerback William Gay's celebration…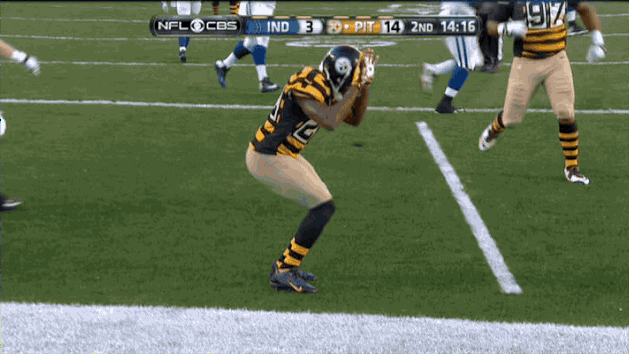 I have no idea what the H is going on here. What is this? If anyone can explain, please shoot us an email at WhatInGodsNameIsWilliamGayDoing@earthlink.com. Thanks.
2. Sammy Watkins goes all Leon Lett and whatnot.
The premature celebration was perfected by Cowboys defensive lineman Leon Lett in Super Bowl 27, but it seems like in the 20+ years since no one has learned that celebrating BEFORE you score isn't always the best idea.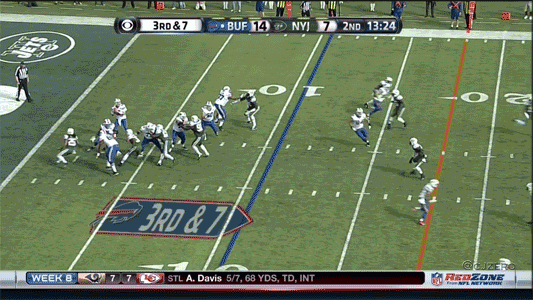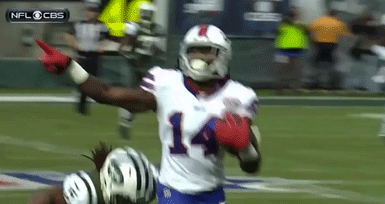 I hope he wasn't pointing up at some hot chick in the stands, trying be cool and suave. If he was, that tackle might be the greatest cock-block of all time.
1. Boobie Dixon and Sheldon Richardson can't agree on where to spot the ball.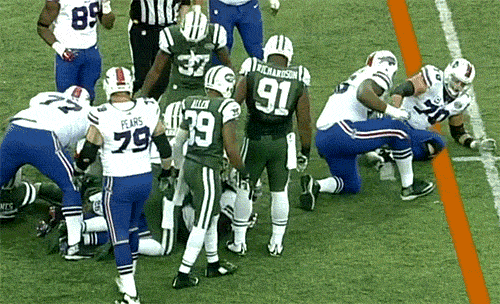 This is one of those rare times where something made me literally laugh out loud. I love this kind of stuff. Besides, as a rule, whenever there's a chance to add a GIF featuring a guy named Boobie, you jump at that opportunity.
BONUS!
So LeBron James was at the Browns game…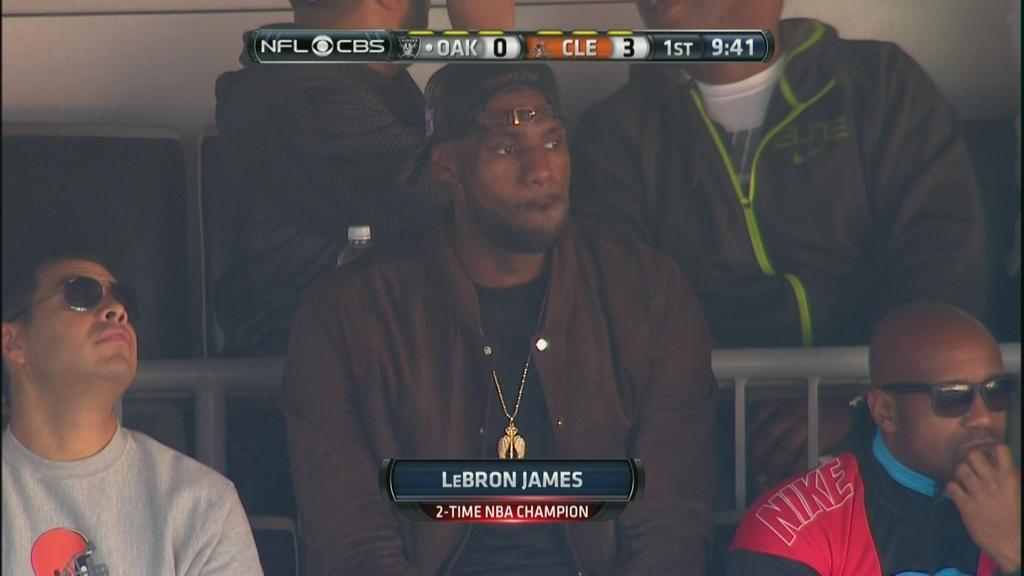 Is that hat completely made out of leather? Is he wearing a brown leather jacket with a black leather hat? Do you think he's wearing his hat awkwardly so that the small sliver of hair left on his forehead can watch the game, too? Remember when his hairline came back and then it disappeared again? God, LeBron is just always the worst.
More importantly than LeBron, Cousin Sal was at this game!! They should've just shown him instead. I bet he wasn't wearing some stupid leather hat.
The guy who showed up at the Panthers game dressed like Toucan Sam.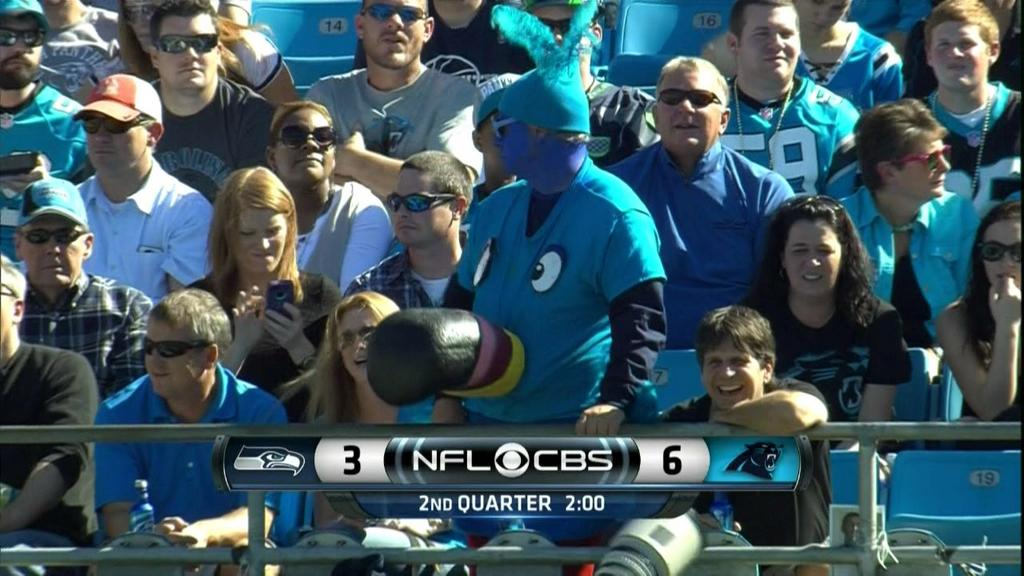 Winner or loser? You decide.
Just kidding, complete loser.
THIS.
The physician who approved Tony Romo's return pic.twitter.com/aPwmnQzAUf

— CJ Fogler (@cjzero) October 28, 2014
Trent Dilfer, Captain Obvious.
I really dislike Trent Dilfer. I don't know if it's because he always seems to be bashing the 49ers, or if it's his smug self-satisfaction when talking about football, a sport he played professionally, but just not very well professionally. Or maybe it's his lack of any real analytic skill and his tendency to say things like this after games:
"Beyond the injury, Tony Romo's going to look at the film and say, Wow, that was not my best stuff." - Trent Dilfer

— SportsCenter (@SportsCenter) October 28, 2014
Wow, seriously just… wow. "Tony Romo's going to look at the film of him losing the game and playing poorly and say 'that was not my best stuff'". Expert analysis as always, Trent. Almost as great as your insight on winning games in the NFL.
Finally…
When the teacher splits up the class into groups and you wind up sitting with all your friends.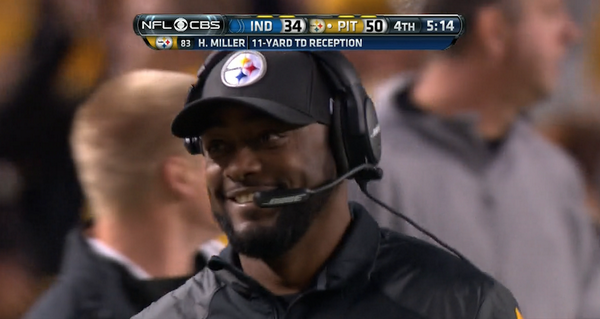 When a random girl starts talking to you at the bar but then your girlfriend walks over and is all, "wait yeah that's not happening".
See you guys next week!