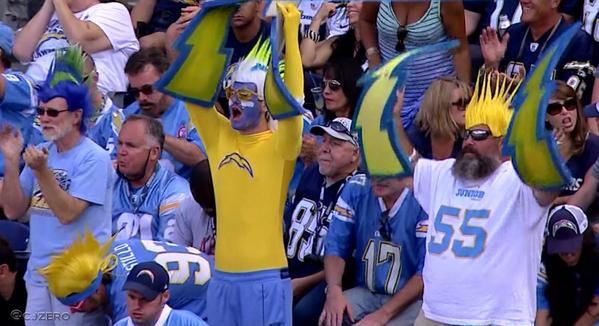 Wow, seven weeks in! The season is flying by! It feels like just yesterday the NFL was pretending to care about domestic abuse and women's safety. But hey, now that everyone's wearing pink for breast cancer awareness we can put the real issues on the back burner while we watch grown men smash their skulls together. Hopefully in the process the Seahawks will lose, the 49ers will win, and all will be right in the universe. Fingers crossed. Now let's get into this week's GIFs!
10. Giants' wide receiver Reuben Randle hands his lineman, Justin Pugh, the ball, and Pugh has no idea what to do with it.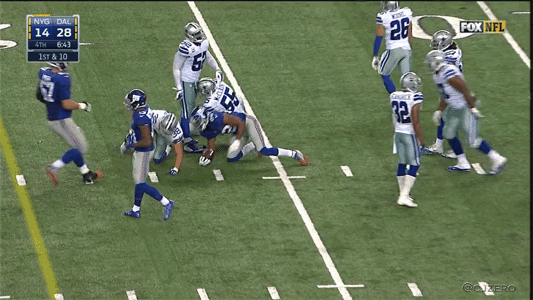 When a ref is nowhere in sight, NFL policy must be to hand the ball to the nearest offensive lineman, I guess.
9. Colt McCoy! Who remembers that guy?!
The last time Colt McCoy threw more than one pass in an NFL game was at the end of the 2012 season. The last time he threw an actual touchdown pass was December 23rd, 2012, and the last time he started an NFL game was during Barack Obama's first term as president. So, of course, upon entering the game he promptly threw the longest pass of his NFL career for a touchdown on his first dropback.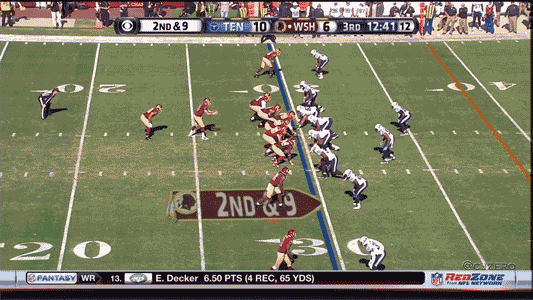 If a third-string quarterback who hasn't seen NFL action in over a year comes into a game and immediately throws a touchdown pass, you may want to rethink your defensive strategy. Or maybe just your general life strategy. If you weren't able to catch up on the rest of this game, here's good recap:
Redskins Titans is the closest you'll get to preseason football in October

— Andrew Sharp (@andrewsharp) October 19, 2014
It's been so long since McCoy's been in a position to speak meaningfully to the media that someone didn't even remember his name:
8. Broncos wide receiver Emmanuel Sanders gets

a little

a lot of help from the officials.
Sometimes wide-open touchdowns happen during NFL games. It's usually caused by broken coverages, miscommunications, or trick plays. Or, other times, it's because an official just falls down and trips a defender: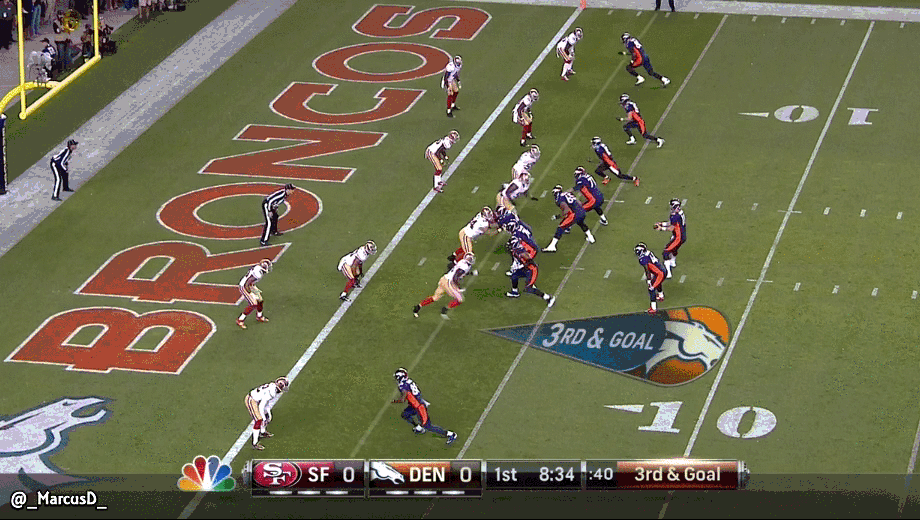 Clearly, this ref has Emmanuel Sanders on his fantasy team. And by the look of his smile, it seems like Sanders drafted himself in fantasy, too.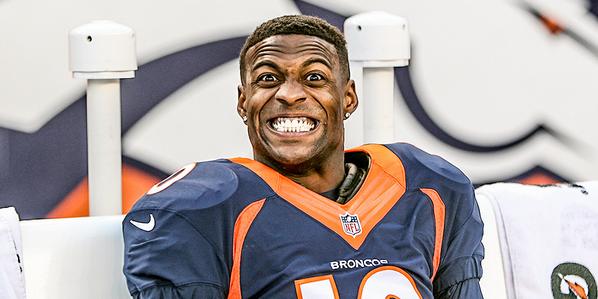 Or maybe he just felt like frightening some young children.
I don't think I'm going to get into the rest of that game, which was, quite frankly, upsetting and irrelevant to this post.1 Thankfully this play didn't make or break the game, as the 49ers decided they, too, were going to get in on Sunday night's celebration of Peyton Manning.
7. Percy Harvin, we hardly knew ye.
After the surprise trade of wide receiever Percy Harvin this week, reports surfaced that Harvin was a team cancer behind the scenes, causing multiple disruptions in team chemistry. In one such report, Harvin allegedly fought former teammate Golden Tate in the weeks leading up to the Super Bowl. This week, after scoring a touchdown, current Seahawks wide receiever Doug Baldwin paid homage to, perhaps, both of his former teammates by doing this:
I won't get carried away with praising the Seahawks for doing anything cool because, well, I hate them, but this wasn't too bad. Props to Baldwin for taking a shot at Harvin via touchdown dance.
6. Steelers linebacker Lawrence Timmons ain't feelin' so good.
I couldn't find a good enough GIF for J.J. Watt, the normal owner of this spot (don't worry, he's still in this post somewhere), so instead here are a few images of an NFL player throwing up: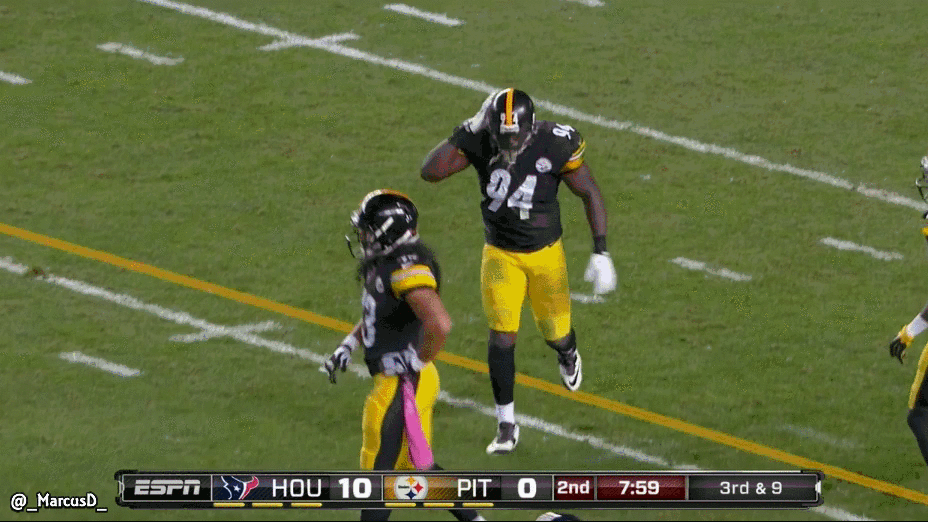 Anyone else feeling a little hungry after that?
5. The St. Louis Rams pull out every trick in the book, beat Seahawks, make me all happy and warm inside.
Ah, now this is more like it – the Seahawks having cool things happen AGAINST them. Keep an eye at the top of the screen here – the Rams pretend the punt goes towards the bottom right, but they actually field it on the opposite side, fooling the entire Seattle punt team and the Fox cameraman in the process.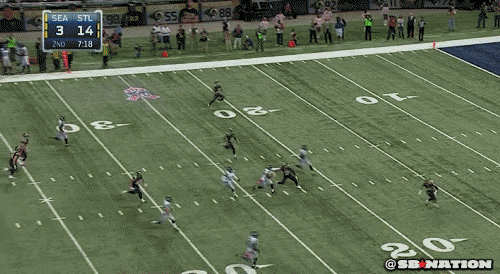 Great stuff.2
Later, on a critical 4th down, the Rams call a fake punt that is perfectly executed, all but putting the game away for St. Louis.
Seriously, anytime that Seattle loses is just a great day for all. If you're reading this and you're a Seahawks fan then, well, I'm sorry I'm not sorry.
4. NFL official Gene Steratore loses a contact lens.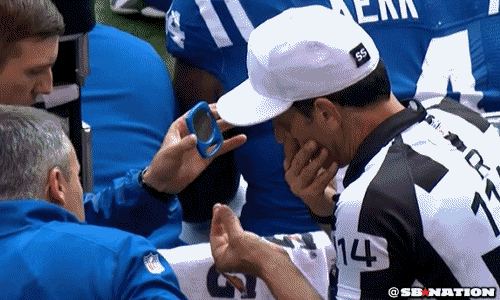 This seems like a somewhat random-but-normal occurance, and Gene Steratore is one of the cooler officials, but still, there are a few things I'd like to know about this:
Whose small, personal mirror is that?
Does it have a Colts logo on it?
Do NFL officials with contact lenses have special assistants to hold them?
Is an NFL official losing a contact lens the reason why the 49ers were denied a Super Bowl victory???3
By the way, did you know that officials have their own personal stat pages? The NFL keeps stats for officials!
3. It's been awhile since we've heard from Alex Rodriguez, where's he been?
Oh okay, he's just been at Cowboys games, being the worst. Like always, A-Rod seems to just be in everyone else's way. I'm not even sure if this is better or worse than the last time he was caught on camera at AT&T stadium.
1 & 2. The different reactions to Peyton Manning's record breaking night.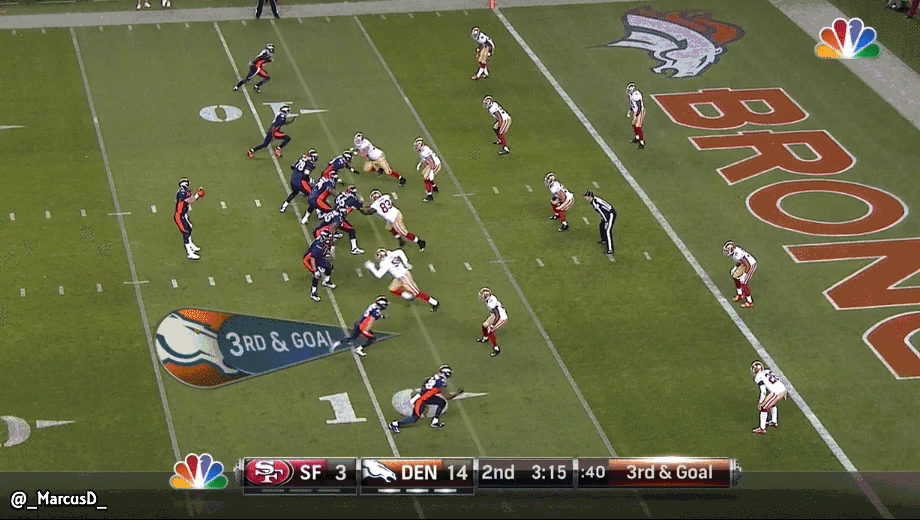 That's Peyton Manning throwing the 509th touchdown pass of his career, breaking former Packers quarterback and current MicroTouch spokesman Brett Favre's all-time record. Peyton was obviously ecstatic, but let's take a look at the other ways you can celebrate this feat of football mastery:
You can give a respectful golf clap: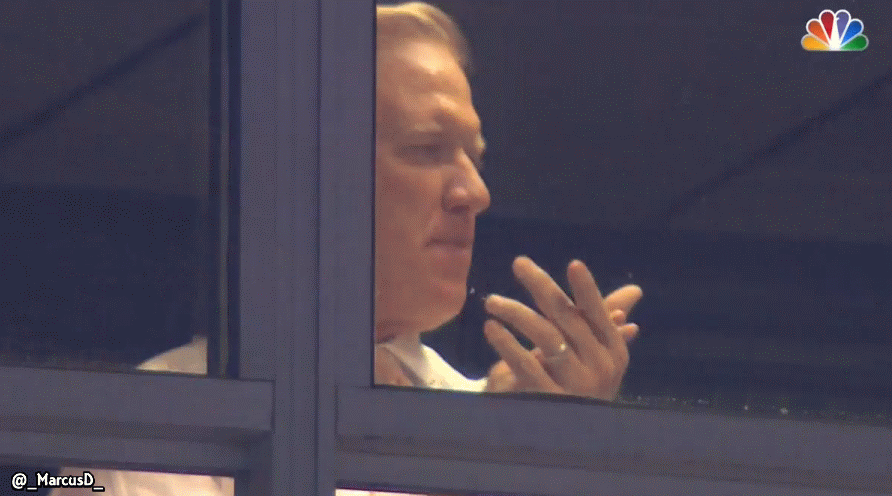 John Elway's happy for Peyton breaking that record the same way a woman is happy for a best friend getting engaged before her.
Or you can ride a horse down the middle of the field: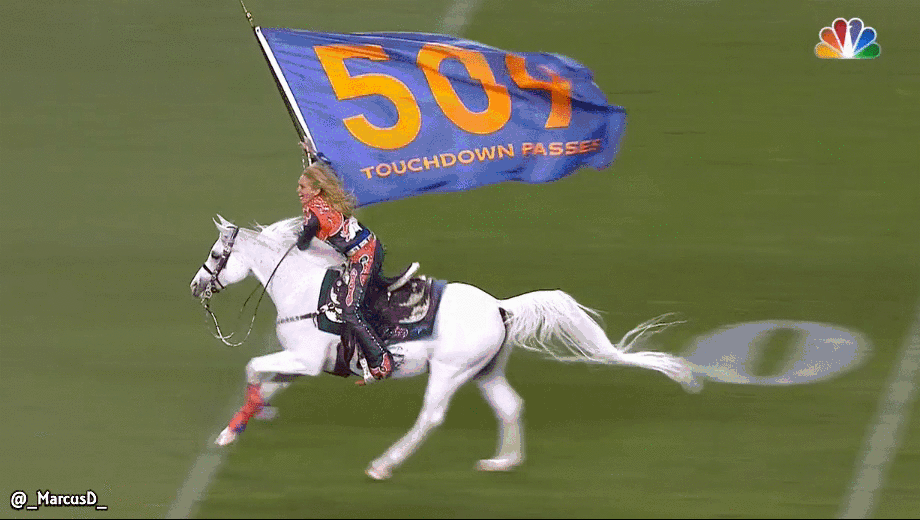 Having large animals run around the field in the middle of an athletic event seems closer to the unsafe category than the safe one, but hell, it's not like the NFL really gives a damn about player safety anyway.
Or you can just prevent the guy who actually broke the record from getting the ball: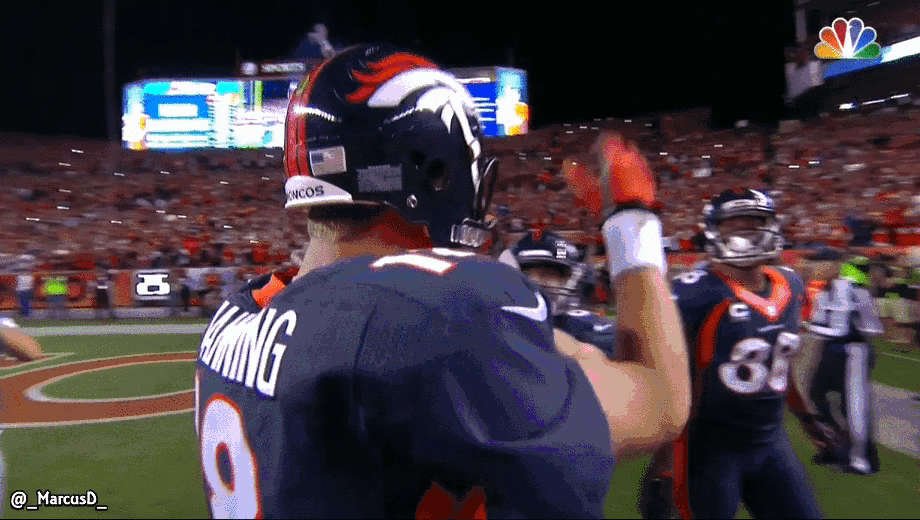 I'm a fan of the last way, but that's just me.
BONUS!
Ice Cube gave Raiders quarterback Derek Carr a pregame pep talk in the hopes of sparking Oakland to its first victory in 2014.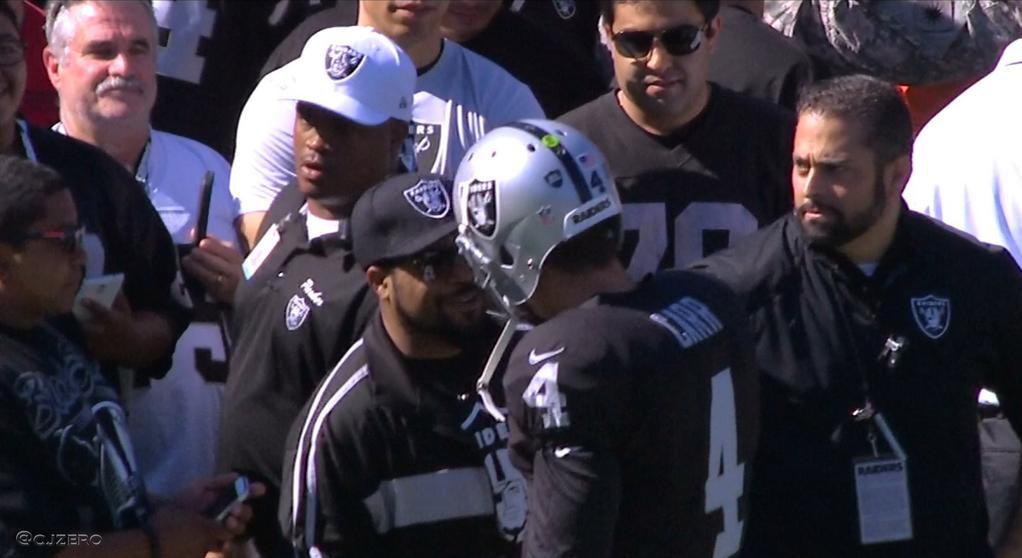 As you could probably expect, it did not help, and the Raiders did not win.
Speaking of the Raiders still being winless….
Cardinals defensive tackle Darnell Dockett, out with an injury, still manages to have an impact on the game.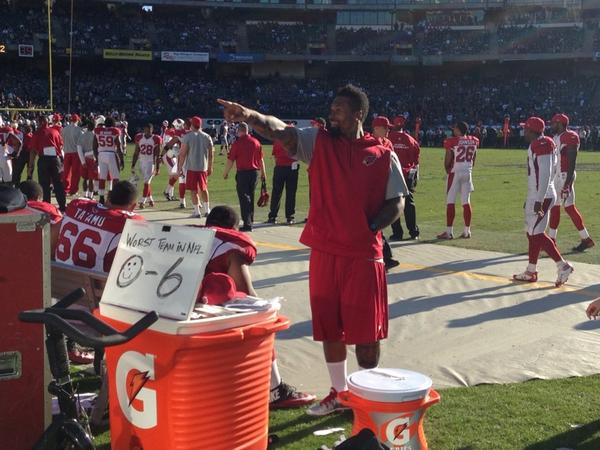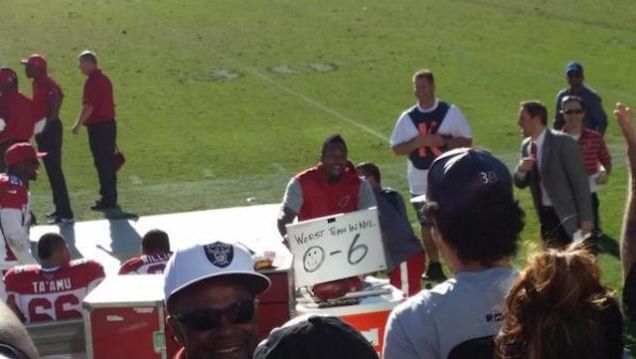 By trolling Oakland Raiders fans, which seems like it was warranted:
Raiders fans threw coins and ice at us, called us every name in the book. That's what made me write the sign.

— DARNELL DOCKETT (@ddockett) October 20, 2014
These guys.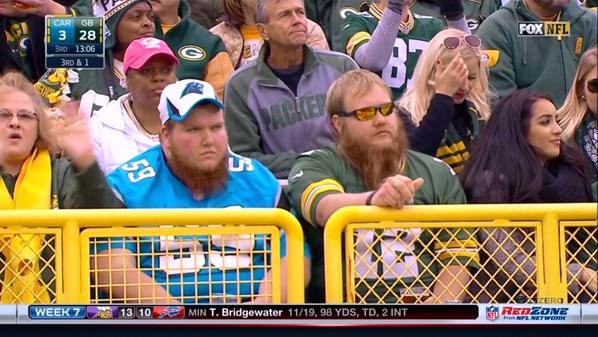 My guess is the guy on the left is the evil twin.
J.J. Watt doesn't make the GIF cut, but he's still awesome.
What, did you think he WOULDN'T be in the post? C'mon now, you know better than to think that.
Finally… (courtesy of my buddy Phil)
ESPN College Football analyst Lou Holtz unsuccessfully attempts to tackle the English language.
??????????????????????????????????????????
See you guys next week!