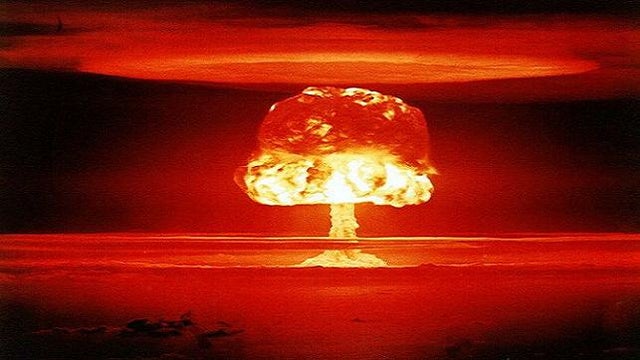 If you're curious about the actual trades that went down during yesterday's deadline, take a look here.
While you were at work yesterday, minding your own business during the NBA trade deadline, NBA Twitter melted. For real. The craziest trade deadline of my lifetime coincided with everyone on Twitter reacting like they had just looked directly into the Ark of the Covenant. 11 or 12 trades (depending on who you ask) featuring 30+ players, 4,503 draft picks and Alexey Shved all happened in the blink of eye. Yesterday was all types of crazy, unless of course you were Brook Lopez.
Somehow everybody was traded EXCEPT for Brook Lopez.

— Noam Schiller (@noamschiller) February 19, 2015
Let's take a look at what happened on Twitter, those who won and who lost the deadline in 140 characters or less.
Winner – Yahoo! NBA reporter Adrian Wojnarowski
Good lord.

— Adrian Wojnarowski (@WojYahooNBA) February 19, 2015
There's not enough room here to post every single trade and transaction he broke, but I'd suggest scrolling through his Twitter timeline from yesterday to grasp the full magnitude of what was accomplished. Woj is most likely safely back in whatever underground bunker he lives in between trade deadlines, buyout periods and free agency, wearing Beats by Dre and listening to Aloe Blacc on repeat.
The guys got a Frank Underwood in basically every NBA office, and he's on the ground floor of every legitimate trade rumor. Between 2 and 3 PM Eastern yesterday, Woj was the first to break EVERY trade that happened. He's basically the opposite of Chris Broussard.1 At this point no one else should report any trade rumors in the NBA, we should all just be sitting at Woj's feet as he makes 8,000 phone calls while sitting on the Iron Throne.
Winner – Joel Embiid
Someone tell me what's going on please help

— Joel-Hans Embiid (@JoelEmbiid) February 19, 2015
This is old news, as the Sixers rookie has owned Twitter since the day he was drafted last June, but that doesn't mean it should go unmentioned. Joel Embiid is the best, and a small part of me wishes that he'd quit basketball altogether and just become the 76ers official Twitter ambassador/mascot. I mean at this point anything's better than their new dancing blue dog:
Best in show. https://t.co/H0pvRvV6hI

— Franklin (@SixersFranklin) February 10, 2015
Because when I think of the historical significance of a city like Philadelphia, I picture THIS:
Winner – The Atlanta Hawks Twitter Account
Meanwhile we watchin' our Twitter timeline like… pic.twitter.com/HaUsL3av1M

— Atlanta Hawks (@ATLHawks) February 19, 2015
When you've ripped off a 19-game winning streak and sit atop the Eastern Conference standings, there's no need for trades.
(•_•) <) )╯HAWKS / (•_•) ( (> BASKETBALL / (•_•) <) )> BACK! /

— Atlanta Hawks (@ATLHawks) February 20, 2015
Winner – Draft Picks
Philadelphia has traded K.J. McDaniels to Houston for Isaiah Canaan and a second round pick, league source tells Yahoo Sports.

— Adrian Wojnarowski (@WojYahooNBA) February 19, 2015
Source: Miami sends Danny Granger, Norris Cole, Shawne Williams, Jordan Hamilton and two first-round picks to the Suns for Dragic brothers.

— Adrian Wojnarowski (@WojYahooNBA) February 19, 2015
For Isaiah Thomas, Boston will send Marcus Thornton and a 2016 first-round pick via Cleveland to Phoenix, league source tells Yahoo Sports.

— Adrian Wojnarowski (@WojYahooNBA) February 19, 2015
Houston will send New York two second-round picks for Prigioni, source tells Yahoo.

— Adrian Wojnarowski (@WojYahooNBA) February 19, 2015
Philly acquires some dude from ISIS for two first round picks

— netw3rk (@netw3rk) February 19, 2015
Somehow, draft picks in the NBA have become so valuable that a team decided to trade one of its best players for a first round pick in 2021. Wait, what?!?
Only in the NBA can hope be manufactured so much through the possibility of maybe getting a good player in the future. "I know he was one of our best players, but MAYBE we'll get an even better player after you've lived FIVE MORE YEARS OF YOUR LIFE! Maybe not though! By the way, wanna buy season tickets for our team that's going 3-852 during those five years? Go team go!!"
Could you imagine if that's how people acted in the real world? "I was going to propose with a diamond ring, but instead here's this igneous rock that might have a crystalized diamond formation inside, just check back in 300 years."
Speaking of draft picks…
Loser – the Philadelphia 76ers Fan Base
#TogetherWeBuild pic.twitter.com/uDqubaxVfO

— Eliot Shorr-Parks (@EliotShorrParks) February 19, 2015
Who is still on the Sixers & available to play in their next game?

— Darius Soriano (@forumbluegold) February 20, 2015
Michael Carter-Williams, supposedly a big part of the team's future championship aspirations, and K.J. McDaniels, a surprise rookie doing great things (and son of a possible crazy person), were both dealt for future draft picks. Currently, the Sixers have more draft picks than actual players on their roster. I didn't confirm that anywhere, but it's probably true. There's an 85-90% chance that by 2018, their entire starting roster will just be made up future first round picks and no actual players. There's a 99% chance that team will still end up with a better record than the Knicks.
but really who plays for the Sixers now

— netw3rk (@netw3rk) February 19, 2015
Wikipedia was even amended to properly reflect the mood in Philly:
The 76ers wikipedia page has been updated. #NBATradeDeadline pic.twitter.com/Fe8h13NoZH

— NBC Sports Network (@NBCSN) February 19, 2015
Loser – Los Angeles Lakers
Byron Scott repeated his optimism in Lakers offseason plan though he declined to share specifics

— Mark Medina (@MarkG_Medina) February 19, 2015
I'm pretty optimistic at the prospects of winning PowerBall this year, too. Byron and I have, basically, the same odds for our optimism. Good times all around.
Loser – Me
I mean aside from the bevy of reasons why I'm already a loser in general, a part of me died inside after reading Kobe Bryant's GQ Interview early last week in which stated that he (paraphrasing) "can never be and/or have a great friend". For the better part of a decade, my life's goal has been to become Kobe's best friend, so this was a real hit to my childhood dreams2.  Then again, there's still a chance I can be the one to change him, a la Anastasia Steele in 50 Shades of Grey.
Sidenote: I'm not embarrassed to have seen that movie whatsoever, because it was awesomely terrible. I'm not joking, it was filled with so much unintentional comedy that I debated breaking it down in blog post, similar to the way you would with an NBA Finals recap. At one point "Christian" says, after a scene in which he gives whatever you would call his girlfriend/sex slave/hardware store worker a goddamn bubble bath3, "I'm just 50 shades of fucked up". That was an actual line in the movie, and a published author wrote that down in a book where one of the main characters was, for real, named Anastasia Steele4. That book sold something like a fafillion copies.
A few more of my favorites from yesterday's deadline:
I'm healthy GTFOH pic.twitter.com/gesmEcECHd

— Adam Mayo (@Mayo4695) February 19, 2015
BUT WAIT THERES MORE IF YOU CALL NOW YOU CAN GET FIVE MORE POINT GUARDS FOR THE PRICE OF THREE

— Conrad Kaczmarek (@ConradKazNBA) February 19, 2015
Nick Young says he got a chance to talk with the Dolphins over the break, says they've got an understanding with each other now.

— Serena Winters (@SerenaWinters) February 19, 2015
RT if Sixers GM Sam Hinkie traded you.

— Kami Mattioli (@kmattio) February 19, 2015
The Nets got great return for KG. But they still kept together that raging inferno of sadness.

— Hardwood Paroxysm (@HPbasketball) February 20, 2015
@steventurous … Andrew Wiggins: born Feb 23, 1995 Zach LaVine: born Mar 10, 1995 Kevin Garnett: drafted June 28, 1995

— Key Sang (@Phantele_) February 20, 2015
Isaiah Thomas, Jonas Jerebko and Luigi Datome bring the Celtics 2014-15 roster total to 27. Bill Russell had 49 teammates in 13 years.

— Sean Grande (@SeanGrandePBP) February 19, 2015
Best deadline ever.

— Jared Dubin (@JADubin5) February 19, 2015