1999 was a great year. I was able to witness my favorite college basketball player of all time (Khalid El-Amin), on my favorite college basketball team (UConn), win a National Championship against the worst, most annoying, hateable team in all of college sports: Duke.
To be clear, in the world of college basketball, there are only two types of fans: people who are smart and fun and cool and awesome… and people who cheer for Duke. I'm generalizing here, because I assume there's probably like one guy out there who roots for Duke but also does cool stuff like sky dive and watch Arrested Development.
It's necessary to make this preliminary distinction because, as I said earlier, in the 1998-99 NCAA National Championship game Duke lost, which is just as important (or probably more important) than UConn actually winning it. Let's take a quick peak at the Duke squad that fomented such genuine hatred in me at such a young age:
The '99 season was a sort of in between year for the casual Duke hater. Gone were the days of Christian Laettner and Bobby Hurley, yet it would be a few more years before J.J. Reddick showed up on the scene and everyone returned to REALLY hating Duke again. But there was still plenty to hate about this Duke team. For one, they had Shane Battier, who was one of those typical all-around solid Duke players that always tried hard and lacked any flash whatsoever; the type of guy who plays pickup in college and takes it way too seriously, denying you the ball past the 3 point line when all you want to do is just huck up some uncontested jump shots before going back to your room to play Halo. Not helping his cause either was how weird he looked to ten-year-old me: when I first saw Shane Battier I couldn't figure out if he had just dragged a comb through an already shaved head or if he was actually just a real-life Ninja Turtle.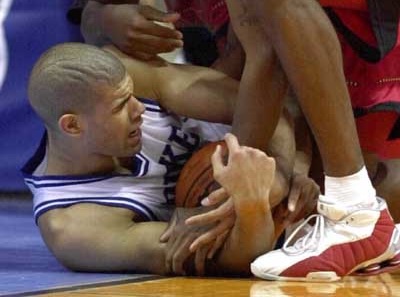 I just knew he looked weird, that was my first impression (and second, and third). Duke also had a guy named Trajan Langdon, who was nicknamed "The Alaskan Assassin" because he was from Alaska and also because he probably murdered people.1 He decided to go to Duke, I assume, because Alaskans were so detached from the rest of the United States that they didn't realize playing basketball at Duke was the equivalent of being a Kardashian or eating at Arbys.
* * * * * * * * *
UConn's best player in '99, Rip Hamilton, spent most of his collegiate games the same way he spent his NBA career: running in circles through screen after screen until he got open for a midrange jumper. I would've been turned off by this team if not for a chubby, 5'10", 200 pound point guard named Khalid El-Amin. El-Amin was the first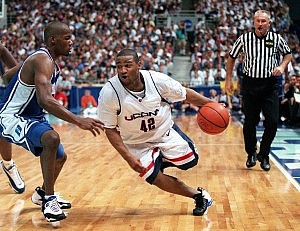 player I had ever watched live who had such unflappable confidence and swagger in such a small frame. It didn't matter who or what was in his way, he'd drive the lane and impose his will, taking big shot after big shot (especially during UConn's tournament run), and making them more often than not. It was like watching a bowling ball glide and finesse its way through a defense. El-Amin was the reason I started wearing t-shirts under my basketball jerseys as a kid and he's also the reason I would stuff an undershirt around my waist to make it look like I was just as chubby as him when playing hoops in the backyard. In the part of a child's life when self-image matters most, I wanted to be FATTER because of him. If that's not the sign of a true role model, I don't know what is.
UConn was ranked #1 in the nation for 10 out of 18 weeks that season, finishing the year 34-2 after dominating a completely loaded Big East2 that featured more than 10 future NBA players and was, at the time, college basketball's most exciting and talented conference, yet they STILL were 9 ½ point underdogs to freaking Duke, because Duke finished the season on a 32 game winning streak and had just won their five NCAA tournament games by a combined 126 points, waxing tourney foes by more than 25 points per game. Run-on sentence aside, that's a pretty ridiculous streak.
You'd be surprised, but it's not often that the pre-season favorites to win a championship actually meet at the end of the year, in any sport. But this year it happened.3 Despite both finishing with only two losses apiece, Duke was still almost a 10-point favorite, and was being compared to some of the best collegiate teams of all time. As someone who already hated Duke anyway, this made them completely insufferable. It also made me really worried that I'd have to live in a world where Duke had won yet another National Championship.
But guess what happened, kids? Duke played a sensational game, yet UConn outplayed them, with Khalid El-Amin (who else could it be?) sinking two free throws to put the Huskies up 3 with less than 6 seconds left, sealing the game while I cheered in my basement wearing a stuffed t-shirt. The entire game can be seen on YouTube for free, which I'd recommend checking out.
Hopefully that night, in a basement much like my own, another little boy realized he was witnessing the wonderful miracle of Duke losing, and he was forever impacted by such a powerful moment. The 1999 NCAA Men's Basketball Championship was not just a victory for the Connecticut Huskies, but, I'd argue, a victory for Americans everywhere. Does that make Khalid El-Amin a patriot? An American hero? A messenger from God?
Yep.
Amen.