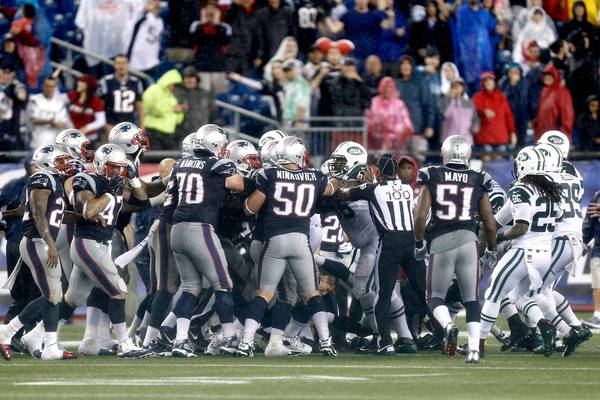 Rory Goulding
Let's, briefly, talk about Tom Brady still being an elite quarterback.
This has all been acknowledged; been said in countless articles and blogs and video hits, but it warrants mentioning again. In sports world where Skip Bayless can declare that Tom Brady is no longer a star-level quarterback by blindly looking at his passing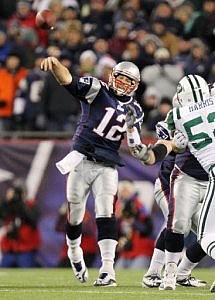 numbers, fantasy points and hair length through less than half of a season, it's easy to get caught up in the fanfare of proclaiming the Patriots as "officially dead". The thing is: that's just not true.
People like Skip Bayless, people who insist on making sweeping judgments so early in the season, are the worst. It's one of my biggest pet peeves, along with Instagram quote pictures, Richard Sherman, jorts, and Facebook links that end with "and you'll never believe what happened next".1
Gone are the days of Randy Moss, Deion Branch and Wes Welker running routes in New England – Brady, this season especially, has had to make due with a dearth of talent on his side of the ball. His offensive weapons currently consist of a hobbled Rob Gronkowski, former-quarterback and part-time defensive back Julian Edelman, Danny Amendola's dead body, a handful of young, raw wide receivers and Brandon LaFell. Brandon LaFell, you know, the guy who's never caught more than 49 passes in a season. Let's talk again about New England being dead in December, when Brady's had an entire season with this group.
As for the Jets themselves, well, the Jets are basically just a quarterback away from only being a secondary, two wide receivers and an offensive line away from being a decent football team, if that makes sense. And by the time they get those things, Tom Brady will likely be transitioning into making post-retirement Wrangler jeans commercials, so it'll be perfect timing. All jokes aside, I do believe GM John Idzik has a successful plan to build this franchise; it just won't help them tonight.
Some other bad news for the Jets: after struggling early this season, Brady has looked like Brady over the past two weeks. After throwing for less than 200 yards per game and only throwing only 4 TDs to 2 INTs (and 3 lost fumbles) during his first four games, Tom Brady has averaged 327 pass ypg with 6 TDs and no turnovers over his last two. He's also historically had the Jets number throughout his entire career. Bart Scott speeches aside, Brady is 18-6 against the Jets in the regular season, and has only lost to Rex Ryan three times since he joined the Jets in 2009. I have the Pats taking this one, unless the Jets can find another way to win on a bizarre penalty.
Patriots 24, Jets 13.
Jim Armstrong
The NFL is such a week-to-week sport. Just as soon as you think you have the league figured out the following occurs over the season's first month and a half:
DeMarco Murray starts the season with 6 straight 100 yard rushing games, tying the record set by Jim Brown back in…1958. Murray has spearheaded a balanced, ball control Dallas attack that currently has the team out in front in the NFC East, at 5-1. The Cowboys are in first place…raise your hand if you

saw this coming when you were grilling hotdogs on Labor Day?

The Seattle Seahawks have more losses than the Cincinnati Bengals, San Diego Chargers, Denver Broncos, Philadelphia Eagles, Dallas Cowboys and Arizona Cardinals….in that vein, onto the Cardinals.
The Cardinals have started three different QB's in the first six games and lost the following starters to free agency/injury prior to/during this season: John Abraham (IR), Darnell Dockett (IR), Daryl Washington (suspended), Carlos Dansby (free agency), Calais Campbell (out 2-3 weeks with MCL injury) and Jake Ballard (retired), to name just a few key players. We sit here on the eve of Week 7 and the Cardinals are in 1st place in the most competitive division in football despite all of this carnage…incredible.
The Cleveland Browns remain the upstart, feel good story of the season, posting a 3-2 record and sport come from behind victories against New Orleans and Tennessee this season (overcoming a 28-3 deficit against Tennessee two weeks ago in the 2nd half). Cleveland has deserved this for 25 years…couldn't be happier for this team and city.
New England just can't dodge the injury bug. After a rocky 2-2 start, which exposed the Patriots offensive line and made Tom Brady look like a mere average starter, the Patriots responded emphatically against the Chiefs and Bills in the last two weeks. Last week's victory over the Bills came at a huge cost. The Pats lost captain and stalwart linebacker Jerod Mayo and starting tailback Stevan Ridley to knee injuries. This in a conference where San Diego and Denver both loom at the top and are formidable once again on both sides of the ball. Another year filled with injuries is one that promises to end in heartbreak. Time will tell but my gut tells me they fall short of the Super Bowl due largely to their defenses' inability to stop these other potent AFC offenses.
These are just a few of the story lines that dot the NFL landscape and have bubbled up at different points throughout the first third of the season.
Now onto the Thursday night game: The Jets look every bit the disaster that they appear to be. They have one of the strongest front fours in the league and a decent rushing attack (#8 in the league) but outside of that they remain a mess. They're depleted at cornerback (Dee Milliner out for the year with torn Achilles) and their QB situation is tenuous at best.
All signs and indications point to a New England blow out in Foxboro. I say not so fast. This is the national football league and on any given Sunday anyone can win. I still say Pats win but it's going to be close (similar to how Broncos vs. Jets played out last week).
Pats prevail 24-21 on a Stephen Gostkowski field goal.