Rory Goulding:
Before we talk about tonight's game, I just wanted to let you know that it took me until Week 2 to remember that the Minnesota Vikings weren't playing in their home Metro Dome stadium anymore. For (at least) the next two seasons, the Vikings will call the University of Minnesota's TCF Bank Stadium home until a stadium of their own is built.1
I guess that doesn't really matter for tonight's game, which will be played at the Packers' Lambeau Field, although it does illustrate how irrelevant the sports scene in Minnesota has been lately – enough that one of longest-tenured NFL stadium's retirement was, basically, an afterthought.
But if last weekend serves as any indication, the future looks bright in Viking-town. That's thanks (mostly) to Teddy Bridgewater, who turned the Atlanta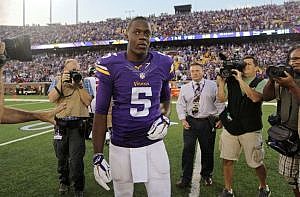 Falcons defense into Swiss cheese Sunday. As the stars of Minnesota teams continue to drop like flies, there's a vacancy for an admirable star that the city can rally around. Although Bridgewater may or may not suit up tonight, his playing status against the Packers won't curb any excitement towards his imminent ascension to Minnesota sports icon. Or maybe he'll just fizzle out like Daunte Culpepper. I sincerely hope my crowning of him as "next big thing" didn't completely jinx him.
Anyway, let's move on to the Packers because, well, they're going to win the game tonight. Why say that with such certainty? Because Aaron Rodgers, that's why.
Since Rodgers became the starter in Green Bay, replacing the gun-slinging, penis picture-taking2 Brett Favre, the Packers have completely owned the Vikings at home. Rodgers is 4-1 against Minnesota at Lambeau3, throwing for 1,296 yards and 11 touchdowns against only 3 interceptions.4 The Green Bay offense has been dominant as a whole too, averaging just under 30 points per game in those five home contests. I don't see much changing tonight, because regardless of whether the Vikings start Bridgewater, Christian Ponder, Josh Freeman, or Fran Tarkenton, no one can keep up with the Rodgers when he's clicking.
Prediction: Green Bay wins in a blowout, but Eddie Lacy continues to find ways to sabotage my fantasy team.
Packers 33, Vikings 16.
Jim Armstrong:
Unfortunately, the Thursday night NFL games have been absolute duds thus far this season. The average margin of victory has been 28.5 points. During the first four games of the season, the winners have scored at least 26 points while holding the losing team to less than 17 points. I don't know about you but that's what I call a good old-fashioned butt kicking.
In that vein, tonight's contest between the Green Bay Packers and the Minnesota Vikings should be no different. The Vikings have watched as their starting backfield has exited (re: Peterson, Adrian & Cassell, Matt) while their precocious young QB, Teddy Bridgewater is 'hopeful' that he will play tonight with a sprained ankle. Throw in the fact that the Vik's 24-year old starting tight end, Kyle Rudolph, is recovering from sports hernia surgery and is out for at least another six weeks.5
The Vikings have been largely an unmitigated disaster for the last five seasons. The only season where you could argue that the franchise was relevant was during the 2012 season, when Adrian Peterson led the team to a 10-6 record, carrying them on his back en route to a 2K rushing season and beating the arch rival Green Bay Packers in Week 17 to sneak into the playoffs. The last great QB to grace the field for the Vikings was Brett Favre, circa the 2009 version of Favre. During Favre's age 39/40-year old season, he threw for 4,202 yards (3rd highest total of his career) for 7.91 yards per completion (best of his career), 33 TD's (T-4th best of his career) and a career high 107.2 QB rating. Statistically, Favre submitted the finest year of his career, starting all 16 regular season games and two playoff games. The toll that this brutal season took on Favre's aging body caught up to him in his age 40/41 season the following year, when he played only 13 games and passed for 11 TD's against 19 interceptions.
Enter Teddy Bridgewater five years later, who is the most relevant QB since Brett Favre and thankfully is 19 years the junior to Brett Favre circa 2009. Bridgewater impressed in his first start last week, completing 19 balls for 317 yards and rushing 5 times for 27 yards, good for a QB rating of 98.9.
Full disclosure: I absolutely LOVE Minnesota. The Land of 10,000 lakes is one of my favorite states for its shear beauty, clean and livable cities and uber-friendly people. In another life I would live in Minneapolis and love every second of my experience there. With that being said, Minneapolis has been one of the most sports starved cities in recent memory.
Let's run down the line of major sports successes (or lackthereof):
Minnesota Twins – last playoff appearance was 2006, while the last World Series victory was 1991 (Teddy Bridgewater was -1 years old). The Twins also won the Series in 1987. To add insult to injury, Ron Gardenhire, the long time skipper of the Twins (13 years) was just fired this week.
Minnesota Timberwolves – haven't qualified for the playoffs since the spring of 2004 (10+ years and counting). Zero NBA championships in the history of Minnesota.
Minnesota Wild – qualified for playoffs each of the last two seasons. The Wild have never won a Stanley Cup in their 14-year history (really 13 years because the lockout erased the 2004-05 season.
Minnesota Vikings – last playoff appearance was after the 2012 season. The Vikings have participated in three different Super Bowls (1969, 1973 & 1974)…and managed to lose all three Super Bowls.
For those of you counting at home, that's zero championships in aggregate across all four major Minnesota sports teams since 1991. In Bridgewater they trust.