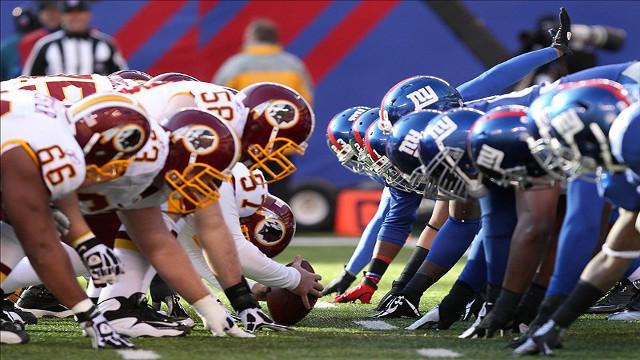 Jim Armstrong:
I don't want to belabor the Roger Goodell should be fired point but I must be taking crazy pills – the wrong guy was suspended! On Wednesday, September 24th multiple news outlets announced that Bill Simmons had been suspended for three weeks due to his comments on his weekly podcast (the BS Report) that were highly critical of Roger Goodell. Long story short, ESPN muzzled one of the most prescient and informed voices on their network. Quite simply: the wrong guy was suspended.
Moving on to a lighter note, the week 4 Thursday night game! First off, can you believe we're already into week 4? In a few short days we'll be 25% done with the season. NFL fans are like kids in October. They count down the days to Christmas/Hanukah using those ridiculous rings that are inter-connected and then the holiday arrives and boom, it's over in a blink of an eye. NFL fans prep for the season in a similar fashion. We struggle to remain interested in June – August baseball (who blames them?) and are saved from the summer slog with the beginning of college football and the NFL season start just a week apart. As we flip the calendar to week 4, we're introduced to a classic rivalry in the Giants vs. the Redskins.
While the Redskins are embroiled in their own PR nightmare, over the cogency and viability of their team name, they are playing some of the best football DC fans have seen the team play in years. Since Daniel Synder took over the team 15 years ago, Washington has been the biggest goat on the free agent market, acquiring such overpriced talents as Albert Haynesworth, Deion Sanders, Bruce Smith and Adam Archuleta, to name a few acquisitions that have gone awry.
This season is much different for DC. They have a precocious 3rd year, 26-year old QB in Kirk Cousins leading the attack with 3rd year, 25-year old running back Alfred Morris lining up behind Cousins. With DeSean Jackson and Pierre Garcon filling the intermediate to deep routes and Alfred Morris covering the flats, the Redskins have a balanced attack to expose the Giants suspect defense. Keep in mind that starting tight end Jordan Reed is out for the Redskins and starting cornerback DeAngelo Hall is out for the season with an Achilles injury.
On the other side, the Giants took care of business at home against an undermanned Texans team, which was missing Arian Foster to a hamstring injury. As an opponent, no one scares you on the Giants on both the offensive and defensive side of the ball. Victor Cruz is wildly inconsistent in this new offense and while Rashad Jennings is capable, he's not an elite back that will consistently draw 8 men into the box.
Giants are getting 3 points in a visit to FedEx field. I think the 'Skins will come out fired up after their last second loss to the Eagles last week. What better way to exact revenge then on one of your arch intra-division nemesis? Washington wins 31-23.
Rory Goulding:
I hate the New York Giants. There, I said it. It's unhealthy that I feel that way about a football team, but I hate them. I really do. And you can't change my mind on that, either. Since 2007, they've slowly and methodically beaten just about every team that I love and/or root for in the most heartbreaking ways.1 Their miracle runs in 2007 and 2011 are just plain nauseating, especially because their quarterback doesn't even know how to breathe out of his nose. Aside from the Seattle PEDs Seahawks, there isn't a professional team that irks me more than the way that these effing Giants do.
Okay, now that my anti-Giants rage-fest is over, and I've taken a deep breath, let's jump into a quick analysis of tonight's game…
What's the one matchup that will be really interesting to watch? Washington's (surprisingly) solid run defense against the Giants ground game, specifically Rashad Jennings.
The Redskins have only allowed 194 rushing yards this entire season, an average of less than 65 yards per game, putting them 3rd best in the league. That's pretty impressive, especially considering (as Jim mentioned above) their constant whiffs on defensive free agents. Putting aside Washington's Week 2 matchup against the Jags, whose rushing attack basically resembles that of a Pop Warner team at this point, their successes defending the run have come against worthy opponents. Notably last week, when they held the Philadelphia Eagles to 25 total rushing yards – the same Eagles team that led the NFL in rushing last season, averaging more than 160 rushing yards per game.2
On the flip side, the Giants rushing attack finally broke out in Week 3 for 193 yards, slicing up a weak Houston run defense that's given up just over 140 yards a game this season. Sorry Giant fans, but I just don't see that happening again, mainly because your GMEN were averaging a paltry 67 rush yards per game before last week. By the way, last week was also only the 4th time in Eli Manning's last 19 games in which he HASN'T thrown an interception.3 And to be honest, even if the Giants were 3-0, Eli had thrown 15 touchdowns last game, and their defense looked dominant, I still couldn't pick them to win. I mean, didn't you read the beginning of this? C'mon, Kirk Cousins, let's get the people of the Washington D.C. metro area some free pizza toppings!!
Redskins 100, Giants 0.
Redskins 41, Giants 27.
P.S. Jim already did a great job identifying the hypocritical nature behind the 3-week suspension of Bill Simmons, so I'll just add this…
The suspension that ESPN gave @BillSimmons is longer than Ray Rice's initial suspension for knocking his wife out. #TeamBillSimmons

— Jenny Johnson (@JennyJohnsonHi5) September 25, 2014
#FreeBillSimmons