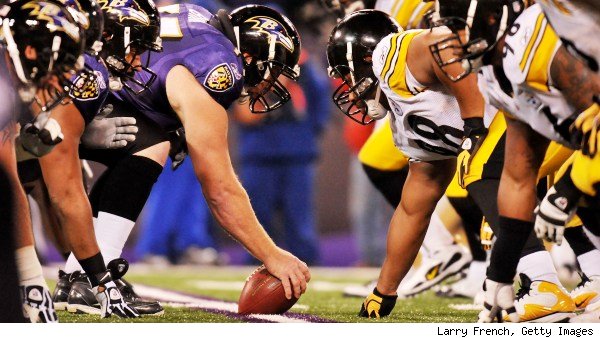 Rory Goulding:
The Ravens were my pick to win the AFC North when the season began, and despite a Week 1 hiccup against the Bengals, I still like that pick. The Ravens have a little underrated tone to their season this year, and I think the Bengals reign at the top of this division ends in 2014. Having said that, throw all reason out the window for tonight's 40th meeting between the Steelers and Ravens.
Since the Mike Tomlin-John Harbaugh rivalry began in 20071, these two teams have faced each other 16 times (including twice in the post-season). Here's a crazy statistic: 13 of those 16 meetings were decided by seven points or less, and 10 of those were decided by 3 points or less. Call me crazy, but I think it's a good bet that this one isn't gonna be a blowout.
Save for Antonio Brown going Karate Kid on any Ravens, I like Baltimore tonight, especially with Pittsburgh traveling on a short week. And, of course, I like it to be close.
Ravens 26, Steelers 23
Okay, sorry to change the mood, but let's get serious…
Tonight couldn't be more of a perfect night for a Ravens football game. Not that the Ray Rice saga needed any more kindling to keep the fire blazing that the NFL and Roger Goodell are hurrying to extinguish. Still, tonight everything will be magnified. Every time a Ravens running back touches the ball. Every time the camera cuts to coach John Harbaugh or GM Ozzie Newsome. Every time the broadcast on CBS or NFL Network shows the NFL shield. Every time any of these things happen, the general public will look upon a logo that has slowly become synonymous with poor decision-making; one that conjures thoughts of absent control over PED use, uneven suspensions and a strict substance-abuse policy that's laughably enforced more than domestic crimes.
The pinnacle, at least for most people, came this Monday after TMZ released a video of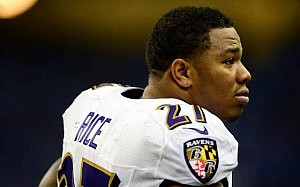 Ray Rice beating his then-fiancé Janay Palmer2 in the elevator of an Atlantic City casino. But, as graphic as that video is and continues to be, it was known that Rice had struck Palmer that night, and the NFL knew (regardless of whether they actually had the tape or not) that Ray Rice had put his hands on a woman. For that, he was originally suspended two games. In contrast, Browns wide receiver Josh Gordon and Jaguars wide receiver Justin Blackmon are currently serving indefinite suspensions for violations of the NFL's substance-abuse policy; specifically, testing positive for marijuana. Let's use a player from tonight's game as another example. Ravens linebacker Terrell Suggs' current wife has filed at least two claims against Suggs since he entered the NFL. One of those times, in September of 2012, Suggs allegedly punched and dragged his wife (then-girlfriend) along the side of his car with while their two children sat inside the vehicle. Suggs faced no discipline from the NFL.
Look now at what transpired just this past weekend, before the tape of Rice and Jenay Palmer was released. On Sunday afternoon, 49ers defensive end Ray McDonald played the entire game against the Cowboys, a week after being arrested on suspicion of felony domestic violence when police noticed bruises on McDonald's pregnant fiancé. Earlier this summer, Panthers defensive Greg Hardy, months after signing a one-year, $13.1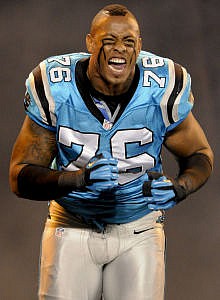 million deal with the team, was arrested for assaulting his girlfriend and threatening to kill her. Hardy allegedly threw her into a bathtub and then tossed her onto a couch covered in handguns and assault rifles, dragged her by her hair throughout his apartment before putting his hands on her throat. Hardy was permitted to play last weekend, and going forward, just so long as he doesn't wear face paint.
This is just another, albeit large, dark spot on the legacy of Roger Goodell's NFL. A legacy that features spying and bounty scandals in which no information or evidence was ever made public, a blind eye to player safety, specifically concussions3, no HGH testing for players (seriously, NONE) yet an extensively aggressive drug-testing policy, and an on-going issue with player arrests that has seemingly spiraled out of control.
Just know that in tonight's game at least one current player has been arrested for domestic abuse and assault and faced no discipline from the NFL. And until that the video was made public on Monday, another one most likely would've been playing again next week. In Goodell's NFL, violence against women is permitted, so long as you bring money to his organization. But he'll be damned if you play in an NFL game after smoking pot.
Jim Armstrong:
The NFL is not messing around with Thursday night football this year. Between showing the games on a national network (CBS) and pitting arch rivals against each other in Pittsburgh and Baltimore, we have a legitimate reason to amend our Thursday night plans and tune in for some pigskin.
Here are a few notable Thursday night intra division rivalry games on the calendar this season:
Thursday, 9/25 – Giants at Redskins
Thursday, 10/2 – Vikings at Packers
Thursday, 10/23 – Chargers at Broncos (remember the Chargers week 15 triumph over Denver last year, that legitimized this team and was a huge win as a part of the team's 4-game winning streak to enter the playoffs)
Thursday, 11/27 – Bears at Lions
As an organization the Ravens have had to deal with much more serious and graver concerns than anything that occurs on the field tonight. I get a sense that despite the off-the-field issues the team has been dealing with, the team will be laser focused tonight, in large part because of the rivalry. There's something about this rivalry that brings out the best in both teams though, in both the regular season and postseason.
While Ray Lewis, Bart Scott and Ed Reed no longer patrol the middle of the field for the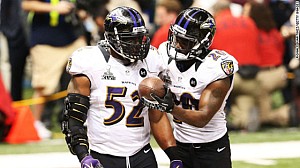 Ravens and Pittsburgh stalwarts Ryan Clark, LaMarr Woodley and James Harrison have departed, this rivalry still remains as formidable as ever. As per Bleacher Report, these teams have split their last eight meetings and have split the season series each of the last two seasons.
John Harbaugh's team is still a dangerous squad, despite losing the vast majority of players that brought the city of Baltimore a Super Bowl just 18 months ago. After spotting a solid Cincinnati team 15 points last week, Baltimore stormed back to take a 16-15 lead, only to see Andy Dalton hook up with AJ Green for a long bomb to provide the winning margin of 22-16.
Interestingly enough, both Baltimore and Pittsburgh have morphed from run-first, ball-control attacks to more wide open offenses piloted by Super Bowl winning quarterbacks during the last several seasons. This is due in large part to the changing nature of the game and due to the fact that each team has seen several of its best defensive players depart via free agency or retirement. Combined, these reasons have ushered in three receiver sets and flinging the ball around with more regularity. In 2014, offenses feature three or more receivers and often supplement these attacks with running backs that are lethal catching the ball out of the backfield. Le'Veon Bell looked like the real deal last week (109 rushing yards, 88 yards receiving on 6 receptions), while the jury is still out on the Justin Forsett/Bernard Pierce pairing for Baltimore.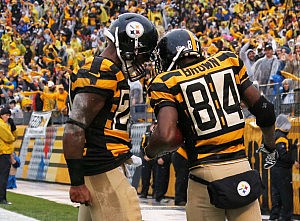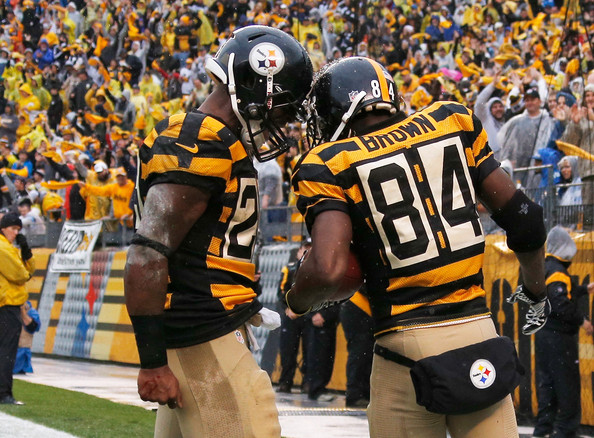 Pittsburgh has more talented offensive weapons (re: Bell, Le'Veon, Brown, Antonio & Wheaton, Markus) and sports the best player on the field (Bell). While Steve Smith is the perfect field stretcher opposite Torrey Smith, both are smallish targets and don't excel getting tough yards over the middle (Smith did three years ago but no longer). Dennis Pitta will serve as Joe Flacco's security blanket in third down situations. While both defenses appear to be solid this year, Pittsburgh's skill position players are just more explosive than Baltimore's.
I'm taking the Steelers to cover the spread and will take the over on points as well.
Steelers win 28-20.