Jim Armstrong
Of the 12 playoff teams that qualified for the playoffs last season, four of those teams (Green Bay, San Francisco, Carolina & San Diego) are currently on the outside of the playoff picture looking in. With that being said, all of these teams are within striking distance of a wild card spot or in Carolina's case, are 1/2 a game out of first place in their division (which at 3-6-1, they will need to capture a division crown in order to qualify for the playoffs). In a league where 25% of teams are right now not eligible for the playoffs, this means new teams must emerge from the rest of the league to take their places.
Miami and Buffalo are two surprise teams this year that have the overall talent and discipline to account for one or both of these playoff spots. Since each of these teams reside in the AFC East and are both 5-4 (2 games back of the Patriots), the winner of this game remains in the wild card hunt while the loser's aspirations for the playoffs effectively ends. Free falling Cincinnati, at 5-3-1, is currently clinging to the last wild card spot in the AFC. The winner of the Bills vs. Dolphins game will move this team to 6-4 and catapult them into the wild card discussion.
Both of these teams are coming off of heart breaking losses last week. The Bills watched as the Chiefs overcame a 10-point 4th quarter deficit to win, 17-13. Miami suffered an equally crushing loss last week. Up 16-13, with 3:13 remaining in the game, Matthew Stafford drove the Lions down the field in a surgical-like, 11 play, 74-yard drive that ended with Stafford hooking up with Theo Riddick with 29 seconds remaining for the go-ahead score.
Each of these teams could easily be 6-3 but instead find themselves fighting for their playoff lives during the next seven weeks of the regular season. In this game, I think Tannehill outplays Kyle Orton and more importantly, the Dolphins potent front 7 gets after Orton enough to disrupt Buffalo's offense, who outside of Sammy Wakins lack weapons downfield. Miami's defensive unit is ranked #4 in total defense and ranked #2 in passing yards per game. The Bills defense is nearly as formidable, ranking #4 in the league. This unit is playing well despite the loss of Kiko Alonso in June to an ACL injury.
Rory and I both picked incorrectly last week with each of us selecting the Browns to beat their in-state rival Bengals. If you lived in a hole, let me enlighten you – the Browns smushed the Bengals, winning 24-3. This week I'm positive Miami wins. Although the Dolphins lost to the Bills in week 2 in Buffalo, this Miami team is vectoring up with Tannehill's continued maturation coupled with the defense playing together as a cohesive unit.
Tannehill has improved his completion percentage each of the last two years. He is currently completing over 64% of passes this year and has the best TD-to-Interception ratio (15 TD's to 7 interceptions this season to date) in his career. Tannehill is taking care of the ball better than he ever has in his short 3-year career. In his first two seasons, Tannehill fumbled 11 times. Through 10 weeks this year, Tannehill has just one lost fumble.
I'm rolling with Tannehill and the Miami Defense/Special Teams. Miami triumphs in the battle of playoff-hopefuls, 24-20.
Rory Goulding
Don't call me crazy, but I have a feeling that the winner of this game will end up getting the second Wild Card spot in the AFC, (no, I'm talking about THIS season) and that team will be the Buffalo Bills. I swear – I'm really serious about this. Didn't I just say not to call me crazy?
For a second, let's try and forget that it took the Bills less than a year to realize they wasted a first-round pick on quarterback E.J. Manuel, a guy who didn't even have the blessing from his own college head coach, to be their starting quarterback of the future and were forced to coax NFL journeymen and human bottle of whiskey Kyle Orton out of retirement to take his place. Seriously, just for a second, let's forget that and believe the Bills actually made the right decision this time. That's because we're going to step into the time machine and head back to the last time the Bills sniffed postseason play and, subsequently, decided to make a quarterback change:
The last time the Bills made the playoffs (1999!!), Wade Phillips was head coach, and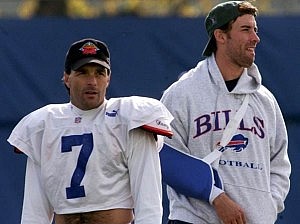 their starting quarterback was Doug Flutie – well, he kind of was. Flutie was the starter until Phillips named Rob Johnson the playoffs starter following Johnson's Week 17 performance against a Peyton Manning-led Colts team on an 11-game winning streak. To be clear, Flutie led the team to a 10-5 record and a Wild Card berth when he was then rested1 (along with a majority of the team's other starters) for the final game of the regular season, in which Rob Johnson played so well that Wade Phillips forgot the Bills had played fifteen other NFL games that season and blindly named Johnson as the starter over Flutie. One last time: after Flutie started the first 15 games of the season, Wade Phillips named Rob Johnson the starting quarterback based on a single game played with the Bills' second unit.
What. The. F#%& ?!?!
In 2011, Matt Flynn stepped in for Aaron Rodgers in Week 17, leading a Packers team that was already 14-1 to victory of the Detroit Lions, throwing for 480 yards and six touchdowns. Should he have started the Packers playoff game that season instead of Rodgers? Okay, maybe that's an extreme example – so how about this one: Imagine Brian Hoyer taking the Browns to the playoffs this season, their first playoff berth since 2002, but then Johnny Manziel being named the playoffs starter. Wait, on second thought that might actually happen. Never mind.
By the way, you're not going to believe this, but somehow Wade Phillips got another head coaching job after that debacle in Buffalo. Seriously, another team CHOSE HIM TO BE THEIR HEAD COACH!!2
13 quarterbacks after that debacle in 1999, I think the Bills have made the right decision – at least for now. And despite the fact that the Dolphins most likely (definitely?) have the superior roster, I can't help but get the feeling that the Bills have some magic up their sleeves for tonight. Maybe it's just the absence of Wade Phillips, which always increases your chances of victory.
Hopefully if (when??) the Bills clinch a playoff berth this season, they won't have to travel to Tennessee.
Bills 31, Dolphins 30.