In sports we banter so often about the shot that didn't drop or the call that was never made for our team…both occur within the field of play that altered the outcome of a game. We also inevitably discuss injuries…turned ankles, torn knee ligaments and bad backs, that stymied championship contenders and leads to the ultimate "what if" talk about our favorite teams (a post for another day). We'll be focusing on this latter element in this post, as it pertains to individual players.
The 5 NBA players we discuss below are remembered in various ways, some ostensibly positive and others with a sense of sorrow and pity. Richard Dumas likely is unknown to anyone under the age of 25. Anfernee "Penny" Hardaway peaked in his third season, at the age of 24.
Can you imagine peaking in your profession at the age of 24 (an age that most doctors agree is when males physically mature)?
 Most casual fans know the rise, sudden fall and rise again of Grant Hill's incredible 17-year career that included stardom, injuries and several returns.
We'll dive into these players and their stories. Not every career goes as planned, as these five gentlemen can attest to. This is the first in the series of "What If" posts where we will discuss different topics and the circumstances that led to less than desirable outcomes.
With no further ado, here goes the Top 5 list of "What If" players who saw their careers cut short by injuries or drugs.
5. Richard Dumas
From the beginning, Richard Dumas' career was rooted in drug abuse. The supremely gifted 6'8" small forward from Oklahoma State University was drafted by the Phoenix Suns with the 46th pick of the 1991 draft. He was immediately suspended by the NBA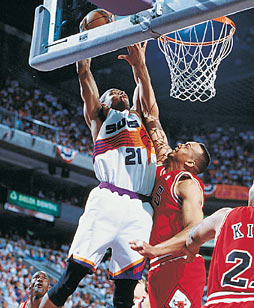 for the entirety of the 1991-92 season for violating the league's substance abuse policy. He played in Israel during his suspension and returned 19 games into the 1992-93 campaign, where he averaged 15.8 points and 4.6 rebounds per game.
To put this in perspective, look at the three hall of fame rookie seasons of three stalwart forwards below (assuming KG is enshrined in Springfield in 2020).
Kevin Garnett: 10.4 points and 6.3 rebounds ('95-'96)
Karl Malone: 14.9 points and 8.9 rebounds ('85-'86)
Charles Barkley: 14.0 points and 8.6 rebounds ('84-'85)
Richard Dumas: 15.8 points and 4.6 rebounds ('92-'93)
That's tragic. I don't care what anyone says, it's tragic that no one under the age of 25 remembers or cares about Richard Dumas. I asked my roommate, who was a 3-year Division I college basketball starter and his response was, "Richard who?" You get my drift.
Richard Dumas enjoyed one of the finest rookie campaigns of any forward (including small & power forwards) since 1984. LeBron and Tim Duncan put up monster rookie campaigns and have never looked back, in their illustrious careers. Richard Dumas was not LeBron or Duncan, but he was a damn good player.
Dumas helped lead the Suns to a league best 62-win season that year and along with Barkley, Ainge, Kevin Johnson and Majerle, helped lead them to the NBA Finals, pitted against Jordan in his age-29 season and the defending champion Bulls. After falling behind 3 games to 1 in the series, Dumas erupted in Game 5 at Chicago at the perfect time, going for 25 points, after Barkley announced before the game that they (the Suns) needed to win to "save the city." This was in apparent reference to the riots that were anticipated if the Bulls won the title in Chicago. Dumas went bananas in this game. Go to this video and skip to the 2:40 part of the video and watch for six minutes how Dumas absolutely eviscerates the Bulls.
Now, just imagine if Charles Barkley had this side-kick for the next five years. A) Charles never leaves to go to the Rockets prior to the '96-'97 season. This has shades of Lenny Bias with Larry Bird. If Bias never overdoses three nights after the '86 draft, Bird and McHale don't play as many minutes and inevitably breakdown, and the Celts' conceivably win another title or two (Detroit & LA filled this void from '87-'90).
Going back to Richard Dumas: following a stint in rehab that knocked him out for the entire '93-'94, he returned to the Suns in '94-'95, where he managed to suit up for only 15 games and averaged 5.5 points and 1.9 rebounds, a far cry from his rookie campaign output. He then concluded his NBA career the following season with the 76ers, where he averaged 6.2 points and 2.5 rebounds in 39 games. That's it. That's the flash in the pan that was Richard Dumas. 102 career games and he was out of the league two weeks before his 27th birthday.
If Dumas sticks around and becomes the player he showed us he could be during his rookie campaign, we may remember Charles Barkley for winning a title or two after MJ's first retirement. But without Dumas, we'll never know. Instead, we remember Hakeem as the one who hoisted two Larry O'Brien trophies during the middle of the 90's.
4. Penny Hardaway
If you grew up in the mid 90's (I did), then you know how explosive Penny Hardaway was in his prime. Wait a second…Penny never had the luxury of reaching his athletic prime. Penny peaked in his age 24 season, averaging 21.7 PPG, 4.3 RPB and 7.1 APG. He did not peak early because of natural reasons, but rather his chronically injured knees began acting up late that season and never properly healed.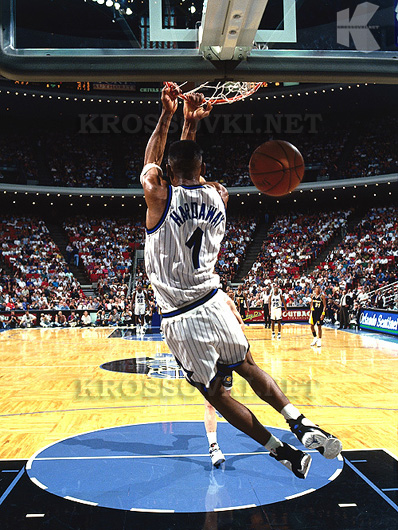 Penny entered the league in '93-'94 as a 6'7", 215 lb. point guard. Yup, you read that right. He was the alleged heir to Magic Johnson and played like Magic during his first four seasons.
Let's move to the splits and compare Penny's first four years to Magic's first four years in the league. For the sake of an apples-to-apples comparison, I have removed Magic's 2nd season, when he missed 45 games due to a knee injury and replaced this with his 5th season, in '83-'84 (when he averaged 13.1 assists, that's an average per game people). This leaves us with an apples-to-apples comparison, with Penny suiting up for 300 games during his first four regular seasons and Magic suiting up for 301 games during his first four "full" regular seasons.
Penny:  19.7 PPG, 4.6 RPG, 6.7 APG, 2.4 STOCKS (Steals + Blocks, copyright – Bill Simmons)
Magic: 17.7 PPG, 8.4 RPG, 10 APG, 3.0 STOCKS
Obviously Magic is clearly the superior player and a more well-rounded player, but the fact that Penny averaged 2 PPG more than Magic and averaged nearly 5 RPG, 7 APG and 2.4 STOCKS per game says something about Penny. Comparing Penny to Magic may be doing Penny a disservice, but it's my blog post and I wanted to see how he stacked up against arguably the best point guard of all-time.
Although Penny wouldn't have his first knee surgery until 1997, he was instructed to play through pain in the '95, '96 and '97 seasons, at various points (read that link, great insight into the struggles that Hardaway dealt with before knee injuries were essentially curable through modern surgical procedures). Hardaway would be subjected to six knee surgeries and was one of the seminal candidates for microfracture surgery. 15 years ago microfracture surgery was just entering the public conversation and knee injuries were still a career-threatening injury. Unfortunately for Penny, he was the guinea pig for this new technique and on top of this; he was rushed back onto the court after his knee surgeries, leading to further knee surgeries to fix the damage.
Penny went on to be a respectable role player for the Phoenix Suns and New York Knicks for parts of the next 8 seasons. In three of his first four seasons with the Suns he averaged 10 or more points (16.9 points in his first season), while dishing out 4.5 or more assists in two of his first four seasons.
As a mid-90's NBA fan, who had Shaq, Penny, Nick Anderson and Dennis Scott trading cards, how did the Magic become such a footnote in NBA history? Well, Shaq got disgruntled and left prior to the '96-'97 season, Hardaway was gimpy and Scott got old. That vaunted team that knocked out Jordan's Bulls in the '95 playoffs was ripped to shreds within the next 24 months. One has to wonder if this story goes a bit differently with a healthy Penny Hardaway manning the ship.
3. Brandon Roy
Brandon Roy came flying out of the gates during his rookie campaign in '06-'07, averaging 16.8 PPG, 4.4 RPG, 4.0 APG and 1.4 STOCKS per game. He had it all. He had the handle and quickness to get past his defender, he could step back and knock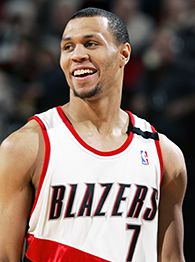 down a jumper and he could post smaller 2-guards up and finish over the top of them. In the late 2000's, Portland was positioned to take over the Western Conference. The Lakers had blown up their '04 squad and didn't capture their first Shaq-less crown until the '09 season, the Thunder hadn't materialized yet and the Spurs were allegedly getting old (which they shot down in their spectacular '13 playoff run). Portland was pairing Roy with LaMarcus Aldridge and Greg Oden in the front court, a lethal triumvirate that was supposed to be together for the next decade.
Portland being Portland, Oden would be out of the league by December, 2009 and just two and a half years later, Roy would call it a career due to a bone on bone condition in both his knees.
Roy never had a "second career" where he served as a super sub or a borderline all-star/role player on a good squad, similar to what Penny Hardaway and Grant Hill did in their second acts. Roy did return for the '12-'13 season with the Minnesota Timberwolves but played only 5 games before shutting it down for good.
The sad thing is that in 20 years, not many fans under the age of 30 will think twice about the once promising career of Brandon Roy. Heck, as I write this, he is still just 29 years old and would be entering what should be the middle of his prime years.
What if Brandon Roy and Greg Oden remain healthy? Do the '08-'09 & '09-'10 Lakers, with the front-court duo of Pau Gasol and Andrew Bynum, win consecutive championships? Do the Blazers at least steal one of those? Even if they don't win a title, they could have dramatically altered the landscape, knocking off the Lakers and clearing the way for the Spurs or Mavericks to take an extra crown during their prime years of contention. Maybe they knock off the Lakers in the '10 playoffs, which paves the way for a 2nd title for the Celtics in that decade. Sadly, we'll never know.
2. Greg Oden
Greg Oden is the ultimate 'What If' candidate. When healthy at Ohio State, during the '06-'07 season, he was an absolute beast. For the season he averaged 15.7 PPG, 9.6 RPG & 3.9 STOCKS per game.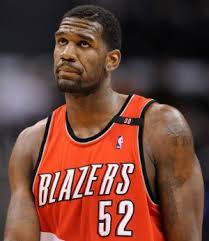 Bill Simmons wrote a prescient column in 2007, prior to Oden's first year, that details not only how Simmons felt "underwhelmed" by Oden, but how he felt that Oden didn't even look healthy running the floor in the preseason. Simmons went on to say in the column, "Oden ran with – there's no other way to say it – a noticeable limp." He would later go on to say, "here's what I saw: a 20-year old guy who walked and ran like he was 35." Oden would injure his knee six nights after Simmons' article was published and have microfracture surgery that would cause Oden to miss the entire '07-'08 campaign
Oden's second season was injury plagued as well. He injured his foot in Portland's first game of the '08-'09 season and missed the next several weeks. His play picked up in December and peaked in January, but this short-lived window of success was quickly stifled when Oden hit knee-to-knee with Corey Maggette. Oden suffered an injured kneecap, which hampered him for the remainder of the season (he failed to record a double-double for the remainder of the season).
Oden began the '09-'10 campaign a blaze (no pun intended…ok it was intended). He was the only player in the league to average at least 16 points, 12 rebounds and 3 blocks per game. But again, this all came crashing down on December 5, 2009, when he fractured his left patella tendon. For those with the stomach, here's a 38-second clip of the injury.
Oden had another microfracture surgery in November of 2010 and a third microfracture surgery in February of 2012, effectively ending his playing days with Portland.
Weirdly, Oden has played exactly 82 games in his career (matching exactly one full NBA regular season), with his last game played on December 5, 2009. Now consider that Oden has played in 82 games out of a possible 492 games (16.7% of total possible games). Although he just signed with the Miami Heat (August, 2013), it's unclear what role he will assume on this championship team and how many minutes he will be able to contribute during the course of a full 82-game regular season and the inevitable long playoff run that the Heat are likely to make for the 4th consecutive year (tacking on at least another 15 games).
I'm hoping there's a happy ending here. The guy is still only 25 years old and hasn't even logged 100 NBA games yet in his career. Tim Duncan is still churning out 18 PPG and 10 RPG seasons at 37 years of age after a combined 1,391 career games. Greg Oden – here's to you leaving the curse of injuries behind in Portland and embarking on a new lease on life in Miami. I hope someday, five years from now, to re-write this section of the post.
1. Grant Hill
If you were an alien and you could craft the perfect basketball prototype in the mid-1990's, you would have created Grant Hill. He was LeBron, before LeBron arrived nearly a decade later. He was a Swiss army knife 6'8", 225 lb. small forward who could handle the ball, post up, knock down shots, hit free throws, find open teammates, create off the dribble, hit shots in the last two minutes of games and generally was a do-everything at all costs player to win basketball games.
Here are Grant's splits for his first six seasons in the league, which spanned from the fall of '94 through the spring of '00.
21.6 PPG, 7.9 RPG, 6.3 APG, 2.24 STOCKS per game
Here's LeBron's split for his first six seasons in the league ('03-'04-'08-'09)
27.5 PPG, 7.0 RPG, 6.7 APG, 2.6 STOCKS per game
Grant was not nearly as prolific of a scorer as LeBron, which is noticeable in his nearly six points less per game average BUT, check out rebounds, assists and STOCKS….eerily similar. Grant has LeBron in rebounds by nearly one more per game, while LeBron edges Grant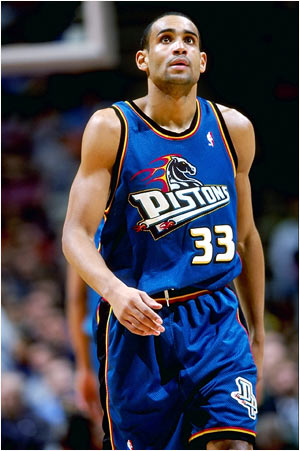 in assists and in STOCKS (steals + blocks). Also, you can't ignore both LeBron and Grant's durability during each of their first six seasons. In his first six seasons, LeBron James played in 472 out of a possible 492 games (95.9% of games). Meanwhile, Grant Hill suited up for 435 games out of a possible 460 games (94.6% of games played). Grant was extremely durable during his first six seasons, but anyone under the age of 20 wouldn't remember that. They only remember the 2000's when he was banged up on the Magic and was a solid role player for the Suns for five years, at the tail end of the Steve Nash 8-seconds or less Suns.
We could do 'What If's" for the next 4,000 words on Grant Hill. What if he never breaks his ankle during the 2000 playoffs? What if Detroit surrounds him with more talent in the late 90's, which consequently alleviates the burden of carrying the team night in and night out, preventing his foot from breaking? What if Hill didn't lose nearly four years of his prime ('00-'01 through '03-'04, which wiped out his age 29, 30, 31 & 32 seasons)? Would we be talking about him as one of the ten best players of all time?
I'll leave you with this stat: In his first six seasons, Grant Hill amassed 9,393 points, 3,417 rebounds and 2,720 assists, putting him in the same company as Bird, LeBron and Oscar Robertson. Hill led the Pistons in scoring, rebounds and assists three times, joining Wilt Chamberlain and Elgin Baylor as the only players ever to accomplish that.
Now imagine if LeBron were severely injured in the '08-'09 playoffs, when LeBron's Cavs bowed out to Dwight's Magic in the Eastern Conference Finals. Say he misses a few seasons like Grant and is never the same player. Now we're talking about a completely different player and legacy. LeBron is no longer a top 5 player (and rising). He is maybe a top 50 player at best. Just saying, this is the ultimate 'What If.'
Honorable Mention
These are candidates I wanted to include but who did not quite make the cut for various reasons:
Shawn Kemp – the man still averaged 14.6 PPG, 8.4 RPG & 2.3 STOCKS per game for his career. He just dealt with substance abuse issues and ballooning to heftier sizes later in his career. At the end of the day, he still played 14 seasons (long career by any measure) and logged more than 1,100 total games (regular season + postseason).
Yao Ming – a foot injury ended his career just five games into the '10-'11 season, his age 30 season and supposedly a time when he was smack in the middle of his prime. Despite his career ending prematurely at age 30, he still managed to play 7+ seasons and was highly effective during this relatively long period of time. For his career Yao Ming averaged 19.0 PPG, 9.2 RPG & 2.3 STOCKS per game. That's pretty damn good and not a bust in my book, moving on now.
Larry Johnson – LJ split his 10-year career between the Charlotte Hornets and the New York Knicks. Let's just say the explosive, two-way beast that played in Charlotte was a shell of himself (physically-speaking) upon his arrival in NYC prior to the '96-'97 season. LJ herniated a disk in his back in the summer of 1993, at just 24 years old. He would never be the same player again. While he served as a valuable role player during the Knicks late 90's playoffs runs, he was never the physically imposing force of nature as he was when he entered the league in '91.