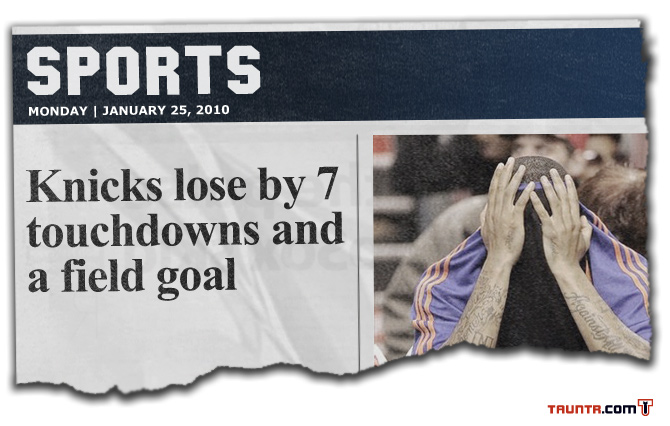 My 6th grade self could have never imagined that the Knicks, a proud and decorated franchise, would have fallen so far, so fast. In the year 2000, the Knicks had been coming off of two Finals appearances in the previous six years (1995 & 1999) and were two games from making that three appearances in six years (Indiana wore us down in 6 games, in the only championship series that Reggie ever played in).
Before diving into the top 10 worst acquisitions that were consummated during the first decade of this century under the Scott Layden/Isaiah Thomas era (we'll leave out the failed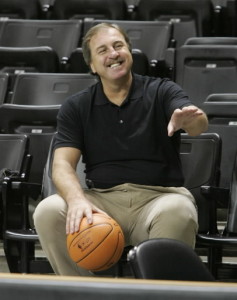 Donnie Walsh experiment…the guy is still a good GM, just not in NYC apparently), let's first examine how we arrived in this position. The Knicks experienced a 15 year period of unparalleled consistency and success, under the button-upped coaching style of Pat Riley and later, Jeff Van Gundy. People forget: between the fall of '87 and the spring of '01, the Knicks were one of the model franchises of the league, if not the model franchise. They qualified for the playoffs in every season since I entered this world (August '87) until the time I was asking girls out on "lunch" dates (spring '02). They didn't just make the playoffs, they were consistently a threat to win the East and for four of those years ('94, '95, '99, '00) were legitimate contenders. Riley and Van Gundy were steadying hands in this incredible 15-year run, but none of this would have been possible without Ernie Grunfeld.
Grunfeld was quite simply the man. When Grunfeld left in April of '99, to take the Bucks GM job (the Bucks? Are you kidding me), New York could have never envisioned the utterly inept excuse of a GM that took his seat in Scott Layden. People forget, Grunfeld was a homegrown talent. He served as assistant coach of the Knicks under Stu Jackson (Jackson is a post for another day) during the '89-'90 season and worked his way up to president and general manager by late February of '96. During his time as a Knicks executive, the Knicks were one of the most feared teams in the league. No team (outside of Chicago & Indiana) wanted to come into the Garden and play the Knicks. Grunfeld took an aging team with a crazy, over-the-hill Charles Oakley and a "no longer can shoot the corner 3" John Starks and flipped them each for Marcus Camby and Latrell Sprewell, respectively. Grunfeld single-handedly extended the Knicks relevance for another 5 years, until the team flat-lined under Layden in '02; amongst a host of awful acquisitions.
By the '00-'01 season, cracks (no check that, large fissures) had emerged in the Knicks grand plan to continue their dominance of the East. Their entire frontcourt retired or was traded away in a matter of 12 months (Larry Johnson, Patrick Ewing). Allan Houston signed an insane $100 million, 6 year contract in 2001 (that will go down in history as one of the worst sports contracts of all-time), only to leave the Knicks in '05, after only playing 70 games between '03 and '05. Chris Childs got old, Latrell Sprewell got old and crazy (again!) and Marcus Camby, their one piece they could build around, was traded away (only to become defensive player of the year with Denver in '07). Alas, this is what anyone under the age of 15 remembers of the Knicks: horrible acquisitions and failed seasons. Almost like a bad groundhog day on repeat.
Where to begin? Oh what the heck, let's start with Jerome James: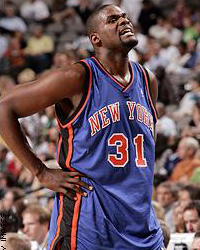 10. Jerome James – this goes counter to everything we have learned growing up as children. Jerome James experienced what I would like to call a brief surge of moderate success in the playoffs with the Seattle Supersonics (RIP), averaging 12.5 points and 6.8 rebounds over the course of two playoff series. Yup, that's right two playoff series (22 days to be precise). The Knicks decided that this body of work was sufficient for their liking and rewarded James with a 5 year, $30 million contract (I'm still slack-jawed over this number nearly a decade later). James averaged a robust 3 points per game in '05-'06 and during his final two years with the Knicks, scored a grand total of 10 points.
9. Jalen Rose – this trade made absolutely no sense, since the Knicks were acquiring an a.) over-the-hill Rose at age 30 who b.) added over $32 million to the Knicks' books over the first two years of his deal. This was a real head-scratcher…until you realized that Scott Layden was manning the ship, and then you realized, "Oh right, Layden made that deal, now it all makes sense." Cue the Knicks' ship springing a leak at this point and sinking rapidly under the overweight bodies of Jerome James and Eddy Curry…which brings us to that acquisition…
8. Eddy Curry – The fact that Eddy Curry won a title in 2012 with the Miami Heat is truly miraculous. The guy was overweight, had heart problems and couldn't get up and down the floor 3 years ago. Oh wait, did he play a single minute in the Miami vs. OKC series? Nope, he didn't. Gotcha, now it all makes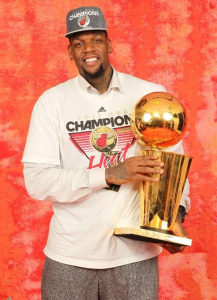 sense…an overweight, cheerleading 29-year old Eddy Curry at the time (how is he still only 30??) was presented a ring from the likes of Chris Bosh, LBJ, Wade, Chalmers and company last spring.
In what can only be described as one terrible executive passing on his brain-fart of decision making skills to his lineage, Isaiah Thomas, Thomas took the mess that Scott Layden had bequeathed upon him and somehow managed to make the mess even messier (if that's even possible). Thomas cost the Knicks more than money when he acquired Curry from the Chicago Bulls in October of 2005. He traded away the next five years of the franchise! The Knicks sent their 2006 first round pick, 2007 and 2009 second round picks and the right to swap first round picks in the 2007 draft. Curry had one good year (19 and 7) before the Knicks extended his contract, which resulted in Curry ballooning to outrageous sizes and never again seeing the hardwood.
Real quick: name three quality draft picks of the Knicks from the years 2000 to 2006. I'm still waiting….wait, there are none. Nene was the closest thing to a stud and he was promptly traded away on draft day to the Nuggets. David Lee ('05), Channing Frye ('05) and Trevor Ariza ('04) were all nice pros, but that's about the extent of 7 years worth of draft picks. Mind you, none of these players stayed with the Knicks for more than 5 years.
Now back to Curry: this conveniently brings us right back to the 2012 image of Eddy Curry, hooping and hollering as the Heat sewed up their 5-game demolishment of OKC. God, life is just not fair sometimes…especially as a Knicks fan.
7. Shandon Anderson & Howard Eisley – What splashy acquisitions these two gentlemen were, huh? In August of 2001, the Knicks were still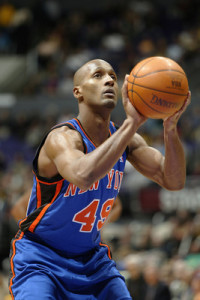 precariously hanging on to their status of "team no one wants to play in the playoffs because they're the friggin Knicks." Although the Knicks were dispatched in the first round of the playoffs by the Raptors in the spring of '01, the general sentiment was that the Knicks would re-load and make a push in '02. Heck they were only two years removed from their last Eastern conference finals appearance. Alas, the acquisitions of Eisley and Anderson that summer were the second set of holes that appeared in the side of the otherwise healthy and floating ship (see Ewing below for first set of major holes in boat). The Knicks sent Glen Rice (another terrible acquisition) to the Rockets and Mugsy Bogues to the Mavericks, and after a series of further machinations, ended up with Eisley and Anderson both carrying mega long-term deals.
Let's just say that when you look back at the Knicks of the early 2000's, no one remembers the sizzling play of Howard Eisley or the incredible wing-play of Shandon Anderson.
6. James Dolan – For allowing any of this to happen. I mean c'mon people, how does an owner of one of the most decorated professional teams screw up this badly? Ok, ok, we're only through #6, looks like I must continue to bolster my argument about why James Dolan might be the worst owner ever, in the history of American sports (this excludes the McCourts, late of the LA Dodgers).
5. Latrell Sprewell flipped for Keith Van Horn – I had to stop for a minute while I cleaned up the vomit in my mouth. I'm still disgusted over this trade, sitting here as a 25-year man.
I remember as a 16 year-old kid, knowing that the window for the Knicks, as I knew and loved them, as a dominant and decorated franchise, was now slammed shut when this trade was consummated.
 At this point, Houston was breaking down and let's be real; a 31 year old shooting guard with bad knees ain't going to take you far. Sprewell was the last pillar of the golden era of Knicks basketball. (Enter angry James Dolan slur here). At the time, Sprewell wasn't even 33 yet and still had tread left on his tires (re: '04 Western Conference title run with KG and Cassell). Nope, James Dolan decided to ship him out of town since he had a personal problem with 'Spree. He deftly and brilliantly shipped him to the hinterlands of Minnesota, where Kevin Garnett had been toiling for the better part of the decade, trying futilely to bring a title to the city of Minneapolis. The real treat came in what the Knicks got out of the trade: Keith Van Horn. A slow-footed, outside shooting, soft as tissue big man, who at the time was still only 28 and was entering his 29-year old season.
In typical Knicks fashion, Van Horn lasted a mere 6 months in NYC, before being shipped to the upper Midwest again, this time to Milwaukee, for the perennially underachieving Tim Thomas (#5 almost doubles as two bad acquisitions when you factor in the Tim Thomas acquisition).
4. Antonio "No Knees" McDyess – With all due respect to Antonio McDyess, he had a stellar NBA career (I almost wanted to say brilliant), it just so happens that his most useless, injury-plagued season occurred during the entire duration of his stay with the Knicks. To add insult to injury, the Knicks shipped Camby, Mark Jackson and the 7th overall pick in the 2002 draft for 'Dyess, only to watch as his knees betrayed him in his lone season with the Knicks. 'Dyess managed to suit up for a whopping 18 games for NYC during the '03 – '04 season, after which he was swiftly kicked out the door. McDyess went on to have somewhat of a rebirth, playing 5 seasons with Detroit and 2 more with the Spurs, helping both teams make deep playoff runs multiple times.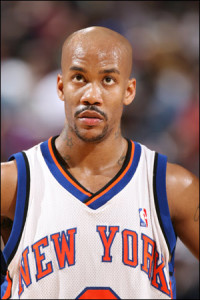 3. Stephon Marbury – the length and resources that the Knicks expended in acquiring Stephon Marbury were earth-shattering. Reviewing the pieces that were moved in this trade, along with draft picks (of course, how could the Knicks not throw in draft picks?); one has to wonder how the Knicks won a game between 2005 and 2009. In January of 2004, the Knicks traded Antonio McDyess, Howard Eisley, Charlie Ward (a true warrior, he did not deserve to go out like this), the rights to Milos Vujanic, two first-round draft picks and cash to the Suns for Cezary Trybanski, Penny Hardaway and Stephon Marbury.
Marbury lasted exactly two seconds before causing trouble in NYC, hitting a low point when the New York Daily News called Marbury the "most reviled athlete in New York" during the '05-'06 season. Marbury's acrimonious stay lasted through the end of 2008, when then head coach Mike D'Antoni refused to play him and instructed him to stay home. In classic Knicks bad karma situations, Marbury was picked up in February of '08 by the Celtics, less than four months before the Celtics were crowned champions.
How is it that Marbury and Eddy Curry won championships, while Ewing, Larry Johnson, Charles Oakley, Allan Houston and Sprewell all came up empty? If you're a Knicks fan, you're all too familiar with this sad situation.
2. Stevie "Franchise" Francis – Isaiah continued to dazzle us with his string of dubious decisions, acquiring Steve Francis in February of '06 for Trevor Ariza and the expiring contract (and career) of Penny Hardaway. To this day, I still don't know what happened to Penny…he literally fell off the face of the earth and was never heard from again.
As an aside, if you're an old washed up swingman and you played in the 2000's, you more than likely played for the Knicks. Just ask Glen Rice, Shandon Anderson, Jalen Rose, Stephon Marbury, Allan Houston, Penny Hardaway and Steve Francis.
Francis was a bust if you've ever seen one. The vaunted backcourt of Francis and Marbury never materialized and Francis was out of the league by late 2008.
1. Patrick Ewing – Poor Patrick Ewing. He remains loyal to the franchise that drafts him for 15 years…15 years people, only to have the Knicks ship him out of town for the likes of Glen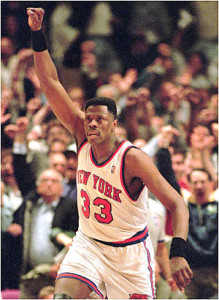 Rice, Luc Longley and Travis Knight (the only player that played for the Knicks during this time that was less talented than Travis Knight was Chris Dudley).
Ewing was a remarkably durable, consistent low post player who could step out and shoot the 15-foot elbow jumper. Despite playing in the biggest North American market, he was overshadowed by his big-men contemporaries, which included Charles Barkley, David Robinson and Hakeem Olajuwon, who all had rings except for Barkley. Beginning with Ewing's rookie campaign in '85-'86, Ewing averaged 20 or more points a game for 13 consecutive seasons. That's right, 13 consecutive seasons! The Knicks were the model franchise of the late 80's and 90's due in large part to Patrick Ewing anchoring the pivot for a decade and a half.
Instead of honoring Ewing for his service to the organization and letting him play out his contract, Scott Layden shipped him across the country to Never, Never Land in exchange for three players who were of little use to the Knicks. To make matters worse, the Knicks added $90 million in payroll through 2004, springing the first major leaks in the sinking ship that was the Knicks from 2000 through 2010.
There you have it, the history of the Knicks post Ernie Grunfeld. Do you agree with my above choices? Which acquisitions did I miss? Feel free to leave your thoughts in the Comments section below.