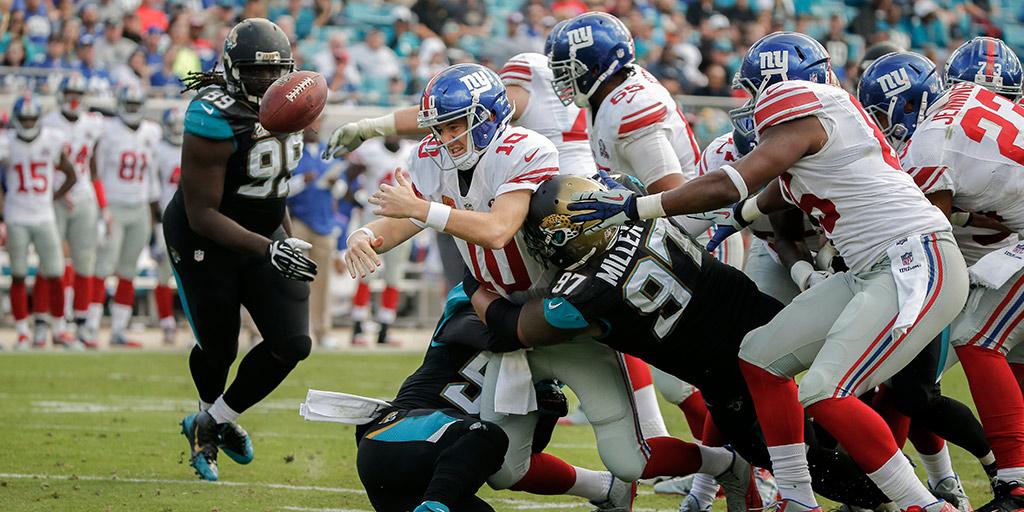 After a week off for Thanksgiving, I'm back and ready more than ever for mediocre writing and more GIFs. Get excited.
By the way, if you're wondering what my emotional state was during the 49ers-Seahawks game on Thanksgiving night, just watch this on a loop and you'll get the basic gist of it:
10. The Raiders had a tough time on Sunday.
You'd think just losing 52-0 would be where embarrassment ends. It was not.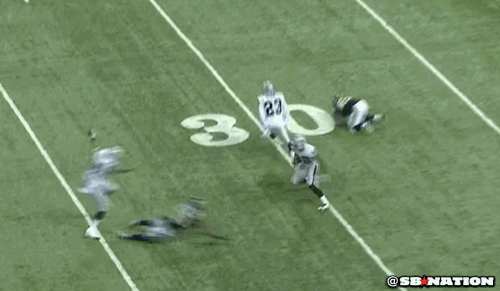 As long as you put your hands up in the air as if you didn't even touch the guy, that makes it all okay, right?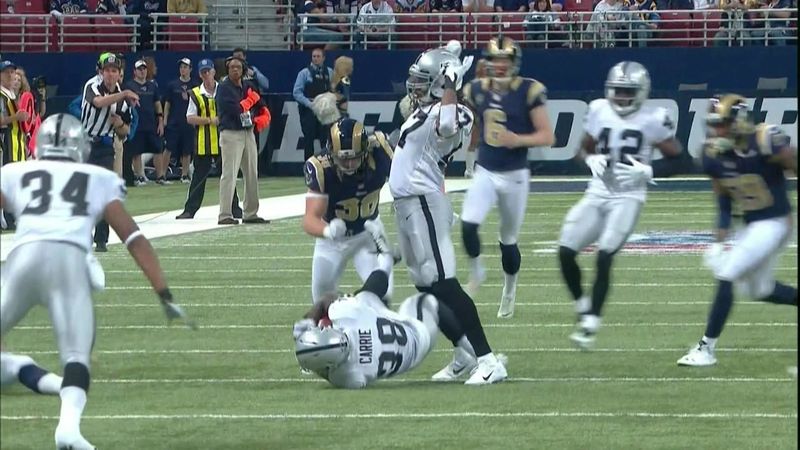 Then Matt Schaub, AKA King Pick-6, was put in the game late 4th quarter, and what do you think happened?
Of course that's what happened.1 Pray for the Raiders, folks. But hey, on the bright side, maybe they'll be getting Jim Harbaugh next season!
8 & 9. Whoa! Johnny Manziel sightings!
Finally, Johnny Manziel found himself quarterbacking the Browns in a regular season game. I say finally because it was inevitable, considering the Browns starter was currently Brian Hoyer, who's been playing like Matt Schaub lately. Not that I have anything against Hoyer himself, but he looks exactly like a basketball coach I had in summer camp. And I hated that guy.
Making things worse for Hoyer's future in Cleveland – Manziel scoring on a nifty touchdown run in his first drive as the Browns quarterback.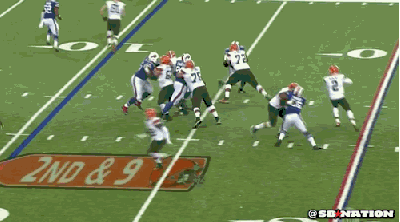 Making things not-so-good for Johnny Manziel: the play where he almost fumbled into his own endzone and then laid lifelessly on the ground as the Bills fans trolled him perfectly.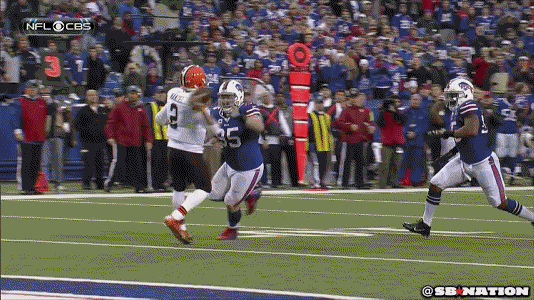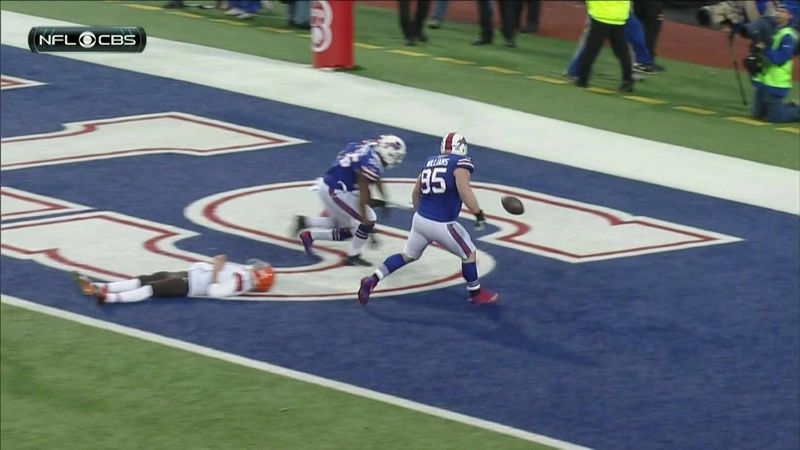 I don't ever remember seeing that on a football field, but I'm pretty sure it's what you're told to do during a bear attack.2 Twitter had a ball with this one, too: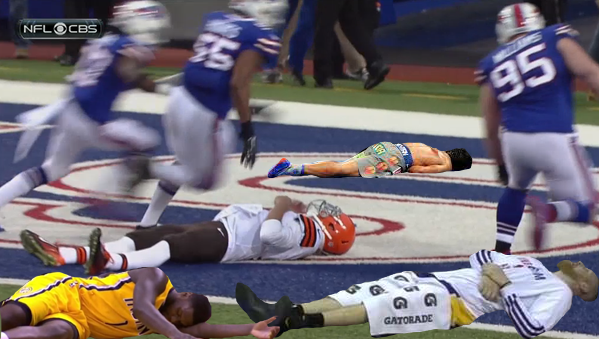 7. J.J. Watt, as always.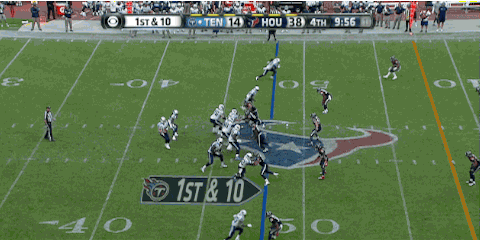 When I first started these GIF posts, I thought J.J. Watt would make it into a few, but then he became a weekly staple. So really, a special thanks to J.J. for making this so easy week after week. The dude is such a complete beast that Bill Simmons dedicated an entire column to determining the outcome of a JJ Watt/Rob Gronkowski battle royale. This week, Watt knocked the Titans starting quarterback, Zach Mettenberger, out of the game and then caught a touchdown pass himself.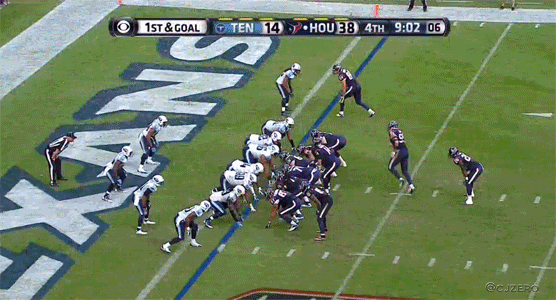 It seems the only person who isn't all-in on Watt is my younger brother, who claims Watt is overrated and that not enough attention is given to how well Von Miller's presence impacts a game for Denver. He makes a valid point but he's also a Broncos fan and, as you already know, us Gouldings have rose-colored glasses on when evaluating players from our favorite teams (See: Borland, Chris; Kaepernick, Colin).
6. Here's something weird.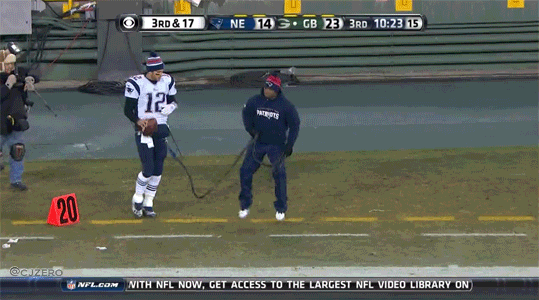 I debated attempting to find out what was really going on here, but I decided that I preferred to believe Tom Brady wears a leash on the sidelines.
5. What kind of face does Philip Rivers make after a victory?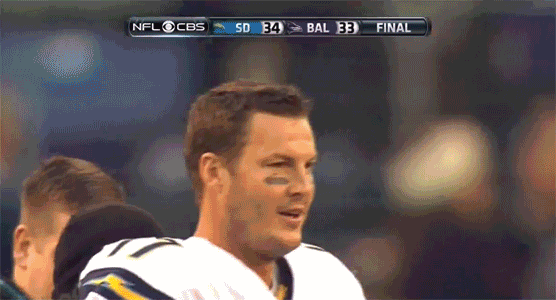 Oh, the old "you might wanna keep your girlfriend away from this guy" type of face.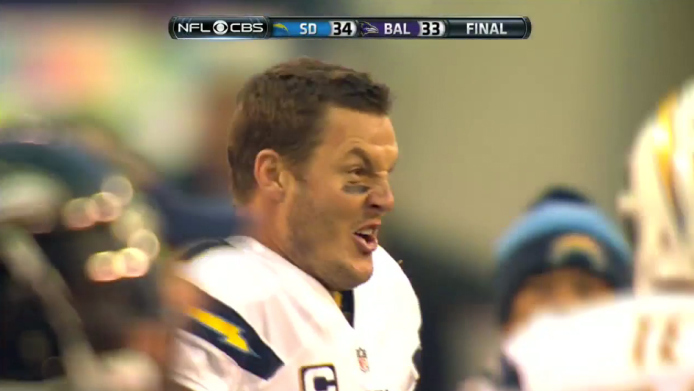 There's probably a Bill Cosby joke to be made here, but I'm staying away.
4. Let's check in on the 49ers offense.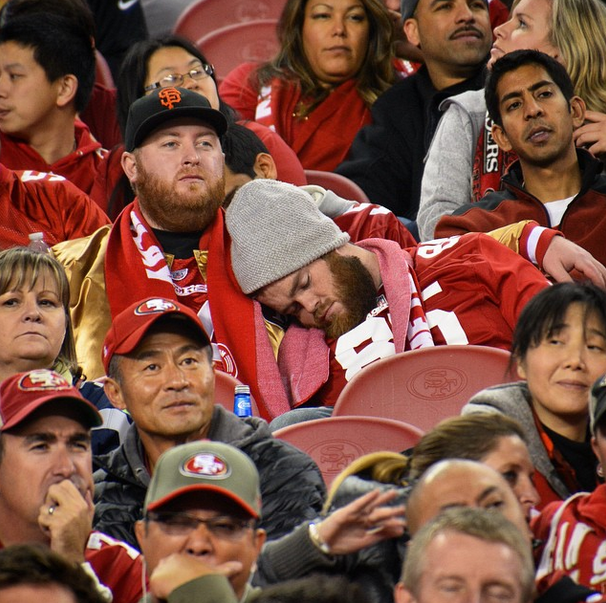 Got it.
3. Pissed off Tom Brady is the best Tom Brady.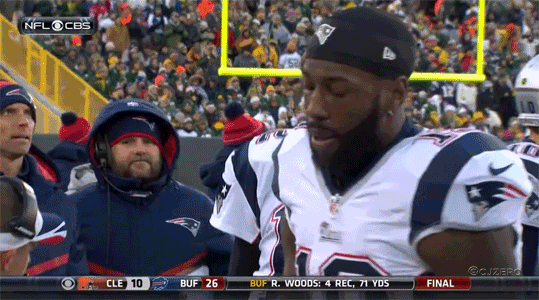 They actually cut to this on CBS, with Jim Nantz saying, "let's take a look at Tom Brady's reaction after that last series." They deliberately showed a clip of Brady clearing screaming fuck, and that's somehow okay I guess. Television restrictions are weird.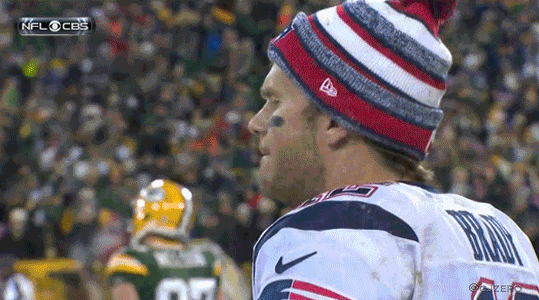 I can only assume this is why they've started putting him on a leash.
2. At least the kids are having fun in Tampa Bay.
I feel bad for the parent or guardian that'll have to break it to him that the team he's cheering for is the Tampa Bay Buccaneers.
"Daddy, why do we keep the guy who throws it to the other team in the game?"
"I don't know son, I just don't know."
*finishes beer*
*cries into hands*
On a brighter note, at least Bucs wide receiver Mike Evans was able to get his "dude why is Josh McCown still our starting quarterback?!?" rage out on someone from the other team: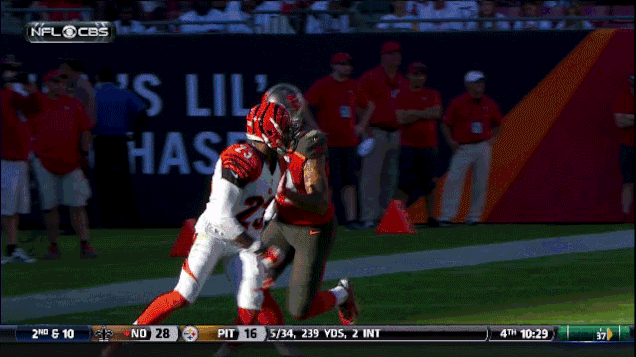 1. The Giants out-Giants themselves this week.
After going into halftime with a 21-3 lead against the Jacksonville Jaguars, the Giants, I assume, decided not to try in the second half. For the rest of the game, they scored 3 points, losing 25-24 to, and I can't emphasize this enough, the Jacksonville Jaguars.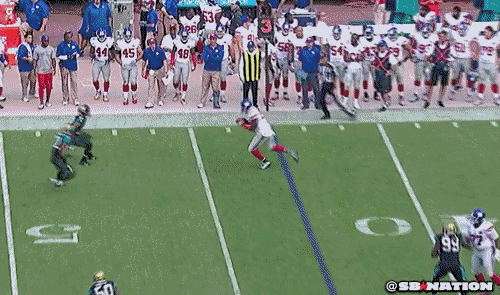 How did the game end, you ask?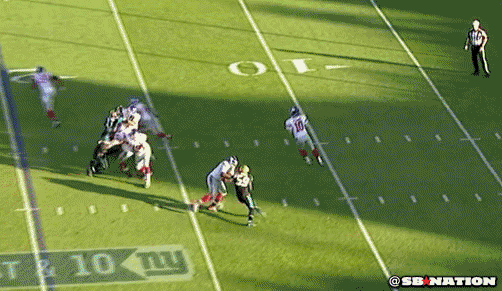 On an Eli Manning fumble, of course! Yay, Giants!
BONUS!
Tweets of the week:
Tom Coughlin always looks like he can't find his car keys pic.twitter.com/xmXFUrLK1x

— The Cauldron (@TheCauldron) November 30, 2014
Tannehill's best decision remains his wife.

— Zac Jackson (@FSOhioZJackson) December 2, 2014
In NBC "Today" interview, Janay Rice says: "I can't say Roger Goodell is telling the truth." http://t.co/bzabwaWTs4 pic.twitter.com/wfdy8FtqRQ

— Cindy Boren (@CindyBoren) November 30, 2014
What's the phrase I'm thinking of… Oh yeah, that's right: "no shit".
Texans quarterback Ryan Fitzpatrick's son steals the show.
If your son is a genius and/or if you've just thrown 6 touchdown passes in a game, you're automatically allowed to do whatever you want in the postgame press conference.
Say "Goodbye" to your Super Bowl hopes, Patriots fans.
I thought this guy was getting kicked out of the country or something. Why hasn't that happened yet? Deport Bieber!
The greatest beer ad you'll see this season: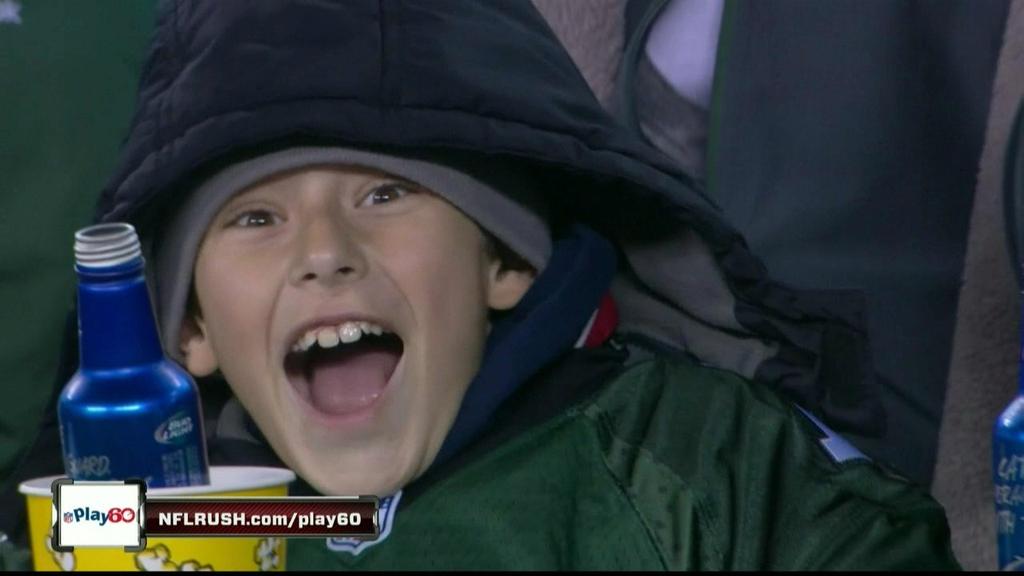 Finally…
Happy Holidays, from Lou Holtz.
What in "heaven's" name did I just watch?
See you guys next week!