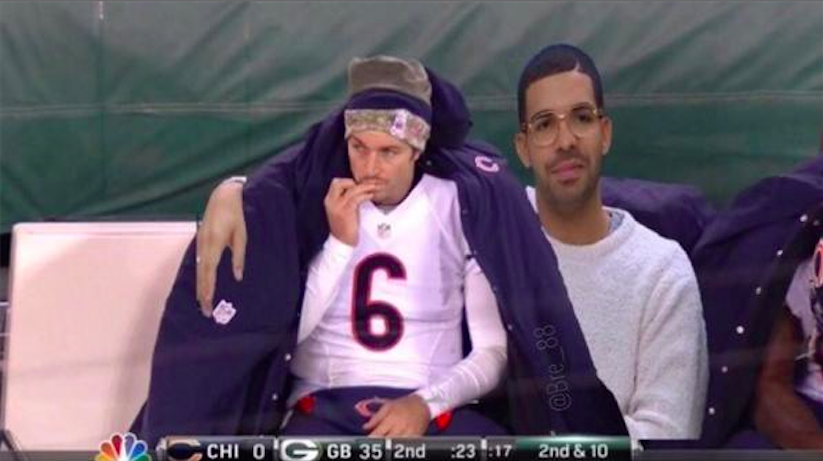 It's insane to think that just a few weeks ago Geno Smith was a starting quarterback and Mark Sanchez was not. (Thinking…) Nevermind, no it's not.
You know what's actually insane, though? It's been more than two weeks without a J.J. Watt GIF, guys. And no one has even made a big deal about this. It is a big deal. Where has J.J. Watt been?!? Why hasn't he made any GIF-worthy plays?!?
Sorry. Let's get to the GIFs:
1. Detroit Lions fans, or air traffic controllers?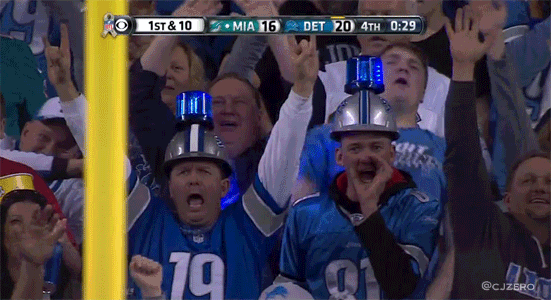 Guys, where did you get these? I'd like one.
9. The Seattle Seahawks mascot flies around the stadium and lands on a guy's head.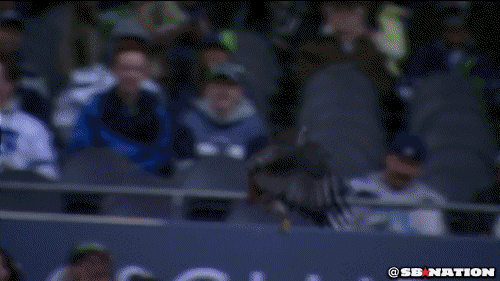 There's nothing more exciting than when a sharp-clawed bird of prey gets loose before a game starts, right Seahawks fans?
He must use Pert Plus.
8. Eli Manning – never change.
Eli first shows us the difficulty of holding onto NFL footballs: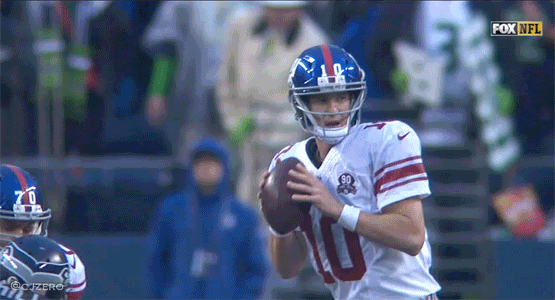 Then he makes another classic Eli Manning face:
When Eli gets angry it's difficult to decipher the exact reason why. Sometimes it's because one of his receivers messed up or made a mistake, but other times it's because his mom just came back from the supermarket without getting more Lunchables. By his reaction, I think it was the latter this time.
I can't believe this guy won two Super Bowls. There really is no God.
7. Back of the Jersey Poll: Best Sack Dance of the Week Edition.
Text "A" to vote for Mychal Kendricks' "Riverdance" celebration.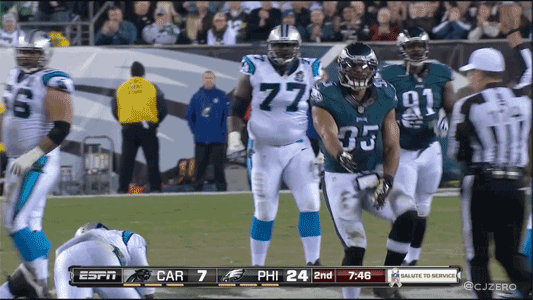 Text "B" to vote for Michael Bennett's "Ravishing Rick Rude" celebration.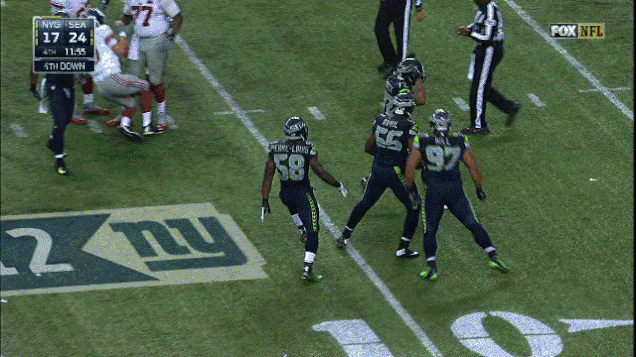 Text "C" to ask why anyone in their right mind would change the spelling of Michael to "Mychal".
Text "D" if you would like to continue to receive shirtless pictures of Simon Cowell.*
*Standard data charges may apply.
4, 5, 6. The Green Bay Packers are good, the Chicago Bears are not.
I can't remember the first year it was implemented, but now Madden has a feature where a player can select to play on a different difficulty level then their opponent. The Bears, apparently, still have their difficulty set to "All Madden".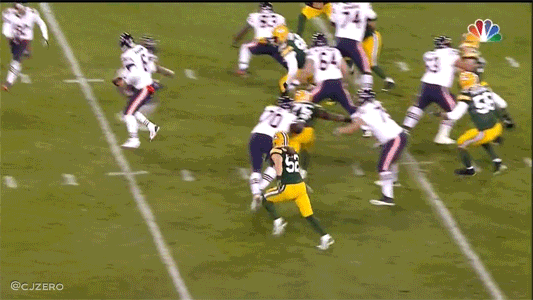 Also, for the first time in the history of the National Football League, a ball was punted by someone from the other team before the actual punter could get his leg on it.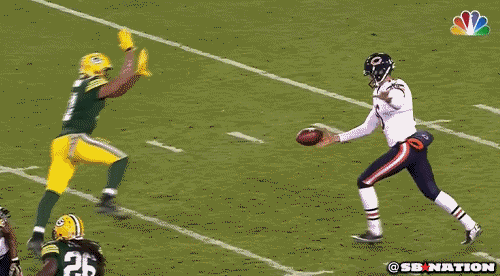 You know things are really bad when the opposing quarterback is visibly laughing in your face on the opposite sideline.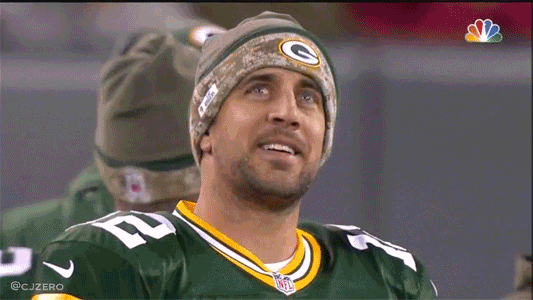 By the way, if before the season began someone asked you to pick one quarterback, OTHER than Jay Cutler, that would completely implode by Week 10, you still would've picked Jay Cutler, right? Same here.
Do you know what it looks like to give up 106 points in two consecutive games? It looks like this:
20 bucks says once Bears head coach Marc Trestman is fired, he'll be cast as the next Bond villain. You heard it here first.
2 & 3. The 49ers save their season (again/for now).
Since the schedule was released earlier this year, I have been waiting for this game. Waiting, and waiting, and then waiting a little bit more after that. That's because in their showdown with New Orleans last season, 49ers linebacker Ahmad Brooks was called for an egregious, game-changing personal foul penalty on Drew Brees that all but handed the Saints a controversial victory and led to me dropping, approximately, 87 straight profanities in the middle of the NBC Sunday Night Football research room.1
This time around the 49ers escaped with a victory, thanks to this ridiculous 4th & 10 play from Colin Kaepernick to Michael Crabtree:
And Ahmad Brooks exacting his revenge on Brees: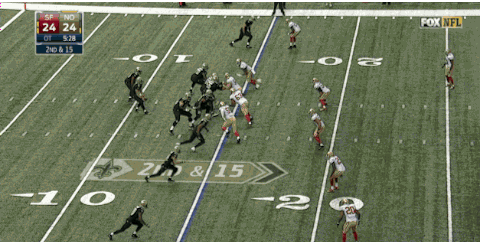 The game-winning field goal is, in a nutshell, what it's like to root for the 49ers this season.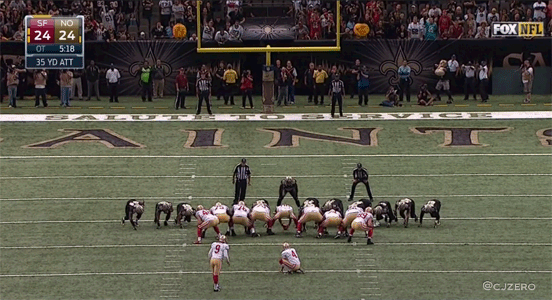 We can't even enjoy our made field goals without a side of heart attack.
What do you mean there was still some controversy??? Oh, you're referring to this play?
To me that just looks like clear offensive pass interference on Saints tight end Jimmy Graham. No controversy there.2
Speaking of Graham…
1. Jimmy Graham scores a touchdown, The Joker grabs his ass.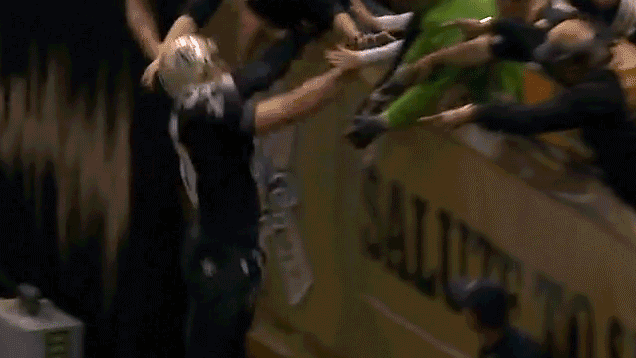 If some random dude dressed as The Joker shows up anywhere and then does something weird or inappropriate, that's kind of on you for letting him in, isn't it?
BONUS!
The Week in Weirdo NFL Fans
This Weeks Winners and Losers…
Winner: the guy who dressed up exactly like Andy Reid.
No words can describe the amazing-ness of this costume. Spot effing on.
Loser: Cowboys wide receiver Cole Beasley.
@massot15 eat a dick

— Cole Beasley (@Bease11) November 9, 2014
He seems like a pretty nice guy.
Winner: The New England Patriots Twitter.
Congrats to our Patriots PETriot of the Month! Submit your own photo w/ #PatriotsPETriot http://t.co/mISEsY4tZq pic.twitter.com/3JfoMVHOhc

— New England Patriots (@Patriots) November 7, 2014
Great tweet… or GREATEST tweet?
Loser: Ray Lewis' Monday Night Football wardrobe.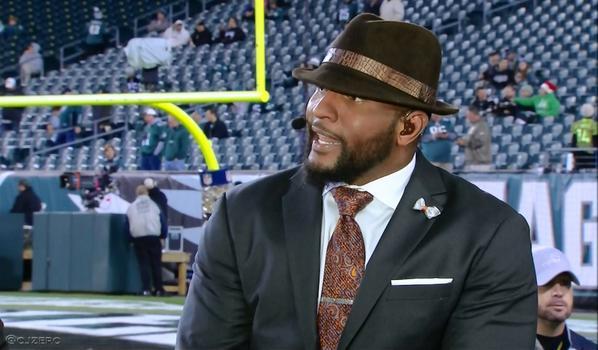 Maybe Ray Lewis thinks that if he dresses like a detective from the 1940s everyone will forget that he killed a guy.
Finally…
John Gruden goes bananas.
See you guys next week!