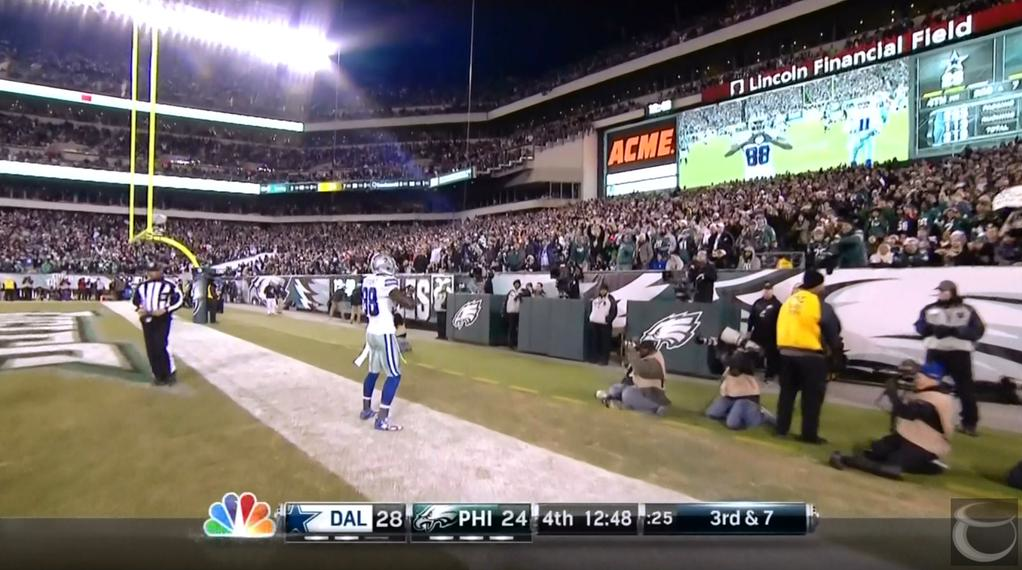 Apologies to all for missing last week, but I hope you can understand that when your favorite team loses to the Oakland Raiders you need like 10 days to go through the appropriate stages of loss, grief and smashing things.
I remember earlier this season when I still had my sanity; it was just after Week 1 and the 49ers had just finished off dominating the Cowboys in Dallas. Colin Kaepernick still looked like an NFL quarterback, Carlos Hyde seemed to be the heir apparent to Frank Gore, and all was well in the world. At least all was well in my world. Those were great times. Fast forward fourteen weeks later (and approximately 850 angry texts between my buddy McBride and I) and things in San Francisco look, well, bad.
Thank god for GIFs though, amirite!?!
10. Yay, Bears!!
The Bears have nine losses this season, each coming by an average of 17 points, which is almost Jacksonville Jaguars level losing.1 If Chicago gets a 10th loss, (certainly possible with games against Detroit and frisky Minnesota left) it would be the most losses in a Bears season since John Kerry was running for president. What say you about that, Bears fans?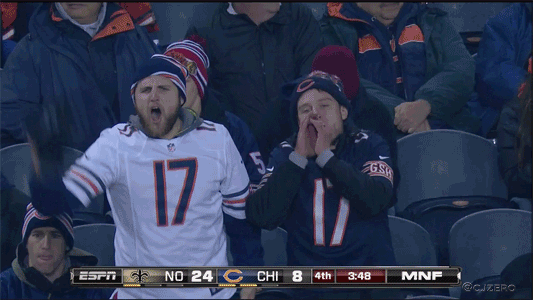 Monday night's Bears-Saints game, aside from deciding the championship game for approximately 89 million fantasy leagues, was a perfect representation of the Bears franchise right now.2 Even with less than six minutes left, and down 16 points, Jay Cutler showed not an ounce of urgency. Let's take a look at their first half offense: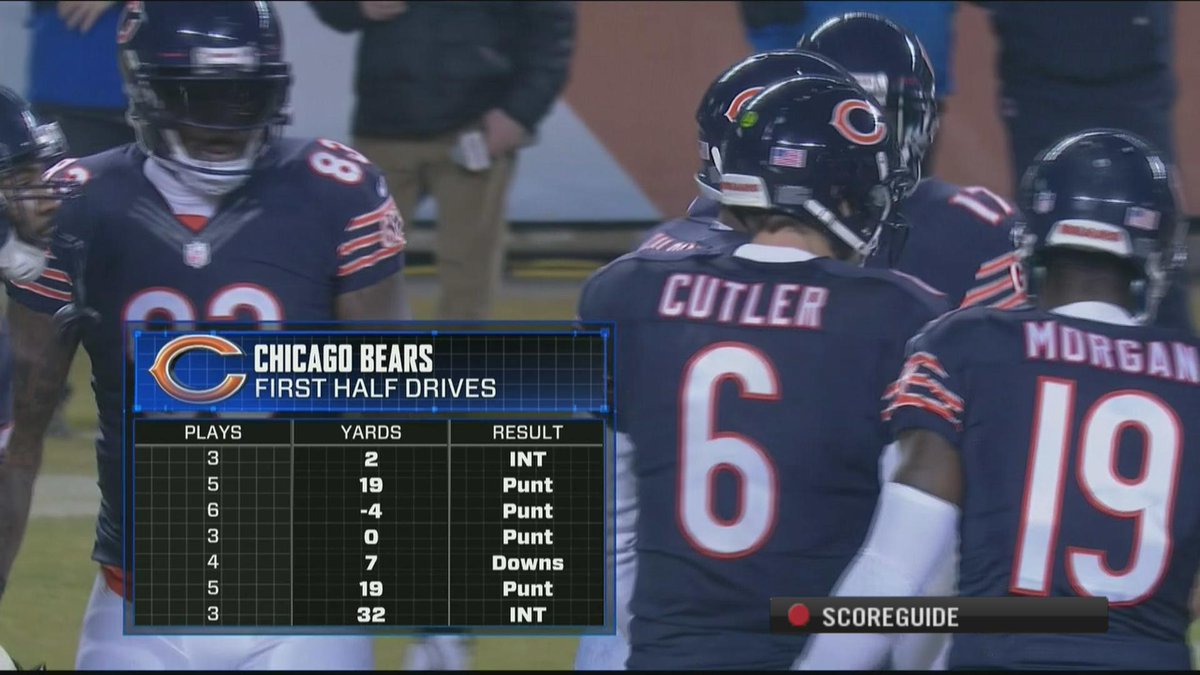 Awesome.
Actually, this might define the Bears season better:
Bears try fake punt, come up short, only have 10 guys on the field, and in an illegal formation.

— CJ Fogler (@cjzero) December 16, 2014
9. Touchdown! Let's throw ice!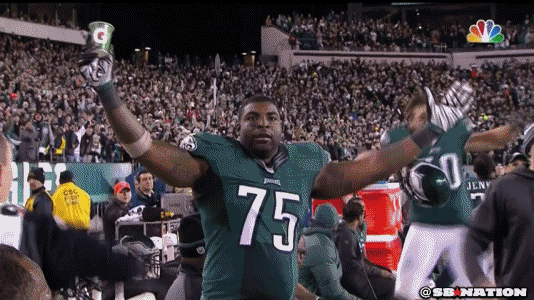 Here's what bothers me: when I used to do this on the sideline of my lacrosse and basketball games as a kid, I'd get in trouble and yelled at in front of all my friends.3 When a professional athlete does this, it's funny and no one says a thing. Life isn't fair.
8. Jerry Jones & Chris Christie: Bros.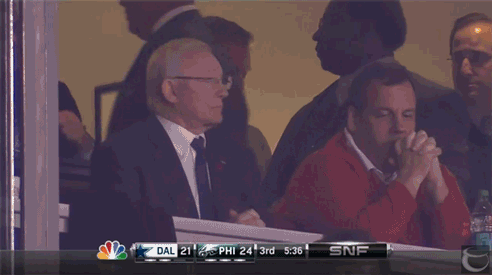 Chris Christie is apparently a Cowboys fan, but perhaps more surprising is that he also seems to be a fan of Jerry Jones.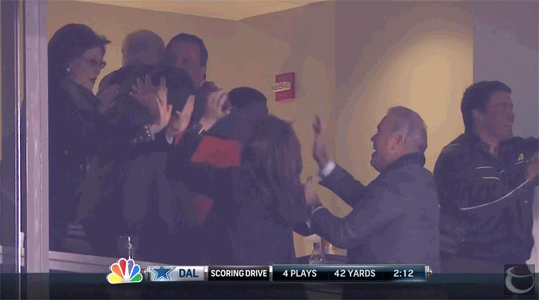 And awkward high fives.
Meanwhile, in the other owners box, Bradley Cooper hung out with Saturday Night Live executive producer Lorne Michaels Eagles owner Jeffrey Lurie4 to make sure their side of the field was equally as random as the Cowboys side.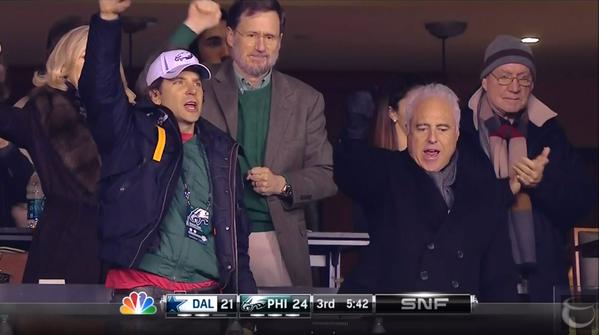 7. Oh, you were curious to see what it's like to watch the 49ers on offense?
Talk about excitement!
Extrapolate that vine into 60 minutes and you basically have an exact replica of what the 49ers offensive gameplan has looked like for the past four games the entire season. It's been more exaggerated lately, but for the greater part of 2014 the dominant rushing attack San Francisco sported in the previous three seasons has all but disappeared, as the offense has OH MY GOD WE LOST TO THE OAKLAND RAIDERS LIFE HAS LOST ALL MEANING.
Everyone on the offensive side of the ball in San Francisco should have to meet with upper management at the end of the season and answer this simple question:
6. Rejected!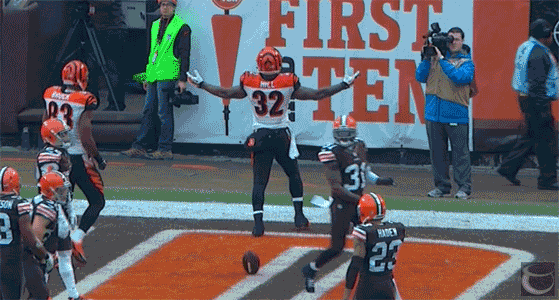 It always feels weird to see a player from a team other than the Green Bay Packers attempt the classic "Lambeau Leap" by jumping into the stands – it should be reserved exclusively for Packers players only. Thankfully, this Browns fan shares my sentiments on the subject.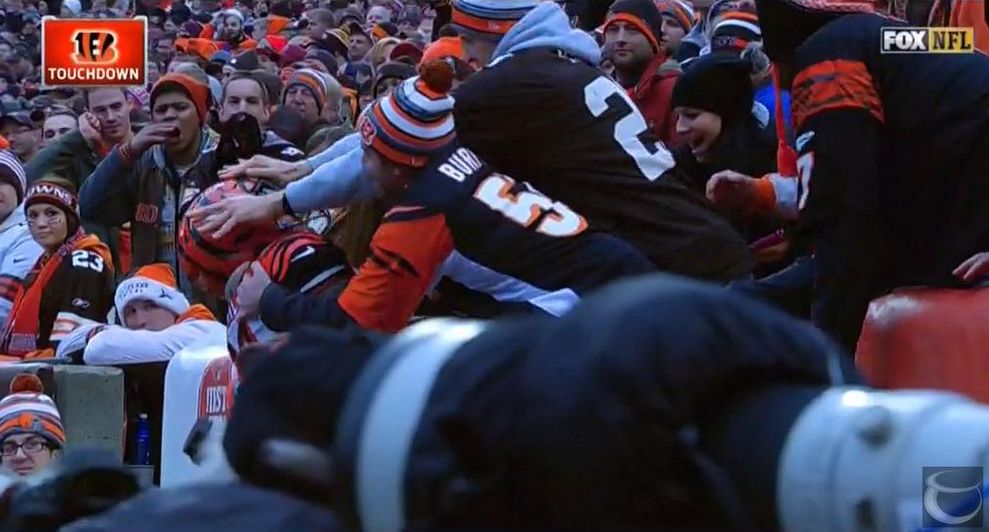 Leaping into the stands at an away game? That's bold, Jeremy Hill.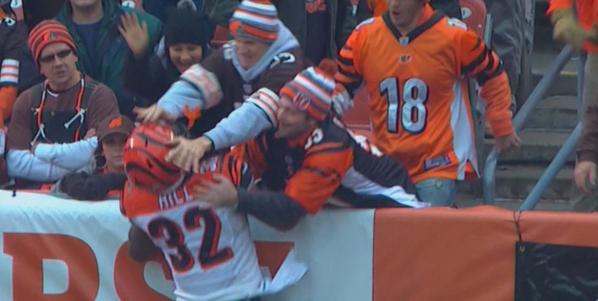 Cue Rob Riggle!
Speaking of the Browns…
2-5. How did Johnny Manziel's first NFL start go?
What a play-action fake on that handoff!! On the bright side – if you're a fan of the Cincinnati Bengals, it went really well. Right?
At least Manziel himself was having a good time: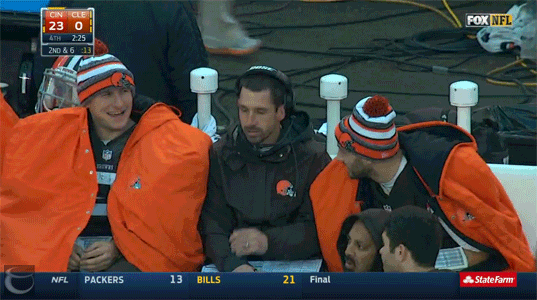 80 yards passing, two interceptions, sacked 3 times, mocked 72 times5, and still joking on the sidelines after that embarrassment. Your quarterback of the future, Browns fans!!6
1. It's never easy being an NFL official.
No, I won't get into the egregious roughing the passer penalty that the NFL copped to getting wrong in the 49ers game, because that would lead to this post never getting finished and/or me walking into oncoming traffic. I'm talking about how dangerous things can get for a referee who's simply placing the ball on the ground before a play starts.
Personally, I think this guy goes down a little too easy. Very LeBron James-esque.
And hey, sometimes you just get so mad you can't even throw your flag in anger the right way:
BONUS!
Fans of the week:
Some dude really dressed up like post-car accident Cam Newton at the Panthers game, which is messed up. I can't tell though, is he a fan of Cam's or not?
Here's a picture of the roughing the passer call that changed the entire Niners-Seahawks game:
Ed Hochuli's vantage point for roughing call he made, and defended pic.twitter.com/fWBPmy0rDC

— Tre9er (@Tre9er) December 15, 2014
Tackling the quarterback at any time = roughing the passer. Got it.7
The Broncos won this weekend, but Peyton Manning didn't have such a great time.
First, he tried to block someone, which went about as well as you'd expect:
Then some hero Chargers fan brought a photoshopped picture of this: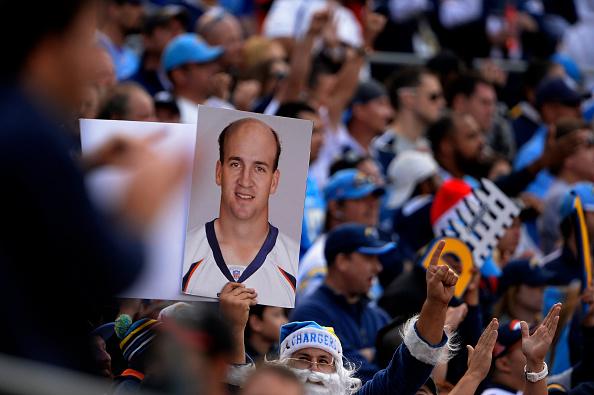 Bald Peyton Manning is the best Peyton Manning.
Tony Siragusa's outfit from Sunday: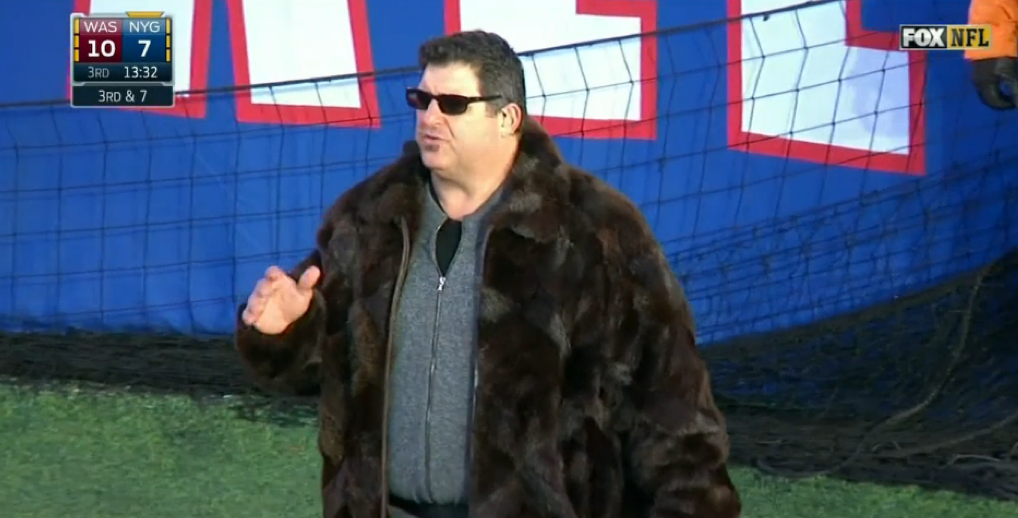 I'd pay almost anything just to watch him sit down and eat as many chicken wings as he could in one sitting. What would the over/under be? One million?
By the way – here's an approximate depiction of how the zipper of Siragusa's gray sweatshirt is feeling in this picture:
Finally…
NEVER FORGET: Raiders Owner Mark Davis actually asked someone for this haircut.
I'm pretty sure that the only places where you can get a haircut like this are also the only places that give you a Dum Dums lollipop after you're done. Again: an adult asked for this haircut.
See you guys next week!