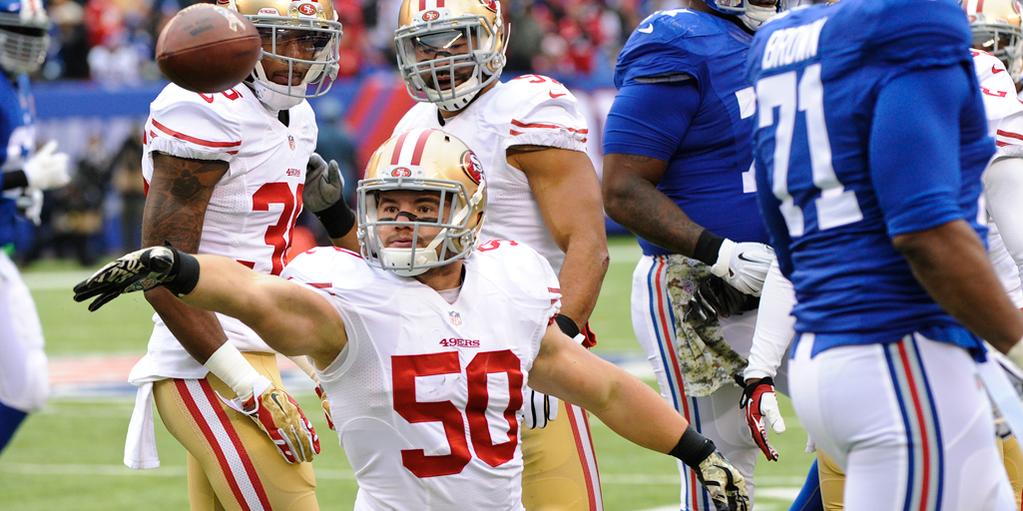 All Hail Chris Borland Edition
Before we go ANY further… Chris Borland. Just seeing his name typed gives me goosebumps. Since becoming one of the 49ers' starting linebackers in Week 7, Borland has amassed 56 tackles in four games, adding two interceptions against the Giants last Sunday (we'll get back to this). The dude's only a rookie, too!! He's becoming already is an American hero. Well at least to me, which is the only thing that matters in these posts. I came, literally, one click away from buying his jersey after the game on Sunday, but my girlfriend guilted me out of buying it.1 Strike one.
Let's get to the GIFs.
10. That time Tony Siragusa strangled NFL rules expert Mike Pereira.
Yeah, sure, maybe this isn't from Week 11, but Week 11 is when it was brought to my attention, so Week 11 is when I bring it to you.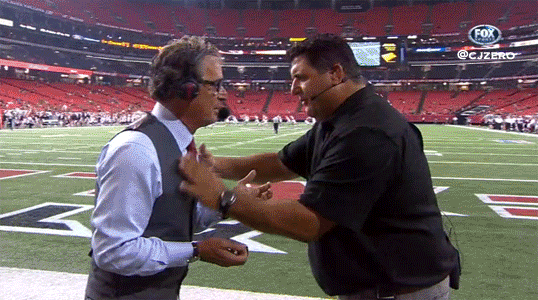 Context does not matter; it is irrelevant in this situation. Tony Siragusa is an insane person. That is all.
9. Emmanuel Sanders, Rest in Peace.
I'm not kidding when I say that – for a while, someone really edited his Wikipedia page to say that he died on Sunday.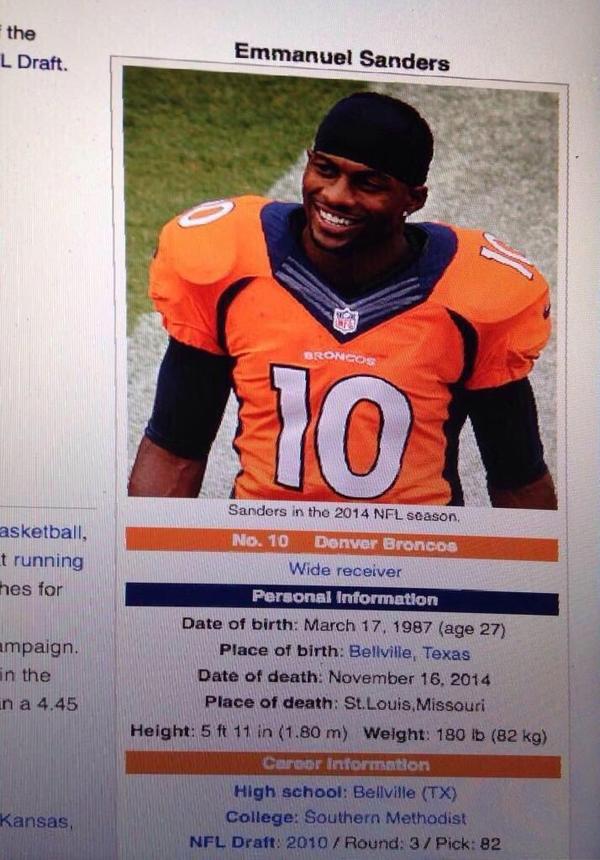 8. Saints Fans: The Worst Fans.
Alright maybe not all of them, or even most of them, but take look at this guy: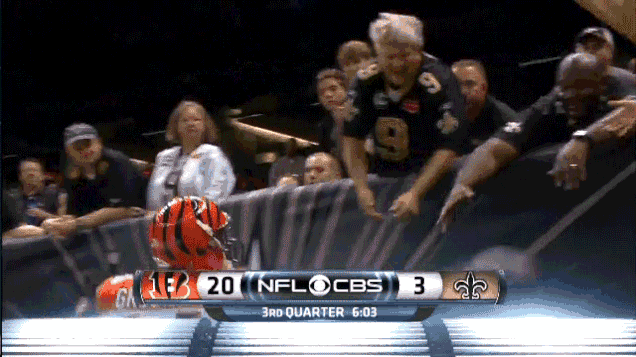 Seriously, how can anyone act like this? Why doesn't a normal human step in here and defeat this jackass? Supposedly, this guy showed zero remorse after being interviewed postgame, with his wife (?? someone married this clown??) stepping in and defending his asshole-ness with this quote:
"It's a free for all, something like with Mardi Gras…When a coconut is tossed or beads are tossed everybody goes for it."
…uh, what?
At least one good samaritan at the game found this woman a ball, though. Bravo.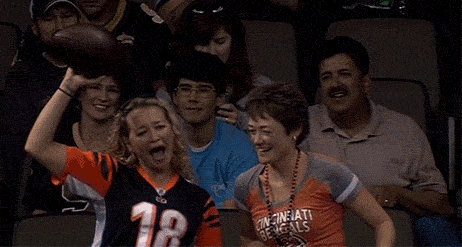 7. J.J. Watt is back, and he's making insane catches now.
I don't really know why I was ever worried that I would never see him in this post again – J.J. Watt was always coming back. Actually, he never went away.
You know what else? This is the FOURTH touchdown Watt has scored this season. If that isn't already impressive by itself, consider the players that he's scored more than in 2014:
Calvin Johnson
AJ Green
Lesean McCoy
Adrian Peterson
Robert Griffin III
Tim Tebow
Chris Borland
gotta get every bible in the world change all JESUS CHRISTs to JJ WATTs then redistribute them

— Shea Serrano (@SheaSerrano) November 16, 2014
Amen.
5. The Rob Gronkowski Show.
Rob Gronkowski is basically the offensive version of J.J. Watt, just less serious and with about 35% of the brainpower.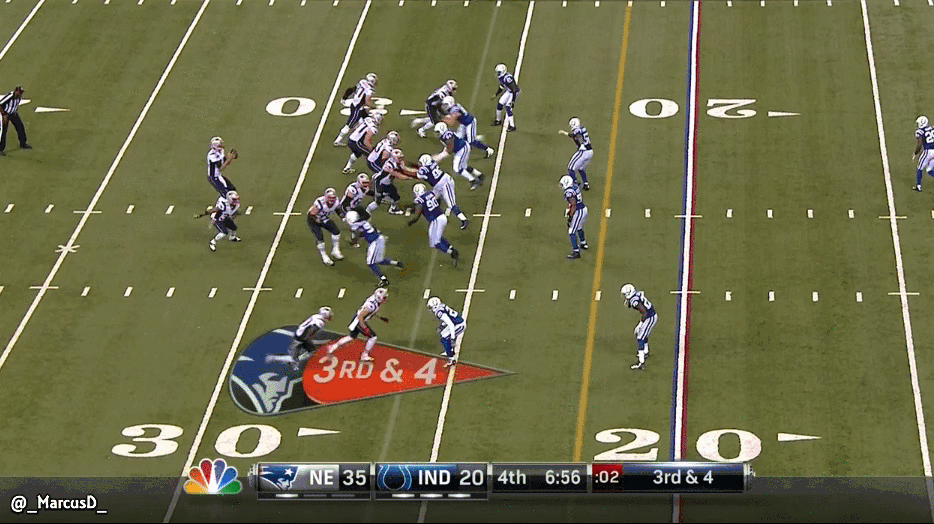 When you get blocked so far out of bounds that you collide with the cameraman post, well… actually, I can't even think of an insult. That just sucks.
Especially when you see Gronk dancing like this on the sidelines: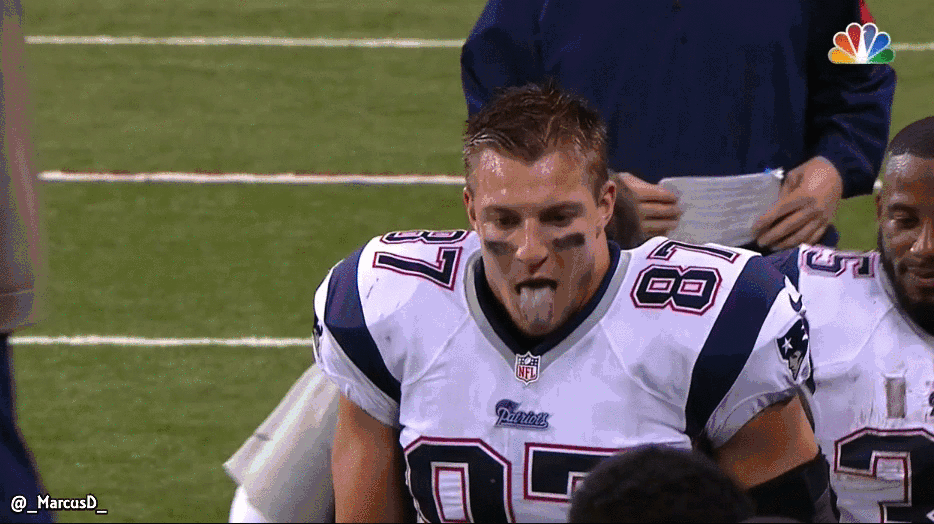 The look of contempt on Belichick's face in the background is my favorite part.
Speaking of dancing…
4. Offensive lineman touchdown dancing, anyone?
I've always been curious about what goes through an offensive lineman's head when he gets the rare goal-line play called for him. If it's me in that position, the first 30 seconds of Eminem's "Lose Yourself" would be on repeat in my head. For Colts offensive tackle Anthony Castanzo it's something different, I assume. Otherwise, he probably does a different celebration than the one above. Like, for example, something not completely weird.2
3. Brandon Marshall calls his shot.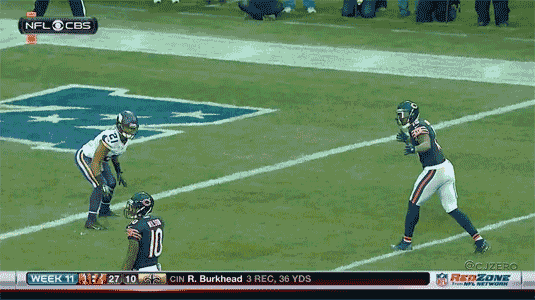 What can you really do if you're on defense in this situation? Just, like, cry??
2. The Eagles' Terrible, Horrible, No Good, Very Bay Day.
I assume before Sunday's game in Green Bay started, Eagles quarterback Mark Sanchez was approached by a Packers player and had this exchange:
Random Packers Player: "Yo, dude, don't you remember you're the same guy who butt fumbled?"
Mark Sanchez: "Oh wow, that WAS me, wasn't it?"
Random Packers Player: "Yeah…"
Mark Sanchez:
Aside from losing to the Packers by the approximate score of Infinity to 3, the Eagles also had issues with doing simple football things. Like kicking the ball: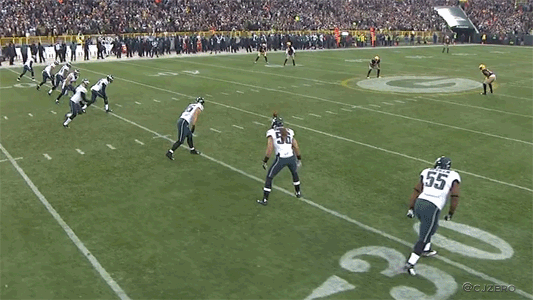 Later, defensive tackle Bennie Logan decides he's had enough of the referee telling him where to lineup before the snap: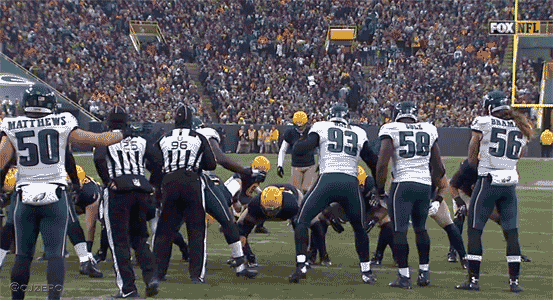 BENNIE LOGAN DOES NOT LIKE TO BE TOUCHED.
1. Eli Manning, who else could it be this week?
I had the pleasure of seeing this game live, although the game itself wasn't exactly a pleasure. When Eli Manning throws five interceptions and you only barely escape with a six-point victory, that's less of win and more of a non-loss. If that makes sense.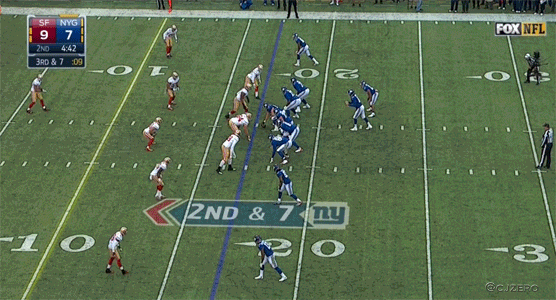 Eli must've known I was at the game, which is why he tried extra hard to ensure a 49ers victory. Much appreciated, Eli.3 Why would I only show two of his five INTs, you ask? That's a good point. Here's a GIF of all five.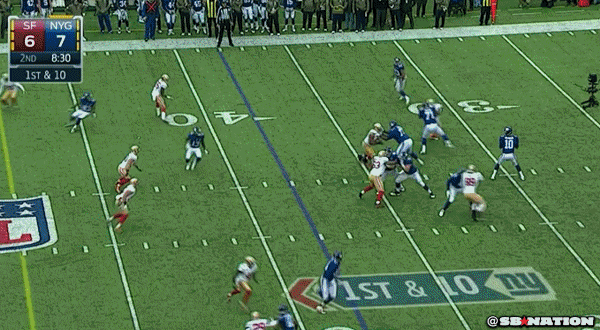 I'll say this every week if I have to: this idiot somehow won two effing Super Bowls. Damn it all.
BONUS!
Football, game of excitement!
Not everyone can handle chewing tobacco:
Some NFL players are big, some NFL players are small.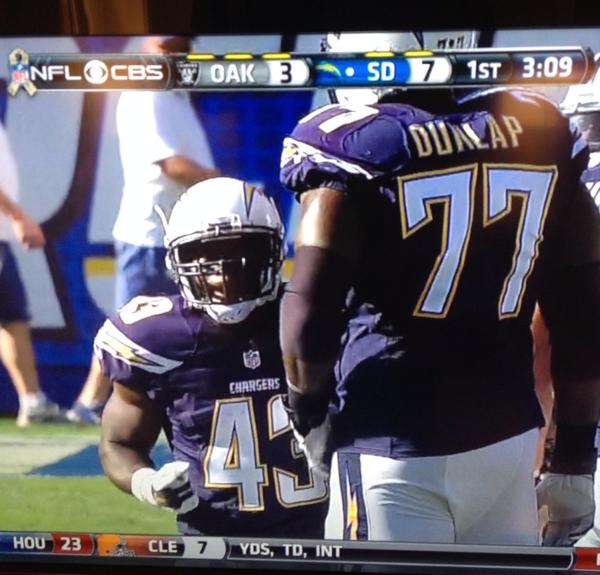 Fan of week: The kid who dressed up like Chargers' safety Eric Weddle: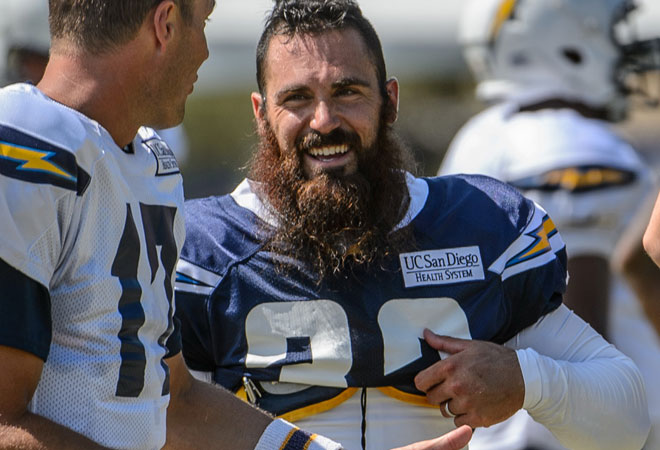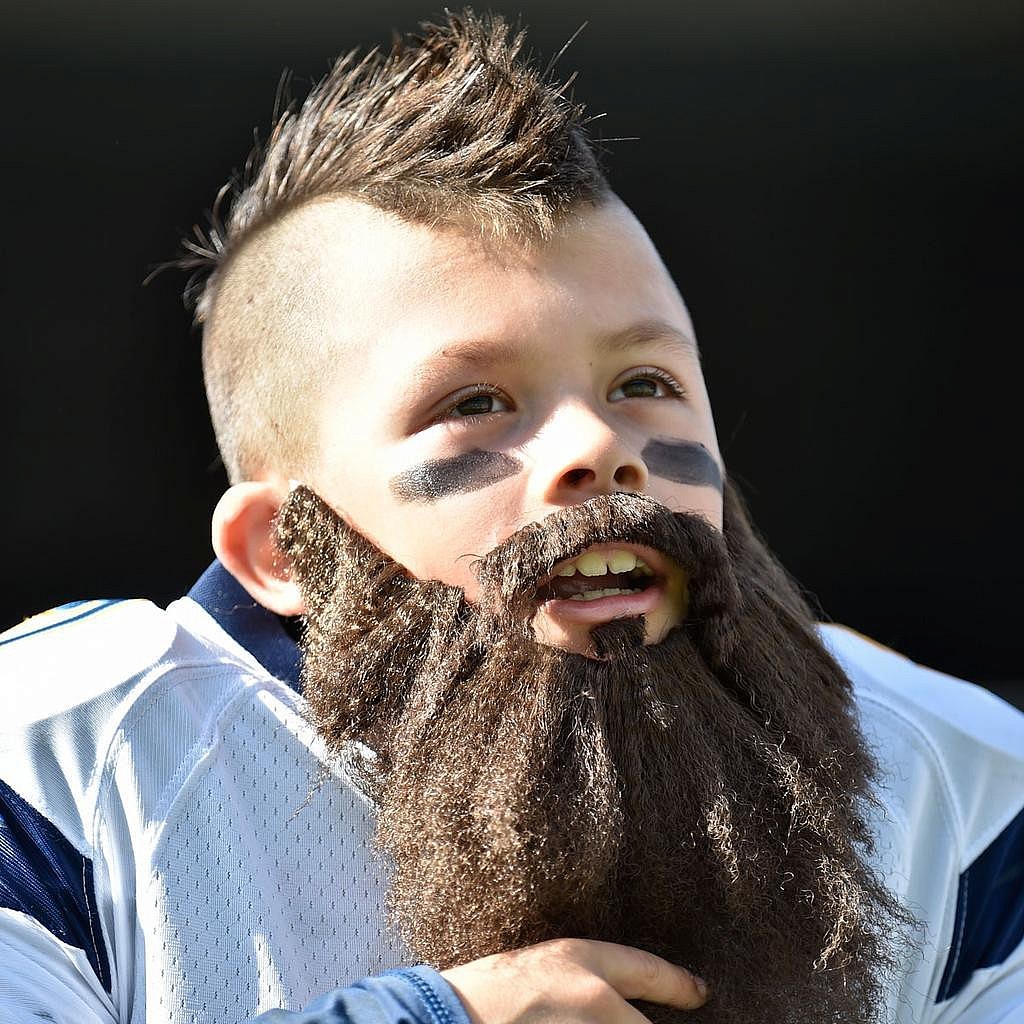 A timeline of Tom Coughlin's face in the cold (visual approximation):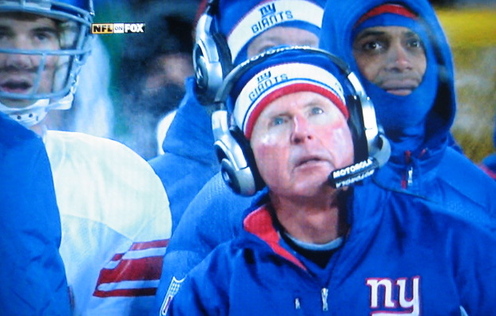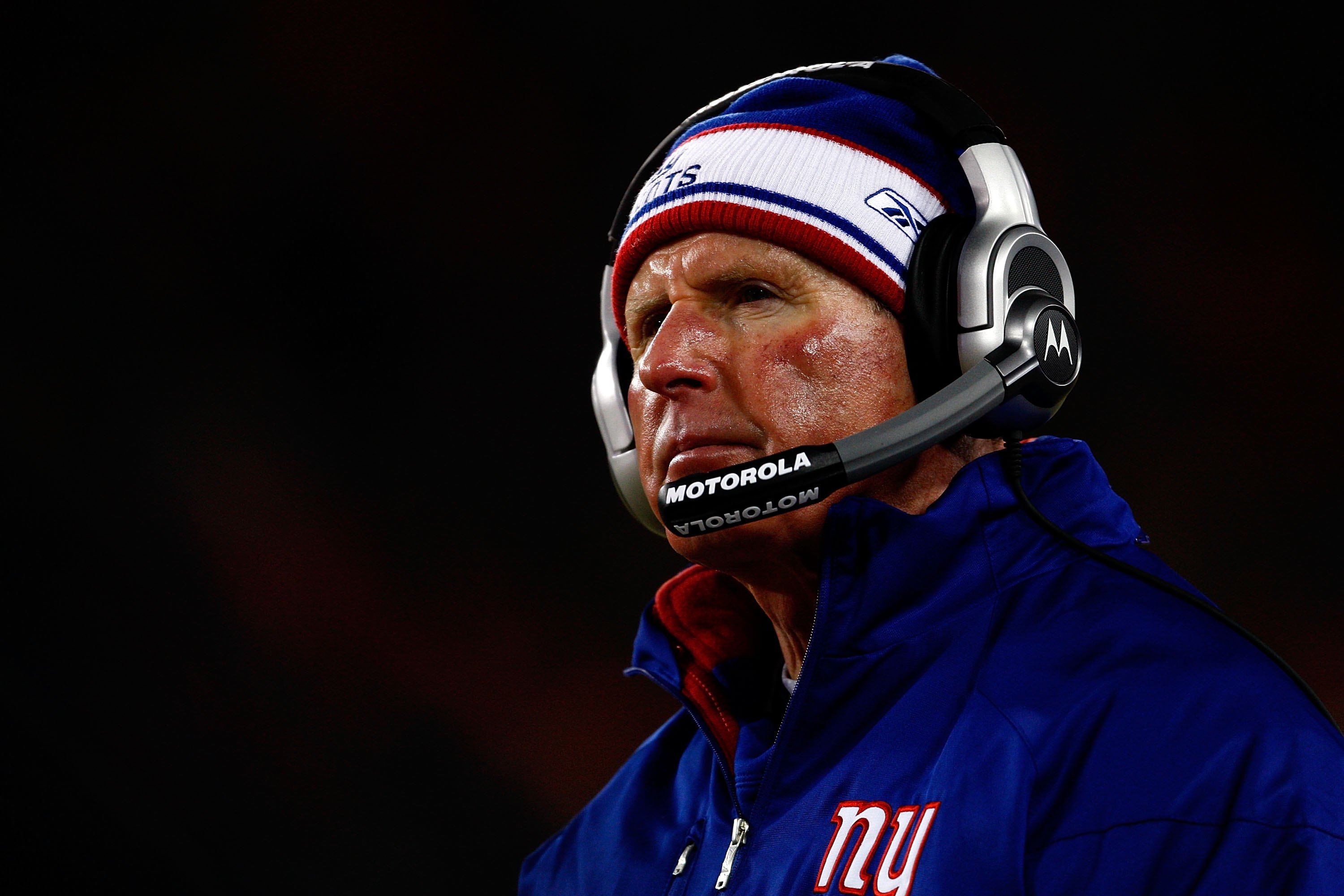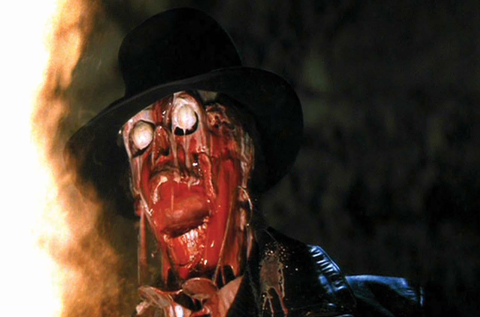 Rory, if you could pick just one image to describe the Cleveland Browns franchise, what would it be?
I'm glad you asked me that question. It would be this: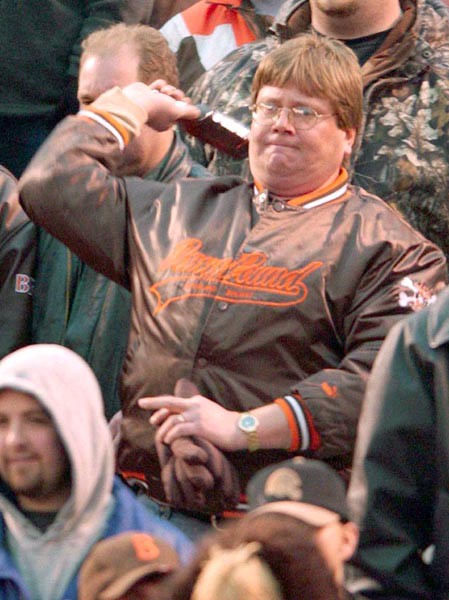 See you guys next week!