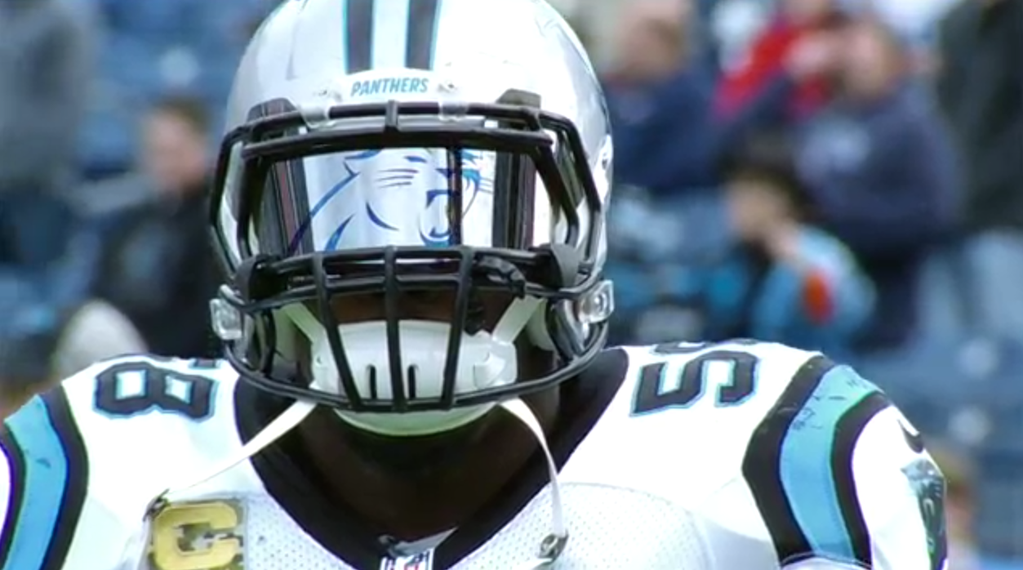 Hey! Welcome back. I'M back! GIFS ARE BACK!! I know you were worried – so was I. What happened to me, you ask? First off, my favorite team in all of major sports is the San Francisco 49ers, and they've had, well, a rough go lately. Since last we GIF-ed, they've imploded 2007-Britney Spears' style and the NFL, for me, just hasn't been the same. Actually, that's all that happened, but guys, it's been a tough few months.
Here's a checklist I made of things to focus on during the 2015-16 season while the 49ers are on hiatus from being a real football team:
Wait until Week 10 to post GIFs (check)
Continue to hate Roger Goodell (check)
Continue to hate the Seattle Seahawks & New York Giants, unconditionally (check, never in doubt)
Have a great fantasy season (hah – SUPER. DUPER. Fail.)
Don't talk about the 49ers, like, at all (dammit, fail)
Convince my girlfriend to let me play Halo 5 in our apartment on a daily basis (pending)
I realize that the lack of GIFs is unfair to you. You deserve GIFs. You deserve have to deal with my mediocre to terrible commentary to go along with those GIFs. And you've been deprived.
Now that we've got all of that covered, let's get to GIF-ing!! Here are the 10 most important ones Week 10 of the 2015-16 NFL season:
10. DeAndre Hopkins goes all Odell Beckham.
DeAndre Hopkins is awesome. If you're a football fan, you probably already knew that. But in case you've forgotten, or didn't know already, here's his amazing one-handed touchdown catch from Monday night's game against the Bengals: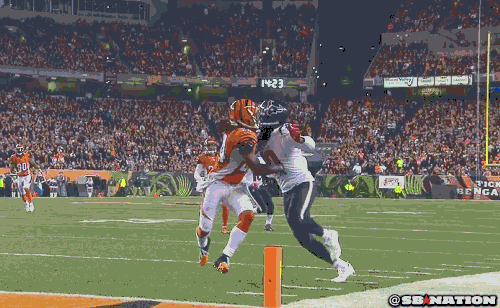 We're only at GIF #1 for the season, but it's already rant time. First, check out this clip from last year:
That's DeAndre Hopkins making an INSANE one-handed catch against the Giants during Week 3 of last season. The play was called back due to a penalty, but that doesn't negate the spectacular-ness of his catch, or our ability to process the skill it takes to make said catch. This was also over two months before the entire internet orgasmically FREAKED THE F$%# out over Odell Beckham Jr. making a similarly spectacular one-handed catch. Now every time any player makes a one-handed catch it's referred to as "going Odell Beckham", because apparently he was the first player person in the history of the world to make a one-handed catch. The internet is dumb. Rant over.
I hate the Giants.
Ok now it's over.
9. Antonio Brown goes airborne.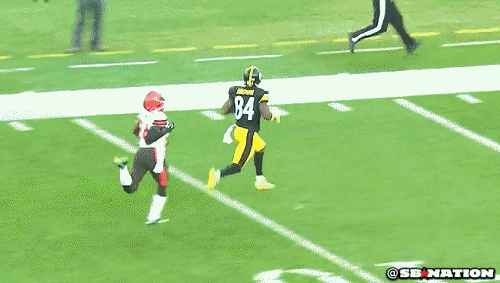 Last week my girlfriend challenged me to try and kick my leg up as high as I could, after my ego told me I could probably kick as a high as a Rockette. I barely made it to waist height before pulling my hamstring. Meanwhile, Antonio Brown can do a running front flip in full pads. Life is unfair.
8. Cardinals defeat Seahawks, act appropriately.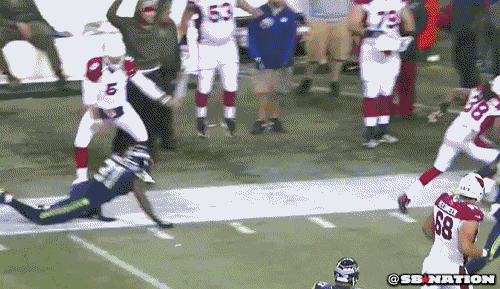 I know how you feel, Drew Stanton. I was doing the same "the Seahawks are losing!" happy dance in my own apartment.
Here are some more pro-Seahawks losing GIFs; because when the Seahawks lose, we ALL win: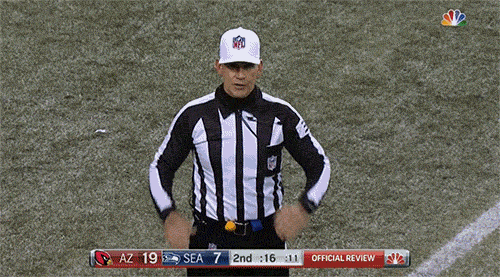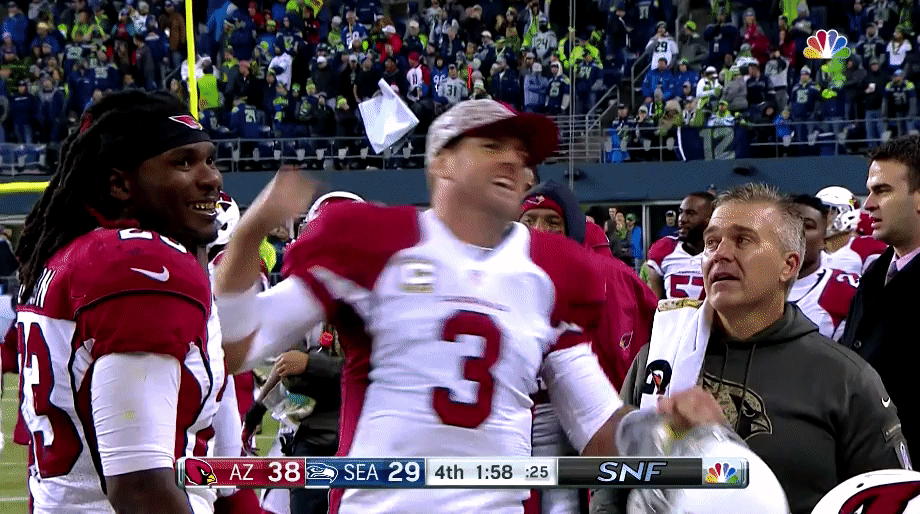 Needing an explanation on that Carson Palmer thrust towards the stands? Well you're in luck, because he explained to ESPN that it was directed towards his friends he saw in the stands. Their names? Pup, Phil, Sugar Cane. No that's for real. No that's for real.
7. Let's Check in on the Miami Dolphins.
Last time I wrote about the Dolphins they were in the midst of a disappointing season and on their second head coach of the year. How are things going now?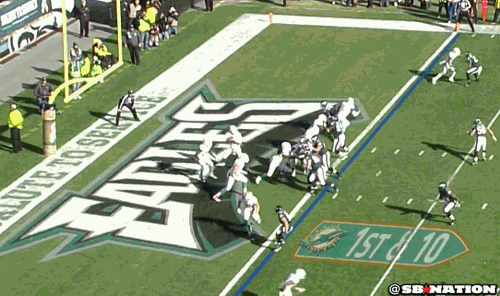 Okay, so still not so great.
In their defense, they did come back and win this game. In MY defense, they beat a team quarterbacked by Mark Sanchez, so that should probably only count as like half of a win. Or maybe one third of a win. What I'm saying is Miami's record should be 3.33-5.
By the way, remember "Sanchize"? Those were great times.
6. Bill Belichick only picks winners.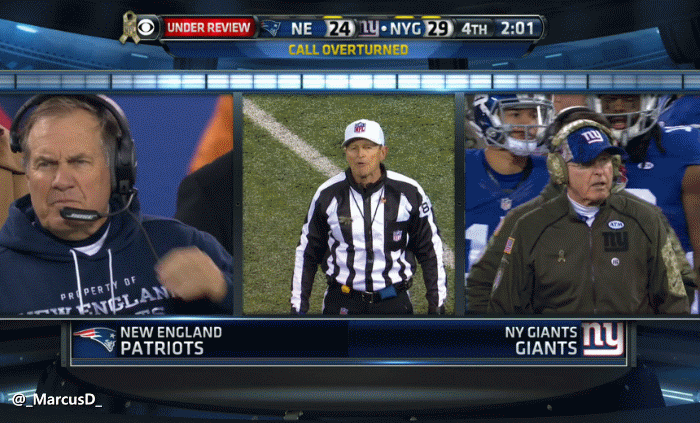 Bill Belichick! He does gross things just like the rest of us!
5. How about a fat guy celebration?
There is only ONE reason in the entire world that I would agree to binge eat to the point of obesity. And that one reason is so I could do something like this:
4. Sometimes you are NOT allowed to celebrate, though.
In the defense of the official, the celebration was probably going nowhere.
3. Browns. LolZ.
Look, I can't really talk much smack about other teams being terrible at football since the 49ers have been nothing short of a complete steaming pile of fecal matter this season, but the Browns will always have a special place in the NFL high comedy section. Especially when their own defenders have no idea which way they're team is going.
2. It's "get tackled by an NFL player" day!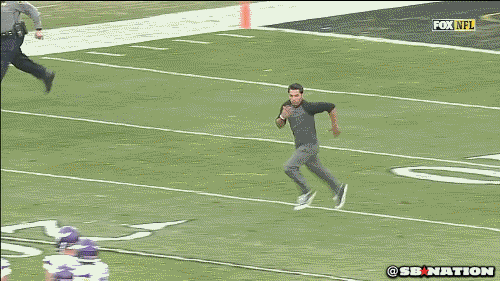 His running style looks about the same as 95% of the Raiders running backs of my lifetime.
1. Ref Wipeout!
There's a special place in my heart for officials tripping and falling on national television. May it never stop.
BONUS!
FYI – someone on the Houston Texans puked in the endzone before the game even started on Monday night.
Someone from the @HoustonTexans threw up during Pregame. #MNF pic.twitter.com/TmRBwLoOah

— ESPN Monday Night (@ESPNMondayNight) November 17, 2015
It was probably J.J. Watt, for intimidation purposes. Or maybe Brian Hoyer, due to fear purposes.
Let's Discuss Peyton Manning Quick.
On Sunday, Peyton Manning passed Brett Favre for most passing yards in NFL history, which is a great accomplishment. He subsequently threw 4 INTs and was benched for Brock Osweiler, which is not a great accomplishment. Osweiler, who is the Denver Broncos backup quarterback and not a main character from Hey Dude, Afterwards, the internets reacted accordingly.
A lot can happen in 2 hours pic.twitter.com/GDHhKzCuu2

— Pete Blackburn (@PeteBlackburn) November 15, 2015
Is Brock Osweiler the Peyton Manning with cable or is it the other way around?

— Zach Harper (@talkhoops) November 15, 2015
Congrats to Peyton Manning who completed 5 of 20 passes for 35 yds and 4 interceptions to set the all-time NFL mark pic.twitter.com/26uVRvgxEB

— David Dodds (@fbg_dodds) November 16, 2015
Don't sweat it Peyton. I was benched once which means it can happen to anybody.

— Sage Rosenfels (@SageRosenfels18) November 15, 2015
For real, if you get dissed by a guy who once did this, maybe it's time to hang 'em up.
Speaking of retirement…
Check out this fake commercial trolling Peyton Manning & his erosion of skills:
The Jordan Crying Face.
If you've never seen the Jordan crying face, it's an image from Michael Jordan's 2009 Hall of Fame speech that has been photoshopped into literally every situation in the history of sports. Here are my two favorites from this past weekend:
Will this become a weekly thing? We can only hope.
Finally…
Monkeys riding dogs during halftime of this week's Monday Night Football game.
Seriously, do you need to see anything else today? No you don't, because nothing can top that.
See you next week!
Maybe.