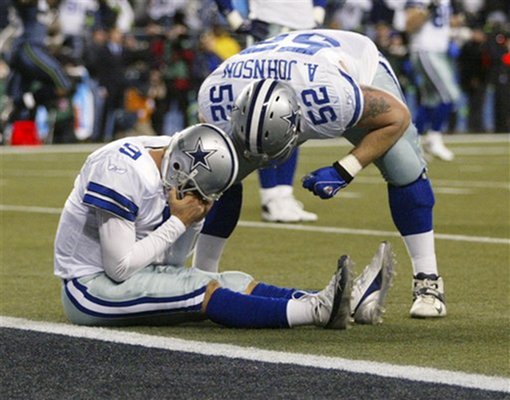 Sunday, October 27, 2013 marked another chapter in Tony Romo's up and down and often mercurial career. The Cowboys led by Romo were up 10 points at two separate times late in the 4th quarter (20-10 and then again 27-17) at the Lions. With less than 3 minutes left, Romo had a chance to ice the game and instead was forced to throw the ball away on 3rd and 12, and in the process stopped the clock for the Lions, preserving valuable time for Stafford (which would prove to be crucial in the Lion's game-winning drive just minutes later).
After the Dallas defense picked off Matthew Stafford with 1:24 (for the 4th time in the game), Romo once again had the ball with Dallas still clinging to a 3 point lead, at 27-24. All the Cowboys had to do to salt away the game was get a first down, or at the very least keep the clock running. After three straight runs and a holding penalty on the 3rd down run by Phillip Tanner, which stopped the clock again with 1:07 remaining, the Cowboys were forced to settle for a field goal.
The rest is history. Stafford did his best Tom Brady impression and zipped a ball up the seam outside the left hash marks to Kris Durham…pass complete for 42 yards. On the ensuing snap, Stafford rifled a 27-yard completion in to Calvin Johnson (perfect throw) to get the Lions to the half yard line. After rushing his team to the line for what he indicated would be a spike with less than 20 seconds remaining, he instead snapped the ball and reached across the goal line for the game-tying TD, piercing the plane by a half a foot (the extra point would win the game for the Lions, 31-30).
After the Cowboys tried a half-hearted hook and ladder on their last snap, which resulted in the clock expiring while an overweight lineman was wrestled to the ground (how is it that all hook and ladders end in this fashion?), Romo trudged off the field, as the losing quarterback yet again. Imagine if Romo had been able to generate a first down in any of his six previous snaps? The gunslinger that is Romo came up empty in yet another 4th quarter. This story is all too familiar if you're a Cowboys fan.
As the game clock expired, I turned to my roommate and stated matter of factly, "Romo is one of the best quarterbacks in the first three and a half quarters of the game but devolves into one of the worst in the final six minutes of football games."
In week 5 Romo played the game of his life against Peyton Manning and the mighty Denver Broncos. He matched Peyton completion for completion and yard for yard. Romo threw for an otherworldly 506 yards, while throwing for 5 TD's and only 1 interception (versus Peyton who threw for 414 yards, 4 TD's and 1 interception). At face value you could tell me that Romo definitively outplayed Manning, passing for 92 more yards and one more touchdown. With Romo, it's never been a question of talent and being one of the top 5-10 quarterbacks in any given season for the past half dozen years, but rather it's been his penchant for making the big mistake at the absolute worst possible time that has been his undoing.
With the game tied at 48 and just over two minutes remaining, Romo threw an ill-advised pass over the middle and did not locate linebacker Danny Trevathan, who dove in front of tight end Gavin Escobar for the interception. Manning would take over and milk the clock, until Matt Prater came in to boot through a no-doubt 28-yard field goal as time expired. Another critical error for Romo in the waning minutes of a close game.
Romo's late game interceptions are numerous…
In the final game of the regular season last year, the Cowboys (8-7) squared off against the 9-6 Redskins. The winner would have advanced as the wildcard in the NFC. The loser of this game went home. Tony Romo threw three interceptions in this game, which matched his total interceptions from the previous eight games combined. The most damning interception came in the final minutes of the game, when during a seemingly disorganized, frantic play, he moved running back DeMarco Murray to his left and Murray proceeded to run a swing route at the snap of the ball. Romo lofted the ball over to Murray, only to have linebacker Rob Jackson pick Romo off and effectively seal the game. With that, the Cowboys lost 28-18 and were sent home packing on the last day of the regular season for the second consecutive season.
After over a half dozen years of disappointment, Romo was rewarded in March of 2013. Last spring Jerry Jones decided to extend Tony Romo's contract, to the tune of six years and $108 million. This, for a quarterback who has won only one career playoff game and who turned 33 years old just a month after signing this contract extension.
Talk about a franchise in disarray. Let's take a step back a moment and examine how we have arrived at this position.
September, 2006 – At 26 years old, Tony Romo becomes the starting quarterback of the Dallas Cowboys, supplanting the venerable Drew Bledsoe, who would go on to retire after the '06 season. He wins over Cowboys fans immediately by throwing for nearly 3,000 yards, while completing over 65% of his passes and passing for 19 TD's against only 13 interceptions in his first season as the QB of America's team. Not bad for a 26-year old 1st year starter. Romo's 2006 season would mark his highest yards per completion of his career to date, with an insane 8.61 yards per attempt. To put this in perspective, Brett Favre never eclipsed 8.0 yards per attempt in any year during his 19-year career.
In the 2006 wild card playoff game against the Seattle Seahawks, the Cowboys were driving in the redzone, down 21-20 against the Seattle Seahawks. After Jason Witten's third down catch was overturned, the Cowboys were on Seattle's two-yard line, preparing for a 4th down kick from Martin Gramatica (remember him?!!). With only a 19-yard field goal standing in between a Cowboys win, Romo received the ball as the placeholder and after mishandling the snap, stood up and peeled to his left. Seahawks safety Jordan Babineaux tackled Romo at the two-yard line, where the Cowboys turned the ball over on downs. Babineaux was the hero and Romo was the goat, for the first time in his career…unfortunately for Romo this would not be the last time he felt the agony of a last minute miscue. If Romo had made it to the 1-yard line the Cowboys would have received a fresh set of downs and better yet, if he had made it one yard further, the Cowboys would have gone up six points (assuming a converted extra point).
Below is the video evidence of the botched snap in the Wild Card round of the '06 playoffs (warning if you have epilepsy or are worried about developing epilepsy do not watch this shaky 46 second clip).
December 28, 2008 – At 28 years old and in his third season as the Cowboys starting quarterback, Romo's Cowboys get smashed by Donovan McNabb (in McNabb's last relevant season as a pro) and the Eagles, 44-6. Romo passes for only 183 yards, no touchdowns and an interception in this game. With the Cowboys entering the game 9-6 and the Eagles entering the game at 8-6-1, this game was the first of several week 17 showdowns Romo would face in his career, in which the winning team would advance to the playoffs and the losing team would go home for the offseason.
In December of 2011, Romo lost to the Giants not once but twice in the span of four weeks. On 12/11/11, Eli Manning led the Giants back from 12 points down in the fourth quarter with 5:41 remaining, in an improbable victory, 37-34. The Giants put together two touchdown drives in the final 3:41 and preserved the win with a Jason Pierre-Paul blocked field goal. If you're a Giants fan you remember that game as the moment that the Giants got hot and rode this momentum to a Super Bowl (remember the Giants were coming off a 4-game losing streak at that time). This marked the 6th come from behind victory in the 4th quarter to that point in '11 for Eli Manning, who has behaved much differently in clutch situations throughout his career than his peer, Romo.
Three weeks later, Romo took the Cowboys to MetLife Stadium, with a chance to propel the Cowboys to the playoffs and avenge the loss to the Giants three weeks earlier. Instead the Cowboys got absolutely whipped by the G-Men, losing 31-14 and finishing the season 8-8. The Cowboys were sent packing, after losing four of their final five regular season games, while the Giants advanced as a wild card. Manning was classic Manning in this game, throwing for 346 yards, three touchdowns and no interceptions, while Romo was solid but not good enough, passing for 289 yards, 2 TD's and one interception.
Cool stat from that season: In 2011, Eli Manning broke the record for most touchdowns in a season in the 4th quarter with less than 4 minutes remaining. He threw 8 touchdowns with under 4 minutes remaining in the 4th quarter, which is two more than six other QB's, who have thrown for six touchdowns each in the final 4 minutes of the game.
With these notable last second losses now accounted for, let's take a look at Romo's career in its entirety to this point, and look more closely at his passing statistics since he stepped onto the field as a starter in '06.
Tony Romo ranks #2 on the Dallas Cowboys all-time passing list, when measuring QB's by passing yardage. Romo has thrown for 27,953 yards in his career, which puts him only 4,989 yards behind Troy Aikman, who holds the record for most passing yards in a career for the Dallas Cowboys. With half a season to play in 2013, Romo figures to break this record at some point next year, likely in the middle of the season, during his age 34 season. Pretty impressive.
Romo has thrown for 195 TD's and only 85 INT's in his career, which gives him a 2.29-1 TD to INT ratio. Consider this: Drew Brees has a career 2.02 TD to INT ratio, while Peyton Manning has a career 2.16 TD to INT ratio.
Tom Brady has an average 7.44 yards per completion during his decorated career. Drew Brees sports a career average of 7.51 yards per completion. Peyton Manning bests both Brady and Brees with 7.68 yards per completion. None of these three Hall of Fame quarterbacks beat out Romo, who carries a career 7.91 yards per completion.
Less than 1 percentage point separates Tony Romo from Drew Brees, who is the leader of this group with a career completion percentage of 65.7%
– Peyton Manning – 65.5%
– Tom Brady – 63.4%
– Drew Brees – 65.7%
– Tony Romo – 64.8%
At 96.1, Tony Romo has a higher career QB rating then Tom Brady (95.6), Drew Brees (94.9), Eli Manning (81.8), Ben Roethlisberger (92.3) and Philip Rivers (95.6), who are universally regarded as some of the best passers of the first decade of the 21st century.

Only Aaron Rodgers and Peyton Manning have higher QB ratings, at 105.2 and 96.7.
This is why Romo is Romo:
During his last 40 games, Romo-led teams are 20-20.
Romo has failed to make the playoffs in five of his seven seasons as a starting quarterback (to be fair he missed the final 10 games of the 2010 season with a broken clavicle). Outside of these 10 games missed, Romo has been remarkably durable, missing only three games outside of 2010.
In four career postseason games, Romo has thrown for an average of 208 yards per game, never once eclipsing 250 yards passing in a single game.
Romo has had a QB rating above 100 in only one career playoff game.
The Cowboys have finished with a sub .570 winning percentage in five of Romo's first seven full seasons as the starting QB
Since his first campaign in '06, Romo has led his team to more than 9 wins in only two of his first seven full seasons as a starting quarterback.
Romo is 33 years old and has one career playoff win. Russell Wilson is 24 years old and has one career playoff win. Eli Manning is nine months younger than Romo and has 8 postseason victories. Drew Brees is 21 months older than Romo and has 5 postseason victories.
Dallas seems poised for yet another collapse in 2013. At 4-4, the Cowboys are only two games ahead of the moribund Giants (2-6), while the Eagles…the friggin Eagles, who have had a carousel of QB's start, are only a game back in the division (3-5). What we know of Tony Romo is that the guy is talented. Inside of the next 20 games, he will become the most prolific passer in the history of the Dallas Cowboys franchise and still be only 34. Yet, he's a career 1-3 in the playoffs and has consistently turned the ball over at critical times in the 4th quarter.
Want my prediction for the 2nd half of the 2013 season? I say Dallas finishes 8-8, just as they have the previous two seasons and the Giants somehow finish the season 8-8 (going 8-2 during the last 10 games to accomplish this) and win the tie-breaker over Dallas (finishing 1-1 against them combined with the better divisional record). Dallas will find a way to screw up the last month of the season (@ Bears, vs. Packers, @ Redskins & vs. Eagles). Two tough NFC North battles followed by two NFC East tilts…I could easily see Dallas going 1-3 or at best 2-2 during this 4-week stretch.
If you're a Dallas fan, you're all too familiar with this situation. Get used to it folks, Tony Romo was just signed six months ago to be your quarterback for the next half dozen years. And there's no Russell Wilson or Colin Kaepernick waiting in the wings to lift you out of mediocrity. You have 31-year old Kyle Orton holding the clipboard.