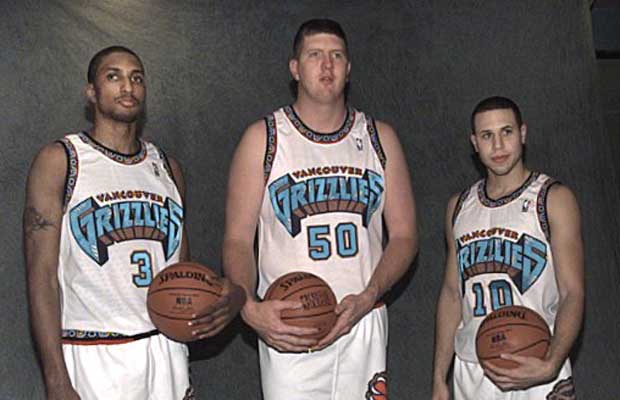 Imagine being at the top of your profession for the better part of a decade, only to fade into oblivion and leave no lasting legacy. Sadly, due to a confluence of factors, Shareef Abdur-Rahim is the rare case of a player who dominated his profession (basketball) for nearly a decade, only to be categorically forgotten amongst the pantheon of great players of his generation.
Everyone remembers Kobe Bryant, Steve Nash, Ray Allen and Allen Iverson dominating the late 90's and the better part of the 2000's. To a lesser extent, NBA pundits remember Antoine Walker, Peja Stojakovic, Zydrunas Ilgauskas and Jermaine O'Neil having long, decorated careers in their own right. Even Stephon Marbury has assumed his rightful place in the history books of the NBA (me-first cancer who was explosive and snagged a ring at the tail-end of his career with the '08 Celtics).
No one thinks back during the last 20 years of basketball and stops at the name Shareef Abdur-Rahim. For most fans he was a talented player who played for a quartet of hapless franchises, routinely throwing up 20 and 9 games, which were frequently relegated to mere footnotes on Sportscenter the following morning. What do all of the above players have in common? They made up one of (I argue the most) talent-rich drafts in the history of the NBA. The 1996 draft is the most decorated and deepest draft we have ever seen. Before jumping down my throat to claim that the '03 draft was the most talented draft we have seen, listen to me first (and I won't spend too much time on this, but rather pull a quote from my '96 Draft post that was published in September '13 to make my point).
Due to the wash in titles, I measure the classes by the strength of their hall-of-famers (4 for '96 vs. 2 for '03), dominant seasons (15+ PPG, 9 for '96 vs. 5 for '03), all-star game appearances (projected 62 for '96 vs. a projected 54.5 for '03) and overall star power and depth of players throughout the draft class. The '96 class wins…hands down.
Moving on…
Shareef Abdur-Rahim was by all accounts a freak of nature. He was bigger than Grant Hill, more athletic than Ben Wallace and was quicker than nearly every power forward he faced. I liken him to a poor man's Tracy McGrady, only 20 lbs heavier and 1 inch taller (and not the shooter that McGrady was). He was a 6'9" 245 lb. menace who ran the floor, dunked over slower, lead-footed bigs and routinely stepped out to hit jump shots over unsuspecting defenders.
He was a supremely gifted big who arrived 5-10 years before his time. Shareef entered the league in '96 at just 19 years old and landed in the worst possible situation: the expansion Vancouver Grizzlies, who were added prior to the '95-'96 season. Shareef joined a young, inexperienced team whose best players were Bryant 'Big Country' Reeves1 and you guessed it, Abdur-Rahim. Abdur-Rahim posted one of the most prolific rookie seasons in recent memory, slapping up 18.7 PPG, 6.9 RPG, 2.2 APG and 2.0 STOCKS (Steals + Blocks per game). In Shareef's first four seasons with the Grizzlies, they won a grand total of 44 games. To put this sustained losing in perspective: That's the same number of games the #6 seed New Jersey Nets won this past season.
1
During A-R's five-year stint with the Grizzlies, the team never eclipsed 22 wins in a season. After five years north of the border, A-R was acquired by the Hawks in the summer of 2001. Management thought they were getting a player who would dominate for the next five years and help turn around a sagging franchise. At the time, Shareef was still just 24 years of age and coming off a four-year stretch where he averaged no less than 20 PPG and 7 RPG.
After competing for much of the 90's with Dominique Wilkins in the first half and Mookie Blaylock, Steve Smith and Dikembe Mutombo in the latter half of the decade, the Hawks had fallen off precipitously by the turn of the century. By the summer of '01, when Abdur-Rahim was acquired, the Hawks had reeled off three straight sub 32-win seasons. Fortunes only improved incrementally once Abdur-Rahim arrived. The Hawks would win 33, 35 and 28 games in the three seasons that A-R suited up in a Hawks jersey.
A-R had proven to be a durable veteran by the time the '03-'04 season arrived, having played in at least 77 games in six of his seven seasons in the league. By A-R's third season with the team, Billy King determined that major changes needed to be made and as a result, A-R was traded to the Portland Trail Blazers, another dismal franchise.
If you're counting at home that's three straight horrid organizations (and he's not done yet). By the '03-'04 season, the Trail Blazers had less than affectionately been nicknamed the Portland 'Jail Blazers,' in reference to their players' litany of off-the-court brushes with the law. Portland won just 41 games in A-R's first season with the team (this after winning 59, 50, 49 and then 50 games in the previous four seasons). The wheels came off in '04-'05, when the Blazers managed just 27 wins and were in full rebuilding mode (parlayed this into drafting Brandon Roy in the '06 draft, Greg Oden and LaMarcus Aldridge in '07).
A-R was mercifully shipped….wait for it…to the Sacramento Kings prior to the '05'-'06 season. At this point, the Kings were still holding on to a couple of pieces from the early 2000's Kings (who were a few plays away from making the Finals during the '02 Western Conference Finals against the Lakers). By the '05-'06 season, the only players who remained from that run and gun team were Mike Bibby and Peja Stojakovic. They also trotted out Bonzi Wells and Ron Artest Metta World Peace who were both smack in their primes. Brad Miller (2-time all star) and Shareef formed a talented frontline. Unfortunately, this was the western conference and while the #8 seed Kings stole two games from the Spurs, they eventually bowed out in six games.
In his 10th season in the league, A-R finally qualified for the playoffs…just squeaking in with the spunky 'on their last legs' Kings team who would be torn to shreds by management that offseason.
Little did people know that at just 29 years old, Shareef's career would quickly be coming to an abrupt and unexpected end. Shareef had averaged a solid 12.3 PPG and 5.0 RPG on the '05-'06 playoff team that was loaded with veteran players who demanded touches (re: Wells, Bonzi & Artest, Ron). The Kings won only 38 games the following season, while A-R's performance slipped a bit more, when he averaged 9.9 PPG and 5.0 RPG.
A-R suited up for only 6 games in the '07-'08 campaign due to multiple arthroscopic knee surgeries. That spring, he decided to hang up his sneakers for good, at just 31 years old. To put this in another, more sinister way, Kevin Garnett is 6 months older than A-R and was traded to the Boston Celtics during the summer of 2007, which effectively marked the end of A-R's career. Since that summer Garnett has gone on to play 7 more seasons and suit up for a total of 546 games (450 regular season games + 96 postseason games).
If you're Shareef Abdur-Rahim you enjoyed an incredibly prolific career, posting career averages of 18.1 PPG, 7.5 RPG, 2.5 APG and 1.8 STOCKS. He averaged 20 or more PPG on six different occasions and eclipsed 9 RPG in four different seasons. A-R was a career 81% free throw shooter, shot 47.2% from the field and shot a respectable 29.7% from 3 point land (not bad for a 6'9" power forward, during a time when bigs didn't shoot many threes).
Sadly, most fans of all ages don't recall just how skilled and at times, dominant, Shareef Abdur-Rahim really was during his 8-year prime.
Timing and opportunity were scarce in A-R's career…heck they were non-existent.
 He was drafted into a situation where he, at all of 19 years of age, was the most talented player by eons on that team. For his entire career, he toiled on teams that in aggregate made one playoff appearance. And even that playoff appearance was by the skin of their teeth.
Timing was not kind to A-R. He entered the league at the apex of Jordan's 2nd 3-peat and immediately following the 3-peat, the league plunged into its worst labor dispute in its short history. For the following five years ('99 – '03) the league entered it's "dark years." During this time, fans became apathetic due to a lack of star power, a general void in leadership at the players' level (you had guys like Kobe and Shaq feuding every week) and general disdain of that crop of stars. You had guys such as Vince Carter, Stephon Marbury, a young Kobe Bryant and Allen Iverson carrying the mantle and frankly, no one liked those guys. Then you had the drama in Los Angeles between Shaq and Kobe and the imbalance of power between the west and the east. Undermanned teams in the East were getting pummeled in the finals each year ('99 Knicks lost in 5 games, '00 Pacers lost in 6 games, '01 76ers lost in 5 games, '02 Nets were swept, '03 Nets lost in 6 games). The '04 Pistons finally broke a 6 year drought.
The '03 draft quickly lifted the NBA out of its post lockout malaise, when LeBron, Wade, Bosh, Carmelo and company took the league by storm.
We remember a career that could have been, not because of anything that A-R did but rather the less than ideal conditions that he toiled in for his entire career. Never has a 12-year career fit so neatly into four rudderless franchises and overlap an era of general malaise and disinterest. That's the story of the greatest talent that no one knows about.