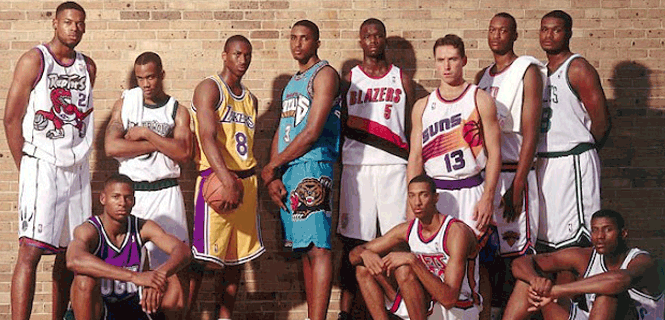 "Absolutely loaded." These were the first words that came out of my mouth when describing the 2003 and 1996 NBA draft classes to my roommate a couple of weeks ago. Never at a point in the NBA's history have we seen a more thorough, top-to-bottom class full of talented players than we did during these two drafts.
Sure, the 1960 NBA draft produced two of the greatest players of all-time, in Oscar Robertson (#1 pick) and Jerry West (#2). The 1984 draft included some of the best ever, with Michael Jordan (#3), Hakeem Olajuwon (#1), Charles Barkley (#5) and John Stockton (#16) all going in the first round. There wasn't a whole lot else in this draft though. Kevin Willis, Sam Perkins and Jerome Kersey (Kersey was chosen with the 2nd to last pick in the 2nd round) were three other notable players from the '84 draft, but outside of these seven guys, there weren't a ton of impact players.
The 1996 draft was hands down the most talent-rich draft the NBA has ever seen….more than '84, more than '60 and more than '03. This is the first in a 2-part series, which will pit the 1996 draft against the 2003 draft. Tyler Michels will make the case for the 2003 draft as the best draft of all-time later this week, while I make the case for the '96 draft. For now, we focus on the '96 draft and why no draft in NBA history has matched the quality of players that were selected 17+ years ago.
Why the 1996 draft was better than the 2003 draft
Rarely do you see players from the 1st pick (Allen Iverson) to the 54th pick (Shandon Anderson) be impact NBA players, who play at least ten seasons each in the league, selected 53 picks apart. This was the case for both AI and Anderson. Sandwiched in between these two players were a slew of multiple-time all-stars, soon to be hall-of-famers and productive role players who were steals in the draft.
Of the 58 players selected in the 1996 draft, 47 laced up for NBA teams. This is the exact same (47 out of 58) number of men that suited up of the 2003 draftees. The 1996 team features 10 all-stars, which is two more than the 2003 class. I list the all-star players below with the number of all-star game appearances next to each player in parenthesis:
Shareef Abdur-Rahim (1) – one of the most underrated players of the last 20 years due to playing nearly his entire career for four moribund NBA franchises in Vancouver, Atlanta, Portland and Sacramento. He put up career averages of 18.1 PPG, 7.5 RPG, 2.5 APG and 1.8 STOCKS (steals + blocks) that spanned a dozen seasons and only qualified for the playoffs once, with the '05-'06 Kings, in his age 29 season. Was this the case of a great player on bad teams (re: Gordon, Eric)? I say no, he just never had the supporting cast or savvy front office to put talent around him.
Ray Allen (10)
Kobe Bryant (15 & counting)
Zydrunas Ilgauskas (2)
Allen Iverson (11)
Stephon Marbury (2)
Steve Nash (8)
Jermaine O'Neal (6)
Peja Stojakovic (3)
Antoine Walker (3)
I'm not even mentioning Ben Wallace, who was undrafted in '96, but went on to be a 4-time defensive player of the year, 4-time all-star and 1-time NBA champion ('04 Pistons). I'll leave him out of the argument, since it's only fair that we assess the players that comprised the 58-person draft, as opposed to those who entered the league that year outside of the draft.
This amounts to 60 total all star games (and counting!). I figure Kobe will add at least two more to this total and possibly another one for Nash (although unlikely, as he is entering his age 39/40 season and is coming off his worst statistical season since the '99-'00 season). In comparison, the '03 draft class has only generated 37 total all-star game appearances, although to be fair, LeBron, Carmelo, Bosh and Wade will likely add at least 15-20 more total appearances, since all are between the ages of 28 and 31 (smack in the middle or at the end of their respective primes). This still would leave them at least a dozen appearances short of the '96 class.
LeBron James (9)
Carmelo Anthony (6)
Chris Bosh (8)
Dwyane Wade (9)
Chris Kaman (1)
Josh Howard (1)
David West (2)
Mo Williams (1)
Of the 47 players to suit up from the 1996 draft class, six are still going strong, entering the 2013-'14 season. The current active players from this draft include:
Marcus Camby (39 years old)
Ray Allen (38 years old)
Kobe Bryant (35 years old)
Steve Nash (39 years old)
Jermaine O'Neal (34 years old…plays like he is 56)
Derek Fisher (39 years old)
Of these six, Bryant, Allen and Nash are still effective players…and in Bryant's case, still a dominant player (although his recovery to vintage Kobe form from his torn Achilles is yet to be determined).
Notable Players from the 1996 Draft
Lottery Picks
Allen Iverson (#1) – arguably the greatest pound-for-pound player the NBA has ever seen. He dragged an '01 Sixers team flanked by a 33-year old Tyrone Hill, 32-year old Toni Kukoc, 28-year old Eric Snow, 30-year old George Lynch and 34-year old Dikembe Mutombo to the Finals that year. That's the 2nd worst supporting cast I have seen in a Finals team during my lifetime (1st place goes to the '07 runner-up Cavs, which somehow also had Eric Snow on that team). Iverson had career averages of 26.7 PPG, 6.2 APG, 3.7 RPG and 2.2 steals per game during a 14-year career. Unbelievable totals, especially considering the guy was 5'11" (maybe) and 165 lbs. soaking wet (a stretch).
Marcus Camby (#2) – 2007 Defensive Player of the year with Denver and has averaged nearly a double-double for his career, with 9.5 PPG and 9.8 RPG. His durability is remarkable, as he is entering his 18th season in '13-'14. Camby had a Steve Nash-esque career, peaking in his early to mid 30's with the Denver Nuggets, winning Defensive Player of the Year in his age 32 season and pulling down a career high 13.1 RPG the following season, at 33 years old.
Shareef Abdur-Rahim (#3) – terminally underrated player. Shareef was an absolute stud (also an NBA Jam stud) that no one from this 12-year stretch remembers well (kind of like a poor man's T-Mac). He eclipsed 20 PPG in 5 straight seasons, from '97-'98 to '01-'02. This was probably the worst stretch of time that an NBA player could have peaked, as the league was diluted by overexpansion and was in a malaise following the demolition of the Bulls dynasty following the '98 season and the ensuing lockout that truncated the '98-'99 season. Nevertheless, I always loved his game and felt he was (and still is) ignored in by basketball junkies.
Ray Allen (#5) – most three-pointers made of anyone in NBA history, 2 NBA titles, 3rd banana on the '08 Boston Celtics title team and super sub and Game 6 savior on the '13 Heat championship team. He sports career averages of 19.4 PPG, 4.1 RPG and 3.4 APG.
Kobe Bryant (#13) – 15-time all-star, '07-'08 NBA MVP, 2-time Finals MVP, 5-time NBA champion and too many all-defensive and all-NBA teams to count. Widely considered to be the best player of his generation (you could argue Duncan here as well) and one of the top 8 players of all-time.
Peja Stojakovic (#14) – #7 all-time in three pointers made, 3-time NBA all-star, NBA champion ('11 Mavericks), #2 in PPG during '03-'04 season. Career averages of 17.0 PPG, 4.7 RPG & 1.8 APG.
Rest of 1st Round
Steve Nash (#15) – #4 all-time in assists (soon to be #3), 8-time NBA all-star, 2-time league MVP, 7 All-NBA selections (three 1st team, two 2nd team & two 3rd team). Career averages of 14.4 PPG, 8.5 APG & 3.0 RPG.
Jermaine O'Neal (#17) – 6-time NBA all star, '02 Most Improved Player award, 3rd Team All NBA (2x), 2nd Team All NBA (1x). Averaged 20+ PPG for four consecutive seasons, from 2002-'03 through 2005-'06. Career averages of 13.4 PPG, 7.3 RPG, 0.8 APG & 1.7 STOCKS per game.
Zydrunas Ilgauskas (#20) – 2-time NBA all star. Career averages of 13.0 PPG, 7.3 RPG, 1.1 APG & 2.1 STOCKS per game.
Derek Fisher (#24) – 5-time NBA league champion (one of the all-time great role players). Career averages of 8.5 PPG & 3.1 APG.
2nd Round/Sleepers
Othella Harrington (#30) – Played in 12 NBA seasons, with career averages of 7.4 PPG, 4.4 RPG & 0.7 STOCKS per game.
Moochie Norris (#33) – First off, love that name! Secondly, the guy was a very steady contributor on a ton of teams. He suited up for 9 seasons and has career averages of 5.1 PPG, 2.8 APG and 2.0 RPG. Not bad for the 33rd pick of the draft.
Malik Rose (#44) – Malik Rose was the ultimate lunch pail, hard-nosed, effort guy. What the guy lacked in skill, he made up for in effort. He was a valuable contributor on two San Antonio Spurs title teams, particularly the '03 team, when he averaged 10.4 PPG & 6.4 RPG. He was traded to the Knicks during the '04-'05 season and would be remembered by the New York media as a lovable bench warmer. The guy still played 13 NBA seasons…13 seasons! His career averages of 6.2 PPG and 4.1 RPG are pedestrian but ask anyone on those Spurs title teams ('99 & '03) and they will tell you how integral he was to those squads.
Shandon Anderson (#54) – Played 10 NBA seasons, with career averages of 7.4 PPG, 3.1 RPG, 1.4 APG and 1.1 STOCKS per game.
Closing Argument
At the end of the day, the 1996 draft trumps the '03 draft due to the presence of four sure-fire hall-of-famers, in Allen Iverson, Ray Allen, Kobe Bryant and Steve Nash. Then you have the next five guys, who were stars in their own right, Jermaine O'Neal, Antoine Walker, Stephon Marbury, Peja Stojakovic and Shareef Abdur-Rahim, who all dominated the NBA for long stretches of their respective careers.
To me the 2003 draft is stacked, but is more top heavy than the '96 draft. LeBron James will go down as one of the top 5 players to ever live (possibly even higher than that, but he likely still has another 10+ years of basketball in him, so we'll let that play out before we come to a final conclusion). He'll win a few more titles (getting close to but not surpassing Jordan's six rings) and become the greatest player of this century (sorry Kobe & Duncan). Outside of James though, how many of these guys are hall-of-famers? I counted four from the '96 class and by my count, I only see James and Wade as legitimate, sure-fire HOF'ers. Bosh is not a HOF'er and I don't think Carmelo gets in either. Also, let's call Kobe and LeBron a wash, since both are top 8 players and cancel each other out. You could make the case that LeBron will have the edge in the long run, but if that's the case then I have addressed the depth and star-power of the '96 draft class to make up for this slight difference.
Where the '03 class really falls off is the in the next tier of players. David West is a 2-time all-star and has averaged 15 or more points seven different times in his career. Outside of Bosh, Wade, James and Melo, he's the only guy from this class that can make the claim of exceeding 15+ PPG six or more times in his career. Josh Howard was the next closest guy, with four seasons of 15+ PPG.
Compare those five guys to the litany of players who exceeded the 15+ PPG mark at least six times from the 1996 class:
Allen Iverson (15x)
Kobe Bryant (16x)
Jermaine O'Neal (6x)
Shareef Abdur-Rahim (9x)
Stephon Marbury (13x)
Ray Allen (15x)
Antoine Walker (9x)
Peja Stojakovic (9x)
Steve Nash (9x)
Zydrunas Ilgauskas nearly makes the cut here, with 5 seasons of 15+ PPG.
Now let's look at titles for the above players (being a star or super role player on a title team counts more to me than a guy like say Travis Knight, who was the 12th man on the 2000 Lakers title team & was drafted with the final selection of the 1st round in the 1996 draft). The '03 class has 7 titles between the listed stars (Wade – 3, LeBron – 2 & Bosh – 2) above versus the '96 class, which has 12 titles (Kobe – 5, D. Fisher – 5, Allen – 2). I don't know if the current crop of '03'ers will generate another 5 titles. I certainly think it's possible. If the LeBron/Wade/Bosh core wins another 2 titles over the next three seasons, then that puts them over the top and gives the title count to the 2003 class.
At the end of the day, I call this a wash, since I'm including Derek Fisher's 5 rings in the count. While he was an invaluable role player and hit so many clutch shots for the Lakers (without him the Lakers don't win the '09 or '10 title), he wasn't a true star. If you were to remove Fisher's 5 titles, this would be even at 7 championships apiece between the two classes.
Due to the wash in titles, I measure the classes by the strength of their hall-of-famers (4 for '96 vs. 2 for '03), dominant seasons (15+ PPG, 9 for '96 vs. 5 for '03), all-star game appearances (projected 62 for '96 vs. a projected 54.5 for '03) and overall star power and depth of players throughout the draft class. The '96 class wins…hands down.
If you missed the case for the '03 NBA draft, you can find that post here. Which draft was the best of all time in your opinion? We would love to hear from you. Leave your thoughts in the Comments section below.
Image Credits:
1996 Draft Class – http://www.thefantasybrokers.com/2012/nba/nba-draft-preview/