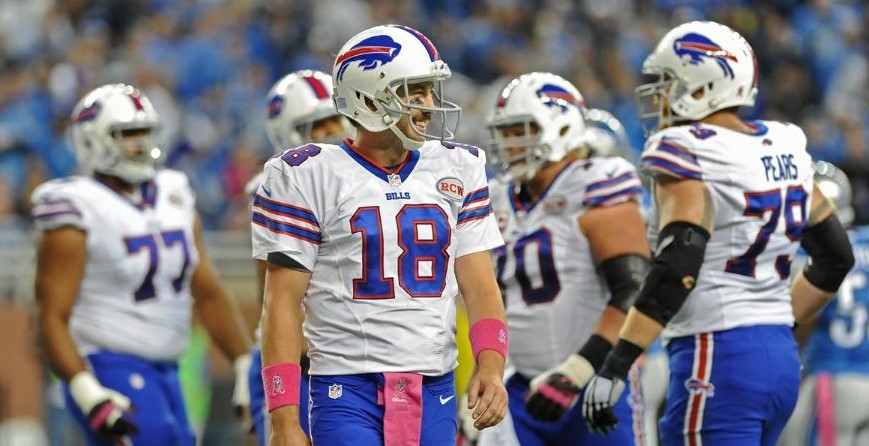 I was forced decided to go wine tasting and pumpkin picking with my girlfriend and some friends this weekend, so I wasn't able to catch all of the action Sunday. If I missed anything, please accept my sincerest apologies in the form of Ryan Fitzpatrick's glorious beard: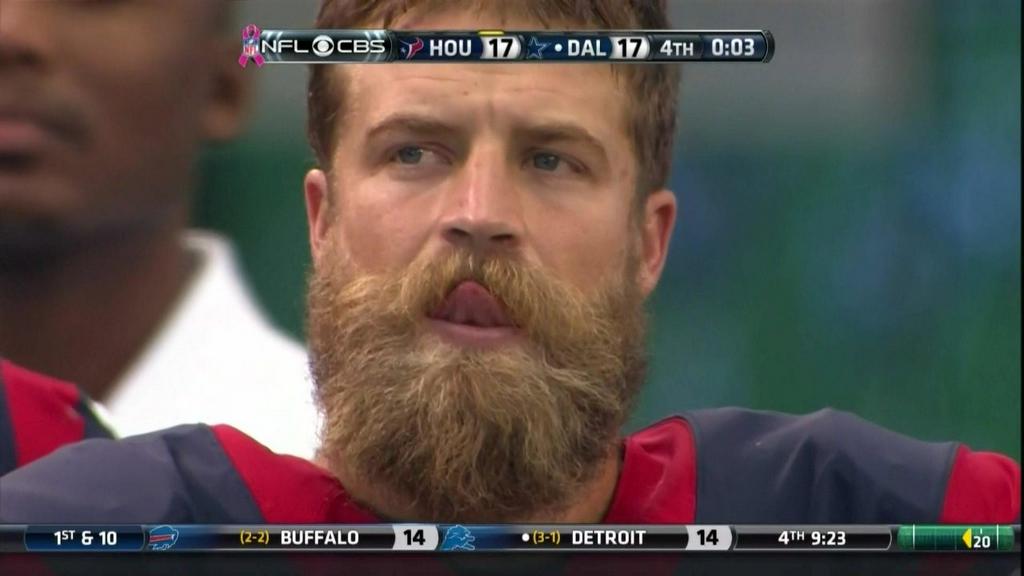 Alright, let's get to the action.
10. Jacksonville distractions.
The Jaguars don't really have much to cheer for these days. Currently they're 0-5 and their defense is allowing a league-worst 33.8 points per game. Adding insult to injury, EverBank Field's1 biggest attraction (an outdoor pool behind one of the endzones) apparently has no rules. This would normally lend itself to a good time, just not in this case because it's the Jaguars… See if you can find what's wrong with this picture: (you can click to enlarge the image)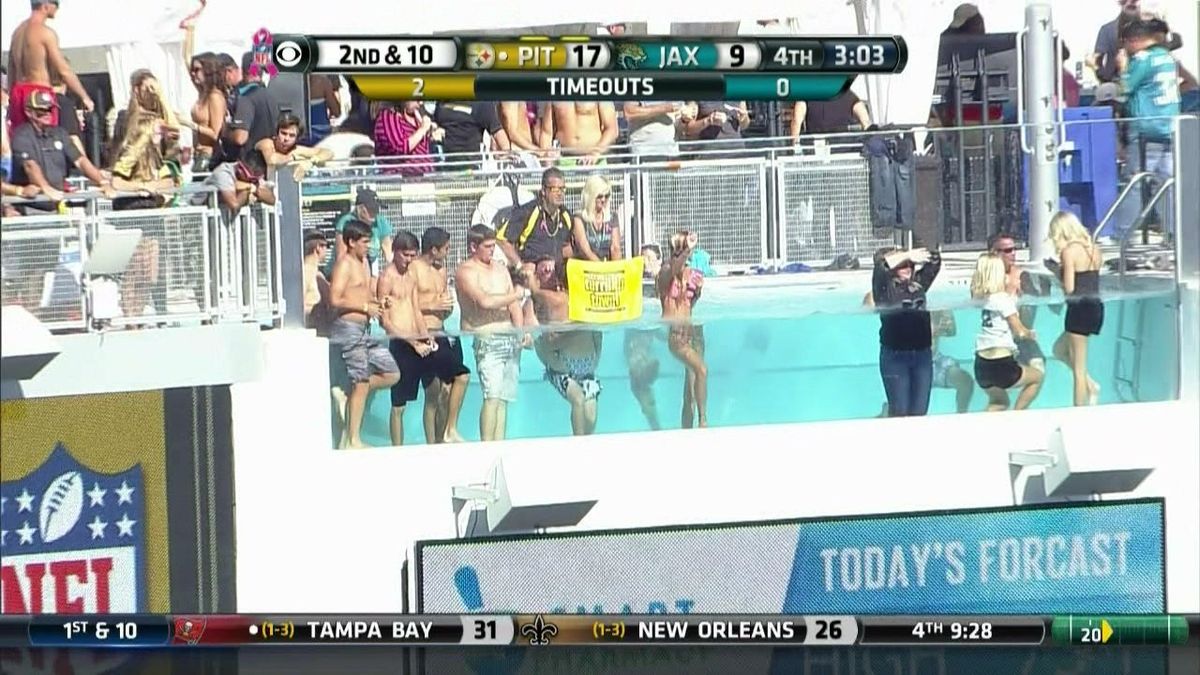 Did you see it?? How did they let someone wearing JEANS into the pool? Seriously, and not just that, but she's wearing a black long-sleeved shirt. Pardon my language, but just what in the Sam Hill is going on in Jacksonville? Hey, who am I to judge though? At least everyone at Jaguars games looks like they're having some fun…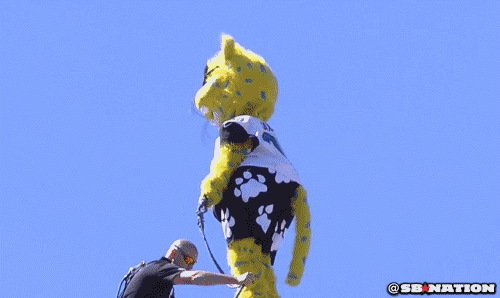 That's Jacksonville Jaguars mascot "Jaxson de Ville"2 bungee-cording off a crane while doing a double backflip. Seems pretty safe.
9. Sometimes it's better to be lucky than good.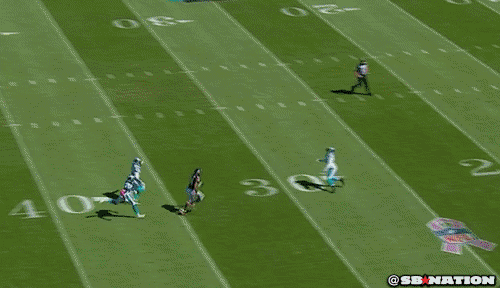 My favorite play of the week comes courtesy of Philly Brown, who I realized after a quick Google search is actually the Carolina Panthers punt returner and not a new strain of medical marijuana. (Extra kudos to Brown for staying with the play after getting completely decked.)
8. Travis Kelce does the Ric Flair Strut.
Usually I try and keep this post clean of any positive GIFs from both the Seahawks and any team that played the 49ers during the week in question. This time though, I'll have to make an exception for Chiefs tight end Travis Kelce, who after scoring a touchdown broke out his own version of the Ric Flair strut.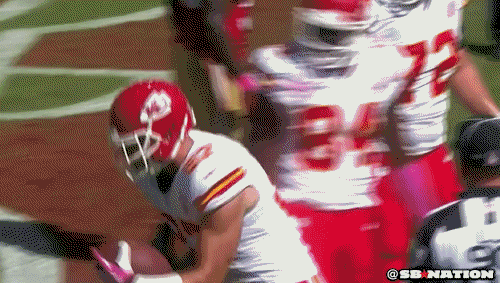 If you don't know what the Ric Flair strut is, here's a small sample.
This might just be me, but it would seem like any good anti-drug campaign would just show this video with the slogan "Cocaine: don't do it or you'll turn out like this guy".
7. LeSean McCoy's season, defined in one image.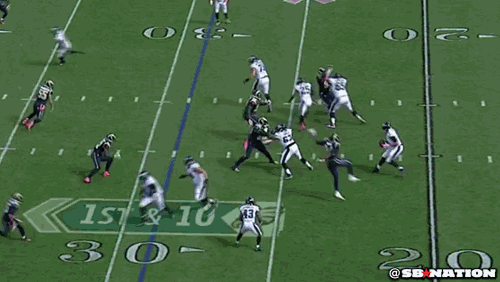 That's the classic "change directions in the backfield 2-3 times while simultaneously running backwards, then fumble" play. I believe it was first perfected in pee-wee football by 8-year olds, but I'm glad to see that it's finally being incorporated by NFL offenses.
6. J.J. Watt is human, just like the rest of us. I guess.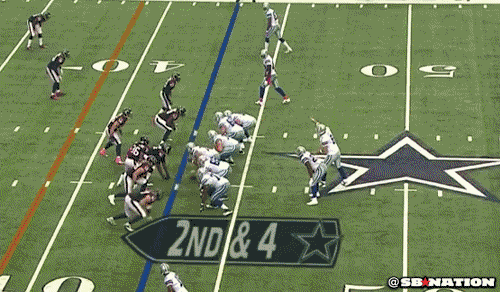 Hey, J.J. Watt can't always be amazing, sometimes he needs a game off. This week, Tony Romo avoids almost being impaled by Mr. Watt himself and subsequently throws a touchdown. He's certainly come a long way since Week 1.
Nothing seemed to go right for Houston this past weekend; they couldn't even celebrate a fumble recovery without getting stopped.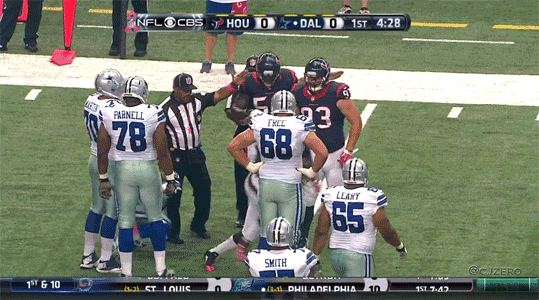 5. A new edition of the "Eli Manning Face".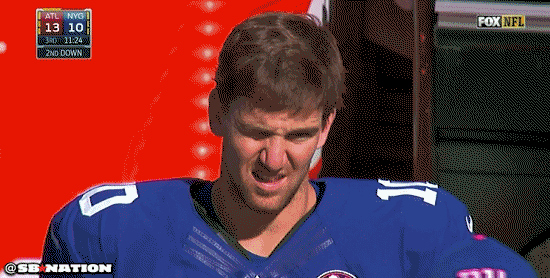 This one's called the "We just got to the beach and Mom forgot to pack me a hat" face.
4. Tom Brady and Julian Edelman can't agree on who should spike the ball.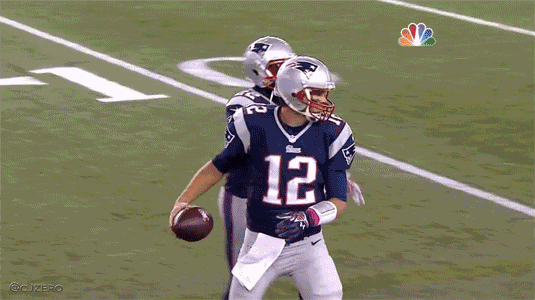 For the moment, it looks like the storm in New England has calmed. Something tells me Mark Wahlberg might've given out a few high-fives after this one.
3. Bills, Lions, and all of the GIFs.
This game featured just about everything for the Bills, from a player accidentally hitting his own coach in the head…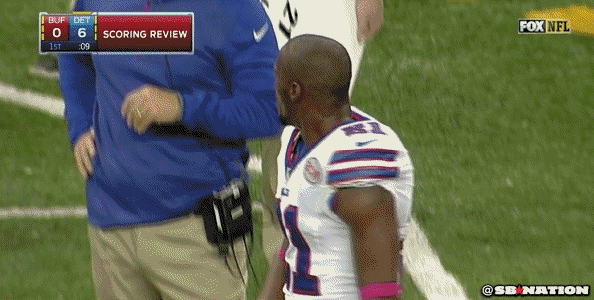 To quarterback Kyle Orton celebrating his first victory as a Buffalo Bill by, uh, doing whatever the hell this is…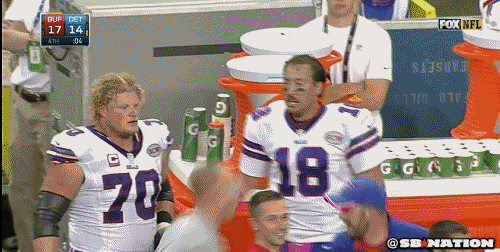 To, finally, the Bills carrying current defensive coordinator (and former Lions head coach) Jim Schwartz3 off the field, Rudy-style, after winning the game.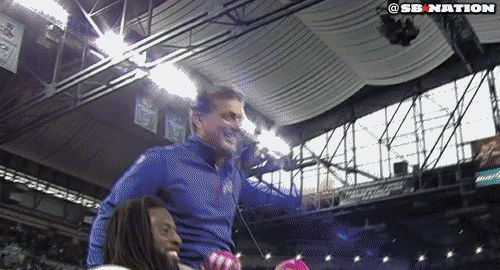 2. Jim Harbaugh, won't you stay with me?
Since it seems like this whole Jim Harbaugh vs. the 49ers story is spiraling out of control, I'll throw my two cents in. Basically, Harbaugh might grind and wear down his teams, but in the end he gets results. It's not as if Harbaugh taking a 49ers team that hadn't made the playoffs in EIGHT years to three consecutive NFC Championship games is some kind of coincidence. Say what you want, but the dude wins.4 How can you hate on a guy who's so focused on game-days that he can't even drink water properly?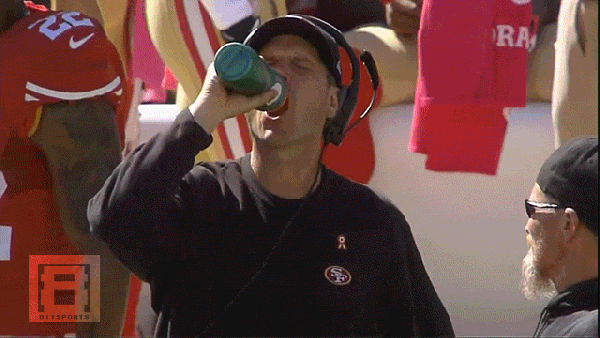 Or why would you want to fire a guy who celebrates victories like this?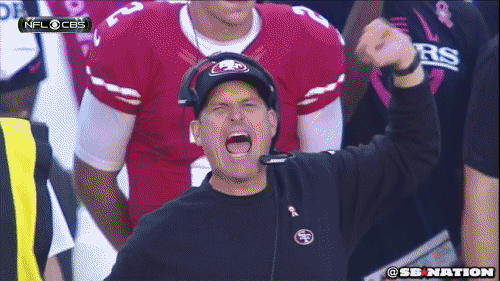 Hey, Jim, to quote Van Morrison – baby please don't go. I speak on behalf of all 49er fans.
1. Peyton Manning's review of the most recent Teenage Mutant Ninja Turtles movie.
Should I see it?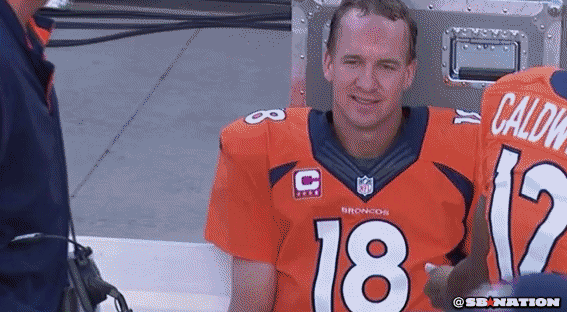 BONUS!!
Cam Newton's teammate nicknames??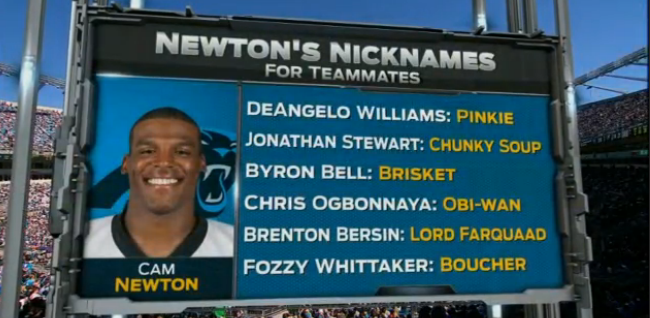 Cool, I guess?
Speaking of cool, here's the coolest football-related selfie I've seen this year.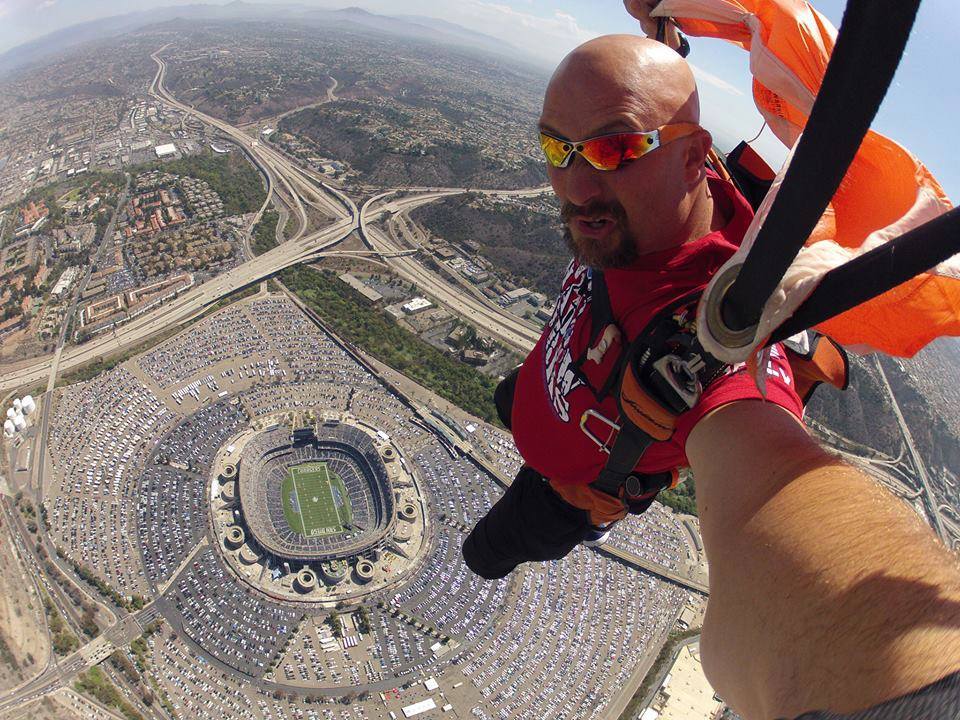 When the Browns win, they celebrate accordingly. 
What happens when you achieve the largest comeback victory by a road team in NFL history?? You dance, of course!
And, finally…
Trent Dilfer, channeling his inner Yogi Berra.
Great stuff, Trent.
See you guys next week.