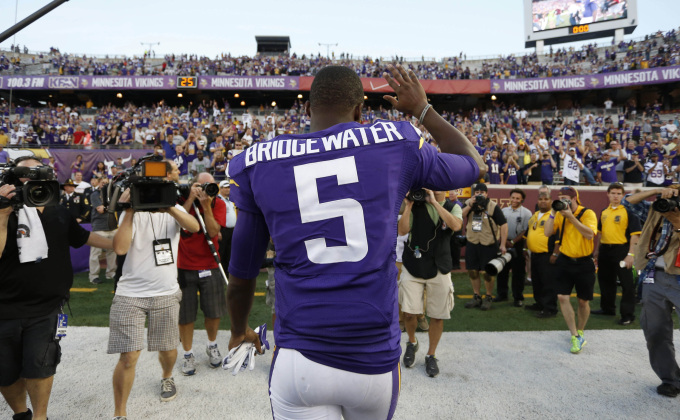 The 49ers save their season (for now), Steve Smith gets revenge and Teddy Bridgewater rises like a phoenix from Matt Cassel's ashes. Oh yeah, and Antonio Brown? He's kind of good, that guy.
10. Good Colin Kaepernick overshadows Bad Colin Kaepernick. (At least for this game.)
Thanks to their defense,1 my favorite team survived the possibility of a heart-breaking, season-dooming loss. Because there were far too many defense plays for this post, and because most of them weren't really GIF-able, we'll just stick with this awesome Colin Kaepernick TD pass to Frank Gore.2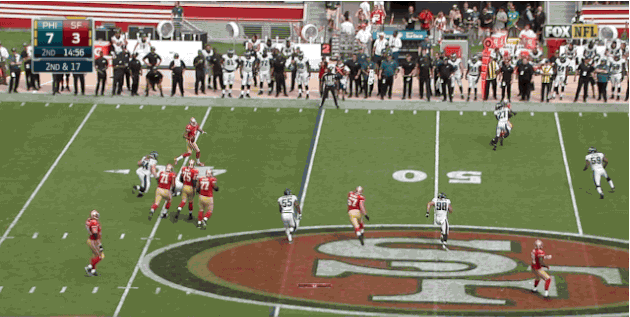 9. Steve Smith (Sr.) faces his former team, turns their defense into silly putty.
When Steve Smith was released by the Panthers this past offseason he was kinda pissed. Okay, yeah, you're right. He was really pissed. And while there may not have been any blood or guts spilled on the Baltimore field, Smith sure left his mark, catching a pair of sensational touchdowns.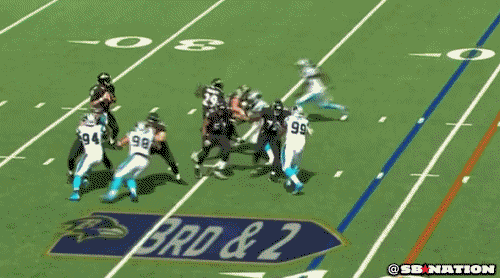 To put Smith's 7 catch, 139 yard, two touchdown performance on Sunday in career context: It was the first time in 37 games that Smith had 125+ reception yards in a game and only the 7th time in his entire career that he's caught multiple touchdowns in a regular season game.3 But, and perhaps most importantly, the dude was so focused that even the refs couldn't avoid his scorn: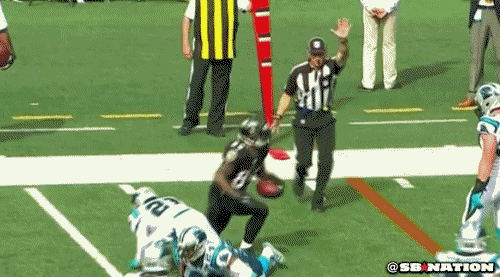 That's cold, Steve.
8. Oakland Raiders. LOLz.
When Raiders starting quarterback Derek Carr went down with a knee injury Sunday, backup third stringer Matt McGloin came in to replace him. Two plays later, this happened: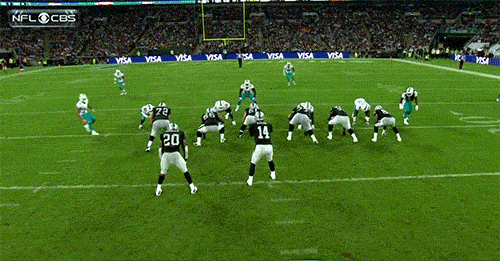 Yay, Raiders!!
By the way, twice a year4 the NFL plays a regular season game in London's Wembley Stadium. The idea, I assume, is to showcase the sport of American football overseas and expand its interest worldwide. It's a smart philosophy until you realize that the Jaguars and Raiders, two of the franchises the NFL decided to trot out for English fans this season, have a combined record of
14-58 since 2012.
Imagine having to convince someone that Robin Williams is one of the greatest comedians of all time, but the only movie you're allowed to show them is Flubber. That's basically how Roger Goodell is going about his promotion of the NFL in England.
7. Vikings (hopefully) find their quarterback of the future.
The Cleveland Browns drafted Johnny Manziel ahead of Teddy Bridgewater this past spring. Let's just start with that. Maybe it's because Manziel makes that obnoxious money sign, or maybe it's because he hangs out with Floyd Mayweather and Justin Bieber. Either way, I'm gonna go ahead and say the Browns made an oopsy-daisy on that one, as I've yet to see Manziel do things like this on a football field5:
EMBED CODE
frameborder="0″ allowfullscreen="allowfullscreen">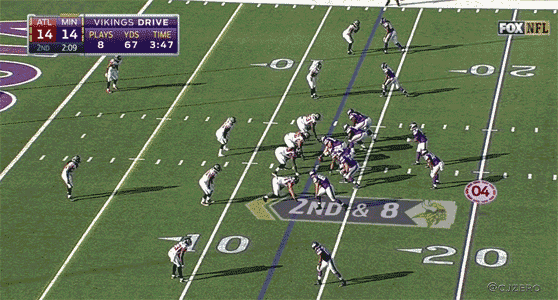 After watching that, someone in Cleveland is definitely getting fired soon. On a side note, I also propose we remove Manziel's "Johnny Football" nickname and give it to Teddy Bridgewater. "Teddy Football" sounds better to me, anyway.
6. J.J. Watt, still a freak of nature.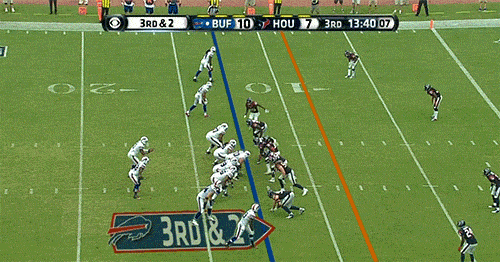 J.J. Watt single-handedly forced a quarterback change in Buffalo this week. At least that's what I'm telling myself. I'm also ending this quickly before I try and make a Watt/what pun. It's for the better.
5. Pat McAfee shows us that punters can be cool, too.
Punters in the NFL haven't faired too well this season. Not that they're usually in the limelight, anyway. Still, this Sunday, Colts punter Pat McAfee showcased a beautiful onside kick, which was recovered by Indy and eventually led to a touchdown. But even better, he gave himself a curtain call, which is just awesome.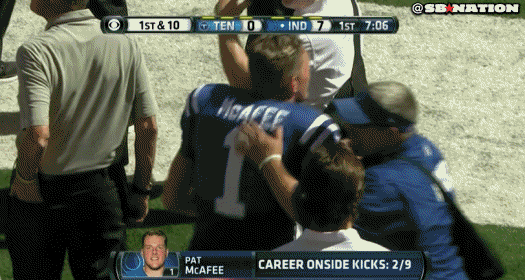 I won't go as far as to say this was more important than any Derek Jeter curtain call this season, but I'm also not gonna say it wasn't.
Pat McAfee seems like a guy I'd have a good time hanging out with.6
4. Antonio Brown will not stop scoring touchdowns. Ever.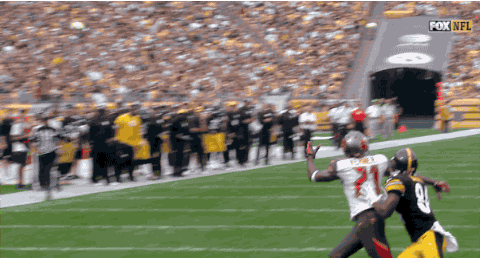 How can you care that the Steelers lost on a last second touchdown this past weekend when Antonio Brown is around?7 He seriously just can't stop scoring touchdowns.
And after touchdowns are scored, celebrations ensue.8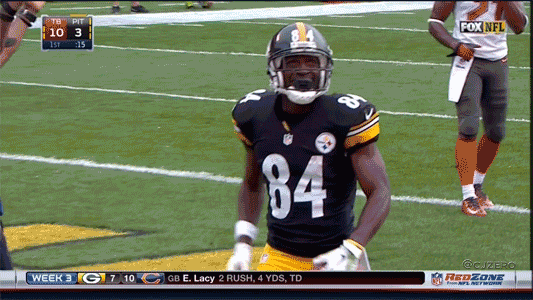 Like last week, I have no idea exactly what is going on with that dance, but it's still entertaining. Antonio certainly can celebrate, and Antonio certainly can ball. But don't just take my word for it:
Steelers WR Antonio Brown just became the first player in NFL history with at least 5 catches in 20 straight games.

— Field Yates (@FieldYates) September 28, 2014
I know what you're thinking, and yeah, there's seriously a guy working for ESPN named "Field Yates".
3. When Antonio Brown gets bored of catching, he decides to throw.
How can you care that the Steelers lost on a last second touchdown this past weekend when Antonio Br- oh yeah, I already said that. I guess after catching all those touchdown passes, he's gotta unwind and throw a few himself.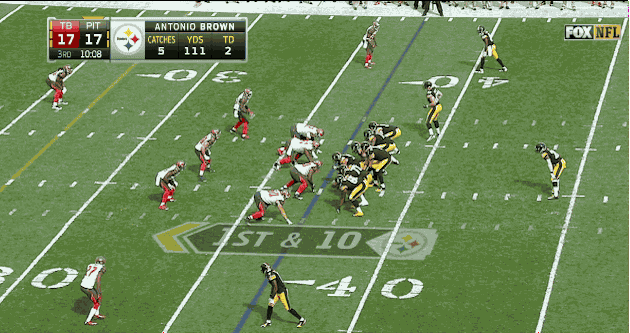 It's very possible that by the end of the season my weekly GIFs will only consist of Antonio Brown and J.J. Watt.
Now, let's get to the end of this play, where Steelers running back Le'Veon Bell simply tries to signal a first down, but is promptly denied.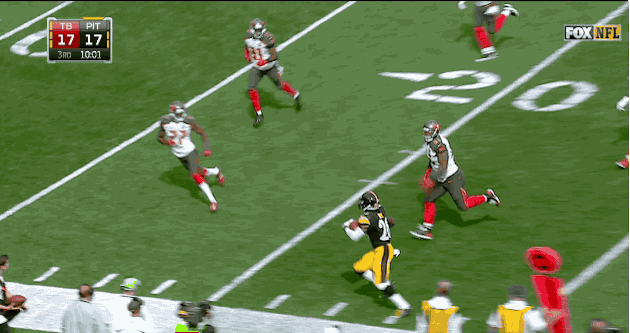 1 & 2. The Cowboys win in a blowout, everyone celebrates accordingly.
Last season, the Saints waxed the Cowboys 49-17 on Sunday Night Football.9 A year later, many believed that New Orleans would do the same thing again. So when the Cowboys exacted their revenge, shocking the Saints 38-17 on Sunday night, their blowout victory was the cause of much celebration in Dallas.
From Cowboys head coach Jason Garrett…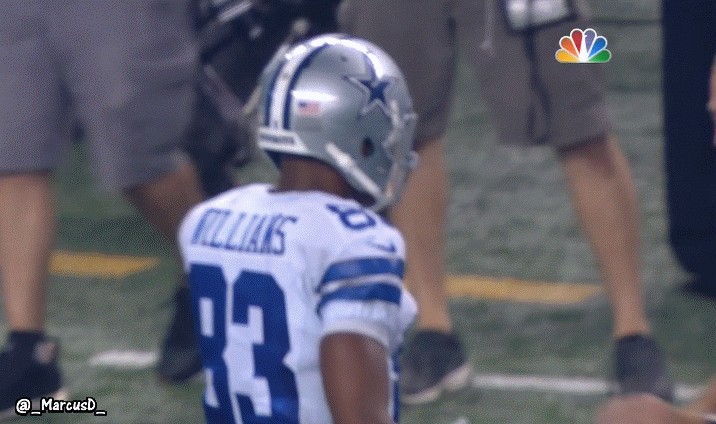 To Cowboys owner Jerry Jones…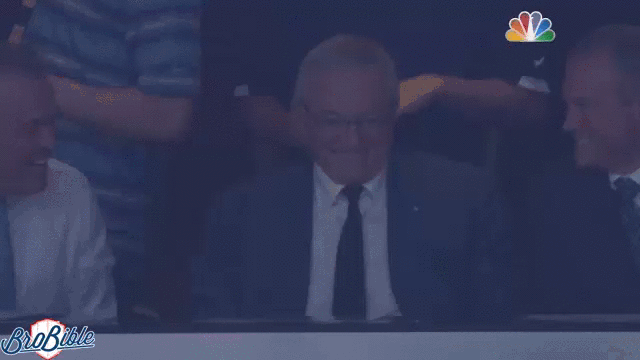 I can't tell if Jones' happiness stems from his team's success or if it's because someone just told him nude photos of Jennifer Lawrence were leaked onto the internet, but by the looks of that smile, and the immediate move to open his laptop, I'd lean towards the latter. Either way, maybe it's a good idea not to leave your children alone around Uncle Jerry.
This week's BONUS video…
The 40th season of Saturday Night Live kicked off this weekend, and they handled the current state of the NFL appropriately:
Even though they clearly ripped off Key & Peele, and that the joke gets old quick, this video is worth a watch just for Bobby Moynihan's "Bart Doleman" about two minutes in.
Finally…
When you get home from school and realize Halloween is actually tomorrow, not today.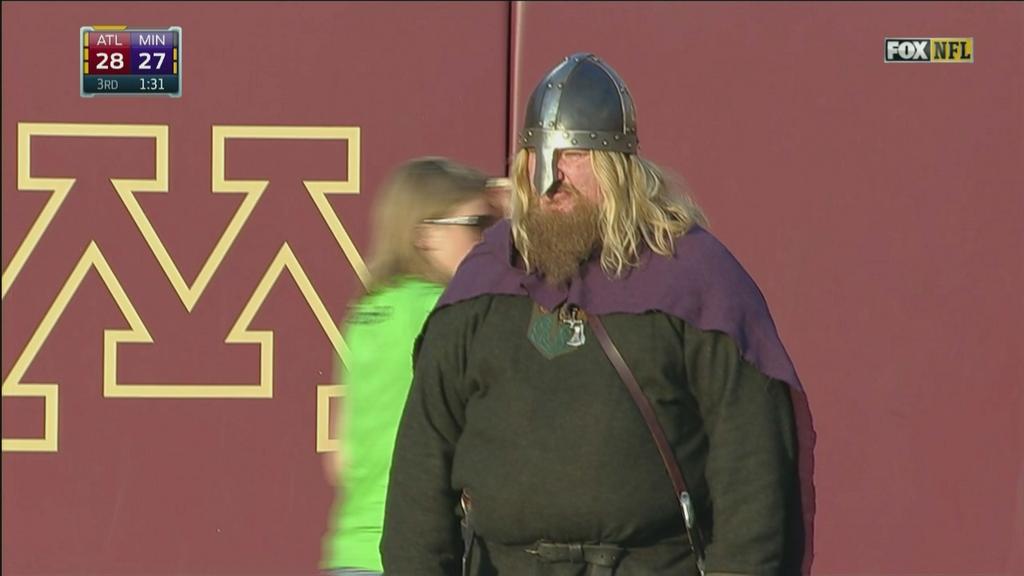 When you get home from school and realize Mom made bagel bites.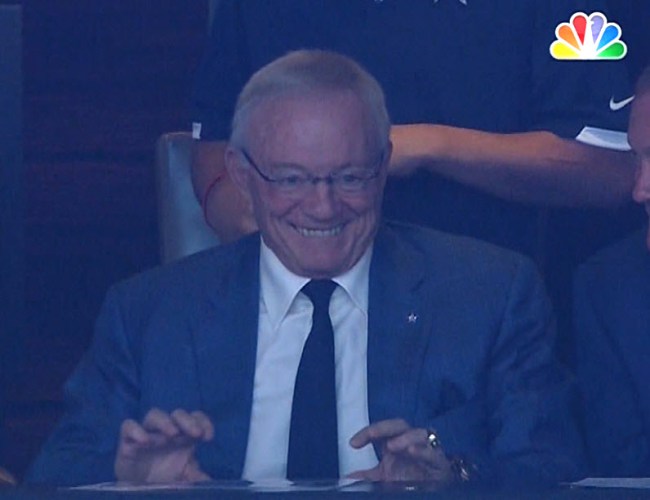 See you guys next week. Hopefully you'll have the haunting image of Jerry Jones out of your head by then.