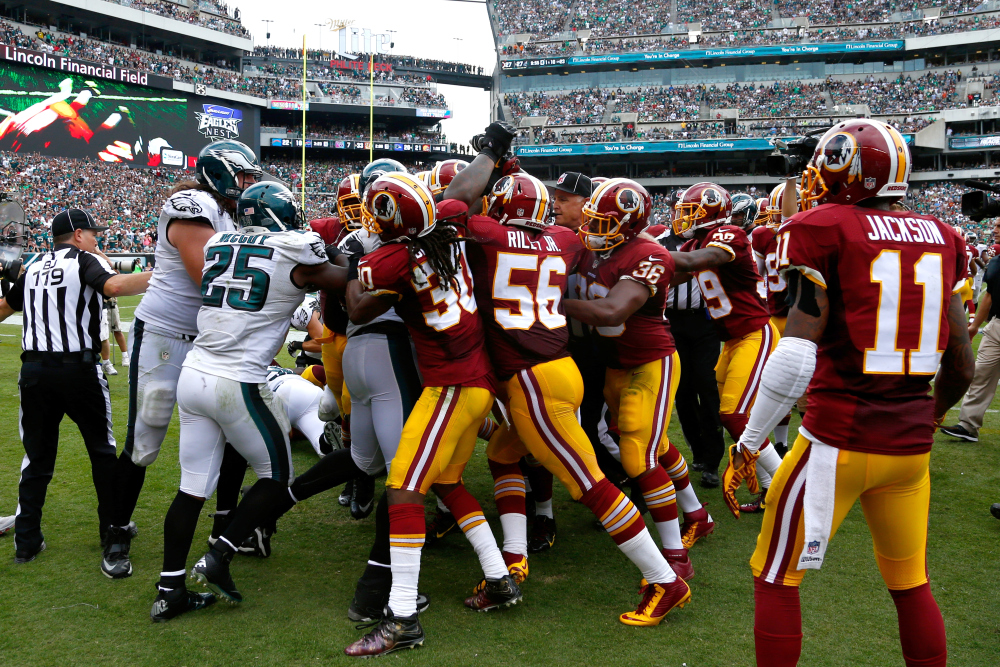 Although the NFL continues to be mired by the off-field actions of their players and the inaction of their commissioner, and considering that the 49ers lost, again, and the Seahawks won, it's hard to feel great about watching football. However, things aren't all bad in the NFL, because we still have GIFs! Check out the best ones from Week 3…
10. Johnny Manziel catches a pass.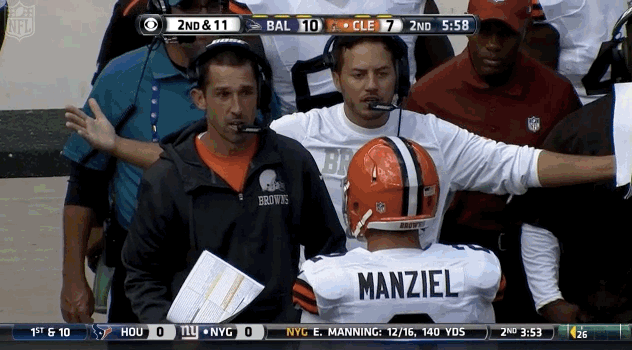 Manziel, pretending to argue with offensive coordinator Kyle Shanahan, finds himself wide open for his first career NFL catch. The internet, specifically Twitter, exploded after this happened because Johnny Manziel is 2014's Tim Tebow, and a moment can't go by without any of us forgetting that he's an NFL player. Although the reception was called back for an illegal shift, I still liked the play design.
And, apparently, so did this guy: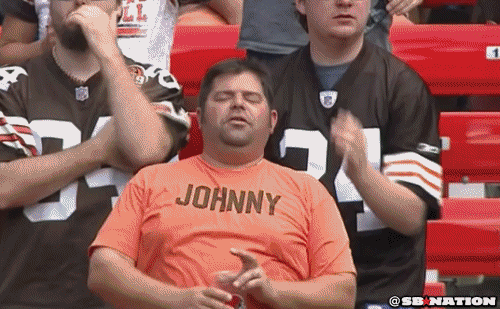 9. Not to be outdone, Andy Dalton catches a pass, too.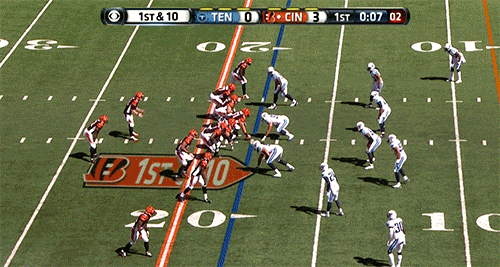 But this one goes for a touchdown, and Dalton is almost impaled in the process. Point: Dalton.1
8. DeAndre Hopkins doesn't need two hands to play football. Only one.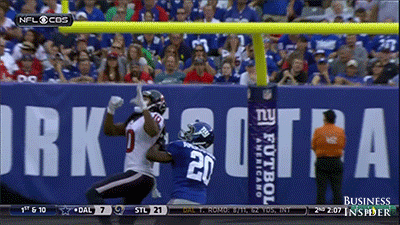 Add this to the (lengthy) list of "things I'll never be able to do in my lifetime", along with catching a windmill alley-oop, marrying Lacey Chabert2, and selling my beanie babies for any kind of a profit.
7. Do not ask Mark Wahlberg for high fives, because Mark Wahlberg does not high five.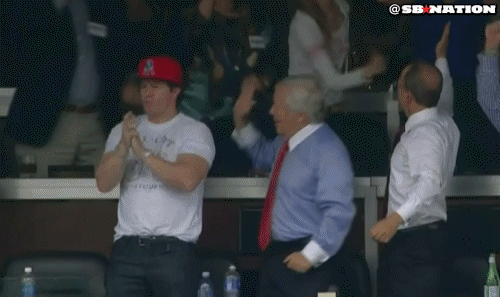 What were you thinking, Robert Kraft?!? Mark Wahlberg doesn't show compassion, he hurts people. He beats them up. He's an action star. He also, most certainly, does not show weakness, and doling out high-fives all willy-nilly is a sure sign of weakness. At least that's what I assume he believes. Besides, Kraft, you own the team! You should already know that no one gets high fives at Patriot games.
6. The weekly GIF of J.J. Watt being awesome.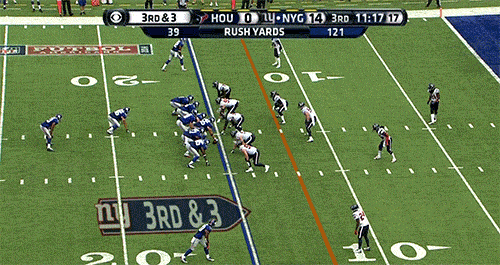 J.J. Watt, taking a page out of his new teammate Jadeveon Clowney's book, gives the Giants offensive line no chance at blocking him, not that anyone really has a chance of blocking him anyway. I think from now on I'll just reserve this spot for the weekly GIF of J.J. Watt doing something awesome.
4 & 5. Sometimes celebrations work out great.
Whether it's a casual Sunday afternoon on the golf course…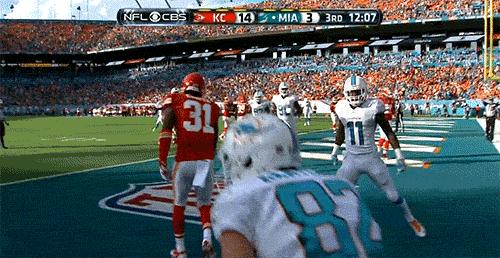 Or whether it's… well, this.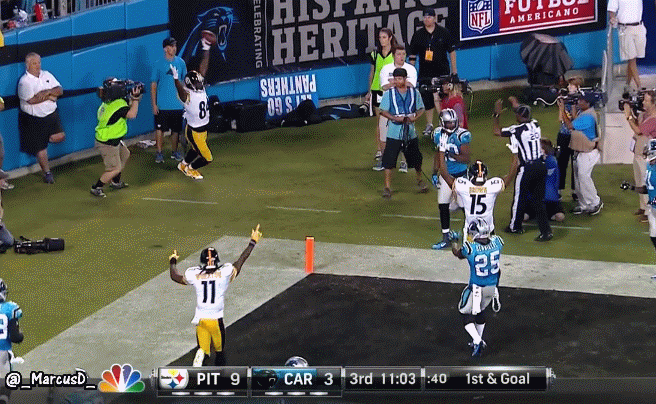 Pop quiz! Which player's celebration netted his team a 15-yard unsportsmanlike conduct penalty? If you guessed it was Steelers wide receiver Antonio Brown making humping gestures, you're wrong. If you guessed it was Dolphins wide receiver Brian Hartline simulating a golf putt, you're right! That's because, as always, the NFL makes no sense.
2 & 3. Sometimes celebrations

do not

work out great.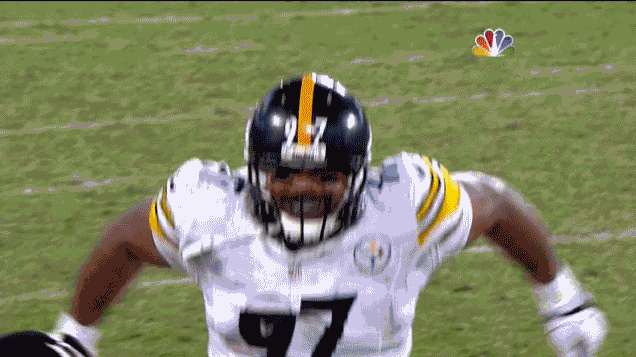 I'd put "chest bumping a 300+ pound defensive lineman in pads" in the not-such-a-good-idea category. But hey, that's just me.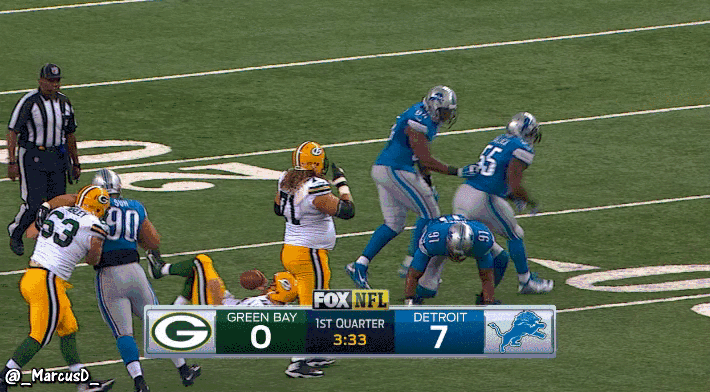 That's Lions linebacker Stephen Tulloch suffering a season-ending ACL tear while mocking Aaron Rodgers' wrestling belt celebration. Talk about commitment.
1. GIF of the Week (Redskins/Eagles)
The highest scoring game of the weekend3 had everything. It featured eight touchdowns, six lead changes, a few sensational TD passes & catches, and a cheap shot on Eagles quarterback Nick Foles that started a brawl and nearly led to a riot in Philadelphia. How could I possibly pick just ONE play from that game?
Here's how: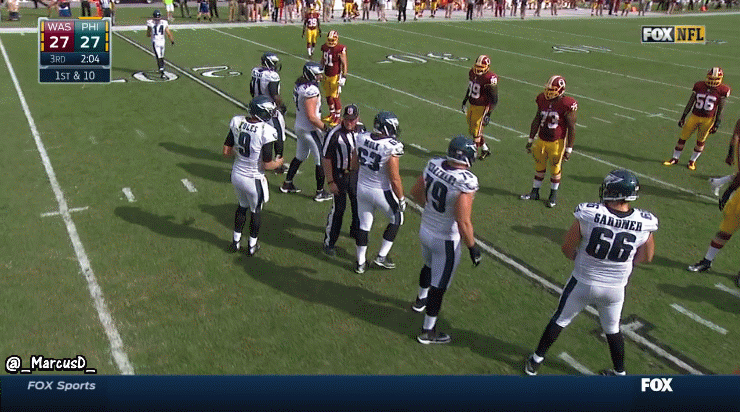 You know after you trip in a public place, you immediately look around to see if anyone noticed? This guy doesn't have to worry about that.
BONUS!
Tweets of the Week:
This boxscore.
Raiders vs. Patriots became -kowski's vs. NOBODY http://t.co/Vnc8gnzxMf pic.twitter.com/jW1x5xsHCF

— SB Nation (@SBNation) September 22, 2014
These heroes.
Jerseys of the Day at the Dolphins game (via @pbautographs) pic.twitter.com/H6oS7qkL3r

— darren rovell (@darrenrovell) September 21, 2014
And, finally…
When you're talking to a friend at a bar and see a random guy hitting on your girlfriend:
See you guys next week!