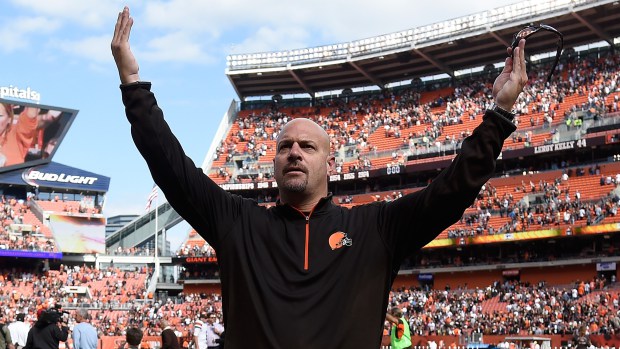 After another exciting weekend in the NFL, let's, again, run down the most important GIFs from this past week.
10. James Jones (Current Raider) Doing Raider Things.
Rashad Jennings (Former Raider) Still Doing Raider Things.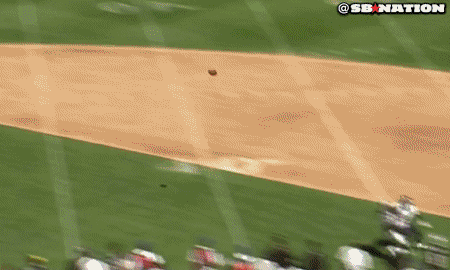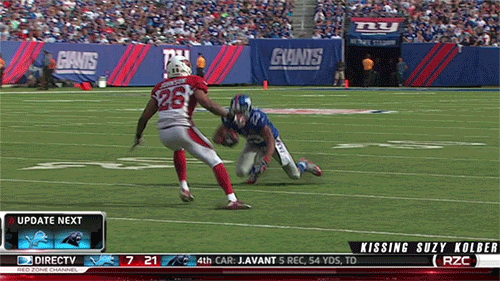 First, James Jones fumbles not once, but twice on the same play. Across the country, former-Raider Rashad Jennings loses the ball without being touched. Like Genital Herpes, it seems that Raider-ness sticks with you for life.
9. J.J. Watt, Professional (Offensive) Touchdown-Maker.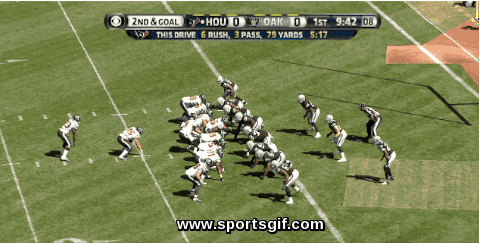 Watt's never had trouble scoring touchdowns on defense, but it now looks like he's added another weapon to his already loaded resume: red zone target. Kudos to Texans linebackers coach Mike Vrabel for passing down his former touchdown-catching prowess onto Watt.
8. The Cleveland Browns winning

the Super Bowl

a Regular Season Game.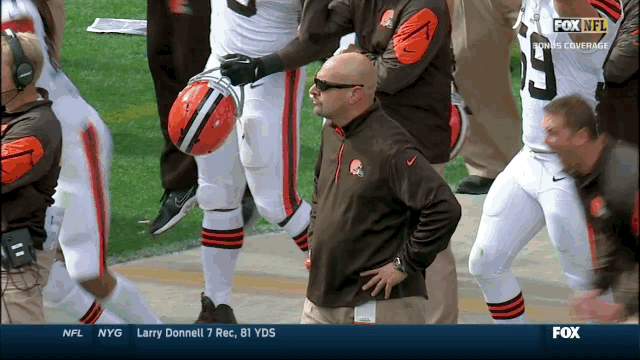 When it comes to the Cleveland Browns, wins are few and far between. Because of this, Sunday's last-second victory over the Saints was reason enough for celebration. So much celebration, I might add, that the Browns mistook Week 2 of the NFL season for Super Bowl Sunday. Regardless, it's a good time to be in Cleveland.1
I sincerely hope they never lose again this season.
7. Kirk Cousins, NFL Quarterback (Maybe).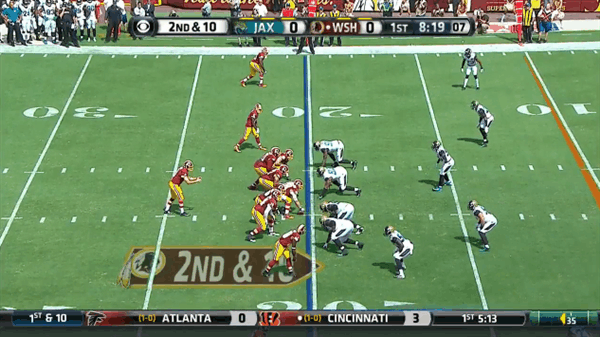 Following a gruesome ankle injury suffered by Robert Griffin, Cousins came in and threw for 250 yards and two touchdowns in a 41-10 rout of the Jaguars. Rout and Jaguars seem like synonymous terms, but Cousins' performance was still impressive enough to ensure some quarterback controversy talk when (or if) RGIII returns to action. And by the looks of things, Griffin might not be the only quarterback that's possibly losing his job to Kirk Cousins. Hey Peyton, it looks like there's a new Papa John's spokesman in town…
41 pts means 10 free toppings at Papa John's locations in the DMV tomorrow! Enjoy! @PapaJohns_DMV

— Kirk Cousins (@KirkCousins8) September 14, 2014
6. Roger Goodell Viewing the Ray Rice Elevator Tape.
(GIF Destroyed by NFL)
5. Darren Sproles for MVP.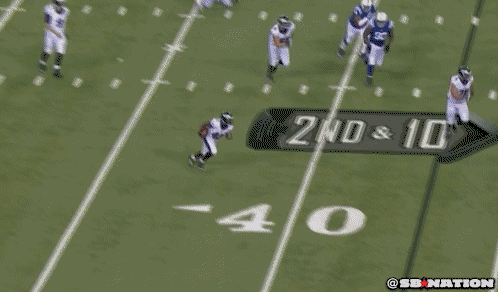 It's telling when you're best playmaker, and arguably one of the best running backs in the league, says that the Eagles "would be in trouble" if not for the services of the 5' 6" Darren Sproles. Sproles racked up over 200 all-purpose yards Monday Night against the Colts, and most likely also against your fantasy team, because fantasy football (like life) is just unfair sometimes.
Numbers 1, 2, 3, 4
Everyone deciding to make 1-handed touchdown catches in Week 2.
Reuben Randle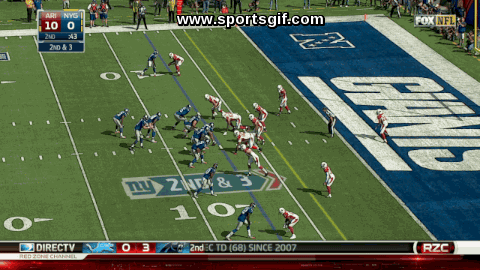 See! Things aren't ALL bad for the Giants, right?
Antonio Gates
Gates joins Frank Gore and Reggie Wayne on the "Fending Off Father Time" All-Star team. And his 3-touchdown performance came against the Seahawks, so I'm even more of a fan. Go, Antonio Gates!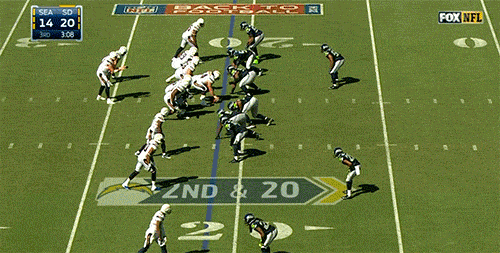 Mike Wallace
During Week 1 against the Patriots, despite stepping out of bounds on one potential touchdown, Mike Wallace still managed to secure the game-tying score on a great catch over Darrelle Revis. Wallace didn't disappoint in Week 2, either.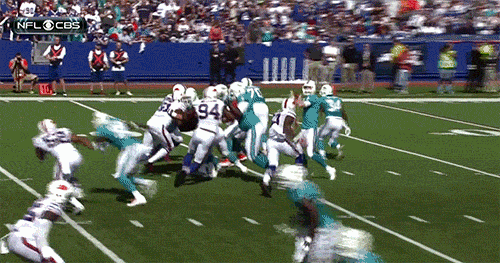 Brandon Marshall
For reasons known only to Jay Cutler, I assume, Alshon Jeffrey wasn't targeted once in the red-zone Sunday Night against the 49ers. It's probably because Cutler knew Alshon's on two of my fantasy teams, which continue to struggle mightily after being described by the Yahoo! computer-generated post-draft analysis as "dumpster fires". Good times.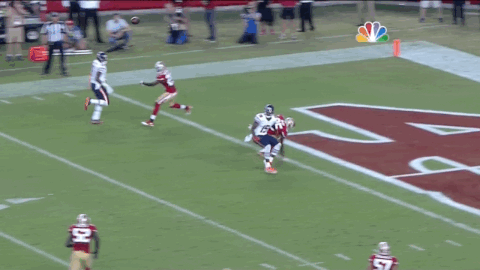 BONUS!
Clowns of the Week (Tie)
One – Richard Sherman, of the "You Mad Bro" and "Best Corner in the Game" fame, refused to talk to the media after Seattle's Week 2 loss to the Chargers, then took to Twitter after San Diego receivers claimed that they had "exposed" him. You can't have it both ways, bro.
Two – Sometimes when you can't get to the gym, you need to find other places to get a sweat on. Like this guy:
Fantasy Adds of the Week
Davante Adams (WR), Packers – Adams was the most targeted Packer after Jordy Nelson this past week, catching five balls for 50 yards on seven targets against the Jets. He's available in 99% of Yahoo! leagues, so if you've got the roster spot to stash him, do it.
Donald Brown (RB), Chargers – Ryan Mathews is expected to miss at least 4-5 weeks with a sprained MCL and Danny Woodhead is the change-of-pace back in San Diego, so Brown figures to get plenty of action and will, at the very least, be the goal-line guy until Mathews returns.
Fantasy Drops of the Week
Jarrett Boykin (WR), Packers – Boykin was the sacrificial lamb to Richard Sherman in Week 1, when Aaron Rodgers never even looked in his direction during the Packers loss to Seattle. Things didn't get any better in Week 2, as Boykin caught one pass for six yards on three targets despite Rodgers throwing 42 times. It's quite possible Boykin explodes over the next few weeks, so if he does, forget that I just wrote this.
Bishop Sankey (RB), Titans – Although Dexter McCluster left the game against the Cowboys, Sankey still was only blessed with two carries, gaining a measly 3 yards. In his first two games in the NFL, Sankey has seen only 8 carries. Drop him.