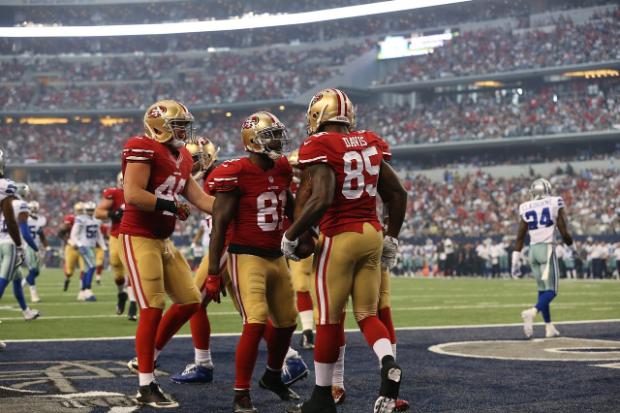 Week 1 has concluded, and now you need to know the important things that happened. I understand not all of us have NFL Sunday Ticket, NFL RedZone, or internet machines, so I've compiled the list free of charge. No need to thank me.
Behold, here are the 10 must-see GIFs from opening weekend, along with a special bonus video and some quick fantasy advice. So, in the words of the immortal DMX, let's get it on.
10. Antonio Brown, Former Mortal, Current God.
Props to Cleveland Browns punter Spencer Lanning for totally taking it in stride, though.
Wait, wait, wait… When did this happen?!? pic.twitter.com/SzU9wDVx23

— Spencer Lanning (@LanningSpencer) September 7, 2014
9. Josh McCown, still learning how to quarterback.
Before last year, in 54 career games Josh McCown threw 37 TDs against 44 INTs, with a completion percentage of under 58 and an average quarterback rating of 71.2. Last season, McCown, in 8 games spelling the injured Jay Cutler, threw for 1,829 yards, 13 TDs and only one interception, a completion percentage of almost 67 and an average quarterback rating of 109, all career of which were career highs by like a mile.  Josh McCown is also 35 years old.1
The Bucs, forgetting everything about McCown's previous 10 NFL seasons before last year's outlier, decided to pay him $10 million over the next two seasons to be their starting pass-thrower. How'd that go, Tampa Bay?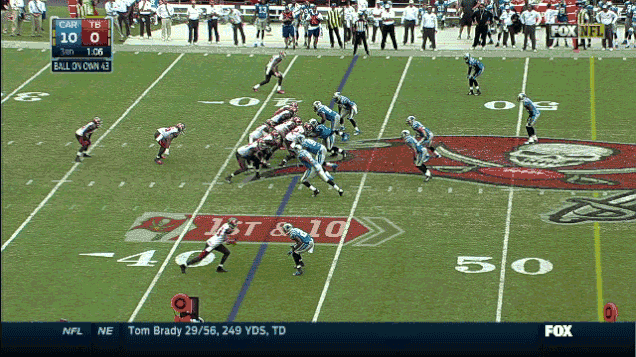 8. Rest in Peace, Maurice Jones-Drew's NFL Career.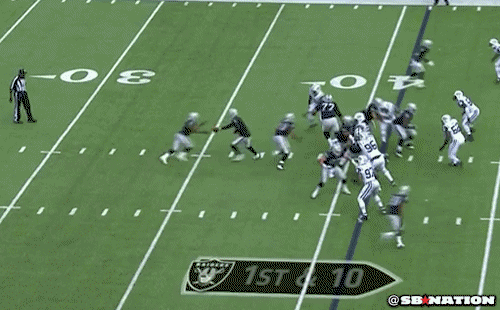 7. Allen Hurns, the first victim to be picked up by "that guy" in your fantasy league.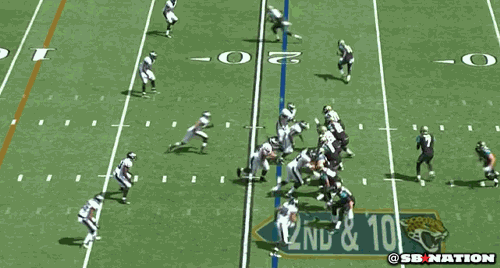 You know that guy. The one that picks up every player that has a good week, regardless of the circumstances surrounding said player's success? Well mark my words, THAT guy will place a waiver claim for undrafted Jaguars wide-receiver Allen Hurns. Even though Cecil Shorts is slated to come back next week. Even though the Jaguars played one of the worst secondaries in all of football. Even though Allen Hurns is a member of the Jacksonville Jaguars.2
6. Cordarrelle Patterson.
I went to DirecTV's Super Bowl party last year, shook Cordarrelle Patterson's hand, and now he's poised to be the next big star in the NFL. Coincidence? I think not.
5. The Carlos Hyde Era begins.
As a 49er fan, I can basically talk myself into being excited about anyone they sign or hire. Mike Singletary was going to be the greatest motivational head coach since Vince Lombardi. Nnamdi Asomugha was going to be better than Darrelle Revis and Richard Sherman combined. Randy Moss was going to be better than, well, younger Randy Moss.
Carlos Hyde? He's going to be the next Walter Payton. Stay tuned.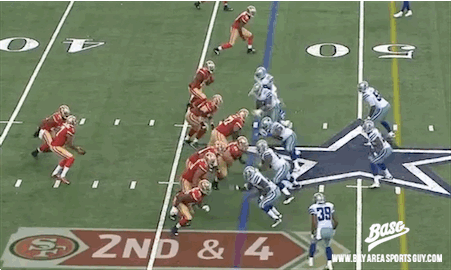 4. The Calvin Johnson Era continues.
For the first season in, I can't even remember how long, the Giants went into free agency and actually did stuff. Specifically, the GMEN completely revamped their secondary, re-signing safety Stevie Brown and signing free agent defensive backs Dominique Rodgers-Cromartie, Walter Thurmond III, Zach Bowman and Trumaine McBride. In Week 1 though, all that was for naught, courtesy of Lions wide-receiver (and possible member of the Avengers) Calvin Johnson. Calvin Johnson will not be stopped; because Calvin Johnson cannot be covered by humans.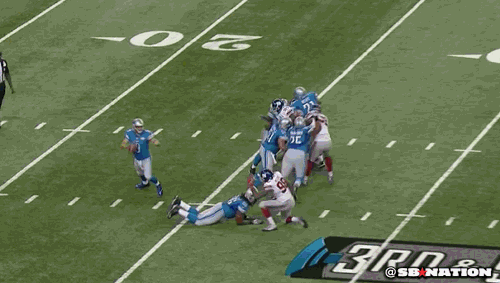 Numbers 1,2,3. Tony Romo, Former NFL Quarterback.
Tony Romo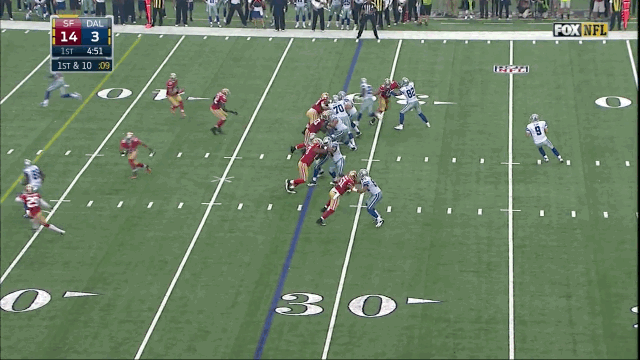 does not give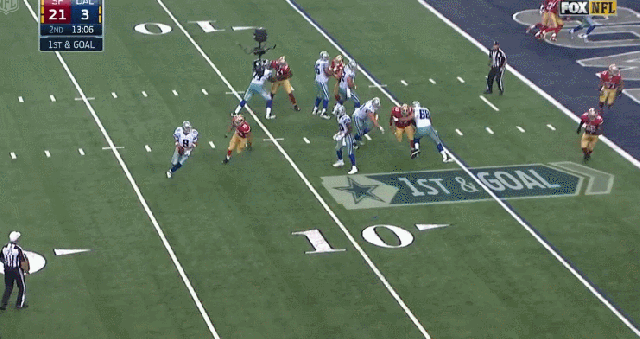 one single f***.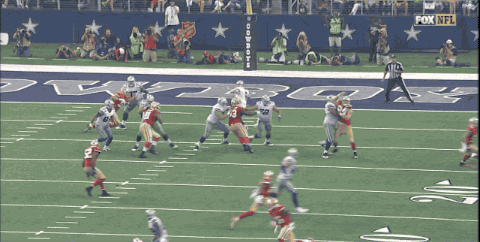 Bonus Video!
Former NFL official, and current CBS analyst, Mike Carey's first appearance as their "new rules expert".
My two favorite quotes:
"Go, Mike. Go Mike." – CBS Producer to Mike Carey, after he blankly stares at the camera for 5 seconds.
"Jim, Phil, this is one that – very, very tight." – Mike Carey on live television, learning how to speak on live television.
Fantasy Adds of the Week
Justin Forsett (RB), Ravens – I think he's going to overtake Bernard Pierce for the starting job sometime soon. Even if he doesn't, Ravens offensive coordinator Gary Kubiak loves running the ball and loves using multiple running backs in his scheme. Pick him up.
Greg Jennings (WR), Vikings – Available, as of now, in over 60% of Yahoo leagues3, Jennings was targeted 7 times in Week 1 (most by Matt Cassel), and he's worth a look going forward, especially in PPR leagues.
Fantasy Drops of the Week
Maurice Jones-Drew (RB), Raiders – See GIF #8.
Trent Richardson (RB), Colts – Ahmad Bradshaw got most of the targets out of the backfield Sunday night against the Broncos. And although Richardson's the main back in Indy, don't forget to keep in mind that he also sucks.