Richard Sherman, Mr. Stanford – By Rory Goulding
As anything negative I say about Mr. Sherman will be viewed as whiney, stinking, 49er-fan sour grapes, I'll keep this short.
I think Richard Sherman is a well-spoken, extremely talented defensive back. He's entertaining. He's charismatic. And he's also kind of a douche. I think what he did after the NFC Championship Game  was obnoxious and he put himself before his teammates after an impressive victory pushed the Seahawks into the Super Bowl. But there is no denying that he made an incredible play to get his team the win.
What Sherman isn't: a thug, a criminal or a delinquent. That's so comically and stereotypically racist it need not be addressed. In the same spirit, Sherman is also not a world-class scholar. Using the fact that he went to Stanford is a pathetic excuse to pardon any of his actions. He's an intelligent and talented football player; where he went to school should mean nothing. Anyone hiding behind the veil of his Stanford-ness as a way of making an argument about him, I ask you this; if he went to Alabama, Florida, or Miami, would his image be different in your eyes? Because it shouldn't be. End of rant.
He did, however, absolutely test positive for a banned substance last season, but beat the impending suspension on a technicality.[1] So he's also a cheater.[2]
1
2
More Gimmicks, More Fakes!
When you have a great quarterback like Peyton Manning, there's no need for trickery. Having said that, the Saints have Drew Brees and still decided to start the second half of Super Bowl XLVI with a surprise onside kick. So I guess anything is possible. Super Bowl trickery is nothing new. Like Media Day, John Boehner crying and Seattle defenders taking PEDs, Super Bowl gimmick plays are time-honored traditions.
A few memorable ones from my lifetime: the last time Seattle played in the Super Bowl, when they were duped by the first touchdown pass by a wide receiver in Super Bowl history, Patriots linebacker Mike Vrabel lining up on offense and catching a touchdown of his own[3] and the iconic Refrigerator Perry's classic touchdown plunge from Super Bowl XX.
3
I need more of it though. It feels like awhile since we've had a crazy trick play in the Super Bowl, and that needs to change. With that in mind, I give you a clip I stumbled upon this earlier this week; a great fake field goal play from a Georgia Tech/Clemson game in 2009, featuring current Denver Bronco wide receiver Demaryius Thomas, going by "Bey-Bey" Thomas at that point.[4]
4
Here's hoping for some more trickery in the Broncos' (and Bey-Bey's) favor on Sunday.[5]
5
A Few Super Bowl Sunday Prop Bets (Courtesy of Bovado)[6]
6
Will it snow during the game? (Yes +300)
C'mon, you gotta root for snow here. It's un-American not to. What are you, some kind of terrorist?
How many times will Eli Manning be shown on TV during the game? (Over/Under 3 ½)
Over. So over.
What Color will the Gatorade (or liquid) be that is dumped on the Head Coach of the Winning Super Bowl Team? (Yellow, 3/1)
You can't go wrong with classic yellow. I dare you to make an argument otherwise.
Player to score the first TD in the game? (Jacob Tamme – DEN TE, 22/1)
I just have a feeling on this one, Peyton to his former Colt teammate.
Will the entire Seattle Seahawks secondary test positive for PEDs after the game? (Yes, +1,000)
Okay, fine. Maybe this one isn't real; but I would feel better if, on the way off the field following the final play of the game, each member of the Legion of Boom peed in a cup.
How many times will I bring up the Seahawks PED suspensions during the game (Over/Under 15)
I'd take the over if I were you.
Super Bowl XLVIII
As the shock and numbing sadness from the NFC Championship game begins to wear off, I sit here thinking, believing, that the Seattle Seahawks are a team of destiny. Sunday's matchup between former AFC West foes should be a classic matchup of strength vs. strength. I think the real key is how Denver's defense can hold up against the Seahawks ground attack while also keeping Russell Wilson in the pocket. Peyton Manning will find ways to succeed against Seattle's defense, but the Broncos defensive line needs to slow down Marshawn Lynch. Like any game against the Seahawks, stopping Lynch is paramount.
Not that it matters to Sunday's outcome, but it's kind of cool to think that, not only did these two teams once play in the same conference (AFC), but also the same division within that conference (AFC West).[7]
7
Guy You Might Not Have Heard Of That Will Have a Huge Impact on the Super Bowl – Chris Clark
After the Broncos lost all-pro left tackle Ryan Clady only two games into the season due to a Lisfranc injury, 28 year old journeyman Chris Clark was tasked with taking his place protecting Peyton Manning's blind side. His success against the vaunted Seattle pass rush of Bruce Irvin, Michael Bennett, Cliff Avril, Chris Clemons and Adderall will be the deciding factor in Sunday's game. And like it has in the two previous games this postseason, I think Adderall the Seattle pass rush wins out.
My heart wants Denver, but my head says Seattle. I hope I'm wrong.
Seahawks 24, Broncos 20
New Territory, Old Territory, and Richard Sherman – By Tyler Michels
As we look forward to Sunday's highly anticipated Super Bowl between the Seattle Seahawks and Denver Broncos, this week's media frenzy outside the Meadowlands got me thinking about several storylines … and Richard Sherman, of course.
The idea of new territory is something the Seahawks will be challenged with. This is just the franchise's second appearance in the Super Bowl, with their last and only showing coming in 2005 at Super Bowl XL. No players on the current roster were on the team last time around. How will they deal with this? For the sake of Seattle fans and NFL fans worldwide, hopefully they show no effects caused by the lack of experience. I believe this particular team will be fine, because of the style of play and personality that embodies the entire franchise.  Pete Carroll is perceived as one of the more "easy-going, have-fun coaches" in the NFL, and with composed players such as Russell Wilson, and fiery personalities like Richard Sherman, this team should only use this passion, hunger and opportunity to their advantage.
History in New York
Another storyline that crossed my mind was the history between New York and the two head coaches.  This can be considered old territory
for both Seahawks coach Pete Carroll and Broncos coach John Fox. The two are familiar with the bright lights of New York, and here's how:
Carroll was the New York Jets defensive coordinator from 1990 to 1993, and was promoted to head coach in 1994. He never really got a fair shot to prove himself, lasting just one season. Fox, on the other hand, was defensive coordinator under New York Giants head coach Jim Fassel, helping lead the team to Super Bowl XXXV in 2000. If anyone in these current organizations know a thing or two about New York, it's these two head coaches.
Richard Sherman
Richard Sherman deserves a mention, right? Simply because everyone is still talking about his rant that lasted just 25 seconds but has made national headlines for more than a week. Personally, I had no problem with Richard Sherman's comments. I think he got a bit caught up in the moment, and he was displaying his passion. There are two key elements to this story that I hear little about: Let's not forget that Michael Crabtree was likely talking trash the entire game back and forth with Sherman; an inference but is probably a part of the reason why Sherman flew off the handle postgame. Also, a Seattle Times story highlighted a past altercation in the off-season, "Both attended Arizona star receiver Larry Fitzgerald's charity event. While there, Sherman went to shake Crabtree's hand, and Crabtree tried to start a fight, according to Sherman's older brother, Branton." The details of the story are vague, but what is clear is that there was a history of bad blood between these two players that led to the circumstances of the rant. Does that make the rant acceptable? To me, it does.  Sherman made a great play, if he wants to trash talk (which, like I said, I am sure was going on between the two players constantly during the game), then so be it.
Another component that has really taken shape in this story is that of race. Does Sherman's race, or appearance (dreadlocks, tattoos, etc.) motivate the comments and reaction we have heard nationwide? I think, sadly, for some parts of the country it certainly does. Anyone who followed the reactionary comments on Twitter or Facebook saw many people take a racist approach to the situation. However, I also think that what cannot be lost is people who aren't racist can also not like what he did.  Simply from a sportsmanship standpoint, his rant definitely turned people off. Does that make him a thug?  No, but it does make him a bad sport.
Whether he gets torched against Peyton Manning Sunday, or makes a huge, game changing play like he did versus San Francisco, will be what I am most looking forward to. I'm rooting for the latter.
Super Bowl XLVIII MVP
If a quarterback doesn't win the MVP, it seems as though it is always an obscure player that you would not expect. Remember when Deion Branch won it for New England in Super Bowl XXXIX? Or, when the Bucs took home Super Bowl XXXVII, but Safety Dexter Jackson won MVP. A safety! (Did anyone ever hear of this guy ever again?)
Once again, I feel like we might be headed for that player no one has ever heard of winning the MVP. Okay, people have heard of him, but I predict Golden Tate as MVP. With all the focus around Seattle's defense, and Denver's offense, Tate may emerge as a key player in moving the ball methodically down the field for the Seahawks offense. Surely, Denver will try to bottle up Seattle's run game with Marshawn Lynch, and I think they'll also try to eliminate the big play. I'm thinking an 11 receptions, 145 yards, and 2 touchdown type of performance from Golden Tate may be good enough to bring home the hardware.
The Preview
As for the game itself, this will be the first time we see a Super Bowl matchup feature the number one ranked offense (Denver) versus the number one ranked defense (Seattle) since the Giants-Bills of Super Bowl XXV in 1990.
On paper, this makes for one of the more highly anticipated Super Bowl matchups that I can remember in my lifetime. Ultimately, Seattle's defense will play a major role, whether it be through forcing turnovers or coming up with a big stop in the last few minutes of the game. I think the conditions of a cold, windy, outdoor Super Bowl will play to Seattle's advantage. Since the Seahawks defensive backs are so good, I expect them to be able to bring extra pass rushers and put some pressure on Peyton Manning, something most teams haven't been able to do.
Although I think both sides will move the ball effectively, getting into the end zone may prove to be difficult, as neither of these teams give up many big plays. When the clock strikes zero, I can picture Richard Sherman celebrating with Pete Carroll, Russell Wilson and all of LOB, and the question going through my mind at that point: Will we see Peyton Manning play football ever again?
Seahawks 24
Broncos 18
An Old Dog Gets into the Big Game – By Jim Armstrong
Two years ago the Broncos we're coming off a 45-10 beat down at the hands of the New England Patriots in the AFC divisional round. Tom Brady torched the Brian Dawkin-less Broncos to the tune of six touchdown passes, while little did the nation know that this would be the last whimper we would hear out of Tim Tebow. His two-year career as a starting quarterback would be effectively over at the end of this season (he would go on to play one season with the New York Jets as a part-time QB and running back).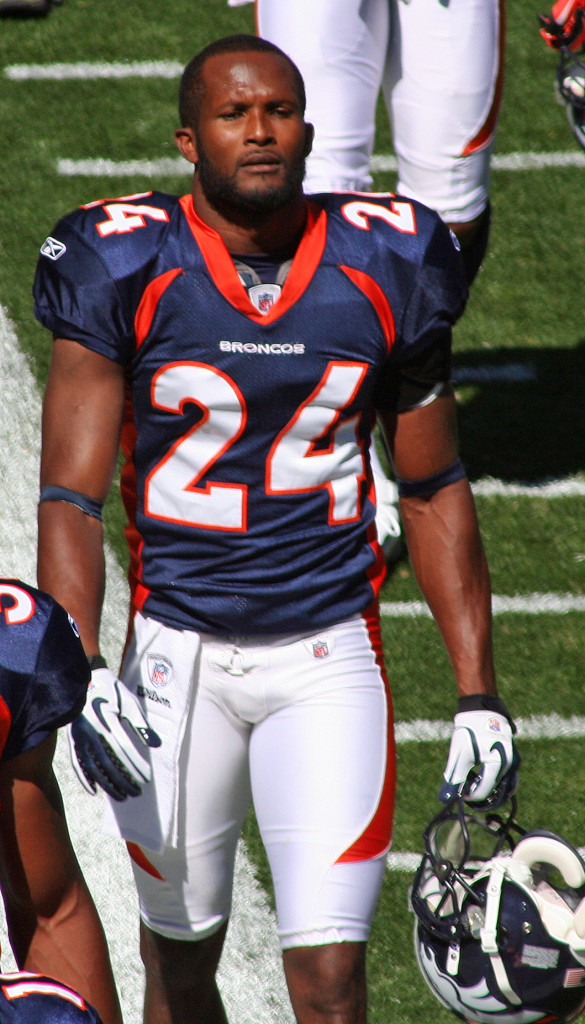 At 33 years old, Champ Bailey was running out of opportunities to make it to the big game. By jettisoning Tebow, the Broncos appeared to be in a 2-3 year rebuilding mode, which would likely encompass the final years of Champ Bailey's hall-of-fame worthy career. Alas, Peyton Manning came along in the spring of 2012 and changed the fortunes of a franchise that had not won a Super Bowl since February, 1999, in Elway's final season.
8
Less than five months shy of his 36th birthday, Champ Bailey has his moment. After 15 seasons, he has finally reached the sports world's greatest stage. Although Bailey suited up for only 5 games this year, he has been the model of durability throughout his career, missing only 14 games combined in his previous 14 seasons.
Bailey will line up mostly in nickel situations but will be called upon to take more reps on the outside, with Chris Harris no longer available (after suffering a torn ACL in the divisional round). My bet is that Bailey comes up with a big pass break-up for the Broncos. After losing several starters to injuries throughout the season, they will need a rejuvenated Bailey to come up with a big play to turn this game in their favor. I'm betting that Bailey supplies it.
Richard 'It's all About Me' Sherman
Just kidding…I'm not acknowledging him (ok maybe, 250 words). The guy has received way too much press for a self-absorbed, cocky promotional stunt he pulled after the NFC Championship game. Tom Brady put it best when pointedly speaking of Sherman last week, "we win with graciousness." You win and lose with graciousness and maturity. Sherman has neither of these qualities (he's had too many incidents to think that the 49ers game was an isolated outburst) and I hope know that Manning will stick it to him on the final drive. Football's a game of inches (in Kaepernick's case…12 inches) and you can't talk like Sherman talks and not get burned eventually. His day is coming…it's coming Sunday.
Recent Super Bowl History
If recent history is any indication, we're going to witness a close game on Sunday night. In 5 of the last 6 Super Bowls, the game has been decided by 6 points or less. In that 6th game, Manning had a chance to tie it on his penultimate possession but threw a pick 6 that essentially iced the game for the Saints (who won by 14 points).
Peyton's had two weeks to prepare for the 'Hawks vicious attack. With the weather on Sunday expected to crack 50 degrees, I see both offenses being able to put points on the board. Expect another Super Bowl in the low 30's/high 20's, which has been the case 4 of the last 5 years.
My Predictions
Golden Tate runs wild on Denver's thinned secondary, eclipsing 120 yards
Knowshown Moreno is held to less than 50 total yards, which leads us to…
Peyton eclipsing 300 yards and 3 TD's passing
Welker and Demaryius Thomas are held TD-less. Instead, Eric Decker and Julius Thomas are the recipients of Manning's TD passes.
Manning throws two picks, while Wilson throws a pick as well
Wes Welker has virtually no impact on the game, failing to crack 40 yards receiving
In the Super Bowl #1 defenses have traditionally won Super Bowls (1985 Bears, 1990 Giants, 2000 Ravens, 2003 Bucs). I'm using the Michael Jordan rule here. Jordan's Bulls probably shouldn't have won their 6th title in 1998. The team was running on fumes, was old (average starting age of 33 years old) and had no discernible low post offensive threat.
In a way the Broncos are similarly handicapped in this game. They come in having lost their top two cornerbacks, their nose tackle, their Pro Bowl left tackle and their top defensive player, in Von Miller. However, they have the best quarterback on the planet, albeit one that is 37 years old (38 in less than two months) and a group of receivers that are the best quartet in the league (Demaryius Thomas, Eric Decker, Julius Thomas & Wes Welker all caught between 10 and 14 TD's during the regular season).
Last week, the initial 10-day forecast had the greater NYC area in the mid 30's as a high and subjected to wintery conditions. Just a week later, conditions have improved considerably. The temps are expected to crack 50 degrees during midday and get to a low of only 32 degrees. Peyton Manning has a career record of 3-7 when the temperature is below 32 degrees at kickoff. With the temps likely hovering in the mid-40's at kickoff, I see this as a greater sign that Manning will light up the 'Hawks secondary.
Count me a believer in Peyton…a QB who wants to solidify his status as one of the greatest of all-time. Someone who wants to show a certain smug DB whose a dozen years his junior that he still belongs on top of Mount Olympus.
Peyton leads the Broncos to their first Super Bowl in 15 years and wins his second in three appearances.
Broncos 28
Seahawks 24