Three cautionary "what-if" teams from the past twenty years
Although Jim Armstrong already outlined some of the better known "what-if" teams from the last two decades, here's a look at three more that had unlucky bounces, unfortunate events, or just plain incompetence derail their bright futures and thwart their chance at greatness.
2011-12 San Francisco 49ers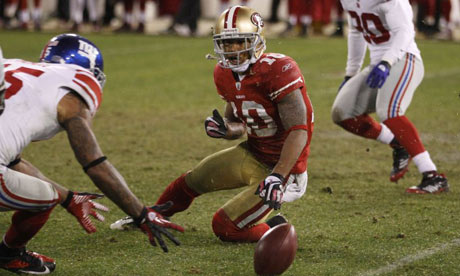 If Eli Manning isn't the luckiest quarterback of all-time, if Kyle Williams doesn't forget how to return punts, and if the officials don't blow the whistle on a clear fumble
Biased? What are you talking about? I'm not biased! Fine, I'll pick something else…
2012-13 San Francisco 49ers
If Jimmy Smith doesn't get away with pass interference in the end zone
Alright, maybe I am biased. I won't talk about the 49ers anymore.
2013-14 Seattle Seahawks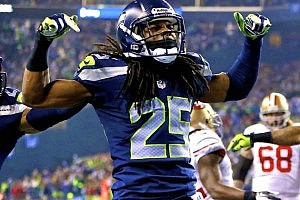 If the entire team wasn't jacked up on performance-enhancing, banned substances 
Okay, okay. I'll stop. Let's just start over.
3

Totally Unbiased

What-If Teams
1998-99 Minnesota Vikings
If Gary Anderson doesn't miss his first field goal of the entire season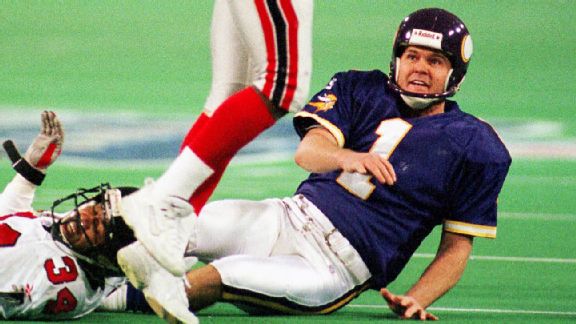 During the 1998 NFL season, the Vikings were an offensive juggernaut, going 15-1 and averaging almost 35 points per game, routing opponents by an average 17-point margin of victory.1 This was thanks in part to Randall Cunningham's career year and the emergence of a rookie wide receiver by the name of Randy Moss.2 However, lost in the shuffle to many was the career-year had by Minnesota kicker Gary Anderson who, in his first season as a Viking, became the first placekicker in NFL history to have a 100% success rate on both field goals and extra points in a regular season.3
So, late in the 4th quarter of the Vikings' NFC Championship game against the Atlanta Falcons, holding a 7 point lead, Gary Anderson had a chance to put Minnesota up 10 with under 4 minutes left, essentially putting the game away and ensuring a trip to Super Bowl XXXIII. As Anderson lined up for the kick, commentators John Madden and the late Pat Summerall all but guaranteed a make; and in one of the most classic jinxes of all-time, Anderson missed the 38-yarder wide left. His first miss as a Viking. The Falcons would go on to score the tying touchdown on the ensuing possession, winning the game on a field goal in overtime.
It's a stretch to say that the Vikings could definitely have beaten the Denver Broncos in Super Bowl XXXIII, but they certainly could have. And if they had, Minnesota's 15-1 team could have gone down as one of the greatest in NFL history.
2004-05 Indiana Pacers
If the "Malice at the Palace" doesn't happen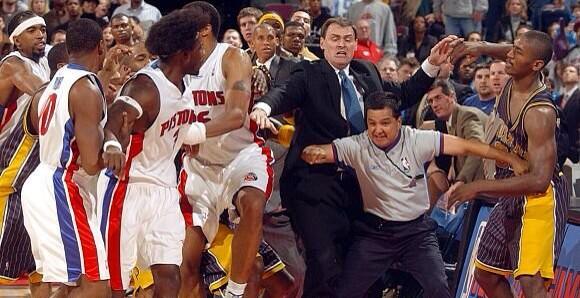 Before we talk Pacers, a few highlights from a watershed 2004-05 NBA Season:
The first season of the Eastern & Western conferences moving from two divisions to three
Steve Nash joining the Phoenix Suns, creating the Mike D'Antoni "7 seconds or less" era
The Shaq/Kobe saga ending with Shaq being shipped to Miami for Lamar Odom, Caron Butler, Brian Grant and Brian Grant's dreadlocks
Jerome James somehow using one playoff series to secure a 5-year, $30 million contract from then-Knicks GM Isiah Thomas4
The Spurs winning the 2004 Finals, taking down the reigning NBA Champion Pistons in 7 games (this sounds somewhat interesting until you realize it was a 7-game snooze-fest that saw a team score over 100 points only ONCE5)
Sadly, all of that would be overshadowed once The-Artist-Formerly-Known-As-Ron-Artest decided to recreate some of his favorite moments from Mike Tyson's Punch-Out on the citizens of Detroit.
So just 9 games into their season, the Indiana Pacers went from finishing off an impressive road victory over the NBA Champions, establishing themselves as the early favorites in the East, to an example of what can happen when erratic players mix with a volatile home crowd.
Aside from leaving Reggie Miller hung out to dry in his final season6, the whole future course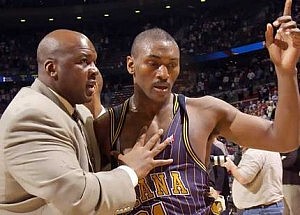 of the franchise was altered. Artest demanded to be traded the following season, and the Pacers cleaned house, drafting and signing only "high-character" players over the next seven seasons which, in basketball terms, basically means only signing white guys.
From 2003 to 2007, the East was wide open; The Pistons made the Finals in 2004 thanks to a Dwyane Wade injury, and LeBron James dragged a terrible Cavs team to the Finals in 2007. Maybe the Pacers don't get back to the Finals in 2004, but they had acquired a young, talented core to position themselves for a long run at postseason success for years to come.
But hey, at least Artest learned his lesson after the Pistons melee and never did anything crazy again, like, you know, change his name or something.7
2009-10 (and beyond) Denver Broncos
If Josh McDaniels isn't actually a secret saboteur for Bill Belichick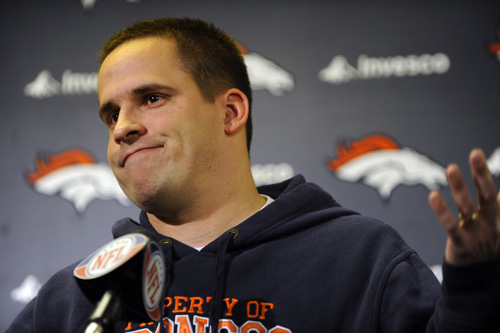 We can go back a few seasons further for this to be even more interesting8, but let's just stick to Josh McDaniels. After the 2008 season, the Broncos fired head coach Mike Shanahan after 14 seasons, replacing him with Patriot's offensive coordinator and general douchebag, Josh McDaniels. Over the course of one season, McDaniels found new ways to define the term idiocy. Here's a breakdown of his ineptitude during his first season with the Broncos:
A failed attempt at trading for Patriots backup Matt Cassel alienates current quarterback Jay Cutler, and after Cutler demands a trade, he is shipped off to Chicago in exchange for Kyle Orton
McDaniels trades running back Peyton Hillis and two draft picks to the Browns for Brady Quinn (this one's my favorite)
Starting tight end Tony Scheffler is traded to the Lions in a 3-team deal that nets the Broncos a 5th round pick
Needing a win to make the postseason, McDaniels benches star wide receiver Brandon Marshall for the final game of the season due to disciplinary reasons; Denver would lose to the 4-12 Chiefs, 44-24, and miss the playoffs
Following a season of turmoil with McDaniels, Marshall, having long demanded a trade, is finally sent to the Miami Dolphins for two second round picks
With the 25th overall pick in the 2010 NFL Draft, McDaniels and the Broncos select Tim Tebow
So to recap: in his first season as head coach of the Broncos, Josh McDaniels traded Jay Cutler, Brandon Marshall, Tony Scheffler and Peyton Hillis; then he drafted Tim Tebow. No wonder joshmcdanielssucks.com is a real website.
But wait, Broncos fans: here's the kicker. If McDaniels doesn't destroy your team from 2009-2011, does Peyton Manning still sign in 2012? Probably not. And further, if the Broncos win the 2014 Super Bowl, should McDaniels get a ring, too? I say yes.