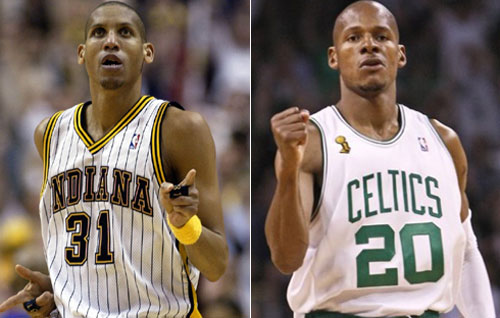 As I write this on August 6, 2013, Ray Allen is fresh on every NBA basketball fan's mind. He just capped an unforgettable 2013 playoffs with a corner 3 dagger that tied Game 6 of the Finals in regulation with 5.2 seconds left. This will go down as one of the top 25, if not top 15 all-time great playoff shots. We all know how the rest of the series played out (at least I hope you do). The Heat won Game 6 in OT and won another hard fought contest in Game 7. Anyways, I digress, back to Ray Allen and Reggie Miller.
I have fought tooth and nail with friends, colleagues and family about these two supremely gifted shooters. Both players are unquestionably two of the top 5 shooters in NBA history (Rick Barry is in the conversation as well). Beyond just their shooting ability, both have been the 1st banana (to borrow a term from Bill Simmons' lexicon) on great teams (Reggie – '94, '95, '98, '99, '00, Ray – '01 Bucks & '05 Sonics). They are both revered and respected players inside and outside their respective organizations (in Allen's case, four organizations, with Boston fans still smarting over his '12 departure to South Beach). And both have a knack for coming up with the big shot in big moments (re: Reggie's 8 points in 9 seconds in the '95 playoffs against the Knicks & Ray Allen's 51 point effort in the Game 6 triple OT playoff loss against the Bulls in '09).
With no further ado, I am going to evaluate the different qualities that make each of these men two of the best at their professions. The ultimate winner will be determined by who wins the most categories.
1st Banana Status
Reggie is one of only a couple of dozen past or current stars (Dirk, Kobe, Tony Parker, Tim Duncan, Bill Russell, John Stockton, Julius Erving, Kevin McHale, Larry Bird, Jerry West, David Robinson, Magic Johnson, Isiah Thomas and James Worthy) who has played for the same team for his entire career. This list is alarmingly short (and decorated) and certainly carries significant weight when evaluating "1st Banana" status of an NBA star. Meanwhile, Ray Allen was really only 1st Banana at two points in his career, during his 5-season stint with the Seattle Supersonics (RIP) from the'02-'03 season through the '06-'07 campaign and during the second half of his stint with the Milwaukee Bucks, from the '99-'00 season to '02'-'03. For any '01 Milwaukee Bucks fans out there, I would say that Allen qualified as the 1st Banana on that team, but not in the "star" sense of the word. Both Sam Cassell and Glen "Big Dog" Robinson were 5.5 and 2.5 years older than Ray, respectively. Anyone who knows that team understands that Cassell was the heart of soul of that team, much like KG was the heart and soul of the Celtics during their multiple trips to the Finals in the late 00's. This brings me to the Celtics. Even on the '08 Celtics, I thought that Ray was the 1st or 2nd leading scorer on that team, and upon reviewing the season stats, he was the 3rd leading scorer behind Pierce and KG. Nevertheless, without Ray Allen, KG never comes to Boston and that team never happens, end of story.
Side-note: who was the 5th leading scorer on the '07-'08 championship Celtics? James Posey? Kendrick Perkins? How about Glen Davis? All of those would have been good guesses but the answer is Eddie friggin House! He averaged nearly 8 points per game for that team. I almost forget how good he was that year. House ended up enjoying a stellar career, playing 14 seasons and sporting a career average of 7.5 points per game.
Final note here before we move on. Reggie Miller was a 5-time NBA all-star that spanned 10 years (1st in '90 and last in '00) and was named to the All-NBA Third Team during three of those years. Meanwhile, Ray Allen is a 10-time all-star, while earning NBA Second Team and Third Team honors once each. On face value, you're thinking to yourself, "This does not bolster his argument in the least." In fact, this appears to support Ray Allen as the more worthy candidate here. My argument: Reggie's career coincided nearly perfectly with the greatest collection of guards we have ever seen in the history of the NBA. The list is exhaustive but I'll name the ones that come to mind, whose primes overlapped with Reggie's career: Magic Johnson, Isiah Thomas, James Worthy, Dominique Wilkins, John Stockton, Michael Jordan, Clyde Drexler and Kobe Bryant. Never was it more difficult to win a championship than it was during the entire career of Reggie Miller ('87-'88 to '04-'05). Honestly, when you look at those years, you have the feel that the best shot for him to win a title would have been in his final year (after the Lakers dismantled their team in '04) and in '94 and '95 when Jordan was hitting balls and not dunking them. That's it; those are the three best shots he had to win a title during the 18 years that he played in the league.
If you apply the same logic to Ray Allen, you see a similar trend. Ray didn't sniff much success until his 13th season in the league. His 13th season! The reason for this? Michael Jordan was ruling the East during his first three years and the Spurs were running off championships every other year during his entire stay with the Sonics. Ray had to move across the country during the summer of his 32nd birthday to form the "Big Three" in Boston, a move which consummated a series of more moves that would change his legacy forever.
Winner: Reggie
Winning
If you would have asked me this question 6 years ago, I wouldn't have flinched. I would have told you that Reggie was by far more clutch and more of a winner than Ray Allen ever would be. Six summers ago, prior to the '07-'08 season, Ray was entering his age 32 season, at the tail end of his prime. Statistically, Ray's best season in Boston would come the following season, in '08-'09, when he had to pick up the scoring slack due to KG's knee injury that occurred earlier that spring. But prior to this, he had spent a dozen years toiling on sub-par franchises in Milwaukee and Seattle. The only modicum of success that Allen achieved in the playoffs was taking the 76ers to 7 games as a member of the Bucks in the '01 Eastern Conference Finals and surprising everyone in the West in '05 by taking the Spurs to six hard fought games in the Western Conference semifinals.
Due to Ray Allen's incredible level of fitness, he continues to excel as a super sub for the Heat six years later. Heck, during his age 37 season with the Heat, Allen averaged 10.9 points per game and hit 41.9% of his three-pointers, nearly 2 percentage points better than his career average. His field goal percentage was also comparable with his career average (44.9% for the '12-'13 season versus 45.2% for his career).
In between the summer leading up to his first season in Boston and June of 2013, much has happened to alter Ray Allen's legacy forever. Although Allen is remembered as the third banana behind Pierce and KG on the '08 title team, he was absolutely essential to that team's success. People forget that he opened up the floor for Rondo to slash, for Pierce to work the elbow extended jumpers and for KG to operate in the low post. Without Allen, none of that works and the Celtics don't win the championship that year or make it to the Finals again two years later.
Bottomline: without Ray Allen the Celtics don't win the '08 title, nor do they come within two shots of winning the '10 title. Also, the Heat watch in Game 6 as Lebron's missed three pointer caroms off the rim and into the hands of Bosh, who as we know, passes it to Allen in the corner for the dagger 3. This game has a very different ending if Allen is not playing.
Winner: Ray
Big Game Shooting
Reggie Miller's big game shots are too numerous to count and breakdown. The 8 points in 9 seconds in '95 will be watched 100 years from now, and fans will still be slack-jawed.
Reggie's 38 point, 13-14 from the line clinic against the Knicks in the '98 Eastern Conference Semifinals, including the game-tying 3-pointer to send the game into overtime, qualifies as a top 10 vintage Reggie performance. The Pacers won the game in overtime and won the following game, to take the series. The kicker, his 41-point outburst in the deciding Game 5 of the 2000 first round playoff matchup against Ray Allen's Milwaukee Bucks. Although Ray was just 25 at the time, this was Reggie at the tail-end of his prime, showing Ray that he still belonged atop Mount Olympus, and was not ready to bequeath the throne to Allen.
Reggie's three-pointer to win  Game 4 of the Eastern Conference Finals in '98 over Jordan ranks as his most clutch moment, although he got away with a push off on Jordan (see for yourself).
Reggie however struggled in the 2000 NBA finals. To be fair, at this point, Reggie was a 34 year old, soon to be 35 year old star, struggling to keep his legs, after running around picks all season and postseason. He had ground through three rounds of playoffs in addition to playing 81 of a possible 82 games during the regular season. This led to an underwhelming shooting performance in the Finals that year, where he shot only 41.3% from the field and only 37.5% from the 3-point line (acceptable, but not up to Reggie's standards). The Pacers bowed out in 6 games to the Lakers.
Ray Allen is no slouch either. In November of 2012 alone, he beat three teams with game winning shots (Cleveland, Denver & San Antonio) as a member of the Miami Heat. That's pretty impressive for a 37-year old sixth man to do that in his career, let alone in one month.
Ray Allen's dribble to the left and banker in March of '06 to beat the Grizzlies is as tough as they come. This is one area where Ray excelled over Reggie: in creating shots off the dribble. Although he isn't known for putting the rock on the floor, he could certainly handle the ball better than Reggie and this is evident in this ridiculously tough buzzer beater 7 years ago.
Ray's 3-pointer to beat the Knicks in Game 1 of their first round series in '11 is another vintage Ray moment, where Garnett becomes a road-grader and clears the way for Allen to do his thing.
The best game-winner of Ray Allen's career remains his three-pointer right in Joakim Noah's eye, to put the Celtics up 3 with two seconds left in Game 2 of that series. The Celtics would go on to win in 7 games in what is widely considered to be one of (if not the) best first round series in NBA history.
Winner: Reggie
Better Shooter
This is as razor close as it gets. When you're looking at pure percentages, here are the splits for Ray and Reggie. As I said, it's razor close:
Ray: 45.2% FG %, 40.1% 3-PT FG, 89.4% FT
Reggie: 47.1% FG %, 39.5% 3 PT FG, 88.8% FT
Wow, that's damn close. Now let's look at pure career stats, since the above lines really are a wash (Reggie was the better 2-point shooter by a wide margin, while Ray nudged Reggie in 3-point field goal percentage and free throw shooting percentage.
Ray: 19.4 PPG, 4.1 RPG, 3.4 APG, 1.3 STOCKS (Steals + Blocks…borrowing another metric from Simmons)
Reggie: 18.2 PPG, 3.0 RPG, 3.0 APG, 1.3 STOCKS
Still too close to call, let's dig a little deeper. Ray Allen broke Reggie's most 3-pointers made record of 2,560 in February of 2011, as a member of the Boston Celtics. In April '13, during Game 3 of the Bucks vs. Heat series, Allen canned four threes and again surpassed Miller as the all-time leader in most postseason threes made. Interestingly, Miller needed 144 postseason games to register 320 made three pointers, while Allen needed only 131 to reach 322 treys.
To say that Allen broke Reggie's record of 2,560 regular season three pointers made is being kind. He absolutely obliterated Reggie's mark. Consider this: in Ray Allen's last three healthy seasons (excluding '11-'12 when he was limited to only 46 games due to an ankle injury), he has converted an average of 150 three pointers per season. Right now Ray stands nearly 300 made three pointers clear of Reggie (2,857 vs. 2,560) and stands to add another 400-500 easily when his career is all said and done in a few years. When Reggie was asked how he felt when Ray broke his record he replied, "Records are meant to be broken." Let's just say this record was smashed.
With all this being said, I think the all-time leaders in most 3-pointers made is one of the most overrated records in the NBA. For starters, the 3-point line wasn't truly adopted until the late 80's, meaning that players such as Bird, Dumars and other players of that era finally figured out how to integrate this new line into their games. Secondly, in today's game, more teams emphasize spacing and shooting, as opposed to the smash mouth brand of basketball that was played in 80's and 90's, resulting in more three pointers attempted and consequently made. Third, consider the following players who populate the top 20 all-time three point shooters in NBA history list: Jason Terry (#4), Peja Stojakovic (#7), Rashard Lewis (#8), Vince Carter (#11) and Jason Richardson (#13). 'Nuff said.
Even with 3-point shooting being overrated (in terms of volume), it's undeniable that for nearly every kid who attended basketball game between the year 2000 and 2012, Ray Allen was mentioned at some point as being the model shooter (perfect form, perfect release point, great balance). When you watch Ray Allen on a basketball court every movement is calculated and every motion is efficient. Even watching Ray Allen run is a thing of beauty…the guy has textbook form.
Bottomline: if you were to ask any random group of 10 basketball fans at a bar who was a better shooter, Ray Allen or Reggie Miller, 8 out of 10 of those guys would choose Ray (unless you walked into a bar in Indiana). Reggie was incredible but Ray is the benchmark by which all shooters measure themselves.
Winner: Ray
Better Postseason Performer
Saving the best for last: everyone knows that Reggie and Ray came up big in the postseason several times during each of their respective careers (Ray as recently as 6 weeks ago), but who has the edge in overall postseason "clutchness" and "big shot making?" Tough question to answer, but first let's examine their splits:
First, Ray has played in 10 postseasons in his 18-year NBA career, while Reggie's teams qualified for 15 playoff appearances in 18 seasons (incredible). The only seasons Reggie's teams did not qualify was during the '96-'97 season and during his first two seasons, '87-'88 and '88-'89, before he had established himself as the unquestioned first banana. Removing those first two seasons, that means Reggie qualified for the playoffs every season during a 16-year stretch, with one exception, the '96-'97 season. Talk about consistency.
With no further ado, here are the career playoff splits for Reggie & Ray (convenient that to this point each has played 18 seasons, making this an apples to apples comparison).
Ray: 151 games played, 36.7 minutes/game
Reggie: 144 games played, 36.9 minutes/game
Eerily similar. If Paul George's Pacers knock out the Heat in Game 7 of the Eastern Conference Finals, then we're looking at an identical number of games and minutes played between the two of them (this is just getting too close to call).
Ray: 44.5 FG%, 40.3 3-PT FG%, 88.1 FT%
Reggie: 44.9 FG%, 39.0 3-PT FG%, 89.3 FT%
Another wash, moving on….
Ray: 17.0 PPG, 3.8 RPG, 2.8 APG, 1.2 STOCKS
Reggie: 20.6 PPG, 2.9 RPG, 2.5 APG, 1.2 STOCKS
This is where Reggie begins to separate himself. Reggie Miller hit so many enormous shots in the playoffs, they're hard to quantify. Here's an attempt to provide you with his five best moments:
5. 2000 NBA Finals – scored 33 points in Game 3, and then follows that up with a Game 4 explosion of 35 points and 5 rebounds.
4. 2000 Eastern Conference Divisional Round, Game 5 – In the deciding 5th game, Reggie outplayed Ray Allen, dropping 41 points on his protégé on 60 percent shooting, with 18 of these points coming in the 4th quarter. The Pacers won this game by a point, and ended up riding Miller all of the way to the Finals.
3. 1998 Eastern Conference Semifinals, Game 4 – Reggie scores 38 and hits 13 of 14 free throws and wills his team to an OT victory over the Knickerbockers. The Pacers would win the following game to take the series and move on to play the Bulls.
2. 1998 Eastern Conference Finals, Game 4 – Reggie hits game winner off of Michael Jordan (push-off not withstanding).
1. 1995 Eastern Conference Semifinals, Game 1 – Reggie Miller scores 8 points in 9 seconds to beat the Kincks. Even more inexplicable is the foul the Knicks commit on Miller with only seconds remaining to send him to the line, where he calmly buries two free throws to give the Pacers their 2-point margin of victory.
Ray Allen's top moments in the playoffs are considerable as well, topped off this spring with what will go down as one of the greatest game winning shots in NBA history.
5. 2009 NBA Eastern Conference Divisional Round – Ray Allen's 51-point performance in Game 6 of this series will go down in history as one of the finest postseason performances ever. He drained 9 three-pointers (a Celts' team playoff record) and carried the Celts' into triple OT, where they finally succumbed to the upstart Bulls. The Celts' did win Game 7 to advance to the Eastern Conference Finals.
5a. 2009 NBA Eastern Conference Divisional Round – Ray Allen saves Boston from falling into a 2-0 hole with an insane three-pointer over the outstretched arms of Joakim Noah. The video clip below helps to remind us just how difficult this shot was.
4. 2010 Finals, Game 2 – Allen reclaims home court from the Lakers, hitting 8 three pointers, which set a new Finals record. He carried the Celtics on an evening when Pierce and Garnett went a combined 4 for 16 from the floor.
3. 2001 Eastern Conference Finals, Game 6 – Ray Allen erupts for 41 points in a home win over the 76ers, to force a Game 7 back in Philadelphia. The Bucks would end up losing Game 7, marking the furthest that this core (Cassell, Robinson and Allen) would advance in the postseason together.
2. 2005 Western Conference Semifinals, Game 6 – Ray Allen pours in 25 points and misses the game wining three pointer by a hair, sending the Sonics home in 6 games. To this day, everyone in Seattle (ok no one cares anymore) wonders what happens to that franchise if his shot doesn't roll off the iron as time expired.
Underrated Sonics story line that isn't talked about enough: What if Ray Allen stays in Seattle after the 06-'07 season and Seattle pairs Allen with Kevin Durant as one of the most lethal 2/3 combinations in the game. Just a thought.
1. 2013 NBA Finals, Game 6 – Allen buries a right-corner three with 5.2 seconds left to tie the game and send it into overtime. The Heat would go on to win Game 6 and Game 7 at home to take their 2nd consecutive NBA championship and third title in 8 years. This does not happen if Allen is not on the court for that final play of regulation.
Winner: Reggie
Full disclosure: I started this post with the notion that Ray Allen would end up winning out this argument and being remembered for having the greater career than Reggie Miller. After hours of writing and digging through old games and statistics, my thesis comes to close with only one conclusion: Reggie Miller enjoyed a greater career than Ray Allen.
This was incredibly tough, but below are the main reasons why Reggie prevails:
Reggie carried mediocre Pacers teams to the playoffs in 15 of his final 16 seasons. That's incredible. To put this in perspective Jordan brought his Bulls and Wizards teams to the playoffs in 12 of his 14 full seasons.  As 1st banana, Ray Allen took the Sonics to only one playoff appearance during his five seasons in Seattle and was never truly the lead guy in Milwaukee or Boston.
Ray Allen and Reggie Miller were two of the greatest 1A stars the NBA has ever seen. Both were stars but not of the Kobe, Jordan or Bird variety. They were never that. They're both two of the most prolific shooters to ever play the game but never had the multifaceted game or the defensive chops to be considered in the class of a true star. With that being said, Reggie carried mediocre to bad Pacers team to the playoffs for every season for a decade and a half! His best teammates were washed up veterans, such as Chris Mullins & Mark Jackson, the Davis Brothers (Antonio & Dale), Rik Smits, Brad Miller, Jalen Rose, Al Harrington, Ron Artest and Jermaine O'Neal.
Wow – now that's quite the supporting cast! No disrespect to any of those players but compare Reggie's supporting cast to the players that Ray Allen has enjoyed playing with, particularly during the past six seasons.
Sam Cassell (2 times, on Bucks & Celtics), Glenn Robinson, Michael Redd, Rashard Lewis (2 times, on the Sonics & Heat), Paul Pierce, Kevin Garnett, Rajon Rondo, Dwayne Wade, LeBron James and Chris Bosh.
You tell me who had the better supporting cast over the years. Outside of Ray Allen's 5 years in Seattle  (when his roster was devoid of any all-star talent outside of Rashard Lewis), Ray has enjoyed not only all-star caliber players, but Hall of Fame type supporting casts.
Final point – Fans, coaches and teams legitimately feared Reggie in his prime. Even as a Bulls fan in the 90's and a Knicks fan in the 00's, I was always on the edge of my seat, hoping Reggie would miss one of his off-balance leaners or catch and shoot jumpers in the waning seconds of a playoff game. He just had a knack for ripping out Bulls' and Knicks' fans hearts. He did it to me several times, where I just shook my head, staring at the TV screen, hoping that what I had just seen was not true.
I never felt the same way about Ray. He's an incredible shooter, big time scorer, crunch time killer, but he never struck that element of fear in me that Reggie so frequently did over a decade span ('94-'04). Reggie's dance after his Game 4 three-pointer against in the Bulls in '98 will forever remain etched in my memory. Reggie was an immortal closer and everyone hated him. I just don't hate Ray; the guy is a stand-up dude.
Fear to me is the biggest quality that separates these two greats and for me, that's what gives Reggie the ultimate edge.