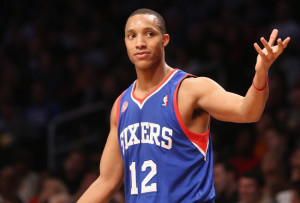 That took a few tries, but I think I found the right adjective for the surely tempered expectations following the conclusion of yesterday's NBA trade deadline. There were no big names on the move, no Pau-Gasol-to-the-Lakers or Ray-Allen-to-the-Sonics, but enough happened over the NBA landscape to warrant talking about. Or at least enough happened to pick winners and losers, and to poke fun at the Knicks. So let's dive in.
Winner – The Philadelphia 76ers
Already the belle of the NBA-tanking ball, the 76ers found a way to out-do even themselves, acquiring three second-round draft picks and forward Danny Granger through two separate trades yesterday. Not only did they rid themselves of pending unrestricted free agent Spencer Hawes, who was probably leaving anyway, but they shipped Evan Turner out of town, who currently has the lowest PER1 (13.3) of any NBA player scoring more than 15 ppg. In addition to their hoard of picks, Danny Granger is now where he was always meant to be; taking too many shots on a lottery team.
Winner – The Golden State Warriors
The Warriors traded two young guards (Kent Bazemore and MarShon Brooks (who weren't playing anyway) to the Lakers for veteran guard Steve Blake, hoping to fill the void left by Jarrett Jack's departure. Blake's minutes will most likely drop dramatically, but his importance to the team will only increase. As difficult as it was to see him go, I'm glad he went to a possible contender. I think my range of emotions was captured correctly just before Lakers tipoff on Tuesday night.2
Lakers what the ef are you doing?!? I'll miss you, Steve Blake. Great Laker, even better actor. Loved you in Tokyo Drift.

— Doogie Schratweiser (@DoogieSchrat) February 20, 2014
Winner – Fake High-Five Guy
Loser – Dwight Howard
Courtesy of my good friend, Kevin3, who emailed this to me with the message "with the way the season is going for ya, figured this might pep ya up." And did it ever.
I hate Dwight Howard. I love Kevin.4

Loser – The Brooklyn Nets
Per NBA.com, The Nets currently have the second worst rebounds-per-game average in the entire league. So it would make sense to trade your best rebounder in Reggie Evans, along with former Maverick and current dead body Jason Terry, for Marcus Thornton. Don't know Marcus Thornton? He's the guy averaging 8.3 ppg this season for an 18-36 Kings team. Aside from an insane 42-point outburst against the Pacers at the end of January, his season-high in points is 24; which he tallied against the Nets. Perfect. Let's trade for that guy; he scored 36 points against the Heat one time!5
Already comically over the luxury tax, the Nets somehow found a way to add more salary while simultaneously weakening the spot on their team in need of the most help. That's tough to do.
Loser – The Cleveland Cavaliers
As the NBA trade deadline was rushing to its conclusion, the Cavs decided to package Earl Clark, Henry Sims and two second-round picks to the 76ers for Spencer Hawes. In doing that, Cleveland was able to trade for player who isn't just an unrestricted free agent at the end of the season, but also someone who most likely won't be returning to their team next season, just for a potential run for the 8 seed in the East. Wait… I feel like that already happened. Didn't it?
Welcome @LuolDeng9 to the Cleveland Cavaliers!

— Dan Gilbert (@cavsdan) January 7, 2014
Oh that's right, it did already happen! As Bill Simmons would say, whenever you have the chance to give up five draft picks for two players that will probably leave after the season anyway, you have to do it! Doesn't this feel like something the Knicks would do? Speaking of…
Who Knows?6 – The New York Knicks
They made the right decision in standing pat at the deadline. Any move they would've, or could've made is a lateral one, plugging a hole while opening another. Unless they had decided to completely blow it up7, there wasn't a whole lot to be found in the ways of team improvement.
And hey, even though your starting point guard is still Raymond Felton, look on the bright side, Knicks fans; somehow you guys managed not to completely screw something up!
For now.
Disagree with my assessments? Interested in telling me off? Have a case of the Mondays? Find me on Twitter (@DoogieSchrat) or drop a line on our Back of the Jersey Facebook & Twitter  pages! Proper grammar isn't required, but it's encouraged!