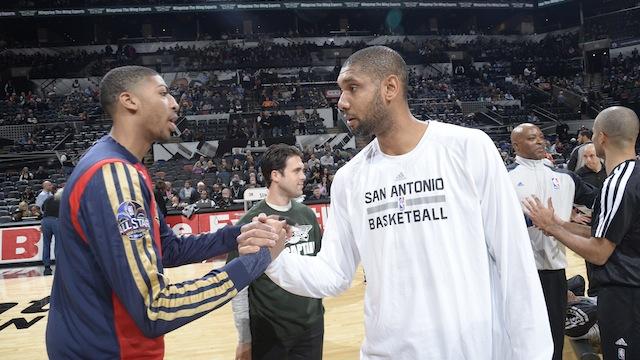 For more of our 2014 NBA preview, click here.
Jim Armstrong
If the Mavericks vs. Spurs game is any indication, we're in for a great NBA season. The Rick Carlisle led Mavericks match up well with the Spurs and compete with them better than any other team in the league (as evidenced by their 7-game heavy weight tilt in the first round of the Western Conference Finals last year). Last night's matchup came down to the wire, with the Spurs hanging on, 101-100.
In this vein, I would like to dedicate the next several hundred words to the best player of his generation, Kobe Bryant Tim Duncan, and place proper perspective on just how dominant and transcendent Tim Duncan has been during his illustrious 17-year career.
Duncan has outlasted everyone from the 1998 draft. The only guys still in the league from that draft are Paul Pierce (still playing at a high level) and Vince Carter (key glue guy on playoff teams the last several years). For a 6'11 power forward to outlast everyone but two Hall of Fame small forwards speaks to Duncan's durability and ageless game, particularly at such a physically demanding position.
Speaking of durability, Duncan has never missed more than 16 games in the regular season. In 2014-15, Duncan is the 3rd oldest NBA player in the league, behind only Steve Nash (out for year and likely done for his career) and Andre Miller, who are both point guards.
Let's compare Duncan against the pantheon of all-time greats. We'll go one-by-one through key statistics and how he stacks up against the best (hint: he is one of the best of all-time).
Rebounding: Duncan ranks #11 all time in rebounds and will likely move up 3-4 spots alone this season (Kevin Garnett ranks just ahead of Duncan, at #10 all-time, about ~200 rebounds ahead). Duncan has corralled more boards than Shaq, Hakeem Olajuwon, Charles Barkley and Dennis Rodman. He has never averaged less than 8.9 RPG in a season and averaged double digit rebounds for the first 13 seasons of his career. Rodman finished his career with 10 consecutive double digit rebounding seasons (albeit he played a combined 25 games in his final two seasons) while Barkley finished his career with 15 consecutive double digit RPG seasons. Malone had double digit RPG in 9 consecutive seasons. Shaq managed to equal Duncan's 13 consecutive double digit rebound seasons but also had 2 inches and 80 pounds on Duncan for much of his career.
Scoring: Duncan sports a career 19.9 PPG. Duncan has never averaged less than 13.4 PPG ('10-'11 season) and has never scored more than 25.5 PPG ('01-'02 MVP season). Tim Duncan sits #19 on the all-time points list and is poised to surpass Jerry West, Reggie Miller, Alex English and has an outside shot at surpassing John Havlicek (Paul Pierce and Kevin Garnett are also both ahead of Duncan).
Fun fact: Vince Carter is the #25 scorer in NBA history….wow.
Field Goal %: To further burnish Duncan's legacy, he currently sits in the 91st spot all-time for field goal percentage, with a career shooting percentage of .5060.
Blocks: Blocks is a bit of a misleading stat since this wasn't officially recorded until the 1973-74 season. With that being said, since this time Duncan ranks #7 all-time in total career blocks and will likely surpass Patrick Ewing this year to claim the #6 spot.
Duncan is really, really good and we should relish every moment we have with him. Every blocked shot. Every post up. Every turn-over-the-should mini jumper. Every bunny-hook. Duncan has a bevy of moves at his disposal, a set of moves unique only to Tim Duncan.
Tyler Michels
With the NBA season now underway, there are numerous question marks surrounding teams, players, and first time coaches. Some are obvious and have been covered at great lengths by the mainstream sports media. For example, how will the Cavs gel with Love, Irving, and LeBron? Or, questions swirling around Durant's injury and the open contest (or at least perceived openness) of the Western Conference.
Here are three obscure questions that can generate some discussion and critical thinking as we head for the elongated 82-game season:
Can Kyle Lowry possibly be as good as last season?
Short answer: No.
I think Lowry reached his max potential in a contract year last season for the Toronto Raptors. He's a very talented player – undersized, yet strong. I'm not sure we can assume 18 PPG and nearly 8 APG from him yet again. I think he will be solid, it is important to note he is in the smack middle of his prime at age 28. However, I expect Lowry to fall off a bit with the new contract and lingering injuries.
Will the Bucks repeat as the worst team in the league?
On paper, this Bucks team has greatly improved since last season, which featured a league low 15 wins. It all starts with head coach Jason Kidd. I think he brings a new energy to the franchise, which it has lacked for quite some time. Jabari Parker was selected 2nd overall, a sensational 6-8 forward out of Duke, who reminds me of a young Carmelo Anthony. The additions of Jared (Dudley) and Jared (Bayless) also help – two veteran scorers who can provide extremely valuable leadership, if nothing else. In combination with another year for young players like Giannis Antetokounmpo, John Henson, Larry Sanders, and Ersan Ilyasova, I think this is a potential playoff team in a top-heavy Eastern conference.
A Year to be King?
No, this isn't about LeBron James.
Let's take a second to consider the Sacramento Kings as a playoff team. It will be really, really difficult in the Western Conference, but with their roster, I think it's clearly possible. The loss of Isiah Thomas undoubtedly hurts, a player who was coming off a career season averaging 20 PPG and 6 APG. But Sac-town has added veteran (and underrated) point guard Darren Collison, who could be considered on par with Thomas. The former UCLA standout shot nearly 47% from the field last season and averaged 11.7 PPG and 3.7 APG in just 25 minutes of action per game with the California rival Clippers. The biggest surprise may be the consistency I expect out of DeMarcus Cousins and Rudy Gay – the two are coming off an impressive summer for Team USA in the FIBA World Championships. Add in the fact that their roster consists of young players ready to take the next leap: Ben McLemore, Derrick Williams, and promising rookie Nik Stauskaus, at the very least, this should be a fun team to watch.
LeBron may be crowned World Champion in June, but the Kings may be the biggest surprise in the 2014-2015 campaign.
Rory Goulding
It's Anthony Davis' World, We're Just Living in It.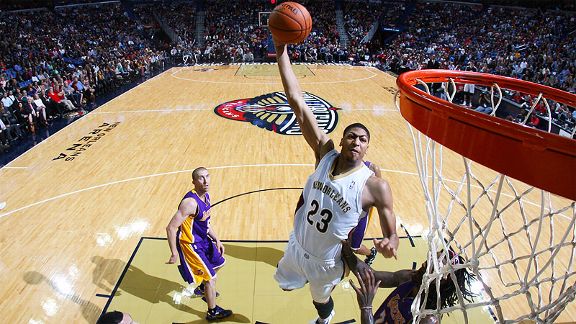 Aside from some guy over in Cleveland, who will not be named by me in this post, the NBA is living a world without many superstars. Kevin Durant is missing at least the first month of the season due to injury, Paul George is missing the entire year, James Harden doesn't play defense, Derrick Rose may never be the same, and Dwight Howard is (and always will be) just the worst. Then there's the almost-superstars, great players who aren't quite able to crack the top tier. Guys like Steph Curry, Russell Westbrook, Kevin Love, DeMar DeRozan and Josh McRoberts.1
This leaves a wide-open avenue for the next breakout NBA superstar to come crashing into our lives. Personally, I've boiled it down to two guys who have the potential to enter that stratosphere this season – Blake Griffin and Anthony Davis. Let's talk about the one with the unibrow.
Last year, Davis, in only his second NBA season, averaged 20 points and 10 rebounds per game, while leading the league in blocks per game and block percentage, becoming only the 8th player in NBA history to average 20-10-2 in his second NBA season.2
Then this summer, as more and more players continued to drop out from US National team, Davis emerged as one of the leaders on a young, unproven team that won gold at the FIBA Championships this fall, averaging 12-6-2 while shooting 55% from the field and being named to the FIBA All-Tournament Team. Had it not been for a few games with foul trouble, Davis most likely would've been named MVP of the entire tournament. Adding to his long list of accolades, he will also be the next NBA jersey to join my personal collection, which is probably the most prestigious honor that one could ever achieve.3
There wasn't a whole lot of room on the bandwagon when I hopped on last season, so act quick, because seats are running out. Especially after last night's insane 27 point, 17 rebound and 9 block performance, which wasn't only impressive, but history making:
Anthony Davis is the 1st player with 25 pts, 15 rebs and 9 blks in a season opener since blocks were first recorded in 1973-74 @EliasSports

— NBA History (@NBAHistory) October 29, 2014
It might be because he plays a non-flashy position, it might be because he plays for the Pelicans, or it might be because he only has one eyebrow, but Anthony Davis hasn't gotten the fanfare that his gameplay commands; the guy needs to be on your NBA radar, like now. He's the real deal, folks. Oh, and by the way, he's only 21 years old.
A reminder that Anthony Davis is younger than Doug McDermott, Shabazz Napier and Mitch McGary.

— Tom Haberstroh (@tomhaberstroh) October 29, 2014
As he ascends to superstardom, becoming one of the best 5 players in the NBA this season, just remember to thank me for giving you the heads up. And for showing you this: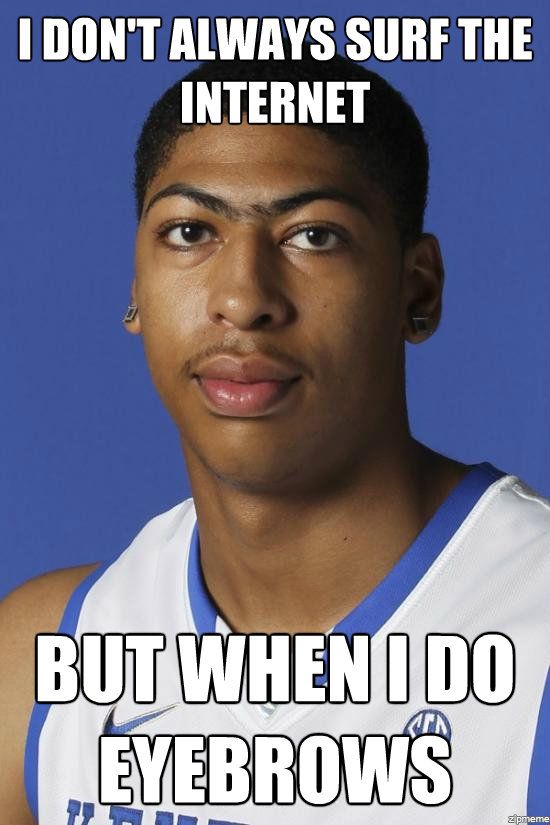 More of our 2014 NBA Preview: