If you missed Part I of our NBA Playoff Preview from yesterday, go ahead and check it out now.
Before we dive into the Western Conference playoff preview, let's start with some personal history. My adolescence was spent in the heyday of streetball's peak,  when two of my greatest affections, basketball and hip hop, formed an inseparable bond.
The year was 2003, and the 9th grade version of me couldn't get enough of both basketball and rap music. Thankfully, I picked a great time to fall in love with them. And1 had its own show on ESPN, off of the success of their mixtapes1, NBA Street Volume 2 had just come out on Xbox, and even MTV got in on the action with their streetball reality show "Who's Got Game?". It was the culmination of a hip hop/basketball merger that needed to happen. Although it had been around for decades2, streetball had found its way into mainstream America; it was  a new way to enjoy the game of  basketball.
"Rory, what does this have to do with the NBA Playoffs?" Great question! Why didn't you just ask that yesterday? The experience of watching basketball, specifically highlights of dunks, alley-oops, blocks, or basically anything, is enhanced by hip hop, I'd argue, more than any other form of music (gasp!). You'd like some evidence? I thought you'd never ask.
That was broadcast by ESPN in 20073, immediately following the conclusion of the NBA regular season. I think in the few weeks during finals I watched it about 7,589 times, and I still watch it before rec games to get myself hyped up.
Since we (probably just me) got so much enjoyment of making my friend DiS listen to rap music and describe his feelings, we'll keep that going through the Western Conference.
(2) Oklahoma City Thunder vs. (7) Memphis Grizzlies
The Lox vs. Jedi Mind Tricks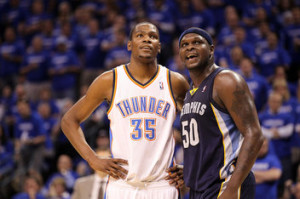 The Thunder have the opportunity to exact some revenge on the Grizzlies, who dispensed of them in five games in the second round  last postseason. Thankfully for the Thunder, they have point guard Russell Westbrook this time, who injured his knee in the first round and was forced to miss the remainder of the postseason. Despite having Westbrook back, Oklahoma City will have their work cut out for them as they see a Grizzlies team that is, for the most part, completely healthy entering the playoffs.
Now that I've thrown out the obligatory paragraph with the blandest preview of both teams, let's get to the hip-hop side of this matchup. The L.O.X., also known as D-Block, are composed of Jadakiss, Styles P and Sheek Louch, among a few others. Unless you're an unconditional rap fan, you've probably only heard of Jadakiss and Styles P. What's inhibited L.O.X. in achieving mainstream success, is their lack of a strong supporting cast4. Similarly in regards to the Thunder, Westbrook and Kevin Durant NEED to dominate every game in order for the Thunder to make a second finals appearance in the last 3 seasons.
Secretly, though, I'm the most excited to hear what DiS has to say about Jedi Mind Tricks, who may be the most vulgar group he'll have to listen to during this entire exercise.
Michael's Take:
The L.O.X. – "Survival in the City" vs. Jedi Mind Tricks – "Heavenly Divine"
Survival in the City portrays the hardships of life in a gritty urban metropolis, and doles out pearls of wisdom with lavish abandon, such as–and I'm sure you've never heard this one before–reading a contract before you sign it. Thanks, L.O.X., where would I be without you? But even the most jejune pointers about "survival in the city" prove too impressive for Jedi Mind Tricks to compete with. As for the lyrics in Heavenly Divine, well, somebody once said it better than I could:
(3) Los Angeles Clippers vs. (6) Golden State Warriors
G-Unit vs. Mobb Deep
Although some of the comparisons between hip hop groups and NBA teams may seem a bit far-fetched during our playoff preview, I have to say, the G-Unit-L.A. Clippers correlation seems dead on. The narrative between the two groups has an eerily similar feel. When 50 Cent began to take the hip hop scene by storm in the early 2000s, he had a categorically fast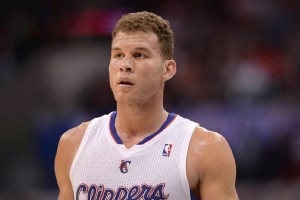 ascension to, basically, the top of the genre's mountain, which resembles Blake Griffin bursting onto the scene in 2010 after missing his entire rookie season with a knee injury. It was clear, like with 50 Cent, that Blake wasn't going anywhere, anytime soon. Then, like G-Unit signing The Game, the Clippers added another star in Chris Paul to make their unit (see what I did there?) complete. Similarly, as Blake rose to prominence, the backlash to his game only grew stronger, as players and members media continuously stated that Griffin was a showboat and a complainer, not a team leader, similar to the criticism that 50 took after releasing his movie. 5
I guess that's basically where the comparisons end, seeing that less than a year into his partnership with G-Unit, The Game was unceremoniously removed from the label. But hey, there's still time for Chris Paul and Blake Griffin to feud enough that one of them gets traded and releases a 14-minute freestyle diss about the other. I'm sure praying for that outcome.
Michael's Take:
G-Unit – "Hate It or Love It" vs. Mobb Deep – "Shook Ones Part II"
I had never heard of Mobb Deep before, which distinguishes them from these other "artists" in exactly zero respects. According to the critics masochistic enough to review rap music for a living, Shook One's Part was "an instant classic" and represented the pinnacle of Mobb Deep's output, "making it their signature song to this day." And with that, ladies and gentlemen, I know I never have to listen to Mobb Deep ever again. My observations about The Game Hate it or Love are fairly similar to Gang Starr's Moment of Truth, so you'll have to read on to see why G-unit wins this round.  
(4) Houston Rockets vs. (5) Portland Trail Blazers
Black Star vs. Nappy Roots
Remember when "AwNaw" first dropped? Say what you will about Nappy Roots lack of flow, but this beat was (and still is) catchy as hell. It was on the first CD I ever burned from my own computer, back in the days of Napster, Kazaa and Bearshare. You know, the good ol' days. But what's more important from the career of Nappy Roots is what happened following the success of their first album; which was nothing. Speaking of completely falling off, let's get to the Portland Trail Blazers. After starting the season 25-4, the Blazers have slowly faded into the background of the NBA landscape. Their fall wasn't drastic enough to merit a lot of conversation, which speaks volumes about  how their early season success was viewed as an unsustainable, rather than a statement from  a real contender. It pains me to say this, but like Nappy Roots, we may have already seen the best of what Portland has to offer.
If this post does nothing else, I hope it brings a wider scope of hip-hip to some of those not well-versed in the genre. A lot of people may not know of Black Star, at least by the group name, that is.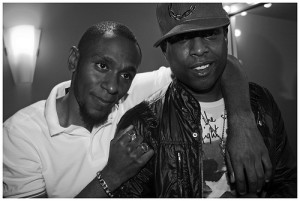 Mos Def and Talib Kweli are two of the biggest names in hip hop history6, and in 1999 they came together with numerous producers (most notably DJ Hi-Tek7) to deliver, "Mos Def & Talib Kweli Are Black Star" to the public. Like the Rockets, their stars may overshadow their overall product which, at certain times this season, has been exquisite. After ripping off a 15-2 record between January 28th and March 9th, Houston has drifted back towards the mean, tip-toeing quietly into the postseason without much fanfare. Don't count them out, though. Anytime you can pair a dominant big (HUH?) with a prolific guard, great things can happen.
Alright, I can't hold it in any longer, it's quick rant time: how has Dwight Howard been able to sink out of the limelight after submarining two separate franchises in two consecutive seasons? How does that happen? Don't let the disdain for Dwight Howard become a fleeting two-year phase! He must be punished! Boo him! Booooo him!
Michael's Take:
Black Star – "Respiration" vs. Nappy Roots – "Awnaw"
I envision Nappy Root's Awnaw as a sort latter-day theme song for the Dukes of Hazzard. Whereas Awnaw regales us with the antics of "them country boys," the great Waylon Jennings conjures up nostalgia for that idyllic time when "good ol' boys never meaning no harm" meant county commissioners named Jefferson Davis "Boss" Hogg. In America, tales of grown men in extended adolescence, obsessed with motor vehicles, and engaged in activity of questionable legality, is still a big sell. Excuse me while I go weep for my country. Black Star comes out on top, if for no other reason than not reminding me of Boss Hogg.
(1) San Antonio Spurs vs. (8) Dallas Mavericks
Gang Starr vs. UGK
The greatest hiphop duo of my lifetime (and, I'd argue, anyone else's) is the partnership of Guru and DJ Premier. Extending that thought, Gang Starr's "Moment of Truth" album, along with Wu-Tang's "Enter the Wu-Tang (36 Chambers)" are the two greatest hip hop records that I've ever heard. Guru's incredible flow, coupled with the production samples of DJ Premier, formed a perfect hiphop union between lyrics and sound. Sometimes things just come together perfectly, and the results are pure greatness.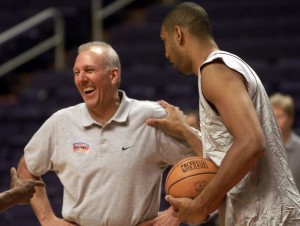 Does that sound familiar? Because it should. Since 1997, Gregg Popovich & Tim Duncan have been cornerstones of, debatably, the most successful coach-player tandem of all-time. During their 17 seasons together, the Spurs have compiled sixteen 50-win seasons (15 straight), appearing in five NBA Finals and winning four of them. The only season they DIDN'T win 50 games? The strike-shortened '98-'99 season, when they went 37-13 and won the NBA Title. That is insane, but it gets better. Duncan's sixteen 50-win seasons are more than 26 NBA franchises have had in their existence (in case any of you Knick fans were wondering, you've had 13). You heard that right – only FOUR NBA franchises have more 50-win seasons than Tim Duncan. Take a trip over to Pro Basketball Reference and check out Duncan's career Per 36 Minutes averages, which haven't wavered during his 17 seasons in the league. Watching their run in last year's playoffs was a special feeling, like seeing an old car still run at steadily after 20 years, because its pieces were constructed so perfectly that nothing could stop it.
All of this is too bad for Dirk Nowitzki, who, at age 35, has quietly had an impressive season, leading the Mavericks to the playoffs with a reduced supporting cast. Dirk's compiled a 21.7 PPG and 6.2 RPG line on 49% shooting, the second highest mark of his career. Dirk's impressive season aside, it's looking like, once again, we'll see the Spurs in the second round. Here's where I nervously hope DiS actually enjoys Gang Starr to the degree that I do.
Michael's Take:
Gang Starr – "Moment of Truth" vs. UGK – "Front, Back & Side To Side"
I like to think of Gang Starr's Moment of Truth as a kind of boy scouts guide to thug life. It's chief lesson can be summed up in a single phrase: life is "solitary, poor, nasty, brutish and short." If that sounds familiar to you, it's because it's taken from Thomas Hobbes' magnum opus, Leviathan. If you have no idea what I'm talking about, you might be fooled into believing that the Gang Starr duo are original thinkers, and not simply borrowing ideas from a four-hundred-year-old treatise on political philosophy. So, if that describes you, by all means, continue to plumb the inexhaustible depths of profundity contained in Gang Starr's lyrics. Because, after all, what's the alternative, listening to UGK describe in painstaking detail the interior of a 1964 Chevy?  I'll pass: Gang Starr, for the win.
If you guys stuck around for this entire experience, I hope you left satisfied. Here's to a great NBA postseason, and to Michael DiSiena's transformation into hip hop connoisseur!