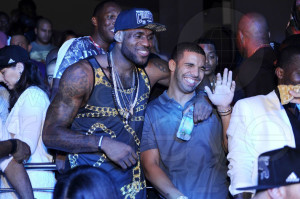 The end of the NBA regular season is always exciting. It signals the end of the spring semester in college and the beginning of summer. It's one of my favorite times of the year, when the best teams and players in the NBA actually start trying in EVERY game, not just some of them.
I don't want this to be like any old post previewing the playoffs, so we're going to throw in a few wrinkles. But before going any further, I'd like to shed some light on an important part (likely the most important) of my writing process:
One of my best friends from college, Michael "DiS" (pronounced "Deese") DiSiena, has been the saving grace of my writing; not just  during  my time at Back of the Jersey, but for a great deal of my college writing, too. College essays, term papers, angry emails to friends – all of it was written  under DiS' scrutinizing spectacled eyes.1 As my personal editor since joining Jim and Tyler at Back of the Jersey, DiS has  made sure that the product you see is, at the very least, grammatically correct (while also contributing some hilarious material of his own). But despite his help in ensuring that my material is worthy of posting, what you guys don't get to see are his comments, corrections, and thoughts directed to me about some of the source material, which many times is out of his  area of expertise.
Having said all of that, I thought there would be no better way to preview the NBA postseason than exposing you to the mind of Michael DiSiena. Specifically, by forcing him to read about basketball and listen to rap music, two things he knows almost nothing about, while providing me (and us) with his thoughts on both topics. DiS will determine who's going to win each series based solely on his opinion of the two songs I've chosen at random for each first-round matchup.2
Since we've got a lot to cover, I'm going to be splitting this bad boy into 2 parts. The Eastern Conference today, and the West on Friday. Enjoy.
Let's have DiS take us out:
First things first. When Rory asked me to offer my views on the relative aesthetic merits of various selections from the rap music genre, I was a bit reluctant.  You see, like any civilized human being, I abhor rap music, and am moreover convinced that music in general started going downhill, perhaps not coincidentally, around the same time James Naismith invented the game of basketball.  So I regard this to be a nearly impossible task, almost like choosing between eating garbage like McDonalds and actual garbage. But, never one to give 'no' for an answer, here goes nothing.
NOTE: Everything in normal type consists of my own thoughts, while the bold sections are courtesy of Michael DiSiena.
(1) Indiana Pacers vs (8) Atlanta Hawks
"The Diplomats vs. Lil' Scrappy"
Considering the roster makeover they've had, it's easy to forget that just four seasons ago the Hawks were a 50-win team, and arguably just a piece or two away from challenging for a spot in the Eastern Conference Finals. By signing Paul Millsap  on a relatively cheap contract (2 years, $19 million)  last offseason, Hawks GM Danny Ferry found a way to purge  toxic contracts (Joe Johnson in 2012, Josh Smith in 2013) from the roster while acquiring  future assets  to keep his team relevant.
On the flipside, the Pacers seem to be in some real trouble. Since their trade deadline deal for Evan Turner and subsequent acquisition of real-life crazy person Andrew Bynum, Indiana has been in a complete tailspin,  stumbling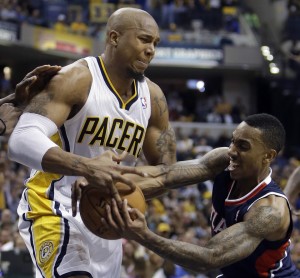 into the top seed in the East after going 6-10 in their last 16 games.3 If the Pacers' team chemistry and identity was fragile enough to be shaken by the departure of Danny Granger, what's going to happen if they're down 3-2 against a lesser opponent? Who steps up if Roy Hibbert and Paul George stay in their funk? Lance Stevenson? And, perhaps most importantly, who will cut Andrew Bynum's hair when the team goes on the road?
The Diplomats, like the Pacers, are a team of highs and lows. And just like Indiana's top three players  George, Hibbert and Stephenson, the top three Diplomats (Cam'ron, Jim Jones, Juelz Santana) are excellent when they have it all put together, possessing the talent to go against anyone. It's just a matter of letting your stars work together, and making sure Evan Turner doesn't do anything stupid. Or,  as with the Diplomats, letting Hell Rell record a song with Katt Williams.
Despite coming into the postseason with a ton of questions, Indiana won't need to answer many of them until Round 2.  Then again, let's see what DiS thinks:
Michael's Take:
The Diplomats – "Dipset Anthem" vs. Lil' Scrappy – "F.I.L.A"
I'll be honest, these songs sounded nearly indistinguishable to me.  Both proceeded on a sort of stream of consciousness basis reminiscent of the prose style of James Joyce who, if memory serves, was the founder of ebonics.  Although it sounded like one of the rap songs played to antagonize GITMO detainees (that's right, rap enthusiasts, your music doubles as a torture device), Lil Scrappy's piece did at least have a common thread throughout, which was the repeated profession "Forever I Love Atlanta"  with a soloist responding, naturally enough, with an incredulous "What!?"  As we already established, I don't like dishonesty, and, Lil Scrappy, I'm sorry, but I just don't believe you.  Dipset gets the nod here.
(4) Chicago Bulls vs. (5) Washington Wizards
"9th Wonder & Buckshot vs. Capone-N-Norega"
Wizards fans have been waiting for John Wall to lead their team into the postseason since drafting him in 2010, and now they finally get their wish. However, they find themselves looking down the barrel at a Bulls team that loves getting physical, and has basically nothing to lose.
Only Samuel L. Jackson as Coach Ken Carter in "Coach Carter" got more out of less than what Bulls' head coach Tom Thibodeau's done with this year's Bulls team. 4And how about Joakim Noah this season? The guy's AVERAGING almost a triple double since March, while leading the Derrick Rose-less Bulls  to the 4-seed in the East. Noah's placed Chicago on his shoulders, completely absorbing the mentality of head coach Tom Thibodeau. Although Nate Robinson, who single-handedly changed the outcome of the Bulls' Round 1 series against the Nets last year, is absent from this season's Bulls team, I think they'll have plenty of firepower to get past the Wizards.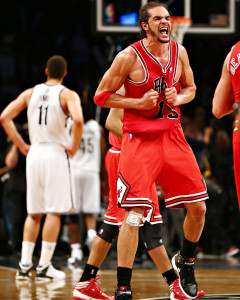 By the way, one of the most popular stats floating in the NBA talking head annals is the Nets impressive 34-17 record since January 1st. Only one team in the East has a better record in 2014 than the Brooklyn Nets and yep, you guessed it, that team would be the Chicago Bulls, who finished 2014 with a 35-15 record.
Despite the accompanying fanfare of the other three marquee matchups in the East, this one has me the most excited. In that vein, two of my favorite (and most underrated) groups fit perfectly with these two teams. 9th Wonder, one of best current producers, pairs with Buckshot (of Black Moon) on two of the greatest albums of my collegiate life. Like Thibideau's instant effect on the Bulls, 9th Wonder stepped in and promptly created an element of his own after pairing with Buckshot Shorty. As one of my all-time favorites, picking just one song from their canon proved difficult.
Michael's Take:
9th Wonder & Buckshot – "Go All Out (No Doubt!!!)" vs. Capone-N-Norega – "Invincible"
Here, we have a clear-cut winner.  There was something mystical, something hypnotic, some alluring je ne sais quoi about Buck Shot & 9th Wonder's "Go All Out".  Also worthy of mention is the fact that, as far as these classically-trained ears could tell, there was not a trace of vulgarity, recourse to which almost always indicates of a dearth of talent.  Although saying so is itself an indictment of the whole rap genre, these are significant accomplishments.  I'm sorry, Al Capone, you don't even get a hearing. 
(2) Miami Heat vs. (7) Charlotte
Hornets

Bobcats

"Drake vs. State Property"

Let's not spend too much time here, because I'm already annoyed that I decided to write a topic in which the Heat need to be discussed. Anyway, here goes:

Drake sucks5. There, I said it. Like the Miami Heat in basketball, he is the most powerful and popular force in his genre . Whenever I see LeBron whining about a foul, I just hear Drake crying about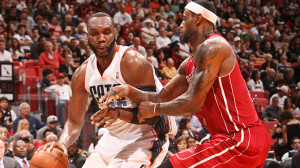 how tough his life is. Neither of you started from the bottom. You were on Degrassi, Drake. Get real. Aside from Al Jefferson's MONSTER year for Charlotte (averaging 22 points & 11 rebounds on 51% shooting this season), there's really not a lot to talk about with the Bobcats, other than the fact that two years ago I almost convinced my brother to get me a Bismack Biyombo jersey for my birthday. Whew, I really dodged a bullet on that one.
BEST case scenarios for this series:
Dwyane Wade reverting back to 2007 and refusing to play unless he can wear a band-aid under his left eye
Al Jefferson turning into '00-'01 Shaq and completely destroying the Heat's interior defense, forcing Chris "Birdman" Anderson to retire midway through Game 3
Norris Cole sleeping with Lebron's Mom
Eric Spoelstra getting removed from American Airlines Arena after being mistaken for a drunken businessman who wandered onto the court
Al Jefferson sleeping with Lebron's Mom
Someone finally calling out Chris Bosh for his unfunny photo and video bombs
Michael's Take:
Drake – "Started From the Bottom" vs. State Property – "Gotta Have It"
When I hear the word "drake" I think of a mallard gracefully gliding along a placid pond in the early morning mist.  When I hear "Beanie Sigel", on the other hand, I think of the next Jewish mayor of New York City.  Not being a great admirer of Michael Bloomburg or Ed Koch, that would normally settle the matter right there, but I kept an open mind and actually listened to both songs. 
The first piece was a real treat.  What I heard was a delightful up-from-poverty story evocative of the best of Horatio Alger. Unfortunately, I ruined it for myself by reading about this Drake fellow. As it happens, he was born and raised in Toronto in perfectly respectable bourgeois circumstances.  I hate Canada as much as the next guy, but if attending a private boarding school in Toronto is "starting from the bottom" then language has lost all meaning.  And, apparently, Drake has a habit of deception, as he has just been accused of copping someone else's lyrics.  You want to hear a real story about beating daunting odds and making a success of yourself, then Supreme Court Justice Clarence Thomas, not Drake, is the way to go.  Beanie Sigel wins this round, if only by default. 
(3) Toronto Raptors vs. (6) Brooklyn Nets
 "Cypress Hill vs. Public Enemy"
On May 31st, 2013, Masai Ujiri signed a 5-year deal to become the new GM of the Raptors. In doing so, he agreed to take over a team that had seen only one winning season since '01-'02. Despite coming off a successful tenure as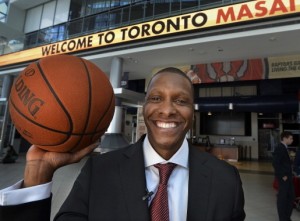 general manager of the Denver Nuggets, Ujiri had his work cut out for him. However, in less than a year, Ujiri improved the team's salary cap flexibility by trading  away  Rudy Gay and  Andrea Bargnani, constructed a legitimate playoff team and wisely  did not  pull the trigger on a deal that would send Kyle Lowry to the Knicks for obscure gun enthusiast Ray Felton.6
At first glance, this series has a happy-to-be-here feel for the Raptors, who haven't seen playoff action since 2008, and are facing a Nets team with seasoned playoff veterans. But the Raptors have a strong team, and getting the 3-seed should count for something. Besides, the Nets are a very fragile team, and you know Kevin Garnett, Paul Pierce, Deron Williams or Andrei Kirilenko can go down with an injury at any moment.
It's crazy to think about how quietly Paul Pierce and Kevin Garnett may exit the league, especially contrasted against the way Tim Duncan most likely will ride into the sunset. As Jim Armstrong wrote earlier this week, we might be looking at the final postseasons for Garnett & Duncan, and while Duncan and the Spurs have the West's top seed sewn up, Garnett & the Nets are looking at the very real possibility of an unceremonious first-round exit.
Michael's Take:
Cypress Hill – "Tequila Sunrise" vs. Public Enemy – "Harder Than You Think"
Permit me to quote from Plato's Republic.  For those following along at home, I am citing section 401d: "[R]hythm and harmony permeate the inner part of the soul more than anything else, affecting it most strongly and bringing it grace, so that if someone is properly educated in music and poetry, it makes him graceful, but if not, then the opposite."  In that vein, Public Enemy's album, entitled, "How You Sell Soul To A Soulless People Who Sold Their Soul" does not portend promising results.  In fact, at the risk of sounding cantankerous, that seems to encapsulate the conundrum for the entire rap industry.  American author Saul Bellow tells us that "A great deal of intelligence can be invested in ignorance when the need for illusion is deep."  Nobody denies that composing the lyrics and instrumental accompaniment to any form of music requires some talent.  But it seems to me that the singular illusion propagated by the purveyors of rap is that the lifestyle they portray and glorify and oftentimes lead has the slightest thing to do with the human happiness.  So, thanks for perfectly illuminating the essence of your industry, Public Enemy, you win.  Of course, your music still sucks.  
You heard it here first, folks. According to DiS, bet on the Pacers, Wizards, Raptors and Bobcats making it to the second round.
See you guys tomorrow for Part 2.