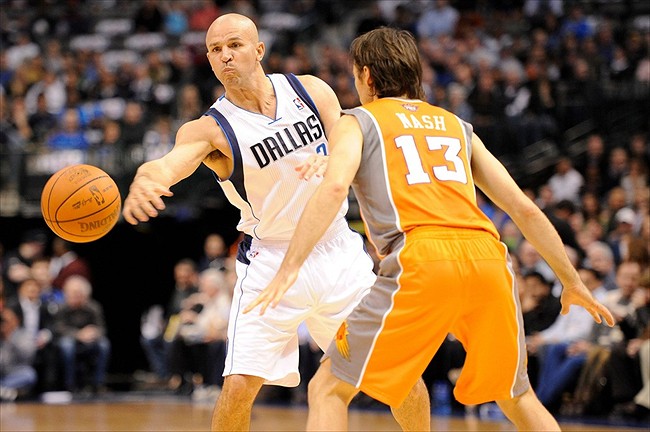 Before you skewer me for writing about the NBA in mid-August, when I clearly have been neglecting the NFL, which commences in just over two weeks, know that I'm doing this because I need to get the NBA out of my system. Frankly, right now I'm just more excited about the NBA than the NFL and I know this will change in 17 days, but for now basketball still consumes me.
For any basketball fan currently between the age of 18 and 32, you have had the pleasure of growing up with two all-star, (soon to be) Hall of Fame point guards, in Jason Kidd and Steve Nash. These two men mastered their craft over a 15-year period of time, which didn't quite align (Kidd's reign of dominance came a few years before Nash's). When it's all said and done, both will have played in the neighborhood of a combined 40 NBA seasons (Kidd – 20 seasons, Nash – entering his 18th season at age 39).
The Similarities between Nash and Kidd
Nash and Kidd's careers overlapped in more ways than you think. Kidd and Nash entered the league just 24 months apart, in '94 and '96, respectively. They both played the bulk of their careers out of the national spotlight, in towns where basketball was not the main attraction. Although Dallas and Phoenix are both top 10 US markets (by population), ranking #9 and #6, respectively, in terms of population, they are not basketball hotbeds by any stretch of the imagination (apologies to fans of either team). Football rules in Dallas, where the Cowboys were recently named the #1 most valuable NFL franchise by Forbes. If pro football doesn't rule the roost there, then fans are clamoring over a number of decorated college football programs that populate the mid-section of that state. Although Phoenix has had a slew of good teams in the last 25 years (re: Barkley, Kidd, Nash-led teams), the national media seems to sidestep Phoenix and focus on larger markets (such as New York, Chicago and LA) and smaller markets that have rabid fan bases and/or are steeped in tradition (Boston, Oklahoma City).
Their similarities get even stranger. Both players were drafted by a team and then traded by that team within three years, only to return to that team to play the bulk of their career. Stay with me here. Kidd was drafted by the Dallas Mavericks with the 2nd pick in the 1994 draft (one spot behind Glenn "Big Dog" Robinson and one spot ahead of Grant Hill), only to be traded to Phoenix three seasons later. After five seasons in Phoenix and six seasons in New Jersey (RIP), he was traded in February '08 (one month shy of his 35th birthday) back to the Mavericks. There he tallied another 5.5 seasons in Dallas in his second tour of duty, accruing a total of 8.5 seasons of service in Dallas and then playing out his final season in New York last season. By pure percentages, Jason Kidd played over 42% of his career regular season games (8.5 out of 20 seasons) with the Mavericks, more than any other of the three teams that he played for during his illustrious career.
The same can be said for Nash. He was drafted 15th overall by the Suns in the 1996 draft and after only two seasons with Phoenix, was shipped to Dallas. If you're following me here, Kidd played 12.5 of his 20 seasons for Dallas and Phoenix, while Nash has played 16 of his 17 seasons on the same two teams. As I said…very eerie. After six largely successful seasons in Dallas (particularly his final four seasons), Phoenix nabbed Nash in the summer of 2004, prior to his age 30 season. Phoenix lured him with a 5 year, $65 million deal and Cuban never matched the offer.
Cuban viewed Nash as a point guard who was hobbled with a chronically bad back, and was a guy who Cuban did not foresee aging well into his 30's.
 For the record, Nash won his argument, enjoying his best years on Phoenix from age 30 through age 38, winning the MVP award in consecutive years, in '05 and '06, and as recently as 2010, was still being considered as arguably the best point guard in the league. To this point, Nash's Suns days account for nearly 60% of his NBA career (10 out of 17 seasons).
More similarities: both Nash and Kidd played on four teams during each of their NBA careers, with the time split between Phoenix and Dallas representing the largest percentage of each player's respective career.
The moral of the story: both Kidd and Nash were drafted by the teams that they eventually played with for the bulk of their careers, but in this case, each player's path was the opposite of the other player. Nash was drafted by Phoenix, jettisoned two years later and returned to Phoenix six years later. Kidd was selected by Dallas in '94, only to depart three seasons later and after 11 seasons away (Phoenix & New Jersey), he returned again to Dallas for 5.5 seasons. Also, don't forget that Nash and Kidd were teammates for two seasons, from '96-'97 to '97-'98.
Their Timing was Prescient
These two guys entered the league during one of the least talented eras of point guard play in recent memory. Kidd and Nash entered the league right when the stud point guards of the 80's began to wind down and before the dynamic point guards of the mid to late 2000's really got going. Below are players from both camps: those that were winding up illustrious careers and those who were supposed to take the reins but failed to, for one reason or another, during this time period
Magic Johnson was out of the league after the 1990-'91 season had concluded and made a brief 32 game comeback during the '95-'96 season, as a heavier power forward. Isiah Thomas retired following the '94 season, prior to Jason Kidd's first season in '94-'95. Danny Ainge retired following Kidd's rookie season and Mark Price's last great season was in '94'-'95…again, Kidd's rookie season. Are you sensing a trend here?
John Stockton kept on churning out seasons through '02-'03 (his age 40/41 season) but his last double digit assists and points season came during the '96-'97 season, in his age 34/35 season.
Penny Hardaway was supposed to be the heir apparent to Magic but after only his third season in '95-'96, he underwent the first of six knee procedures and was never the same player.
Then you had guys like Damon Stoudamire and Terrell Brandon who were good in the late 90's and early 2000's but weren't quite good enough to claim a spot among the NBA's elite point guards.
Due to the dearth of point guard talent during the late 90's and early 2000's you had teams like the Rockets and Knicks trotting out point guards in Matt Maloney and Charlie Ward, respectively, who both should have been 2nd stringers. Maloney was absolutely eviscerated by Stockton in the '97 Western Conference Finals, particularly in Game 6. (Watch that video, he gets absolutely schooled by Stockton in the 2nd half).
Side note: 1997 was Hakeem's last real chance to capture a third title during his extended prime (age 34 season & last season of 20+ PPG). That Rockets team, which included six players in their mid to late 30's, (Charles Barkley, Kevin Willis, Mario Elie, Eddie Johnson, Hakeem Olajuwon & Clyde Drexler) was gutted within the next 12 months.
The real testament to the paucity of point guard talent during this era was demonstrated in the starting lineups of the 1999 Finals, which pitted the #1 seed San Antonio Spurs against the banged up #8 seed New York Knicks following the lock-out shortened 50-game regular season. 35-year old Avery Johnson led the charge for the San Antonio Spurs, sporting career averages of 8.6 points and 5.5 assists, while Charlie Ward started for the Knicks, with career averages of 6.3 points and 4.0 assists per game. You get the point. Outside of Kidd and Nash, the years from 1996 through 2003 was the low water mark for talented point guards. This is why guys like Avery Johnson, Terry Porter and Mark Jackson stuck around into the early 2000's until (and sometimes past) the age of 40….because teams needed point guards.
The draft of '03 changed everything, with LeBron James and Dwayne Wade leading us into a new era of point guard play.
Ok, getting back to Nash and Kidd now…
Nash vs. Kidd – Who was the Better Offensive Player?
10 out of 10 basketball fans would agree that Steve Nash is the better offensive player. Many agree that Nash is one of the finest shooters to ever play the game. Incredibly, Steve Nash has the most 50-40-90 seasons (4) of any player in NBA history. This informal club refers to shooting at least 50% from the field, 40% from the 3-point line and 90% from the free throw line. Only five other players have qualified for this elite club:
Larry Bird (2x)
Mark Price
Reggie Miller
Dirk Nowitzki
Kevin Durant
During Nash's three best seasons ('04-'05 to '06-'07), he averaged 17.7 PPG, 11.2 APG & 3.7 RPG. He led the "7 seconds or less" Suns to the Conference Finals in both '05 and '06, losing to San Antonio and Dallas, respectively in those years. In '07, the Suns lost again to San Antonio in the Conference Semifinals in 6 games, after Robert Horry effectively sewed up the series in Game 4 with this check of Steve Nash into the scorer's table that led to the 1-game suspensions of A'mare Stoudemire and Boris Diaw for Game 5.
Kidd was never the shooter that Nash was. Like Stockton, Kidd turned himself into a good shooter later in his career, after he began slowing down during his last few years in New Jersey. Kidd also became a very good free throw shooter later in his career, shooting a career-high 87% from the line during the '10-'11 season with the Mavericks.
When you're looking at pure offensive percentages though, Nash's body of work blows Kidd's away
Nash: 49.1% FG, 42.8% 3-PT FG, 90.4% FT
Kidd: 40.0% FG, 34.9% 3-PT FG, 78.5% FT
Now let's look at pure offensive stats:
Nash: 14.4 PPG, 8.5 APG, 3.0 RPG, 0.8 STOCKS
Kidd: 12.6 PPG, 8.7 APG, 6.3 RPG, 2.2 STOCKS
16 PPG Seasons: Nash – 6, Kidd – 4
17 PPG Seasons: Nash – 4, Kidd – 1
Nash averaged nearly 2 points more per game, while both averaged about the same number of assists. From a purely offensive perspective, Nash wins here.
Who was the Better Playmaker?
This is a tough, tough question, with each player holding a sturdy argument to win this category.
Jason Kidd led the league in assists per game every season from '98-'99 through '03-'04, with the exception of the '01-'02 year. Steve Nash led the league in assists per game every year from '04-'05 through '10-'11, with the exception of two seasons, '07-'08 and '08-'09. If you're counting, then you counted 5 assist titles for each of these men during their respective careers.
Side note: if you think Kidd and Nash are the benchmarks for assists, think again. Stockton led the league in assists for 9 consecutive seasons, beginning in '87-'88 and running through the '95-'96 season. Anyone older than 30 remembers just how amazing Stockton was during his prime.
On the all-time NBA assists list, Jason Kidd sits at #2, with 12,091 assists, nearly 4,000 assists behind John Stockton, who's 15,806 assists conceivably will never be reached. Nash is set to pass Mark Jackson early in the 2013-'14 campaign, as he sits just 85 assists shy of old man Jackson. Consider this, there are only 5 players who have ever eclipsed 10K assists in his career and Nash and Kidd will sit alone in the #3 and #2 positions by November, 2013. Here are the top 5 all-time assists men:
John Stockton – 15,806
Jason Kidd – 12,091
Mark Jackson – 10,334
Steve Nash – 10,249
Magic Johnson – 10,141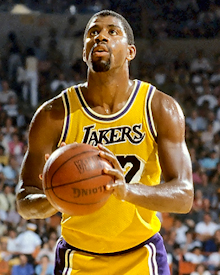 Now consider this, Stockton, Kidd, Jackson and Nash have played an average of 19 seasons each. Magic achieved more than 10K assists playing only 12 full seasons (less than ½ a season in '80-'81 & '95-'96). This just shows you how dominant Magic was during the entire decade of the 80's.
Edge here goes to Kidd, if only because he made bad to mediocre teams great. This brings me to my next point.
Who was the Bigger Star come Playoff Time?
What separates Kidd from Nash was his ability to drag mediocre teams deep into the playoffs (My criteria: at least 2nd round constitutes "deep" playoff run). Kidd led the following teams to the 2nd round of the playoffs and beyond: '00 Suns, '02 Nets, '03 Nets, '04 Nets, '06 Nets, '07 Nets, '09 Mavs, '11 Mavs and '13 Knicks (the Knicks don't really count since Kidd was 40 and scored zero points in the playoffs last season, but he was a key regular season contributor for them). By my count that is 1 championship, 3 Finals appearances (with him being 1st Banana on two of those Finals teams) and 9 "deep" playoff runs. Another key element to consider, Kidd didn't play with a Hall of Famer until he was traded to the Mavs in February of 2008, just a month shy of his 35th birthday, in Dirk Nowitzki.
Steve Nash has nearly matched Kidd, with 7 "deep" playoff runs with the '01 Mavs, '02 Mavs, '03 Mavs, '05 Suns, '06 Suns, '07 Suns and '09 Suns. While Nash's teams were always dangerous with him at the helm, they could never break through and get to the Finals. Their best shot to break through and get to the Finals occurred (not coincidentally) in Nash's two MVP seasons, '05 and '06. While Nash's teams were never perfect, in terms of make-up, he did get to play with much better talent than Jason Kidd.
Consider the supporting casts during both of their respective primes:
Nash ('00-'01 – '10-'11) – Dirk Nowitzki, Michael Finley, Raef Lafrentz, Antawn Jamison, washed up Antoine Walker, Shawn Marion, Joe Johnson, A'mare Stoudemire, washed up Jimmy Jackson & Jalen Rose
Kidd ('98-'99 to '09-10) – a washed up Kevin Johnson, Cliff Robinson and Penny Hardaway (all on their last legs with the Suns), Kenyon Martin, Shawn Marion, Tyson Chandler, Dirk Nowitzki
Nash played with a considerably stronger cast of characters than Kidd. If you removed Nowitzki from Kidd's list, who to be fair, he played with during the twilight of his career, then you're looking at Kenyon Martin as the next best player on that list. Yikes, that's not a very good supporting cast.
I remember the days when the early 2000's Nets were rolling out Lucious Harris, Kerry Kittles, Todd Macculloch and Kenyon Martin with Kidd. If you insert Nash into that lineup, does that team make the Finals two consecutive years? No shot and here's why:
Kidd played defense and keyed that team from end line to end line. Here's a comparison of Kidd's and Nash's best individual seasons on great teams.
Kidd: On the '02-'03 Finals runner-up team, Kidd averaged 18.7 PPG, 8.9 APG, 6.3 APG and 2.5 STOCKS (Steals + Blocks) during the regular season. For the playoffs that year, Kidd averaged 20.1 PPG, 8.2 APG, 7.7 RPG and 2.0 STOCKS. He absolutely carried that team on both ends of the floor.
During Nash's 2nd MVP season in '05-'06, he averaged 18.8 PPG, 10.5 APG, 4.2 RPG and 1.0 STOCKS during the regular season. In the playoffs that year, he stepped up his game and averaged 20.4 PPG, 10.2 APG, 3.7 APG and 0.7 STOCKS. Now look at the disparity between Kidd's RPG and STOCKS and you understand why Kidd was so integral on both ends of the floor for the Suns and Nets for more than a decade. Oftentimes, his defense led to direct run outs for fast break points, a key element of the Nets success during their 2-season run.
To put this another way, Kidd exceeded 2.0 STOCKS for 13 consecutive seasons, from '94-'95 through '05-'06, and 17 total times in his career. On the other hand, Nash never exceeded 2.0 STOCKS in his career. Not one season!
Just take a look at the "Steve Kerr" game from the 2003 Western Conference Finals, when Kerr at the advanced age of 37, absolutely eviscerates Steve Nash.
One comment on this YouTube video is spot on: "At 3:23, what the F*#& is Steve Nash doing? How can someone have such keen spatial awareness and court vision on [offense] but act like Ray Charles on defense."
Nash never led a contender and with defense like that, I don't think he ever will. Kidd gets the ultimate nod here as the better player and the player who enjoyed the better career.
Conclusion
At the end of the day, if you were to ask me who's peak was better, Steve Nash's ('05-'07) or Jason Kidd's ('01-'03), I would have to say Jason Kidd's because he dominated the game so thoroughly. Kidd was more of an overall presence on the floor at all times. While Nash was shifty, incredibly quick, had perfect form (2nd best shot in league behind only Ray Allen) and could run the pick and roll like no other point guard in the game at the time, Kidd dominated without having to score.
I identify with Kidd because he reminds me of the way I play (I'm obviously eons worse): hard-nosed, scappy, does the little things and works his ass off for a rebound in traffic. I guess I just appreciate that Kidd squeezed his 6'4" frame in with the big guys and racked up 8,725 rebounds during the course of his career. The fact that Kidd had 17 seasons of 2.0 or more STOCKS versus Nash who has had none, speaks volumes to me.
Kidd dominated every facet of the game and legitimately took 25-win teams (re: '02 Nets) and made them championship contenders. Steve Nash was not a two-way force of nature like Kidd, who controlled the tempo and flow of the game from both ends.
Do you agree or disagree with my analysis and conclusion? Feel free to contribute to the discussion in the Comments section below.