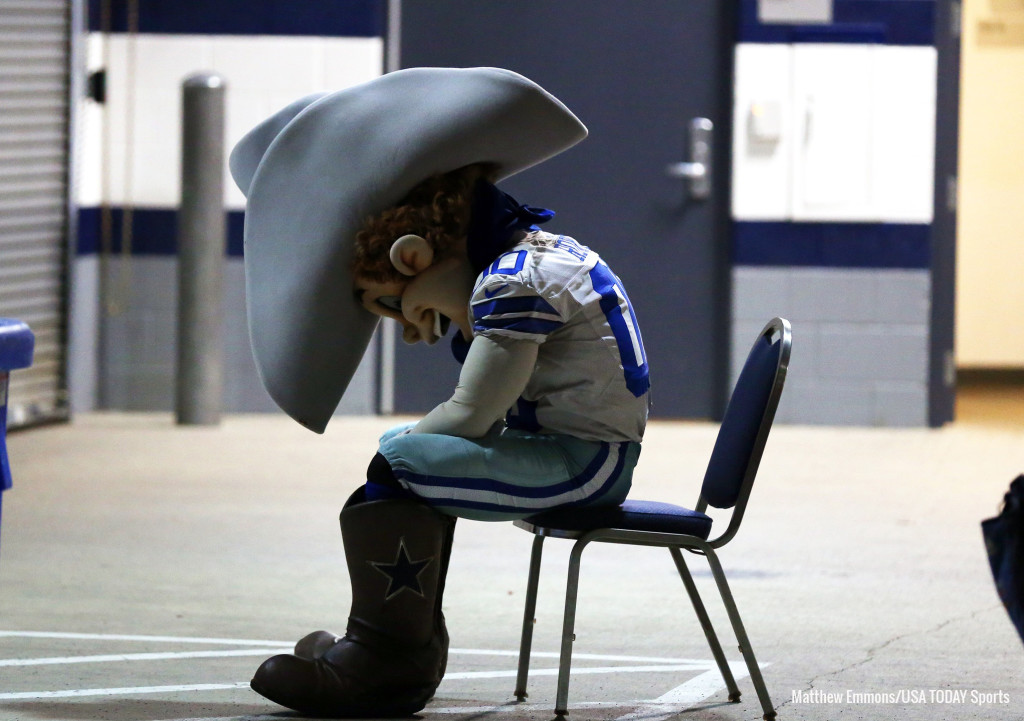 In Dante's Inferno, we read of an inscription on the Gates of Hell containing the famous phrase, "Abandon All Hope, Ye Who Enter Here."  In the wake of another notoriously disappointing season, I have toyed with the idea of sending a letter to the bigwigs running the Dallas Cowboys organization, suggesting that those words, emblazoned on a massive billboard, would make for a fitting welcome to the hundreds of thousand of fans that pour into AT&T Stadium every year.  Admittedly not the savviest marketing strategy, but honesty is the best policy, you know.
But wait, that's not right.  Because if there is anything the Dallas Cowboys have been successful at, it is stoking high–irrationally, inexplicably high–hopes.  Can you think of another team in recent memory that has had such consistently high expectations and so consistently failed to meet them?  Neither can I.  And for that reason alone, the Cowboys have to figure prominently in any discussion of the worst and certainly most maddening football teams to root for.  A Buffalo Bills fan, to take one sorry example, will at least be able to recognize that their team has no chance of winning the division before the season begins; every win, like free samples at the local grocery, is an unexpected delight.  But time and time again, with Charlie Brown-like credulity, a Cowboys fan persuades himself that this year will somehow be different, that this year, America's Team is destined for glory.
The exploits of this glittering jewel of colossal ineptitude are by now familiar to all.  Three straight 8-8 seasons.  Three straight games against each of their three division opponents in Week 17 winner-take-all NFC East title games.  Three straight Texas-sized flops.  The symmetry is almost poetic.  One of these days, Charlie Brown is going to finally come to his senses, right?
One person who won't be coming to his senses any time soon is Cowboys owner Jerry Jones.  It's sad, in a way.  Nobody more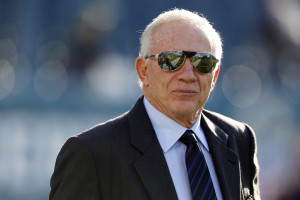 passionately wants the Cowboys to win than Jerry Jones.  Nobody has invested anywhere near as much time, energy, and resources in working toward that goal than Jerry Jones.  And yet, nobody stands more in the way of achieving it than Jerry Jones.  He seems psychologically incapable of recognizing the one thing that has become obvious to everyone else.  Simply stated: he is a lousy general manager.
Recent scrutiny has centered on the improvident firing of Rob Ryan and his replacement by Monte Kiffin, who at the time had been eligible to collect Social Security nearly as long as he had been away from the NFL.  Ryan, in his first year as defensive coordinator, improved the Cowboys defense from the 31st ranked unit, to 15th and then 19th the year after that, and was rewarded with a pink slip.  Kiffin, in turn, took a middling unit and transformed them into the worst defense in franchise history.
This unforced error being but the latest in a long lineage of famously bad managerial decisions, one would think that maybe, just maybe, Jones would, in a sobering display of self-awareness, cede a little control for the good of his organization.  Well, Jerry, what say you?
It's just not going to happen. We have had success doing it this way and we're going to have success in the future doing it this way. It eliminates some very serious issues when you look around the league, as to creating an additional layer that you're continually having decisions, making changes, doing those kinds of things.
Jones is of course correct that a general manager could add an unnecessary layer of decision-making that would just cause problems.  It certainly led to problems recently with the Pittsburgh Steelers, New York Giants, and Baltimore Ravens, if by problems you mean winning multiple Lombardi Trophies.
But the other interesting claim here is that the Cowboys have been successful under Jones' ownership and management.  Strictly speaking, that's hard to dispute, but it conveniently ignores a longstanding question: whether the success the Cowboys have met with was due to Jones' involvement, or in spite of it?
When Jones purchased the team after the 1988 season one of his first acts was to fire coaching legend Tom Landry.  Landry had led the Cowboys to an as yet unmatched 20 consecutive winning seasons between 1966 and 1985, during which his teams appeared in five Super Bowls, winning two of them.  To put that in perspective, the Cowboys have only had 13 winning seasons in the 25 years since Landry's departure.
To replace Landry, Jones hired former Arkansas Razorback teammate and University of Miami head coach Jimmy Johnson.  Surely, the success Jones was referring to in his statement was the mid-nineties run of three Super Bowls in four years.  What Jones fails to mention, however, is that the team that won those championships was built, from top to bottom, by Jimmy Johnson.  When asked about Jones' claim that he called the shots and served as de facto general manager during the dynasty years in Big D, Johnson didn't hold back.
That is completely a bunch of crock. Jerry started putting all those titles on himself after I left. He didn't call himself general manager and president and all that stuff when I was there. He was just the owner. Because it was in my contract that I had total responsibility for all football decisions. It was in my contract, and he didn't allow anybody to have that in their contract after I left.  I was the personnel director there with the Cowboys. My pride was collecting the talent and putting together the team that won the Super Bowls.
As the stars of those Super Bowl victories faded away into retirement, there was no Jimmy Johnson to stock the team with fresh talent, and wouldn't you know it, the Cowboys couldn't compete anymore.  After hitting rock bottom with three straight 5-11 seasons, Jones finally did the unthinkable by hiring someone who would actually be more than a yes-man: turnaround artist Bill Parcells.  Turn around the Cowboys he did, revamping a dismal team and making them into perennially credible competitors.  When the Cowboys went 13-3 the year after his departure, tying the 1992 Super Bowl team for the franchise record in wins, everyone saw it as the blossoming of potential sowed by Parcells.  Years later, it is still the trifecta of talent Parcells identified–Tony Romo, Jason Witten and DeMarcus Ware–that form the heart and soul of the team.  Detect a pattern here?  The Cowboys' successes have come under the tutelage of Hall of Fame coaches and has precious little to do with their delusional ownership. Of course, none of this is news for Cowboys fans.  And for them, the only thing more terrifying than their recent history has to be their glimpse into the future when they see three generations of Joneses sitting in the owner's box.  But Jerry Jones remains as undeterred and undaunted as ever:  "I understand the criticism and we're going to continue to work and try to take this team to where we all want to go, and that is competing for a Super Bowl."
A Super Bowl?  To use Jones' own words, "It's just not going to happen."
Welcome to JerryWorld: Abandon all hope, ye who enter here.