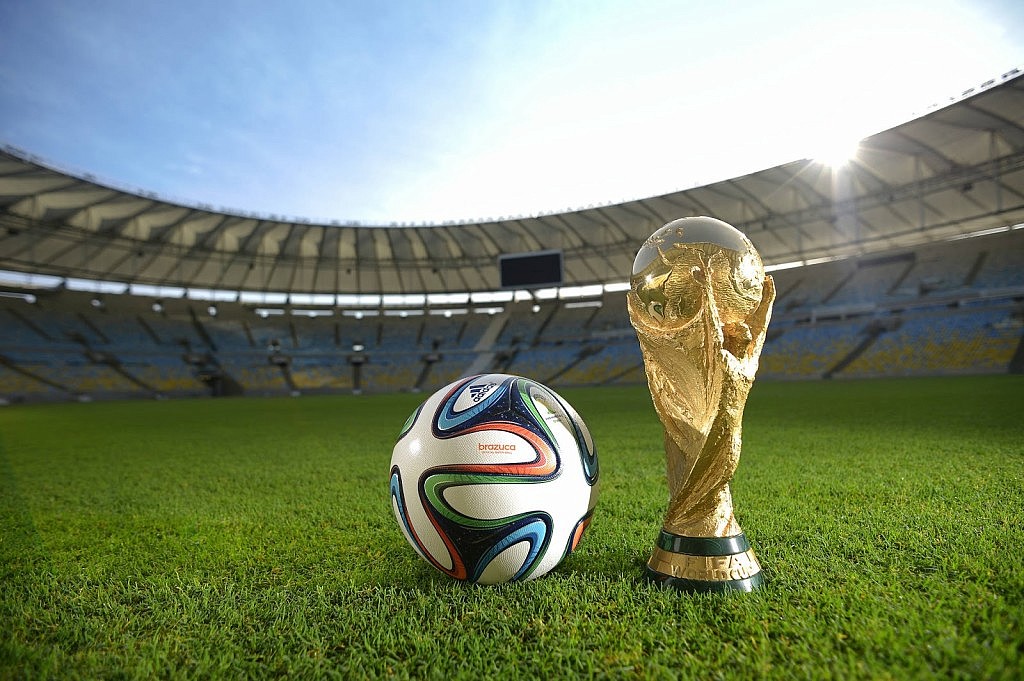 I'll start with this: the only takeaways from my younger soccer experiences were that A) I hated playing, and B) the jerseys, especially the World Cup ones, were really cool looking. That's it. To be fair, I did attempt to play a few times, but my frustration at either never getting the ball, having it taken away from me at an alarmingly rapid rate, or running for so long only to kick the ball once or twice, inevitably always ended with me going Jonah-Hill-in-Superbad and then running inside.1

It demeans the entire game by saying this, but literally the only thing that kept me from completely disregarding the sport of soccer as a kid was how cool the jerseys were. It's in that spirit that I share with you a few of my personal favorites; because if there's one thing fans of any sport enjoy, it's having someone with almost no ties to their pastime explain what's best about it. Here are three of my favorites, in no particular order:
1994 U.S.A "Away" Jerseys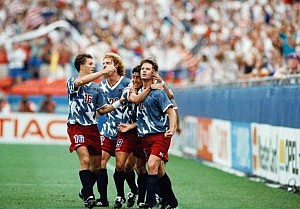 Professional soccer was not simply unpopular for me as a kid, it was a complete afterthought. Despite having a few close friends and neighbors who were big soccer fans, (and who had most of their family still living in Italy), no one was ever able to translate their fandom onto me. I was someone who thought the NFL was the only thing that could possibly be referred to as "professional football."  There was even a member of the 1999 World Cup Champion U.S. Women's national soccer team, Sara Whalen, that went to my high school; but that was overshadowed after everyone remembered that Mariah Carey also went there.2
What began to sway my opinion of the sport was my affection for sports cards. Somehow, rummaging through my vast collection of sports cards growing up, I happened upon a single soccer card. I have no idea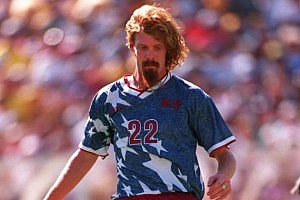 where it came from, but one day there it was in a pile of unsorted (AKA non-football or basketball) cards. It was an Alexi Lalas card with him wearing the jersey above, and after finding this card, he instantly became my favorite U.S. soccer player literally the only soccer player I had ever heard of before. But it marked a transition in my life; an evolution from hating all aspects of soccer, to liking their uniforms, at least. The 1994 World Cup took place in the United States, so technically the U.S. team was never the away team, but whatever you want to call these jerseys, they were pretty sweet. The stars on the right side of their jersey were especially awesome, even more so when you consider the other jerseys the U.S. team wore looked like they were made out of circus tents.3
2006 Japan Home Jerseys
Another reason professional soccer could never capture my affection was their seemingly deliberate pursuits to keep Americans, or just any non-fans, from figuring out who the hell was actually playing. Instead of sporting the name of their city on each jersey, I'd only see the name of some company I'd never heard of. (For the longest time, I was obsessed with Aston Villa's jerseys, but I had no idea what their actual team name was, or where they were from.) Complicating matters more was the fact that soccer was almost always being played in collared shirts, which confused little-kid me into thinking I'd have to get dressed up to play. And I HATED dressing up.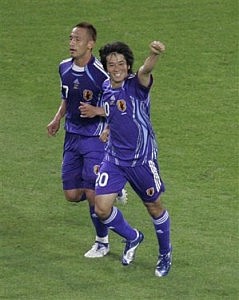 I couldn't tell you why, but one of the things I remember most vividly from the 2006 World Cup was a random Australia-Japan game from the qualifying round. I did vaguely remember really liking Japan's jerseys in that game though. So after careful, in-depth research (Googling, that is), I was reminded why they resonated so much with non-soccer fan me. One, there were no collars on their jerseys; huge plus. Two, the design down the side of the jersey was awesome; an arrangement of blended light blue and white bands that were too different to be described as stripes, but organized enough to form a cool layout anyway. 2006 was also the year I started to actually enjoy watching soccer, thanks in part to an exciting World Cup finish (Italy's run was a blast to watch) and a friend of my brother's leaving his Xbox 360 at my house for a week, which led to FIFA World Cup Soccer 2006 being introduced to my life.
2010 Netherlands Home Jerseys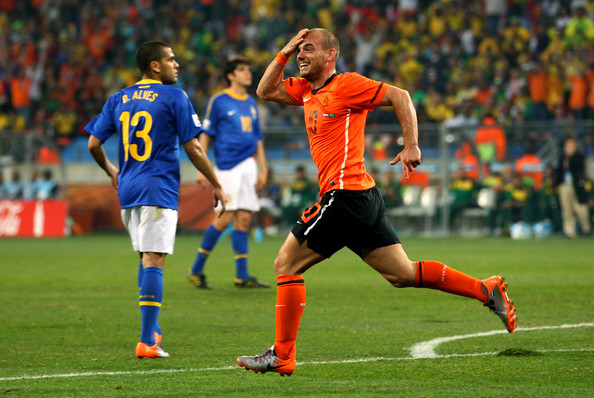 During 2013-14 NFL regular season, Yahoo! columnist Les Carpenter discussed the idea that the "Madden" video games have a greater impact on increasing the growth of the NFL's popularity in England (and the rest of Europe) than having regular season games played overseas. It's a plausible theory, especially considering the NFL (and by affiliation the United States as a whole) trots out the Jacksonville Jaguars to Englanders looking for a taste of American Football. That would be like trying to convince someone that New York has the best pizza by serving them stale DiGiorno.
Likewise, it was the FIFA video game that finally reformed my thoughts on soccer. And when FIFA World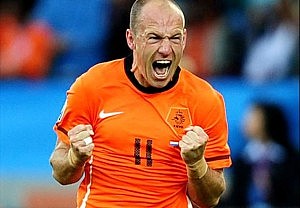 Cup 2010 first came out on Xbox 360, my friend and I were immediately captivated by The Netherlands, adopting them as our team every time we played FIFA4 and destroying any adversaries along the way.5 While The Netherlands was making their run to the final, my connection with them grew to the point where I was almost—wait for it—a soccer fan. And of course, their jerseys were awesome. That's just not debatable; The Netherlands' orange jerseys were magnificent, end of conversation6. If I didn't already have strong links to their team before the World Cup started, the wandering eye of for jerseys might've led me to the Ivory Coast who not only had similar jerseys to The Netherlands, but also had Didier Drogba.
In fairness, picking favorite jersey styles is a somewhat subjective task, so it's understandable if you disagree with my personal choices (except, again, when it comes to The Netherlands). On the other hand, there are some jerseys that even the craziest fan cannot find enjoyable. I'm looking at you, Tampa Bay Buccaneers; because whoever in your marketing department okayed these new uniforms was a clearly an XFL fan. Enjoy the World Cup, everyone, but more importantly, let's just all enjoy the uniforms.