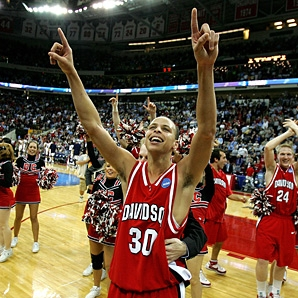 Rory Goulding
It's Thursday afternoon, the first day of the NCAA Tournament. You're sitting at work1, monitoring 4-8 games on your ESPN Gamecast (constantly refreshing because your job slows down streaming speeds to a comically snail-like pace) when the unthinkable happens. Ever since you filled out your bracket days ago, you've been psyched, knowing that you're the only one who picked the 3-seed in the Midwest Region to go to the Final Four. Until, of course, you see that Kansas was just upset by Alabama State.2 The team you picked to win it all, eliminated. Less than five hours in to the tournament, and your bracket is destroyed. That's fun.3
There's a special love/hate relationship that I have with Cinderella teams. Love/hate as in, the correlation between how much enjoyment I receive from watching an underdog win being inversely related to its effect on my bracket. And all I can think of when I remember the runs of George Mason, UAB and Northern Iowa from tournament's past is the devastating repercussions their successes had on me winning money. And call me old-fashioned here, but I'm a big fan of, you know, getting money.
It is in that spirit that I approached the task of choosing my favorite all-time Cinderella team. Or, basically, the idea of picking the team that best destroyed an opportunity for me to make someone begrudgingly hand me cash. Sounds like I really didn't wanna do this, huh? Maybe not. But hey, this isn't all about me.
All hatred aside, making an unbiased decision was tough, considering that my alma mater, Siena College, did such a great job of bracket busting while I was in school. And not just that, but they had one of the most exciting conclusions to a NCAA tournament game of all time. (How's that for being unbiased?) Alas, in the spirit of not being a complete homer, I went with the 2008 Davidson Wildcats.4
What made Davidson so captivating was not just their unprecedented run in the NCAA Tournament; it was their on-fire superstar, sophomore Stephen Curry.5 Curry was the focal point of Davidson's entire offense during the regular season, averaging more than 25 points per game before the tournament began. Yet all the game planning in the world couldn't hold back Curry, who scored 70 combined points (40 vs. Gonzaga, 30 vs. Georgetown) through the first 2 rounds of the NCAA tournament.6 After taking down 7th seeded Gonzaga and 2nd seeded Georgetown, Davidson completely waxed a strong Wisconsin team in the Sweet Sixteen, beating them by 17 points as Curry poured in 33 points of his own. Davidson's run ended in a tough  2-point loss to Kansas, the team that would eventually go on to win the national championship, in the next round. In four tournament games, Steph Curry dropped 128 points. And, after putting those numbers into a calculator, it turns out that he averaged 32 points-per-game. Which is kinda good.
Oh, and one more thing about 2008 Davidson. Their starting forward, Steve Rossiter. Rossiter had a younger brother, Ryan, who was the starting power forward for Siena College from 2009-2011, and who led the MAAC conference in rebounding and field goal percentage in 2010.  Hey, look at that! I was still able to make it all about me after all!
So, cheers to March Madness, everyone, and don't get your hopes up. Because thanks to Cinderella teams, the only person winning Warren Buffet's billion dollar bracket challenge is an 80-year old woman named Agnes who's never watched a basketball game in her entire life.
Tyler Michels: 2006 George Mason Patriots – Not Your Typical Underdog
Tony Skinn.  Jai Lewis.  Lamar Butler.  Will Thomas.  Jim Larranaga.
These are a few names that should ring a bell if you consider yourself a big time college basketball fan.  George Mason's incredible 2006 NCAA Tournament run defined "March Madness", beating teams who were massively more talented, but could not match the heart and persistence of these mid-major heroes.
The once in a lifetime journey from eleven-seed to Final Four was certainly incredible.  Being just the second eleven-seed to make the Final Four came at a time when the selection committee was being heavily scrutinized for the decision to grant mid-majors at-large bids into the field at a higher rate. If getting into the field was such a "break" for George Mason, the team from the "no-name" CAA Conference certainly did not get one with the bracket they were placed in. There were no short cuts. Taking a look at the road they traveled shows one of the toughest an underdog could possibly face. First, they had to battle Michigan State, then onto (the defending Champs) UNC, followed by Wichita State, and eventually number one-seeded UCONN before losing to the ensuing Champion Florida Gators.
Although there were many story lines swirling around the Patriots, two precise reasons make this my favorite underdog run in the history of the Tournament. First of all, George Mason lacked a definitive star player. It is not often that a mid-major Cinderella lacks a go-to player (ex. Steph Curry; Davidson), a single star who has the ability to lift the entire team on their shoulders. George Mason played their game as the veteran team they were, and had many different scoring options which made them quite versatile for an eleventh-seeded "hack." Secondly, the amazingly undersized Patriots beat several storied basketball schools, which included erasing a 17-2 deficit to end the third-seeded UNC Tar Heels hopes at a repeat. How regularly can an underdog spot the favorite a 15 point lead and still come back to win? Very rarely. But the 2006 George Mason Patriots were not your typical underdog.
This time of year college basketball fans mutter, "Who will be this year's George Mason?" But if you are searching for a similar Cinderella story eight years later, you can stop looking. George Mason was just that special.
Jim Armstrong: 2001-02 Kent State – Modern Day Double Digit Seed Underdog
March is a time when hope springs eternal. For much of the country, we're emerging from several months of frigid weather and if it's 2014, then near weekly winter weather events (this applies even to you Atlanta). This enthusiasm and renewed perspective also bubbles over to our basketball teams.
Everyone from San Diego to Wichita up to Michigan and over to North Carolina feels good about their team's chances this March. Teams enter the tournament in various forms. Some are ascending (Louisville, Michigan & Virginia), others are descending (Syracuse, Saint Louis) and there are those who have dominated wire-to-wire (Florida, Wichita State). Good news for all: March is a blank slate. Prognosticators opine about match-ups, RPI, strength of schedule and veteran leadership. This matters but these experts are no better than weathermen. They do the best they can to predict outcomes given the information at hand but are rarely accurate.
ESPN talking heads fail to acknowledge little-known players such as T.J Sorrentine of the 2005 Vermont Catamounts who propelled his team to victory "from the parking lot" over the #4 seeded Syracuse Orange (video below). Experts fail to account for teams that quite literally jam and dunk their way to the Sweet 16, which we saw last year with the Florida Gulf Coast Eagles.
In the history of the NCAA tournament, only five programs have won more than 3 NCAA championships (UCLA, Kentucky, Indiana, North Carolina & Duke). Consider this, only three active coaches have won multiple NCAA championships. This elite club is comprised of Mike Krzyzewski ('91, '92, '01, '10), Roy Williams ('05, '09) and Billy Donovan ('06, '07). Recently retired Jim Calhoun won three ('99, '04, '11) and Bob Knight ('76, '81, '87), who was dismissed from Texas Tech in '08, are two other contemporaries who are a part of this hallowed group.
There is one certainty regarding coaches moving forward: no coach will ever match or exceed John Wooden's 10 NCAA championships, won between the years of 1964 and 1975.
What we also know is that great teams fall in March…and fall regularly. Goliaths have been slain in the ides of March (#15 Lehigh over #2 Duke & #15 Norfolk State over #2 Missouri, both on 3/16/12…technically one day after the ides of March). Injuries to star players have derailed Final Four aspirations (#1 seed Cincinnati's Kenyon Martin breaks leg in the 1st round of Conference USA Tournament in 2000). Then there's the Cinderella stories that sneak up on everyone, teams anchored by football tight ends and feisty guards…this my friends is the story of the 2001-02 Kent State Golden Flashes.
2001-2002 Kent State Golden Flashes
That year the Golden Flashes set MAC records for wins (30) and conference wins (17), while being anchored by seniors Trevor Huffman (remember him!?), Andrew Mitchell, Demetric Shaw and Eric Thomas along with undersized junior transfer power forward Antonio Gates, who has since become an All Pro tight end for the San Diego Chargers.
Kent State entered the tournament as a 10 seed in arguably the toughest bracket in the 2002 NCAA tournament, the South Regional bracket. They proceeded to knock off the #7 Oklahoma State Cowboys in the first round, the #2 Alabama Crimson Tide in the round of 32 (by 13 points no less) and then the #3 Pittsburgh Panthers in a grind it out fashion in OT. Skip to the 1:15 mark in the below video.
In the Elite 8, Kent State ran into a hot and hungry Indiana team, who led by Jared Jeffries, Tom Coverdale and Dane Fife, dispatched Kent State 81-69. Indiana nailed a mind boggling 15 3-pointers and held on to advance to the Final 4 for the first time since 1992 (and avenge their first round lost to Kent State the previous year).
Indiana ended the nation's longest winning streak at 21 games, as well as Kent State's bid to become the first #10 seeded team to reach the Final Four (this has since been achieved by #11 George Mason in '06 & #11 VCU in '11).
Despite the loss, Kent State would continue to be one of the most well respected and formidable programs in the country. Kent State posted ten consecutive twenty-win seasons from 1998-99 to the 2007-08 season.
Side note: this could have easily been Duke playing the Golden Flashes in this game. Dane Fife and the rest of the Hoosiers squad can thank Jason Williams for missing a potential game-tying free throw with four seconds remaining of the Regional Semifinal (have you ever heard a broadcast booth more excited when he misses this free throw?). Skip to the 11-minute mark…
Enjoy the games folks…let's hope there's another Kent State tucked away in our brackets this year.