Chargers vs. Broncos Preview – By Jim Armstrong
The beauty of the NFL postseason is that every game is a coin-flip. Despite what Vegas says (Chargers getting 10 points), no one has a clue how this game will unfold. Peyton Manning is the greatest regular season quarterback of all time (or at least will be) but somehow sports a subpar 9-11 postseason record.  In no other major professional sport does four months of blood, sweat and tears culminate in such a 60-minute battle royale that yields a winner and a loser. Sports are a zero sum game and nowhere is this more evident than in the game of football.
In the NBA, NHL and MLB teams make runs, figure out the other team's tendencies and have several games to get in tune with what the other team has game-planned. In the NFL, a play or in Manning's case a coin flip for OT (Colts OT loss to Chargers in '08 wild card round) or an untimely interception (Super Bowl XLIV in Manning's penultimate drive & again in last year's divisional round against the Ravens) have undone so much good he has built up during those respective seasons.
My gut says the Chargers but my brain says the Broncos. What team does one go with when they're faced with this type of conundrum? I have been flip-flopping back and forth all week. When all else fails, look at the data and then make an informed decision (although this rarely works out).
Below are relevant details to consider in choosing which of these teams will come out on top in arguably the most anticipated game of this weekend:
Denver's defense has struggled all season, allowing 24.9 points per game and entering this game without their best defensive player, Von Miller.
Philip Rivers has owned Peyton Manning in the postseason – with victories in the '07 and '08 postseason, when he was quarterbacking the Chargers. It's worth noting that the Chargers nearly toppled the Colts in Week 12 back in 2008, losing in the last seconds on an Adam Vinatieri field goal, 23-20. Fast forward five years and Philip Rivers' Chargers defeated Manning's Broncos in week 15, 27-20 to move to 7-7. This marked the Chargers' 2nd consecutive win and they would win in weeks 16 and 17 to push their record to 9-7 and grab the wild card spot in the AFC. Food for thought, but this is shaping up to be eerily similar to the 2008 team that squeaked into the playoffs and made some noise by knocking off the hottest team in football at that time.
The San Diego Chargers feature the league's 12th best total defense, 29th best passing defense and 23rd best total defense. I know these rankings seem underwhelming but San Diego is getting healthy at the right time and making plays when it counts. Look for Manning to be forced into converting many 3rd and long opportunities due to San Diego's stout rushing defense.
Wes Welker suited up for only 13 games this season (parts of two games he did not complete) due to two concussions. He returns to provide the Broncos with the best slot man in football. Expect Welker to snare a TD reception on Sunday.
Manning's offensive line has relinquished a mere 18 sacks all season. San Diego's John Pagano, the longest-tenured assistant on the Chargers staff (12th season) better get creative with his blitz packages.
At the end of the day I could throw out every relevant and obscure stat at you and we still wouldn't know which team to choose. Here's the bottom-line: Peyton Manning somehow decided to have his career year for his age-37 season, almost unheard of if you're not named Brett Favre (age 39/40 season in '09 with Vikings when he had a career high 107.2 QB rating) or John Elway (age 37 season with the Broncos in '97 when he won his first Super Bowl).
If you watched the Chargers vs. Bengals game last weekend the Chargers didn't dominate the offensive side of the football. Their defense carried them end-to-end and they won't be able to do that against Denver's turbo-charged offense. I don't think Philip Rivers has enough weapons at his disposal to take down the Broncos. And with Wes Welker returning to the Broncos' lineup, Peyton Manning has his full arsenal. That spells trouble for the Chargers. Plus, I'm stubborn and am sticking with my initial pick:
Broncos – 31, Chargers 28
Before we get into the games this weekend, let's take stock of the HOF talent at the quarterback position this postseason.
Tom Brady (age 36) – 3 Super Bowls, 5 Super Bowl Appearances, 9 Pro Bowl Selections, 2 MVP's & 2 Super Bowl MVP's
Peyton Manning (age 37) – 1 Super Bowl, 2 Super Bowl Appearances, 13 Pro Bowl Selections, 4 MVP's  (likely 5 with 2013) & 1 Super Bowl MVP
Drew Brees (age 34) – 1 Super Bowl, 1 Super Bowl Appearance, 8 Pro Bowl Selections, 1 Super Bowl MVP
Philip Rivers – 5 Pro Bowl Selections
Russell Wilson (age 25) – 2 Pro Bowl Appearances in 2 seasons (2012, 2013)
Cam Newton (age 24) – 2 Pro Bowl Appearances in 3 seasons (2011, 2013)
Andrew Luck (age 24) – 1 Pro Bowl Appearance in 2 seasons (2012)
Colin Kaepernick (age 26) – No Pro Bowl Appearances in 2 seasons
A combined 40 Pro Bowls from the 8 starting QB's this weekend…that's incredible. 'Nuff said.
In the other games this weekend:
(6)New Orleans at (1)Seattle – In week 13 the Seahawks thrashed the Saints, 34-7. Seattle gets Percy Harvin back this week, after recording only one catch during the regular season after off-season hip surgery. Seattle's defense is too stout and Russell Wilson has his safety valve back and presumably healthy. 'Hawks win 28-21
(5)San Francisco at (2)Carolina – Kaepernick vs. Cam Newton is an absolute treat. San Francisco is the hottest team in the league (winners of 7 straight). This may be Frank Gore's last go-around as an elite back. I picked San Fran to lose up in frigid Green Bay last weekend…I'm not making the same mistake twice. San Fran is the winner here, 21-16
(4)Indianapolis at (2)Patriots – This screams UPSET. What a weird season for the Pats, yet totally more of the same (re: 12 wins). They lose their top four pass catchers at various points in the offseason (Gronk, Hernandez, Welker & Lloyd) and lose their replacements at various points during the season (Shane Vereen in week 1, Danny Amendola at multiple points in the season & Josh Boyce). They lose three of their most important defensive cogs at various points this season (Jerod Mayo to a torn pec, Vince Wilfork to a torn Achilles & Brandon Spikes to a knee injury). Their DB's were shuffled interminably due to injuries to Alfonzo Dennard and Acqib Talib. What did this all add up to? A ho-hum 12-4 season and a 1st round bye…just a typical Patriots season. Andrew Luck is too green and turns the ball over too much for my liking…Pats win this one, 28-24.
Championship Round
I'm sticking with my initial picks with slotting in San Francisco for Green Bay, who I had losing to Seattle:
(1)Denver 31, (2)New England 20
(1)Seattle 21, (5)San Francisco 17
SUPER BOWL
(1)Denver 17, (1)Seattle 14
Saints vs. Seahawks Preview – By Tyler Michels
Another stellar weekend of football is upon us, and one of the intriguing matchups of the weekend is the New Orleans Saints visit to Seattle to take on the number one seeded Seahawks. Following last weekend's collection of games, it will be tough for this weekend to live up to fans' expectations.
The last time these two teams faced off, it was a nightmare for the Saints. They struggled on both sides of the ball, and could not seem to handle the noise of the "12th man" as they were embarrassed 34-7 on Monday Night Football. Russell Wilson torched New Orleans for three touchdown passes, and Drew Brees played his worst game of the season en route to scoring a season-low 7 points.
I fully expect the script to be rewritten this time, with New Orleans keeping it competitive in a back and forth affair that will feature two exciting undersized but incredibly talented franchise quarterbacks. Although I believe it will be a close game, Seattle's league leading defense, giving up just 14 points per game on average, should be the difference maker. And, as mentioned earlier, the home field advantage should also play a role despite the Saints previous experience earlier this season. The Seahawks have won five straight playoff games at home, and the Saints have won just one road playoff game in the Sean Payton-Drew Brees era, which happened last week versus Philly in a less-than-impressive two point victory.
In conclusion, I'll stick with my original score prediction I made for this game last week. I have the Seahawks topping the Saints in a tense thriller 28-22. Brees will be better than last time, but expect the storyline of this one to be the ground and pound game of Marshawn Lynch combined with New Orleans' inability to consistently stop the run.
As for the rest of the weekend…
Colts 25 Patriots 31
Chargers 20 Broncos 24
49ers 16 Panthers 20
Rematch Weekend – 49ers @ Panthers – By Rory Goulding
Like the Broncos, the 49ers are vying for a conference championship against teams that have already beaten them during the regular season. As the 49ers travel to Carolina for this week's Divisional round matchup against the Panthers, I can't help but feel a strong connection to this specific rematch, as I witnessed the Niners' loss to the Panthers in person, Week 9 in San Francisco.
Before I move on to my pick for this Sunday, here are a few highlights from my trip earlier this season: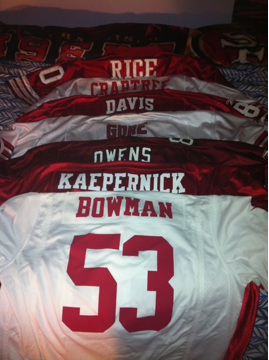 In my excitement packing for the game, I was planning on bringing almost all of my 49ers gear. But that plan was D.O.A once my girlfriend, despite my child-like excitement, saw the jerseys, lined up ever so carefully, and said, "Wait, you're bringing all of those to San Francisco? You should bring one, maybe two." Buzz = killed.[1] I vacillated between feeling like a son being scolded by his mother and a parent having to decide which child I loved the most. The decision on who was joining me in California wasn't easy.[2]
1
2
Right as we got to our seats that Sunday, two 49er fans got into a fight. With each other. A fan in a Deion Sanders 49er jersey (awesome) walking up his row decided to lower his shoulder and slam another 49er fan that was, kind of, in his way (not awesome). This situation could have just been finished there, chalked up to one d-bag (in an awesome Niner jersey). But said pushed 49er fan's friend decided to escalate the "sitch" and get in Deion's face. The two then engaged in one of those yell-in-each-others-face-and-almost-fight-but-not-really-throw-any-punches type of altercations, which are always the best. I asked my cousin, Kevin, fellow witness to the madness, to describe the second gentleman's characteristics, which he did as such; "Roman nose, eyeballs sunken, forehead the size of a porterhouse, winner written all over it", who then stuck his tongue out and performed "a serpentine rendition of nanna nanna boo-boo". As hard as it may be to envision, I assure you the face was more disturbing than any sentence can do it justice.[3] So the game didn't exactly get off on the best foot.
3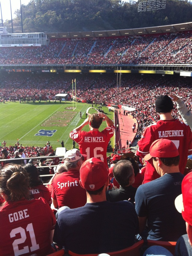 I did some research after taking this shot – never in the history of the San Francisco 49ers has a player with the name "Heinzel" been a member of the roster. Ever. Taking the number of a legend and putting your name on the back? That's a form of sports-blasphemy that cannot be forgiven. You, sir, are the worst.[4]
4
So during my first (and last) experience in Candlestick Park I witnessed three separate 49er fans getting into fights, and Colin Kaepernick playing his worst game of the season. Great times were had by all.
But my favorite event from the voyage to the West Coast was witnessing a young teenage boy's amazement at the trash cans of Alcatraz. As he happily told his mother, "Mom, look what the garbage cans were like back in old days!"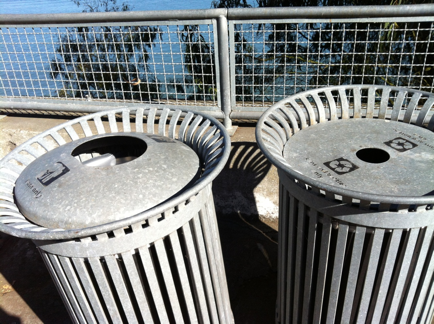 And you were wondering why we're losing to China?
By the way, the last time Carolina was in the postseason was 2008. They were the 2 seed and were blown out at home by the eventual NFC Champion Arizona Cardinals. But hey, Jake Delhomme was the Carolina quarterback in that game, so I guess you should take that with a grain of salt.[5]
5
Now, to Sunday's game. Like I said earlier, the last time these two teams faced each other, Kaepernick had his worst statistical game of the season, but the Niners were without Vernon Davis (Concussion), Michael Crabtree (Achilles) and Aldon Smith (Drunk).
Although I don't buy into Carolina being the "happy to be here" team, I still think this game's following a different script. Steve Smith's status is uncertain. The 49ers, as stated above, have their offensive and defensive weapons at full strength. I think (hope) that Colin Kaepernick will transfer his dominance (and luck) over the Packers to the rest of his postseason foes. Riverboat Ron's run of 4th down success has to come to an end at some point, and I have a feeling that time is this weekend.
I like San Fran[6] for a slice of revenge cake in Carolina. 49ers 23, Panthers 13
6
Colts vs. Patriots Preview – By Drew Morris
After that vigorous Chiefs-Colts romp last Saturday, I can't say there was much left to be desired. It was all you could want in a playoff game, and maybe a little bit more. I had to smoke a few Marlboro Reds just to cool down. In this farfetched innuendo of an analogy that I'm possibly forcing but at this point definitely sticking with, the Chiefs played the role of the guy in this football hook up. Foreplay be damned, they were out of the gate quick and all taken care of (…points wise) after a few quick pump….fakes….by Alex Smith….that led to touchdowns….stick with me. On the other hand, in the female role, the Colts looked uncomfortable at the start (seen that before) and took a little time to get warmed up. But once they did…fireworks indeed.
For the Colts it's off to Foxboro for a rebound hook up with Tom Brady and the Pats in the Divisional Round. I have to imagine this is every young quarterback's dream, although probably not in the perverted context I just created. This is a chance to beat one of the greatest quarterbacks of all time, on his turf, in the playoffs. For Andrew Luck and the Colts, it is going to take a lot of poise and focus to be able to avoid a let down and do just that. I have to believe that there are enough levelheaded guys on the Colts to prevent this team from coming out flat.
Once upon a time, the prospect of beating New England at home in the playoffs was bleak. Since 2009 however, they are a mere 3-3 at home. This Patriots team also lacks the firepower on offense and the toughness on defense that have defined past teams. No Gronk, no Vince Wilfork, no Jerod Mayo, no Brandon Spikes, not to mention Tommy Boy has the sniffles. This means Terrific Tom has a much heavier burden to shoulder. I generally don't like to pick against Brady in the playoffs, but his supporting casts' lack of playoff experience and big play ability gives me pause. Although according to Gillette, Danny Amendola is a future Hall of Famer.
The Colts will have to come out with a tough, in-your-face plan of attack if they want to take control of this game. The Patriots gave up 134 rushing yards a game to their opponents, so establishing the running game will be a key. T.Y. Hilton will be blanketed by a tough New England secondary, and the weather will not be as ideal as the indoor conditions of Indianapolis. This means that there will be less of the big plays available that allowed the Colts to get back into the game last week. The Colts need to ground and pound, keep the ball out of Pretty Boy's hands, and hopefully remember how to play defense.
I can actually see a shoot-out of sorts happening in this game, because there is little defense to be found on either team. The Pats have playoff experience in their favor at head coach and quarterback, as well as home field advantage. But they don't have the beard of destiny. The Colts reach completion in this game, and move on to the Conference Championship.
Other Picks
AFC
Chargers vs. Broncos
Philip Rivers has 7 kids, all with the same woman just to be clear. I can't pick against that sort of fertility.
NFC
49ers vs. Panthers
Kaep went no sleeves in Green Bay in negative temps. Power move, power pick…Niners.
Saints vs. Seahawks
Once you watch this video of an adorable little girl who loves the Seahawks, you'll pick them to win too.