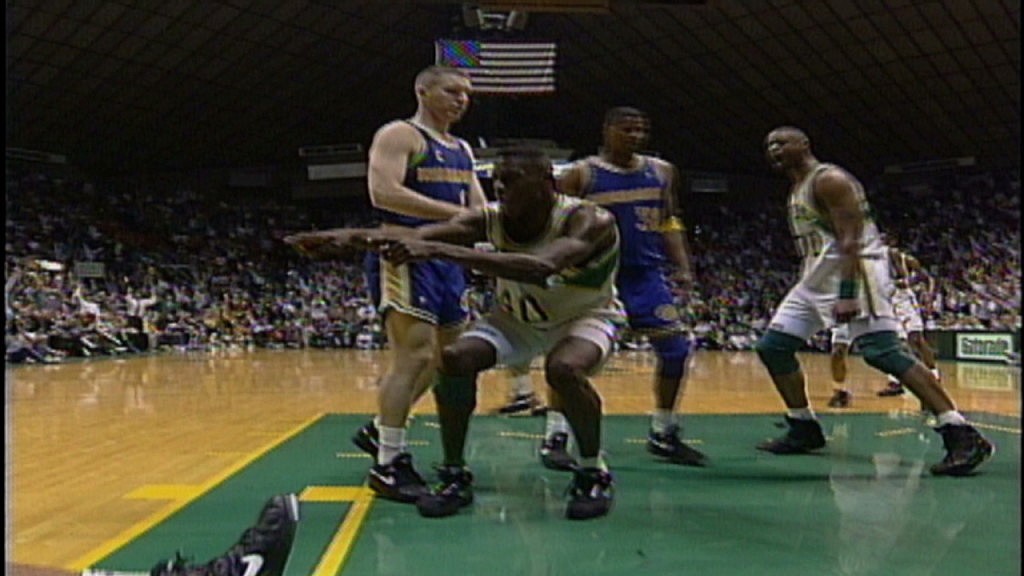 There's a thing that really bothers me with professional sports. Specifically, certain fans of professional sports. If you've been a fan of something your whole life, your experience is obviously going to be more extensive and just plain different than someone first being introduced to it. Not that every johnny-come-lately is less of a fan; some latter-day fans follow their sport with the zeal of a convert.  But still, their experience is different.  This only becomes a problem when someone who just became a fan of a sport acts as though it's always been so and proceeds to explain how they're a much bigger fan to people who actually always have been fans.
I only did four things during my childhood in the 90s: play outside, watch cartoons, watch professional basketball/football, and go to movies starring Bill Paxton or Bill Pullman.1 I took my sports seriously as a kid, so when I got to college and everyone started watching YouTube videos of NBA players they'd never heard of and became "experts", well, goddammit I was pissed. I bring this up because my favorite NBA player before Kobe Bryant was Shawn Kemp, and as a kid I made it my mission in life to know everything about him – then when I got to college some idiot named Brian tried to school me on Shawn Kemp less than a month into our freshman year. Bad choice, buddy.
See, if you liked Shawn Kemp it was because of his ferocious dunks, the most iconic being his slam on Alton Lister during the 1992 playoffs (arguably the greatest playoff dunk of all-time) and this moron in my freshman dorm told me I had the wrong date and that he actually watched it in person in 1996. I can remember the argument more than the first time I saw the actual dunk itself because I'm petty and I remember stupid, petty things and also because in front of my entire hall we looked it up online and proved I was right and that this kid was an NBA poser. This was a big moment my freshman year, and as I recall Brian and I never really got along ever again.
Game 4 – Warriors @ Sonics: April 30th, 1992

You can watch the entire game on YouTube2 if you're into really grainy basketball footage3, early 90s hairdos, or writing about how awesome Shawn Kemp was and is. I'm into all three, so of course I watched the entire thing.
Two quick, non-basketball observations about the game itself:
1. George Karl's tie.
Sonics head coach George Karl was wearing a navy blue tie with a Sonics logo basically taped to it: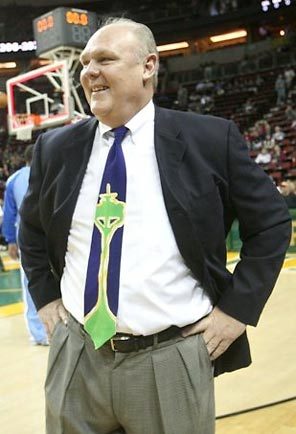 He wore this tie again in 20084 when he was coaching the Nuggets yet still wanted to show his support to Seattle after David Stern let Clay Bennett hijack the Sonics and bring them to Oklahoma City. The lesson, as always, is f&$% David Stern.
Here's another fun thing: one time George Karl wore a tie that had the name of EVERY SINGLE PLAYER on the Sonics roster, I guess because he was REALLY into wearing weird ties: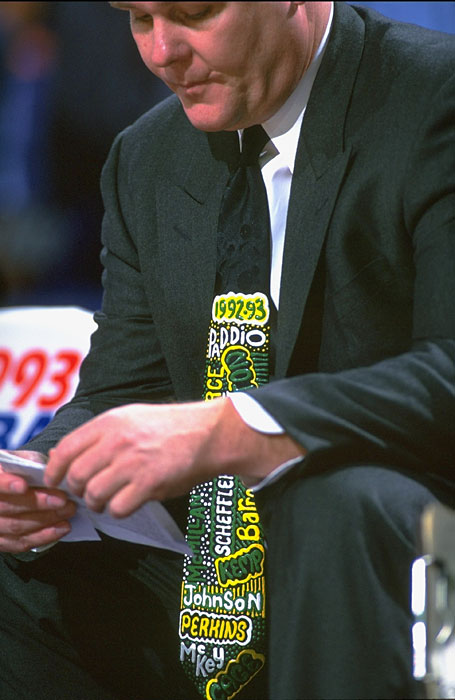 2. Gary Payton's flat top. Gary Payton was sporting a flat top during this game, and I assume most of 1992. I never knew he ever even had hair, and apparently neither did anyone on the internet, because the only thing I could find after googling "Gary Payton flat top" was this picture of him in college: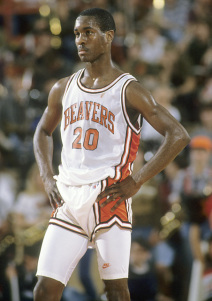 And Michael Cage's dripping wet, late-80s Jheri curl: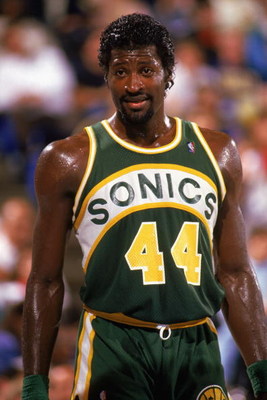 By the way, have I mentioned how great the internet is?
OK – Let's get back on topic, because the real reason we're here is Shawn Kemp, and we've barely even spoken about him yet. I mostly blame myself for that, but I also blame you a little bit, too.
Only two days prior to the game in question, as the score was tied at 124 apiece with just under a minute left in the fourth quarter of Game 3, Gary Payton found Shawn Kemp for this alley-oop to seal the win and go up 2-1 in the series5:
You'd think after something like that happened, the NBA would've just cancelled the rest of the series and handed Kemp the NBA Finals trophy, or at least the Warriors players would've had a meeting and said something along the lines of, "Yo, if you see Kemp coming just move out of the way or run back into the locker room and hide". Thankfully, none of those things happened, and midway through the second quarter of Game 4 the world was gifted with this:
Here's a look at Kemp's dunk from a different angle:
Apparently, no one warned Alton Lister that he, in the words of the Seattle announcers, "plays like he's got anvils tied to his feet", so sadly he lost his life in the line of duty that day. I checked on Basketball Reference, and technically Lister played for six more years, but there's no way he was anything more than a shell of a body, aimlessly walking around like one of the zombies from The Walking Dead during those remaining seasons. Shawn Kemp stole his soul that day, and no one can tell me otherwise.
According to an arbitrary measurement of dunking that I just made up, Kemp's dunk comes in somewhere between second and fourth on the all-time playoff dunks list behind only the Kobe to Shaq alley-oop and maybe Scottie Pippen and Michael Jordan dunking on Patrick Ewing.
BUT WAIT THERE'S MORE. Later in this same game in 1992, Shawn Kemp laid down a dunk on Warriors rookie forward Chris Gatling that was so ridiculous Gatling was not only forced to give Kemp an in-game handshake:
But the dunk also has its own separate entry on Gatling's Wikipedia page under "NBA Shame"6: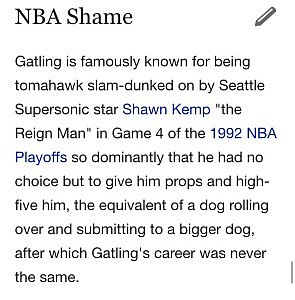 So, if you're keeping score at home, that's two iconic dunks in one game on that April 30th in 1992 – three, if you're counting the slam of justice I put on Brian from my freshman dorm. Suck it, Brian.
All hail the Reign Man: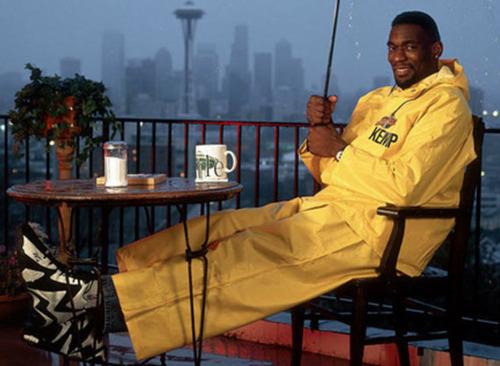 By the way, Kemp threw a party in Seattle the day the Thunder fell short of making the playoffs this season, because he's the goddamn best.