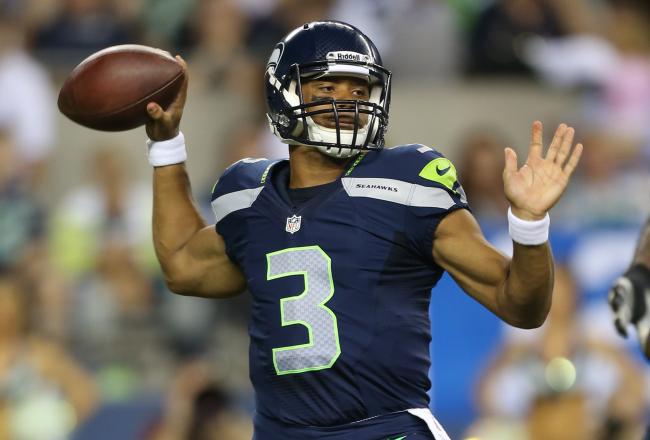 With the start of the 2014 NFL regular season tonight, Jim Armstrong and Rory Goulding give their picks for the game, and prepare you for another exciting season of NFL football.
Jim Armstrong:
I like to think of the summer months as the Doldrums of the sporting calendar year. The World Cup was our tradewinds during what are typically treacherously slow summer months.  For most sporting fans, we're relegated to watching 'Not Top 10' Baseball Highlights and wonder why the sporting gods haven't figured out another major sport to run during the summer months.
Outside of a couple of golf majors (British Open & PGA Championship) and tennis majors (Wimbledon & US Open) the summer is devoid of any substantive sporting activity. Unless you're a die-hard baseball fan, no one cares about July baseball. Let me repeat – no one cares about games 80-100 when your team plays 162 regular season games + playoff games (if your team qualifies).
With the calendar flipping to September, sports fans shake the cobwebs of the summer and prepare for the first week of the National Football League, a $10 billion+ enterprise that, despite widespread injury litigation amongst former players, has a huge percentage of our country by the throat. Tonight marks the first game of the season with the Green Bay Packers visiting the reigning Super Bowl champion Seattle Seahawks.
As of last check, the Seahawks are getting 3.5 points, with total points coming out to a total of 46.  As 3.5-point favorites, I don't think the Seahawks cover the spread. I think they win on a last minute field goal in a low-scoring affair. Thus, I'm taking the under as well.
In the first game of the regular season, you can't expect fireworks from the opening kickoff. Typically, teams take 1.5 – 2 quarters to get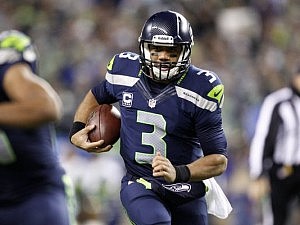 their feet underneath them and find their rhythms, particularly on the offensive side of the ball. While I trust in Aaron Rodgers directing a potent attack this year, I don't see Green Bay's defense holding up its end of the bargain. With a healthy Percy Harvin lining up all over the field for the Seahawks (after playing all of 10 quarters last year) and Doug Baldwin, Zach Miller and Jermaine Kearse rounding out Russell Wilson's top targets, I see a ball-control style on offense and a stifling defense being the winning combination.
Not sexy, but I'm taking the 'Hawks, 23-20 over the Packers.
Rory Goulding:
Some people believe Labor Day marks the start of the NFL season, other folks say the beginning of training camps in August are when the NFL season commences, while a great deal of you look at that first Sunday of the regular season as the starting gun. You're all wrong, though. The NFL season only truly begins once a new Aaron Rodgers-State Farm commercial is released, preparing to burn itself into your football-watching eye sockets for the next 17 weeks.
And hey, guess what, gang? It must be our lucky day.
The last time these two teams met was in Week 3 of the 2012 season, on Monday Night Football, in a game that concluded with a play dubbed the "Fail Mary". Thanks to that, it was also the last time replacement officials were used in NFL games. Now the Packers travel back to Seattle, seeking revenge for a victory that they (along with most non-Seahawk fans) believe was stolen from them.
By the way, if you're looking to catch Seattle at home in prime-time television, tonight's the night to tune in. Despite having (at least) four nationally televised games this season, the season-opener will likely be Seattle's only prime-time contest at CenturyLink Field in 2014.1
Why do the defending Super Bowl Champs have only one nationally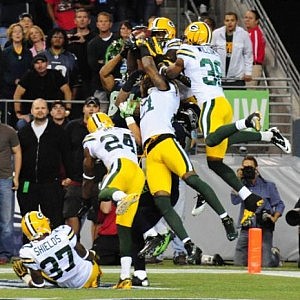 television game at home this season, you ask? That's thanks to their propensity to blow out even the best of teams that come through Seattle, specifically over the past two seasons.2 In their 7 nationally television games since 2012, the Seahawks are 4-0 at home, averaging almost 30 points-per-game and holding their opponents to under nine in the process. Compared against their 2-1 road record on national TV in that same span, the Seattle averages a mere 18 points per game while giving up almost 15,3 it's no wonder the NFL would rather see Russell Wilson & Co. on the road than at home.
With that said, I begrudgingly have to take the Seahawks tonight. As happy as it would make me to see Aaron Rodgers ride out of Seattle with a Week 1 victory couple with a side order of Fail-Mary redemption, I don't see that happening tonight. Seattle returns almost every starter from the league's best defense last year, and, as Jim said above, a healthy Percy Harvin to add to an already solid offense. Rodgers and the new-look Packers will have a great season, but they'll have to wait at least another week, as the 2014 season begins the way the 2013 season ended – with a Seahawks blowout.4
Seahawks 30, Packers 13
Hey! It's not too late to sign up for our free games on ESPN.com!
Check out our Survivor Pool:
http://games.espn.go.com/nfl-eliminator-challenge/2014/en/group?groupID=27771
And our Weekly Pick 'Em:
http://games.espn.go.com/nfl-pigskin-pickem/2014/en/group?groupID=61900