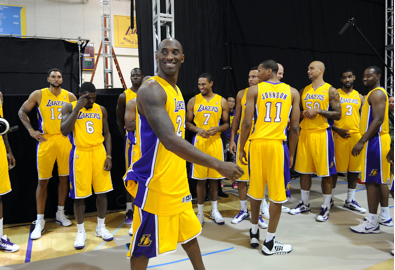 It's two games into the NBA season, so now is as good a time as any to overreact, wouldn't you say? But before we start, let's remind ourselves of a few things. As a Laker fan, the past few years haven't been so great. Especially last year, which was, like Paula Deen's thoughts on race, an unmitigated disaster. If you've been inside playing Skyrim for the past 24 months, I'll bring you up to speed:
We were getting Chris Paul, until we weren't. We got Dwight Howard, who left this summer for the Houston Rockets. We fired our head coach, Mike Brown, 5 games into the season. Then we were getting Phil Jackson, until we weren't. We then blessed Mike D'Antoni with the head coaching position. You know, the guy who didn't know how to properly use perennial All-Star Pau Gasol. (Hint: don't bench him.) One of my college roommates, who asked only to be referred to as "one of my Italian- American friends", told me that Mike D'Antoni did more damage to the Italian-American image than The Sopranos. Ouch. Then Kobe tore his achilles tendon. Oh and we also got Steve Nash, who was forced to miss thirty-two games due to foot/hip/back/old age injuries and had to take epidurals just to lurch through the games he actually played in. But hey, other than that, it was a complete success!
So why will this season be better? Without further ado, let's do it to it, Lars!
1A. No Kobe Bryant (for at least awhile)
Ever since Michael Jordan retired, Kobe Bryant has been one of the major faces of the NBA. He's a man. A warrior. After tearing his Achilles against the Warriors on April 12th of last season, he promptly stepped to the line and sank both free throws.[1] But, spoiler alert: he's kind of a complete dick.
1
Remember back in middle school when the teacher would leave the room? The class would go crazy, have fun, and joke around. As soon as the teacher would get back it would be game over, no more joking around. Kobe is the teacher.
In short – maybe the Lakers won't be winning as much (or barely at all) without the teacher, but they'll certainly be having a lot more fun.
1B. No Dwight Howard (forever)
Dwight sucks.
2. Mike D'Antoni, his offense, and his weird rotation choices
Shawne Williams started at power forward on Tuesday night. He also started at power forward on Wednesday night. Shawne Williams is the starting power forward for the Los Angeles Lakers. The previous sentence was brought to you by Mike D'Antoni.
Take a second and let that sink in.
Mike D'Antoni has a bizarre style when determining his rotations, like last year, when he started Earl Clark over Pau Gasol. That definitely made sense.  But hopefully now he has a roster that's more fit to his strengths as a coach. His teams are always centered around fast breaks, high-paced, quick-trigger scoring, and poor shot selection. Speaking of poor shot selection…
3. Nick Young!
Which one of these facts about Nick Young isn't real?
His nickname is Swaggy P
His cousin is Kendrick Lamar
He's a big "Call of Duty" fan
He's been named to an All-Star game
If you guessed it was the last one, then this post is on me! Young's itchy trigger finger might be an issue when Kobe gets back, but for now, he can fire away. And if it wasn't for JaVale McGee, Young would absolutely lead the NBA in number of "WTF?!?" moments. Seriously, in a bizarre Lakers' season like this, what's not to like about this guy?[2]
2
4. Mike D'Antoni's mustache
This deserves it's own paragraph. Maybe it's own post altogether. Mike D'Antoni's mustache has a life of its own, and I'm pretty sure it has its own gravitational pull. I'd be easily convinced if someone made the argument that something was actually living in there.
By the way – there's a dearth of sweet mustaches in sports these days. So many people are gravitating towards crazy beards instead. How about we make mustaches cool again? I can only think of three classics that are still around today – David Stern, Andy Reid and Mike Ditka. (All three are worth a quick Google search) But what's the deal? Let's bring back more mustaches in sports.[3]
3
5. Chris Kaman
When he first signed, I was confused, then angry, then confused again, then a little tired, then finally settling on pure, unadulterated rage. But now I'm just intrigued. Big, out of shape white guys are a dying breed in the NBA. And we've never seen someone like Kaman, who literally might've been an actual caveman. Or at least the Geico caveman. One day I hope to be able to tell my kids about the Chris Kaman era in Lakertown[4], reminiscing about the "good ol' days", before our country was owned by China, when small cardboard circles called Pogs were once considered cool and, for about a decade, people cared about bicycle racing. Or maybe Pogs were never that cool. But I digress.
4
6.
Low

No Expectations

With Dwight Howard and Chris Paul[5] no longer on the team and no Kobe for the foreseeable future, there is a calm that was nonexistent during the Lakers' tumultuous season last year. The Lakers have brought back Jordan Farmar for some reason, Steve Blake looks to be doing more this season than looking like the guy from Fast and Furious: Tokyo Drift, and Jordan Hill is healthy again. Steve Nash is running the point, and there isn't Kobe around to clog things up right away, as he's sidelined until at least Thanksgiving. The offense will be free flowing, and we'll get to see young guys like Xavier Henry and Wesley Johnson try their hand with D'Antoni's offense. It should be good times, unless it isn't. What ever the hell happens, it'll sure be interesting to watch.

5

Next season, however, is a different story. We get to play the "who-are-we-getting-in-free-agency" game, and a ton of questions will need to be answered. Will Kobe re-sign? Will he retire? Is Lebron coming? Is Carmelo coming? Will Jim Buss destroy the Lakers? Is this Mike D'Antoni's last season as their head coach? Is there really something living in his mustache?

I bet there is, and my guess is that it's one of the Monstars from Space Jam.