After the excitement of Round 1, the playoffs seem have hit their stride. Sadly, LeBron and the Heat seem to have found a stride of their own, just one win away from reaching the Eastern Conference Finals for the 4th consecutive season. The West, however, seems to be a little bit more up-in-the-air. I decided it was time to ask Jim Armstrong, creator of Back of the Jersey and basketball expert, a few questions following the first (and half of the second) round of the NBA postseason. Let's answer the most important question first:
Who's coming out of the West?
Jim Armstrong: Oklahoma City is peaking right now, with Kevin Durant and Russell Westbrook playing the best basketball we have seen from them in their young careers. The Memphis/OKC series was sizzling (will go down as the 1st or 2nd best first round series in history, right next to the Bulls vs. Celtics '09 series…1A and 1B in my opinion, with OKC/Memphis nudging the Bulls vs. Celts series). The league and Zach Randolph robbed us of one of the most incredible Game 7's to cap off a dead-even series, with Randolph being suspended for Game 7 due to his attempted "punch" of Steven Adams. We'll never see four straight OT games in a series again…I don't know how the media has underplayed how great that series was…it's a shame this was swept under the rug.
Durant and Westbrook are too hot and too potent right now to lose to the Clippers, especially with home court advantage. The Clips need more athletic wings to get over the hump (the Reddick/Barnes/Dudley combination scares absolutely no one).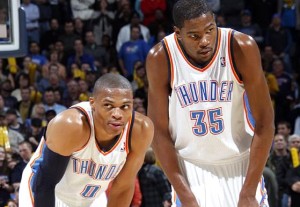 I want to pick the Spurs over the Thunder but I ran the tape on the Spurs/Thunder 2012 Western Conference Finals series and KD eviscerated the Spurs in the final four games (all wins for OKC). Fast forward two years later and the Spurs remain the most battle-tested team on the face of the planet. The big caveat here is that the Thunder arrive two years smarter and with two years of playoff scars on their resume. Westbrook and KD tip the Spurs in 6 games, winning on their home court and setting up a rematch of the 2012 Finals between the Heat and the Thunder.
Rory Goulding: As difficult as it may be to argue with that pick, something tells me the Spurs are heading back to the Finals for the second straight year, in what most likely will be Tim Duncan's NBA-career swan song. Kawhi Leonard made great strides during last year's NBA Finals (we'll get back to this), and San Antonio plays like the old guys in rec league basketball – they may not be the most talented, but somehow they always win with their unselfish play and high basketball IQ. The Spurs have such fluidity on offense and defense that role players, regardless of individual talent, can excel as important cogs in the Gregg-Popovich-machine as long as they have an understanding of his system. (Related: who the &%$# is Aron Baynes?!?!)
A part of me feels like Durant & Westbrook have the ability to get it done, but I still think the Spurs get through Oklahoma City. I say this mostly because, unlike last time, the Thunder don't have that third guy who can do this.
Mike D'Antoni is

gone

! After almost two years of chaos, terrible coaching and

frowny mustache faces

, we're free from his oppression. But exactly HOW happy am I allowed to be?
Jim: Absolutely, you are right to be ecstatic. Before I address this let me dive into more detail around how the Lakers arrived in this position. After being the model franchise for the better part of three decades (1980 -2010), the Lakers have fallen into disrepair. The downward slope of this franchise coincides neatly with Jimmy Buss taking the day-to-day management reins from his father, the late Jerry Buss.
During the last three calendar years, the Lakers have hired and fired two coaches, Mike Brown and Mike D'Antoni, who at the time of each of their respective hires seemed to be a bit head scratching. Mike Brown was dispatched just four games into his second season with the team, while Mike D'Antoni took a series of left hooks and jabs throughout his two-year tenure, losing the majority of his marquee players to a series of injuries (re: Nash, Kobe, Gasol, D. Howard) and dealing with the circus/fanfare that surrounds the Lakers.
I want to see Kobe make one last run. I want to see the Lakers relevant and competing again in what's sure to be another supremely competitive conference. With Mike D'Antoni out of the picture, the Lakers need to hire a coach whom management will invest in for at least the next four years. Stability at the head coaching position is critical for a franchise in transition. During the next several seasons, we will see many of the team's aging stars depart (re: Kobe, Nash, Gasol), ushering in a new era in LA. The next coach of the Lakers must be experienced enough to manage the superstar personalities and physical limitations of its team's aging stars yet possess the long term vision and patience to move this franchise through this transitional phase.
Rory: That last paragraph is EXACTLY what needs to happen – you said it perfectly. As happy as I am to see D'Antoni (and his future as a head coach in the NBA) ride into the sunset, what happens next is just as, if not more, important. Is Jim Buss the next James Dolan, or can he set his ego aside and let someone run his team? There needs to be a hands-off approach from Buss, coupled with an equilibrium between current-GM Mitch Kupchak and the next guy the Lakers hire, along with the factors you described, for the team to be successful. Considering all of that (and it's a lot), there's really only one name that I see fitting the description: Derek Fisher.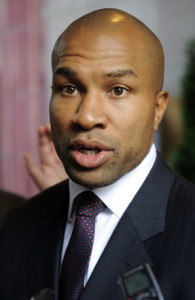 Successful coaches in Los Angeles during the Jerry Buss era (I can really only think of Pat Riley & Phil Jackson) had two major qualities – constructing an offense that centers around the abilities of their past players and an authoritative yet charismatic personality that demands respect of the highest of superstar players. No one out there has that type of pedigree, but those traits can be learned over time. And although we know little, if anything, about Fisher's X's and O's coaching dexterity, he's a proven veteran leader and five-time NBA champion, and that type of hardware carries some weight. Besides, he can put a leash on Kobe – how many guys have been able to do that?
Speaking of firings, Mark Jackson is done in Oakland after three seasons. Fair or unfair that he was fired as Warriors head coach after winning 98 games and taking his team to the playoffs for two straight seasons?
Jim: A bit unfair but chemistry is everything in basketball. While Jackson maintained, by all accounts, strong relationships with his players, he failed to cultivate relationships with several of his assistant coaches and with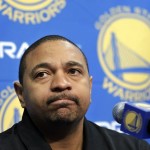 management. In fact, by all accounts he had poor or non-existent relationships with his assistant coaches (two fired/demoted this season) and one (Mike Malone) departed at the end of last season to fill the Kings head coaching vacancy.
This was Mark Jackson's first go-around as a coach. He turned around a moribund franchise and at the same time his team suffered untimely injuries late in the season (David Lee's hip injury last postseason and Andrew Bogut's rib injury late this regular season). Jackson left Golden State in a much better place then when he arrived in 2011.
I'm sure he will get another shot and learn from the mistakes of his brief but successful tenure at Golden State.
Rory: There are a few types of pickup basketball players that I can't stand. One of my least favorites is the "on-court coach". You all know this guy. The (usually mediocre) guy who coaches (I'm using that term loosely) while playing, instructing his teammates to cut, set picks and pass, while yelling commands like "rebound!", "get the ball!", "move!". He's also shouting these commands from either the low block or while he aimlessly dribbles back and forth at the top of the key. This guy sucks to play with, but you can usually just tune him out. Now, imagine that guy is the OWNER of a basketball franchise. That would be insane, right??
That's Golden State majority owner Joe Lacob.
You're an NBA head coach and now you're listening to your owner talk to you before the game about strategy, attempting to give you pointers on how to coach your team. "Wait a minute, didn't you hire ME to do all of this stuff", is what you'd be saying. That's what Mark Jackson said to himself on a daily basis. Good luck to the next guy (Stan Van Gundy?) who has to deal with that.
What player do you see making the biggest leap in Round 2/3, a-la Steph Curry last year against the Spurs?
Jim: Look for Kawhi Leonard to play a critical role in the Spurs' remaining games with the Portland Trail Blazers and what's likely to be a heavy weight battle against the Thunder in the Conference Finals. Although only 22 years old, critics are quick to question whether Leonard is a blossoming star or an exceptional 3rd banana (akin to an Eddie Jones or a Manu Ginobili). While I don't have a large enough sample size to make a prognostication on what type of player he will become, I do know that in the 8-10 games I have seen him play, I have been blown away by his poise.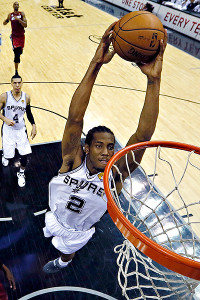 Leonard is almost as dangerous without the ball as he is with the ball. He moves fluidly without the ball on offense, creating space and angles off of weak-side screens, back-cuts and through relentlessly crashing the boards (5.1 RPG this year during the regular season, which he has upped to 6.4 RPG in the postseason). I'm even more impressed by his attitude and how he's ok with doing the little things for three quarters (hounding the opposing team's best player, crashing the defensive glass and opening up lanes for Tony Parker) and then seemingly out of nowhere, carrying the Spurs in the 4th quarter. He's not a "look at me" I need to score 20 PPG type of guy. He's a quiet, confident, athletic small forward who most teams would clone and insert into their starting lineup in a second.
I'm excited to see what Kawhi Leonard brings to the Western Conference Finals and how he handles the unenviable task of attempting to slow down the league MVP, Kevin Durant.
Rory: Wait a minute – you're only helping my argument for San Antonio winning the West! There's not much I need to add here, but the one thing I like about Kawhi is how he's excelled under pressure. During last year's NBA Finals, his per game averages of 14 points, 11 rebounds and 2 steals (on 51% from the field!) were all career highs1, and if he can duplicate that performance for the remainder of these playoffs, far and away he will make the biggest leap. If not Kawhi:
Most likely: Reggie Jackson.
Least likely: Andrew Bynum's maturity.
Of all 16 playoff teams this season, which franchise has the most difficult path in order to get back to postseason play in 2015?
Jim: Dallas. I love this team but I felt that this year was their shot to knock off a Spurs team that didn't get their chemistry together until it was almost too late. Dallas is an old team – one of the oldest in the league. They play well because they are comprised of a group of savvy, unselfish veterans who are more than willing to sacrifice for the greater good of the team (akin to the 2012 Celtics & 2011 Mavs). All of their key players have significant miles on their NBA odometers. Let's take a look at their key rotation guys one by one:
Dirk Nowitzki – 36 years old in June, 1,188 games + 135 postseason games = 1,323 total games
Shawn Marion – 36 years old, 1,106 games + 103 postseason games = 1,209 total games
Vince Carter – 37 years old, 1,148 regular season games + 67 postseason games = 1,215 total games
Samuel Dalembert – 33 years old, 854 games + 25 postseason games = 879 total games
Jose Calderon – 33 years old in September, 634 games (NBA) + 18 postseason games = 652 total games
Devin Harris – 31 years old, 641 games + 55 postseason games = 696 total games
Monta Ellis – 29 years old in October, 598 games + 22 postseason games = 620 total games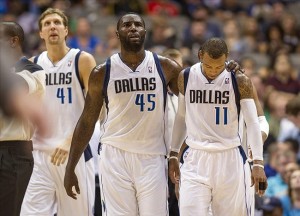 That's a ton of mileage for a core group of guys. They will have to retool in the event that guys such as Shawn Marion and Vince Carter opt to leave Dallas (both have expressed optimism that they will return). With teams such as Phoenix and Minnesota on the rise and the other 7 playoff teams remaining strong, the West remains as formidable as ever next year.
Rory: I can't argue with that – I feel the same way. Unless Duncan and Pop ride into the sunset like Alan Ladd in "Shane", Dallas seems to have the toughest avenue back to the postseason, especially in a loaded conference like the West.
I'd love to see Dirk hop on a contender, like Houston, for one last shot at a title, but he seems content living out his NBA days in Dallas, good or bad. I admire that, but the competitor in me wants to see him give it one last run. You can't win a title with Dirk as your best offensive player anymore, but if he's your third? That's doable. By the way – Dirk's a free agent come July.
Have a question for us? Tweet to us @BackoftheJersey, or post a question to our Facebook page, and don't forget to subscribe to our email newsletter!